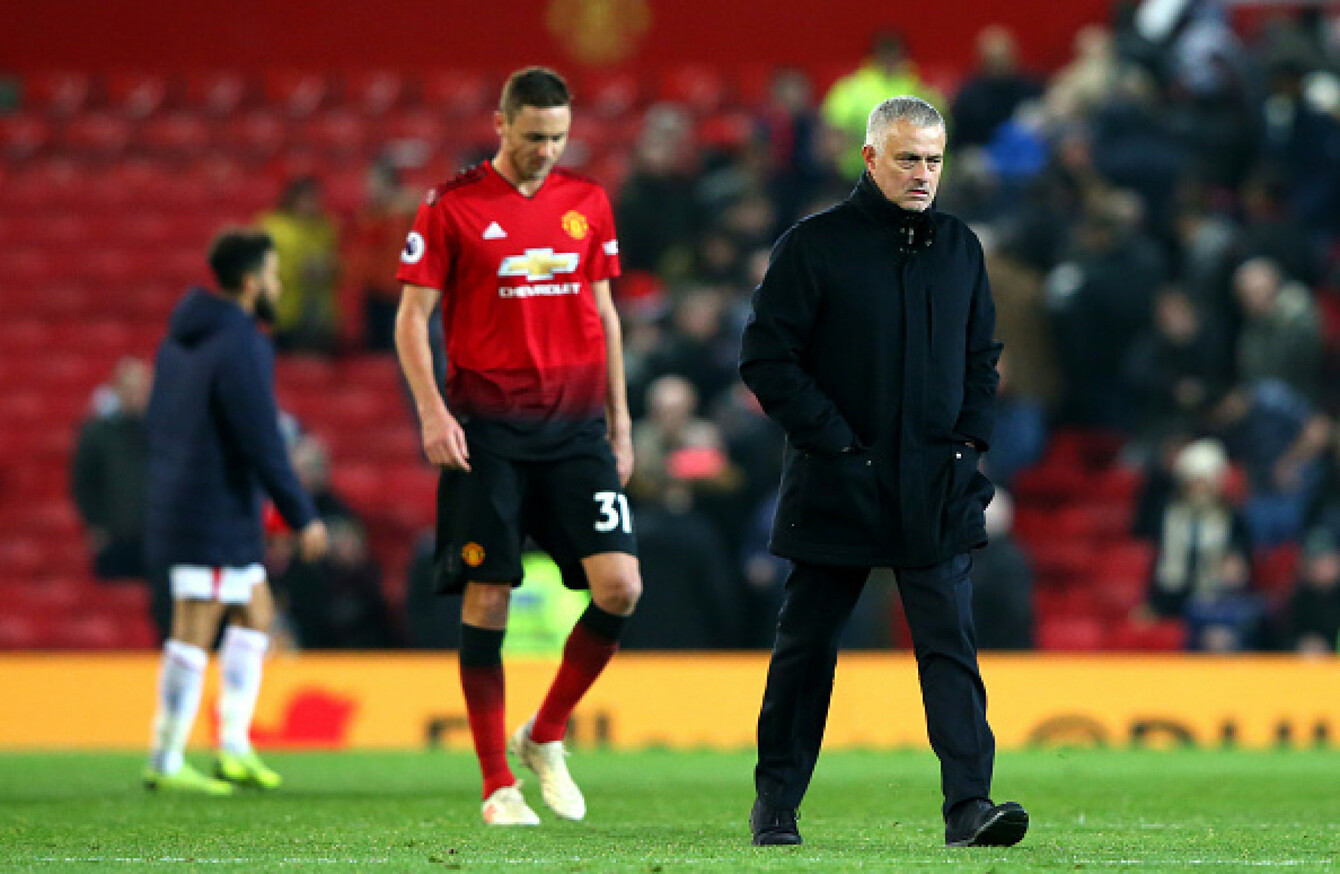 Mourinho was less than impressed with his side's performance.
Image: Getty Images
Mourinho was less than impressed with his side's performance.
Image: Getty Images
MANCHESTER UNITED MANAGER Jose Mourinho suggested that his players lacked the heart to take three points from the weekend's Premier League fixture after being held 0-0 by Crystal Palace. 
The Reds' uneven league form continued unabated on Saturday as they failed to break down the determined Eagles at Old Trafford. 
United dominated possession but could not find a way past Wayne Hennessey, with the home crowd reacting with sporadic jeers at the final whistle. 
Wins for Liverpool and Manchester City put Mourinho's men even further from the Premier League summit, trailing the leaders and their city rivals by a mammoth 14 points after 13 games. 
And Mourinho questioned his men's will to win as he tried to explain this latest slip. 
"A bad result, no chance to see it as one point we win because there are two points we lost. Crystal Palace deserve the credit. They came for this and they got it and fought for it and gave everything for it," the manager told reporters.
"I don't want to take their credit away We should also blame ourselves as we started really well and did the most difficult thing apart from score which is to find the spaces to play, by analysing the opponents and training and bringing the ideas to the game.
We used the sides very well and made them move to one sides and then go to the other but there was not enough intensity, not enough desire.
"It is a game we really need to win. If we play with the same philosophy against Young Boys then we won't win and have to go to Valencia and win there. There are games that are special and not just one more: this was a special game, the first of eight Premier League games until the end of December and a game we need to win and it was not enough from the heart.
"You must play with brain and also with heart and I think there was not enough heart."
When asked what could be done to alter that passivity, Mourinho was less certain. 
"You cannot change players' natures dramatically, The solution is that probably I have to make certain choices based on heart and then probably I will blame myself because I will think heart is not enough and am missing some quality," he added.
"Palace deserve some credit but we have to blame ourselves. Hennessey apart from the brilliant saves, he wasted 10 minutes every time he had the ball for goal kicks, but we also lost probably 30 minutes by letting them breathe when they have the ball.
"We didn't have that intensity that in my opinion is basically related with your brain, with your heart. I know national teams are very dangerous and how players get injured in the national teams or come back which is what happened with Victor [Lindelof], I tried to play with the majority of the team not involved in international games to have that freshness but I had that freshness below the limit of intensity."
Mourinho's United are back in action on Tuesday, when they will host Young Boys in the Champions League's Group H.
Subscribe to our new podcast, Heineken Rugby Weekly on The42, here: