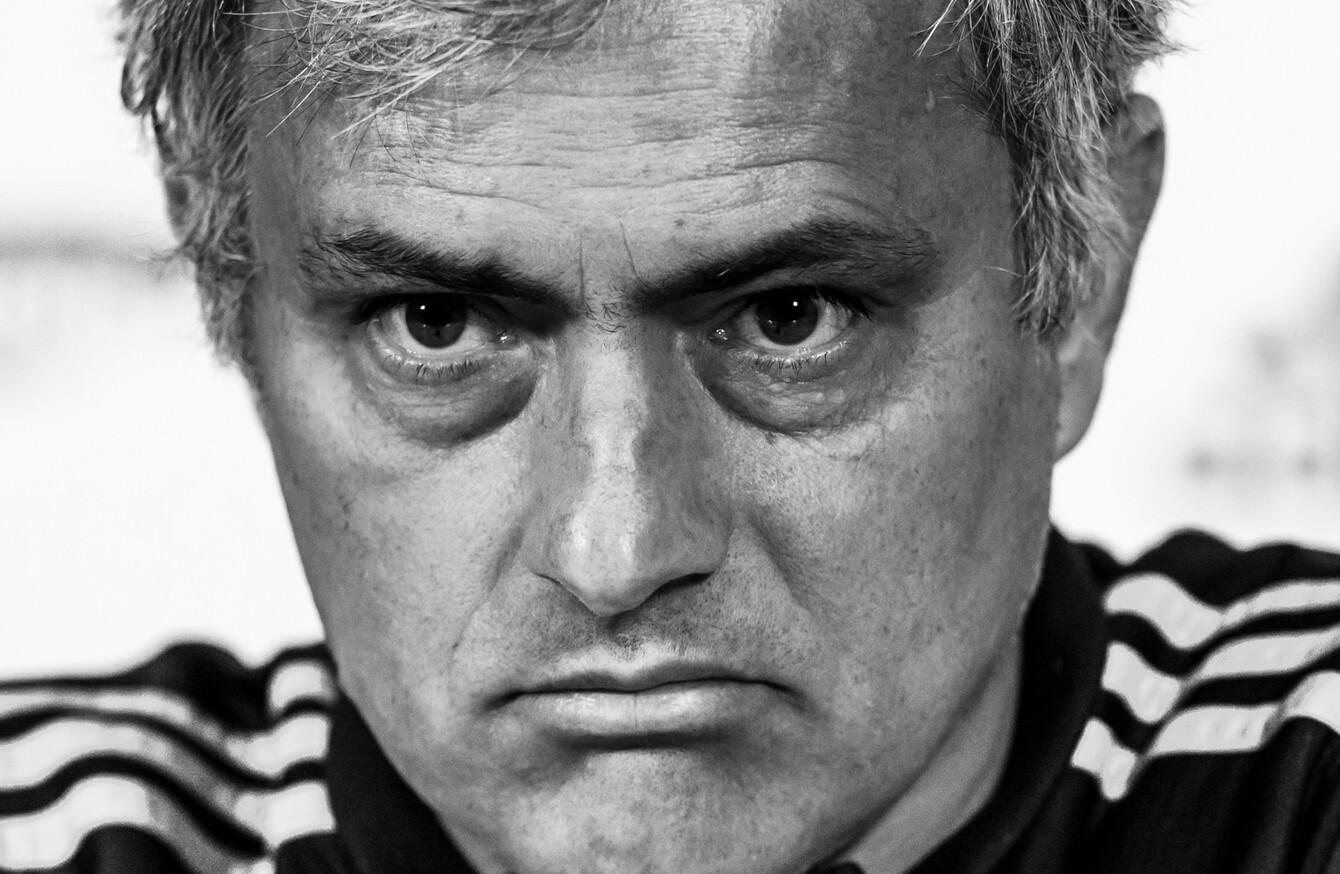 Image: John Walton
Image: John Walton
IT SAYS MUCH that Jose Mourinho's appointment as the next Manchester United manager has taken this long to rubber-stamp.
What should've been a relatively simple and painless procedure has turned into a relentless and drawn-out saga.
And it's just another reason to raise an eyebrow at all of this. There has seemed a distinct lack of conviction, certainly from the club, throughout the entire process. And so many questions remain about whether the immensely-successful but controversial and chaotic coach is the right man to step into Old Trafford.
Mike Forde knows the way Mourinho operates, having worked with him briefly at Chelsea. He also saw first-hand what it was like when Mourinho left.
From 2007 to 2013 – Chelsea's most successful period – Forde was Director of Football Operations and an Executive Director with the club. Before that, he had cut his teeth alongside Sam Allardyce at Bolton, where the provincial club inexplicably and consistently reached dizzying heights in the Premier League.
Over the last fifteen years, Forde has recruited some of the best players to English football.
He's now based in New York, advising a multitude of marquee sports clients – including 2014 NBA champions San Antonio Spurs as well as NFL and MLB teams too – on high-performance strategy.
He's also co-authored Carlo Ancelotti's new book 'Quiet Leadership: Winning Hearts, Minds and Matches'.
He describes United's move for Mourinho as 'an interesting play'.
"They've got a full transfer window so they can be active quickly around opportunities", he says.
"Maybe the Guardiola appointment at Manchester City was better because they announced it earlier in the year so he could plan around players he didn't want to keep as well as players they're looking at in bringing in. And the process involved in signing players is getting longer and longer now.
But United have a summer to plan ins and outs. As a manager and as a club, you want the most opportunity. Conte was announced early, Guardiola was announced early – that's the ideal. The Klopp situation, where he's coming in and working with an existing squad, he's got a January window in front of him where you can't really do much trading, etc – that's always a much harder situation.
United are back in a situation where they've had three managers in three years – that's three different ways of playing, different styles, different approaches to man-management. It's not going to be easy. The benefit is that Mourinho knows the league, he knows the players, he knows the history of the club. He can hit the ground running and that's a positive. But then you have another set of questions. Is he the right guy for the club?"
Forde is surprised at the ease with which Mourinho can breeze back into an elite job. His final few months at Stamford Bridge were a haze of histrionics and recriminations. More importantly, he's still embroiled in a legal battle over his behaviour towards his former Chelsea colleague, Dr. Eva Carneiro. She's pursuing a constructive dismissal case against the club and also served papers on Mourinho, claiming he was instrumental in her eventual decision to leave.
"It says more about the change in mobility of managers that a guy like that, despite everything that's gone on, can still come back into a very senior role", Forde says.
"It was a very interesting last six months that he's had – with the media, with the clubs, with the Football Association yet he can reappear and go again. It's more a testimony to the volatility of the sport and the need and desperation of certain clubs to move in a certain direction that's brought it to this situation."
History shows Mourinho's man-management strategy is that of the fire-starter. Once the spark begins, he pours petrol on the flames. He elicits passionate responses from his players – a wild, driven, intense level of performance – until, the intensity drops and the heat evaporates.
"He's a winner at the end of the day", says Forde.
"A winner wants to drive performance to get an outcome. He's gone from Porto to Chelsea to Inter Milan to Real Madrid and back to Chelsea so he's well-versed in analysing the capabilities of a squad and that can hit people hard in terms of how clear someone like that can be.
Mourinho walking into a situation like this is perfect…for him. There's chaos there and he's the guy who can bring leadership and order – for a period of time. I think that period is actually less than two years but it's what they're prepared to do given Guardiola is in the Premier League now, Klopp is going to be stronger next year, Arsene Wenger is always there or thereabouts.
But you have to look at it as a partnership. The coach will bring a certain set of qualities and skills but then it's up to the organisation to work with him to create a plan.
Forde acknowledges that Mourinho's appointment signals Manchester United's desire to return to winning ways at all costs, regardless of the consequences.
"They seem to be chasing winning and short-term success now because they've failed in the last two or three years", he says.
"Manchester United is an enterprise valued at $3 billion, so it's a legitimate business. That's predicated by a few things, one of which is success on the field. They've been able to survive, let's say 'underperformance' of their investment over the last couple of years. They produced record profits because the brand equity is still very strong but there will be a time when results will have an influence on what they do. So, it's about Manchester United trying to work out the posture of what they want to do."
There's also the question of whether Mourinho has played all his cards, if he has passed his peak. Noticeably, his last two jobs – at Chelsea and Real Madrid – have ended the same way, with conspiracy theories and finger-pointing. He has appeared frazzled, frustrated and annoyed when before, a wry smirk would indicate a quiet self-assurance in spite of any setback.
Between 2002 and 2010, Mourinho won sixteen major trophies. Since then, he's managed five.
"We were wondering if Claudio Ranieri was past his sell-by date and he went on to produce the most historical season in the last 20 years of modern sport", counters Forde.
"It's a premature question but in the two years at Chelsea, Mourinho took over a team that was struggling to stay in the top-two and won a title in his second season with a good squad but not the best squad. He's still got the capability to get the most out of it.
If he maximises the resources he's got, identifies the changes needed to remain successful and then doesn't get the players to do that – which I think happened at Chelsea – then it's going to be frustrating and the business will stagnate.
So it's going to be interesting how quickly Manchester United adapt to his needs and he can identify what's required."
And, once Mourinho does arrive, what takes priority? What are the elements in need of immediate and forensic examination?
"They've brought a lot of players in over the last two or three years and some have not performed to their potential", says Forde.
"So, what he's got to figure out is the talent capability of the group he's going to be starting with. Then, in conjunction with that, he'll find out where he can adjust the needs.
They've had two years of a certain style of management under van Gaal and it's a similar style under Mourinho. Will the players get relief with the change in manager or is it going to be a version of the same thing they've just had? The key to that is the high-calibre, big players – the stalwarts of the team – and whether they're going to say 'Enough is enough' or 'I'm really inspired by this guy'. He's got to work out the players who are on board with him and those who aren't.
All of this is about market forces. Could Ancelotti have done a great job if he walked in? Of course. Could Guardiola have been the right guy? Absolutely. So, Mourinho was on the market at a time when no-one probably expected him to be. United are in need and it's about degrees of fit. If you don't get the centre-forward you want – the guy you've been tracking for a year – but another comes on the market with a different skill-set but who's equally powerful and who has potential. Well, you go with it and you make it work. That's the key to it. Both parties have got to make it work.
And if either the management side or the club side aren't interested in doing that, it'll fall apart."
Quiet Leadership: Winning Hearts, Minds and Matches by Carlo Ancelotti, with Chris Brady and Mike Forde, is published by Portfolio Penguin.
The42 is on Snapchat! Tap the button below on your phone to add!