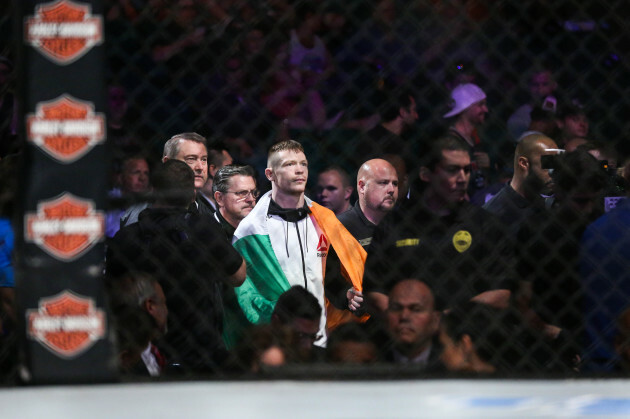 Tommy Lakes / The42 Tommy Lakes / The42 / The42
FOR EVERY ASPIRING MMA fighter, the outlook is the same.
Standing out from the crowd on the regional mixed martial arts circuit is a lot like being a struggling musician. They might spend years showing what they're capable of on shows in small venues, while telling anyone who'll listen that they're the next big thing. All that's needed is an opportunity with a record company.
In MMA, the record company is the UFC. Other promotions are gradually offering alternative pathways, but every fighter has the UFC in mind when they embark on a professional career. There's a perception of the UFC as a fairytale land of fame and fortune, where stardom awaits and financial worries disappear forever.
But recently that perception has started to unravel. As fighters question whether their earnings are in line with their worth, increasing calls for the establishment of a fighters' union or association have led to the establishment of two such bodies this year.
According to the Professional Fighters' Association [PFA], UFC athletes benefit from just 15% of the organisation's revenue, compared to 50% in the NBA. The Mixed Martial Arts Athletes' Association [MMAAA] estimates that figure to be even lower at 8%.
"Anything like that is always going to be a positive. It's going to push the sport into the major leagues, the same way as all the major sports. They've all got unions and associations," says Irish UFC lightweight Joseph Duffy of the MMAAA, which was launched last month with the backing of high-profile fighters like Georges St-Pierre and Cain Velasquez.
"I feel it'll take something like this to push our sport into the same direction. Eventually it's going to get to the point where being a fighter is going to be just as prestigious as it is to be an American football player or a soccer player, or something else along those lines."
Duffy hasn't been carrying any injuries and his most recent fight lasted just 25 seconds. Yet as 2016 comes to an end, the Donegal native hasn't fought in nearly six months and he's none the wiser as to when his absence from the octagon will end.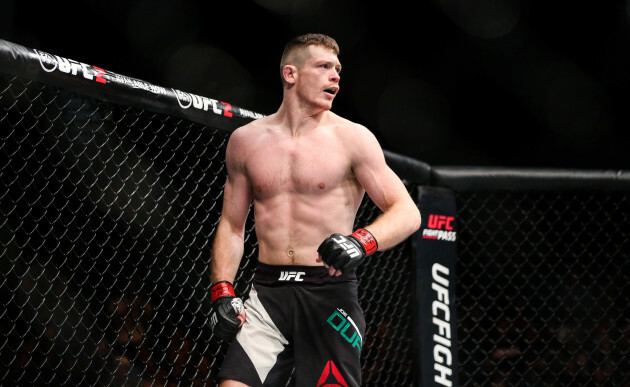 Tommy Lakes / The42 Tommy Lakes / The42 / The42
In September, Duffy revealed to The42 that he had found himself in a contract impasse with the UFC. The former professional boxer has one bout remaining on a five-fight deal. Duffy was offered a place on last month's UFC Fight Night 99 card in Belfast, but he rejected it on the basis that a win against the opponent in question — who wasn't named — would have done little to advance his career.
Duffy, who has won three of his four bouts in the UFC with first-round finishes, has also been offered a new contract by the organisation but he hasn't agreed to the terms. The 28-year-old earned $40,000 (including a $20,000 win bonus) for his swift submission of Mitch Clarke in Las Vegas back in July.
"I would love to have been on the Belfast card but things didn't work out the way I was hoping," Duffy admits. "It's a bit of a shame and obviously for the Irish fans I think it would have been nice for them to have had a few more Irish fighters on the card. But that's business. That's the way it works out."
The issue came to light three months ago but the situation still hasn't changed. He explains: "There's been no contact between my management and the UFC. We haven't really heard anything from them since, so the plan is to stay ready over Christmas, get ready for a fight in the new year and fight out my contract. But for now there's been no contact from the UFC whatsoever."
Duffy seems keen to test free agency but the last remaining fight on his UFC contract will prevent him from doing so for now. He's waiting on a fight offer, although the UFC don't appear to be in much of a hurry to make one.
"They could go down that route [of making him wait] but I'm not too worried really," Duffy insists. "I'm always training, always improving, so it's never wasted time. Whoever they give me and whenever, I'm going to be ready. And I feel the more time I have like this to train, it just means when it come to those bigger fights I'm going to be ready."
Fighters often point to the importance of having an opponent and a date in order to focus the mind in training, but even without the benefit of those details, Duffy has continued to put in the work at the Tristar Gym in Montreal, Canada.
"It's been pretty easy to stick at it, to be honest," he says. "Things never really change for me, whether I've got a fight coming up or not. I'm always training, it's been that way since I was a kid. I've always found it easy to keep myself motivated.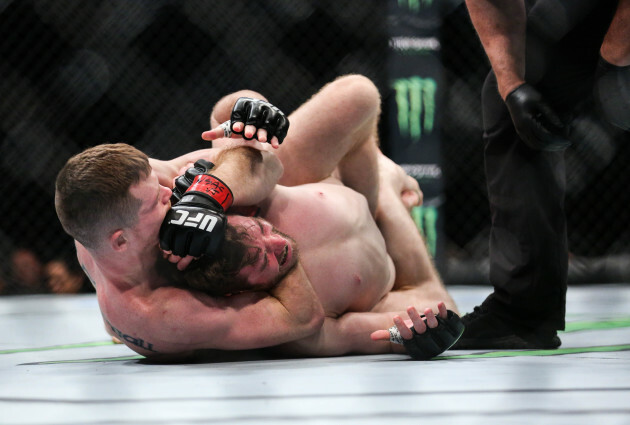 Tommy Lakes / The42 Tommy Lakes / The42 / The42
"I'm always in the gym because I enjoy it. Just improving is enough for me. I always get the buzz from that. Obviously having a date and an opponent makes a big difference. Your mindset changes and your intensity changes, but I do this because I love it so being in the gym is enough for me, whether I've got a fight or not. I'll be there anyway."
When asked if he's prepared to walk away from the UFC, Duffy said: "Definitely. I feel the game is changing a bit. Fighters are getting more options these days. Obviously Cage Warriors is back as well, that's another one. I know they're looking at Dublin next year. There's plenty of options so I'll fight out this last fight and go from there."
Bellator have already admitted that Duffy is the type of fighter who would interest them should be become available, while Cage Warriors is where the man from Burtonport made a name for himself and attracted the attention of the UFC in the first place. The UK-based promotion has a show scheduled for 4 March at the 3Arena, where Duffy was due to headline UFC Fight Night 76 against Dustin Poirier last year before being withdrawn from the bout due to concussion.
Duffy: "Cage Warriors would be a good alternative, without a doubt. Obviously I know how well Cage Warriors is run. I missed out on that show at the 3Arena so it'd be nice to go back and experience that. But we'll see how it all plays out."
Duffy's Tristar team-mate, former UFC welterweight title challenger Rory MacDonald, became a high-profile departure from the UFC earlier this year when he took up a contract offer from Bellator instead of accepting what was on the table from Dana White and co.
Georges St-Pierre, Tristar's most famous export, has also had his difficulties with the organisation. In October, GSP said he had terminated his UFC contract and is now a free agent, but the UFC quickly dismissed those claims and insisted that the former welterweight champion "remains under an existing agreement".
Nevertheless, Duffy doesn't believe that he's been caught in the crossfire of a battle between Tristar and the UFC: "I don't think that's the case. Obviously there's many fighters here in Tristar who haven't had any problems. I think it's just the decision I made. A lot of fighters are too eager to sign the contract and take whatever is offered, but I've kind of seen how it's going.
"Before they [the UFC] used to say you'll be rewarded if you put on exciting fights. I think I've done that but it's becoming less about the fights and more about the drama and the showmanship and everything else. I'm not that type of person, I'm probably never going to be, so I have to set my stall out early. Otherwise I'm kind of wasting my time."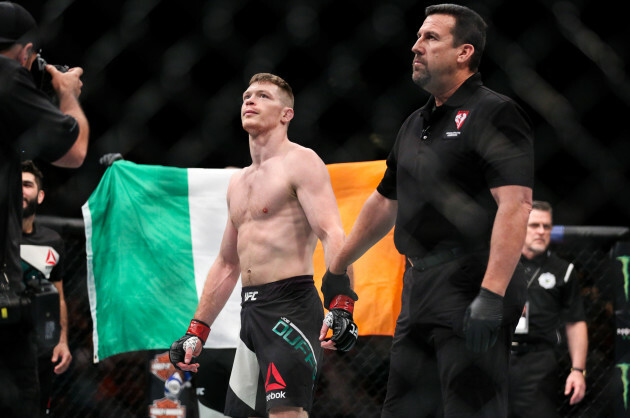 Tommy Lakes / The42 Tommy Lakes / The42 / The42
He adds: "I haven't spoken to Georges. Now and again when I see Rory in the gym I'll update him on my situation and he always gives me good advice. I'm quite lucky that I've got plenty of good people around me. Eric O'Keefe [coach] is very sharp with all this stuff, he helps me quite a bit. Obviously my manager Graham [Boylan], he's very good with the advice. All my family, friends and coaches too. I can't go wrong really."
Leaving the UFC is a realistic prospect for Duffy, but he's adamant that if he does depart, it won't spell the end of a professional career that he's seen him accumulate a 16-2 record, with 14 of his wins coming inside the first round.
"I don't think it'll get to the point that I end up quitting," Duffy says. "It's just that it's a short career and you've got to start thinking now about what comes after it. When I went to the UFC Athlete Summit, I saw how many of those fighters left the sport with nothing. That's what I've got to start thinking about now.
"I didn't go to university. I spent my whole life doing this, working towards this. I've got to think about it now and I'm sure I'll secure a deal that will be a lot better for my future."
Like his peers, Duffy always saw the UFC as the promised land, but he never fought for fame and fortune. Building for his future was the only aim and that hasn't changed. At the moment, however, the terms being offered won't allow him to do so.
"I do this for the joy of it, but then it became my job," he says. "Stuff like this kind of takes the joy out of it, but because it's my job I've got to make smart decisions.
"There are times when it's frustrating but you've got to keep a clear head and make wise decisions. Whatever happens, that's what I intend to do."