IT'S NO SURPRISE that Josh van der Flier's lineout throwing has been the talk of Ireland camp over the last week.
Starting hooker Dan Sheehan has been telling him that he's not allowed to throw in training for fear that Sheehan and the other number twos might be out of a job.
"I think everybody's safe because I don't think I'll go for scrummaging there!" is van der Flier's response.
Ireland head coach Andy Farrell has been joking about van der Flier taking the place-kicks today against England, but the back row says that's a bucket list item for the future.
"I think I'll be useless at that but you never know someday, a Barbarians match or something like that later down the line."
Van der Flier would probably do a good job. His effort at the lineout last weekend was a prime example of his and Ireland's adaptability. Earlier this season, we even saw van der Flier moving to the wing for Leinster after injuries in the backline. He scored a try out wide with his first touch in the new position.
To be fair, he is the World Rugby player of the year so it's only right that he can do a bit more than his designated job in the number seven shirt. It can be easy to forget that van der Flier holds that global honour because he's so unassuming and modest.
But he has noticed subtle changes in how opposition teams treat him nowadays.
"I suppose there has definitely been a few times in games where I get the ball and find there are three lads on me, where I thought I'd have a bit more space," he explains.
"It might not be the case and it's in my head, but there are definitely a couple of times when I've kinda felt like someone has enjoyed putting a big hit on me or something."
Ryan Byrne / INPHO Van der Flier speaks to the media. Ryan Byrne / INPHO / INPHO
He hasn't encountered any sledging or verbal aggression from opposition players but there is the occasional bit of slagging from his Ireland team-mates.
"More the lads on my team if I make a mistake! Not too many changes but I suppose I find definitely ball-carrying, for example, I'm marked a bit more I guess.
"But it leaves space for other people."
That's typical van der Flier – always considering how he can make life easier for those around him. His best performances make others stand out.
However, van der Flier deserves individual focus today as Ireland look to seal their Grand Slam. He will win his 50th Ireland cap in Dublin, seven years on from making his debut against England in Twickenham.
"It has flown by quite quickly but yeah, it will be a very special day," says the 29-year-old.
"In my head, I'm trying not to think about it too much. I'm kind of acknowledging that that's what it is, I guess, and as well obviously the significance of the big game that it is and what's on the line.
"But I think as a group and definitely me personally, I'm just trying to make sure I get my prep right and make sure it's just a normal game in many ways in terms of how I'm preparing and everything."
Ever the professional. It will be a proud day for his family, all of whom will be there. Ireland's players get four tickets each for home games and have the option to buy more, so van der Flier has taken every one he can get.  There is set to be one particularly special guest.
"My grandad George hasn't been to a game in… it must be a couple of years," explains van der Flier.
"He hasn't been well enough, probably, to come but we're going to try to get him as well and that would be special."
George Strong used to cycle the 100-kilometre round trip from Waterford to Kilkenny to play rugby for the latter, helping them to a Towns Cup. That partly explains van der Flier's remarkable engine, work ethic, and athleticism. So he has his mother, Olly, to thank for some of his traits.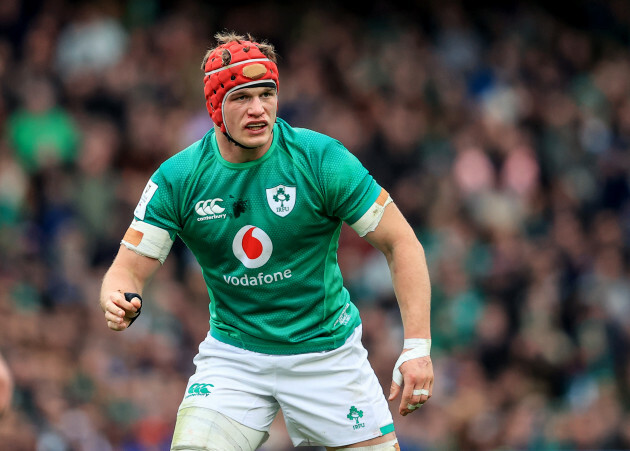 Dan Sheridan / INPHO Josh van der Flier is World Rugby player of the year. Dan Sheridan / INPHO / INPHO
He also gets athletic excellence from his father, Dirk. A native of Finglas whose own parents – Johannes and Joke – had moved there from the Netherlands in the 1950s, Dirk played rugby for the Leinster U21s, Old Wesley, and Wicklow.
Josh's granny has always tried to keep the Dutch connection alive. He has a Johan Cryuff jersey and a few others at home thanks to Joke, whose full name is Johanna.
"Every World Cup, she'd get us a Dutch jersey to make sure we weren't supporting the Irish, apparently," he says. "I'd wear it if Ireland weren't in it."
As well as giving him good genes and a serious work ethic, his parents have also shown Josh love and support throughout his journey.
That's what matters most.
"They would have taken me training since I was five," he says. "My mum and dad, my Dad especially, he doesn't miss many games. We could be playing in Dragons and he'd do his best to get over if he can make it work around work.
"He'll always say he used to go and watch Wesley playing High School and he'd try and move his meetings around to go and see that or the 3rds team or whatever it was when I was in fourth year.
"And if he was going to those, he said, 'I'm definitely not missing a game in the Aviva.'
"I suppose the support they've given me and people along the journey, people who have known me all the way through those stages, it's nice for a game like this, it's nice to have them there as they've been the ones since the start I guess."
- This article was updated at 1.27pm to correct 'now' to 'not' in the second paragraph.