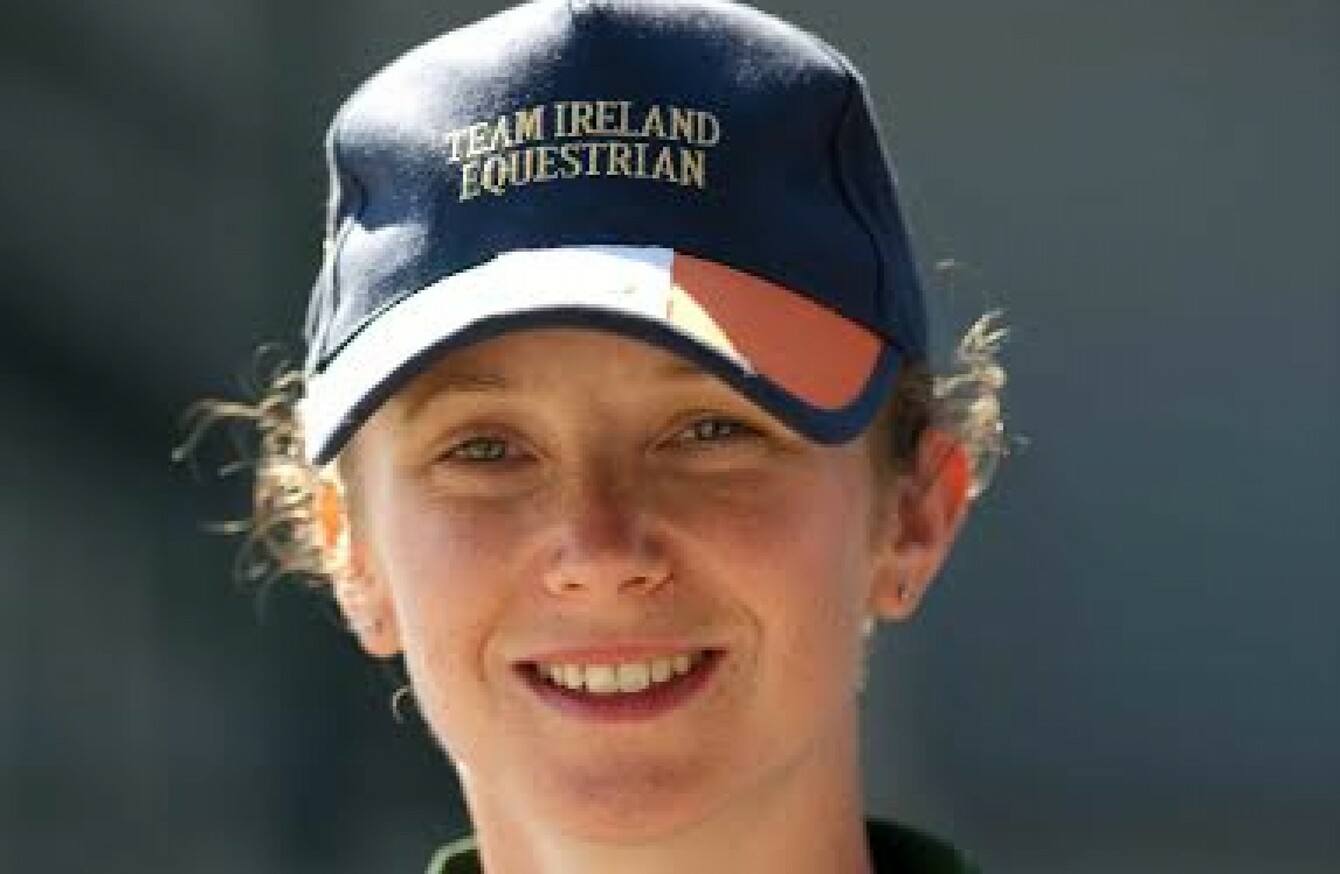 Judy Reynolds is set to represent Ireland in dressage at the 2016 Rio Olympics.
Image: Ray McManus/SPORTSFILE
Judy Reynolds is set to represent Ireland in dressage at the 2016 Rio Olympics.
Image: Ray McManus/SPORTSFILE
JUDY REYNOLDS IS nothing if not determined. Back in 2006, she underwent an emergency appendix operation three weeks before the World Equestrian Games.
Despite not riding for 10 days thereafter, she emerged from her hospital bed eager to compete and ultimately recovered in time for the event.
"I competed in the morning and the afternoon," she tells The42. "Suddenly, I felt all the pain I should have felt in the three weeks before. My brain had just blocked it out. I decided I was riding and that was it. Afterwards, it all hit me and I actually had to take a bit of time to recuperate. But if you want to do it, you'll find a way."
For Reynolds, dressage is a "compulsion" from which everything else in her life revolves around.
Moreover, at 34, she is in the form of her life. During the week, it was confirmed that Ireland had secured an individual dressage spot in Rio owing to her Olympic ranking.
While it is up to the Irish Equestrian federation who to nominate for a place in Brazil this summer, the lack of viable alternative candidates means Reynolds' spot on the plane is all but assured.
"It has always been a childhood dream when you're involved with horses and you wanted to ride. It was always the ultimate goal to ride at the Olympics. And now, it's going to happen.
It's been a long year of working towards it. Towards the end of the campaign, for a moment, it wasn't looking good. So when it finally came true, it was just relief that we actually achieved it.
"Over the past year, I've broken two different records. In total, I've broken them five times, and that's what it's taken to get the Olympic qualification. The records that stood before, they stood for 20 years. So that was my first goal, to break them, and once we broke them, we said we had to go for it again and try to up it again."
Olympics spots were based on ranking points in three-star events and over during the last 12 months. Competitors' four best scores were taken into account during that period, and Reynolds targeted five-star and World Cup events, as they had the most bonus points on offer.
In dressage, the way it generally works with the ranking — it has nothing to do with your placing, it's generally to do with the percentage you receive," she explains. "That can be difficult for people to understand when I'm going 'woo hoo, I was fifth or sixth,' and they're going 'yeah, but you didn't win.' That, at the end of the day, isn't so important.
"I can be second in Doha last week with almost 80% and at that point, I don't care that I'm second. The percent is so important to us that that was what was so exciting."
The near-certain Olympics qualification completes a remarkable few months for Reynolds.
Having begun riding at the age of four and become interested in dressage at 15, it is only now that everything seems to be fully clicking into place.
To put her improvement into perspective, at the beginning of January 2015, she was ranked 144th in the world. When the new rankings are released later this month, she is expecting to feature inside the top 35. So what does she put this sudden improvement down to?
"I think, without doubt, this is the best horse I've ever had, the best I've ever ridden. It's very exciting. Hard work and patience (are also important).
My horse hasn't been easy. He's not the most talented horse — Vancouver, we call him JP at home. There are some horses that are naturally amazingly talented — he's not one of these guys. He's improved because of the way we worked him and he's become more talented as such."
Following Reynolds' success in dressage, coupled with Bertram Allen's achievement in show jumping earlier this week, Team Ireland Equestrian will now have at least six athletes competing at the Rio Olympics Games.
Does Reynolds believe the sport is as healthy as it's ever been in light of these recent successes?
"We're strong. Hopefully the show-jumping representative will be Bertram Allen, who is top 10 in the world. He's an amazing talent. I hope for him, this year, but he will win an Olympic gold medal at some point. There's no question about it, he is that talented.
In eventing, we're really coming back into the sport. We're a traditionally very strong eventing nation. We kind of lost our way a little bit for a while, but we're really coming back, and as an eventing nation, we're becoming very strong again. They qualified a team directly, that shows how strong they are.
"Dressage is really growing in Ireland at the moment at quite a fast rate from the ground up. Across the lower levels, it's quite strong. As you go up the levels, it doesn't have the depth of riders and competitors to be that strong yet. But it is growing and the reception I've received over the last few days from Irish people from qualifying has been huge."
Source: WorldDressageMasters/YouTube
Reynolds has previously dismissed her own chances of winning a medal in the summer, likening the situation in Rio to the Men's 100m final, where the equestrian equivalent of Usain Bolt is almost certain to prevail at her expense. Consequently, a top-15 finish and with it, a place in the final, is her primary ambition.
Born in Kildare, Reynolds moved to Germany at the age of 21 as she attempted to pursue a career in dressage. It hasn't always been easy — funding is hard to come by, and she makes money giving lessons and training other riders when she's not competing herself.
Earlier this month, she earned €20,000 for finishing as the runner-up spot during the Grand Prix Freestyle to Music for the five-star show at Doha, Qatar. But these earnings are the exception rather than the rule, and normally, even a high-place finish would be rewarded with no more than a couple of thousand euro in funding — barely enough to cover expenses, in other words.
And while her display in Doha enhanced Ireland's Olympics hopes, Reynolds still faced an anxious wait to discover if she had earned a spot in Rio for her country.
Prior to Friday's confirmation, Reynolds was worried that a recent controversy could scupper her dream. It was alleged that number of Russian and Ukrainian riders were being favoured at recent events, with other riders, including the Kildare native, potentially suffering as a result.
I was concerned because at that time, it took away my Olympic place," she says. "As I went to Doha, I didn't have an Olympic ticket. We had this fight to get it back. It did directly affect me in that way.
"It is a subjective sport, and judges naturally have a performance that they like more than something else, but what happened there wasn't quite fair and I think the authorities are still dealing with it and hopefully, the right outcome will prevail.
"It was an issue going to Doha. We knew all this was going on. A couple of days before I had to ride, I just said 'look, we have to stop talking about this. We have to stop being so obsessed with it.' At the end of the day, I can only control my performance.
There's a sports psychology saying – 'control the controllable' and that's what you have to do. I really tried to put out of my mind what the others were doing."
Yet even if justice hadn't prevailed, her passion for dressage would have remain undimmed. It has been her life since the age of four, and a trivial judging decision isn't powerful enough to affect a love that goes way beyond gold medals and glamour.
"I love to learn, I love the process of learning and teaching," she says. "I think with horses in general, you're constantly learning. Every new horse brings a new set of challenges. Ultimately, they all have to learn the same thing every day, but every horse has a different path to get there. I love that challenge of how to bring that to each horse and that's why I love dressage."
The42 is on Snapchat! Tap the button below on your phone to add!