ANTONIO CONTE LOOKS likely to take over as the next Chelsea manager this summer.
But it's twenty years since his crowning glory as a player – the 1996 Champions League.
The midfielder spent thirteen years at Juventus and won a litany of silverware including five league titles – but the victory over Louis van Gaal's Ajax placed them at Europe's top table where they remained for a long time.
Between 1996 and 1999, they reached the Champions League final three times and but for Roy Keane's heroics in Turin, it would've been four.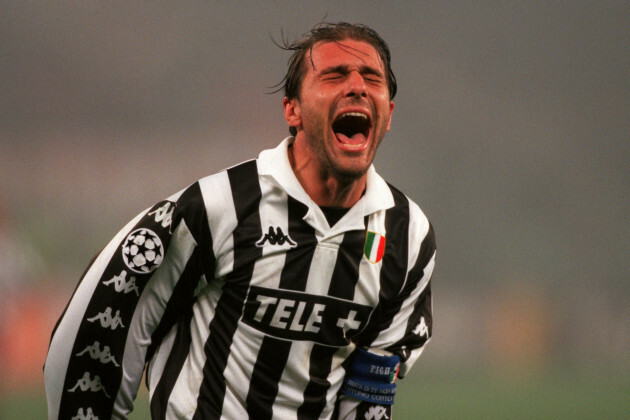 EMPICS Sports Photo Agency EMPICS Sports Photo Agency
After retiring in 2004, Conte went on to management – beginning in the lower leagues before making the move to Atalanta and then Siena. In 2011, he took over as Juventus boss and oversaw the side's return to domestic dominance as they won three championships in three seasons.
He's been Italian national team coach since 2014.
But what of his former Juventus team-mates? Whatever became of them?
Angelo Peruzzi
Following the 1996 success, the goalkeeper remained with the Old Lady for three more years before a brief stint at Inter. He moved to Lazio in 2000 and enjoyed a terrific time there before retiring in 2007. In his final campaign, he was named the Serie A Goalkeeper of the Year at the age of 37.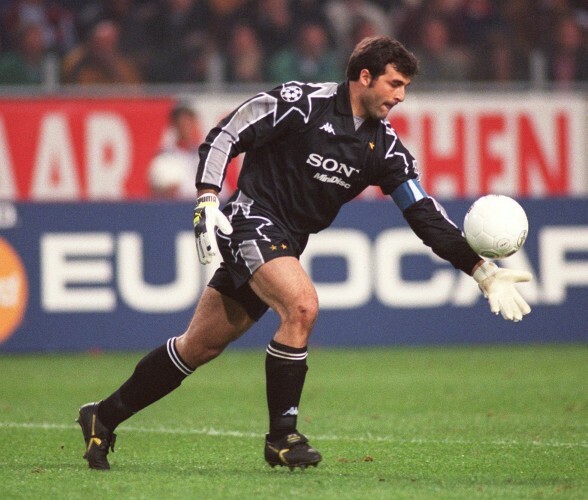 EMPICS Sports Photo Agency EMPICS Sports Photo Agency
Since then, he's been involved as a coach with the Azzurri's senior and U21 teams while he assisted his former Juve team-mate Ciro Ferrara during his spell as Sampdoria manager in 2012.
Moreno Torricelli
The full-back stayed with Juve until 1998 when he joined Fiorentina. He had a brief stint with Espanyol after Fiorentina's relegation and has tried his luck with management in the lower leagues but with little success. In recent years, with hair that's now noticeably more grey, he has appeared with a number of his ex-team-mates in 'Legends' games.
EMPICS Sports Photo Agency EMPICS Sports Photo Agency
Ciro Ferrara
The centre-back only played for two teams in a professional career that spanned over twenty years. He spent eleven of those in Turin and won six league titles, though Juventus were later stripped of the 2005 championship due to the Calciopoli scandal.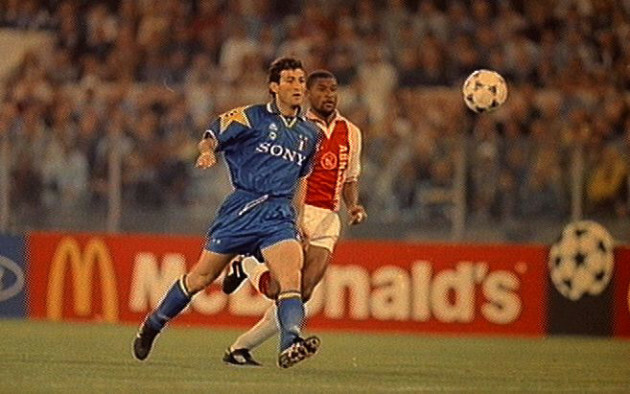 EMPICS Sports Photo Agency EMPICS Sports Photo Agency
After retiring in 2005, he was part of the coaching staff when Italy were crowned World Cup winners before taking on a role with the Juventus academy. In 2009, he took over the senior team but it didn't go well and he was replaced the following year. After some time with the Italy U21′s, he was hired by Sampdoria but lasted just six months.
Pietro Vierchowod
A physical and dogged defender, he was 37 when he appeared in the 1996 decider but moved to Milan afterwards and stayed for a season. He then stayed at Piacenza for three years before finally retiring at 41.
EMPICS Sports Photo Agency EMPICS Sports Photo Agency
He's managed in the Italian lower leagues without much success while he was appointed as Budapest Honved coach in the summer of 2014 before being sacked just a few months later.
Gianluca Pessotto
The left-back moved from local rivals Torino in 1995 but went on to spent eleven years with Juventus, winning four league titles.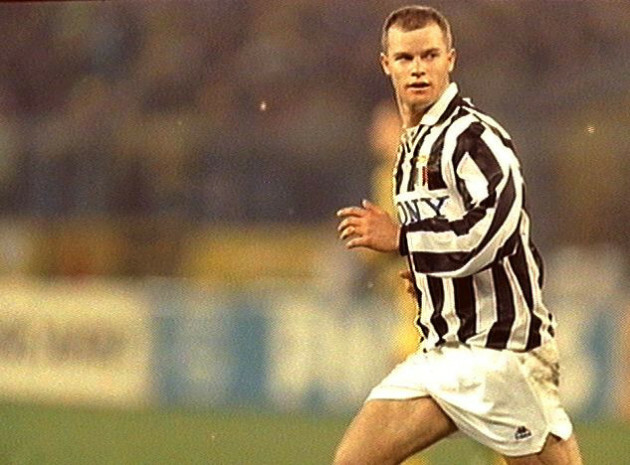 EMPICS Sports Photo Agency EMPICS Sports Photo Agency
After quitting playing in 2006, he was hired as the club manager but struggled with the transition and that summer, he jumped from a fourth-floor window in what was seen as an attempted suicide. At the time, the club found themselves at the centre of the Caliopoli match-fixing scandal. Pessotto survived and later said he believed it was an accident though suggested he had been suffering from depression at the time.
Since recovering, Pessotto has resumed backroom duties with the club and is now the Juventus Academy's sporting director.
Paulo Sousa
The Portuguese midfielder only spent two years at Juventus but won a Scudetto, a Coppa Italia and a European Cup in that time.
After 1996, he moved to German side Borussia Dortmund and promptly beat his former side in the 1997 Champions League final.
Matthew Ashton / EMPICS Sport Matthew Ashton / EMPICS Sport / EMPICS Sport
He struggled badly with injuries for the remainder of his career though and after stints with Inter, Panathinaikos and Espanyol, he retired aged just 31.
Cutting his coaching teeth with the Portugal's underage teams, he went on to become an assistant to Carlos Queiroz.
In 2008, he was named QPR manager but was sacked before the end of the season. There quickly followed spells with Swansea and Leicester before he was unveiled as coach of Hungarian side Videoton with whom he won the league. He repeated the trick in Israel with Maccabi Tel-Aviv in 2014 and with Swiss outfit Basel in 2015.
Since last summer, he's been in charge at Fiorentina and the side are currently in fourth place in Serie A.
Didier Deschamps
Famously branded a 'water-carrier' by Eric Cantona, who also claimed players like the midfielder could be found 'on every street corner', Deschamps had the perfect response.
"How many players can you find on street corners who have won two European Cups?" he asked.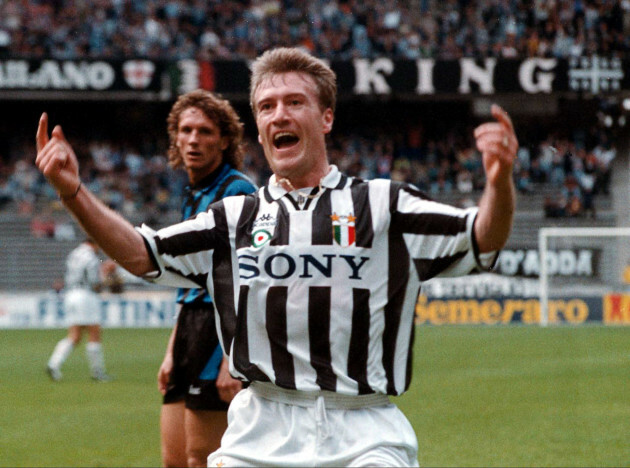 Associated Press Associated Press
It could easily have been more. He was a runner-up with Juventus in 1997 and 1998 and was back in a final in 2001 but lost again as part of a superb Valencia team.
In between there was FA Cup success during his one season with Chelsea.
He retired at 32 and went straight into management at Monaco and guided them to a Champions League final – their first – in his third season there. He tried his luck as Juventus boss but didn't last long but there was better luck at Marseille where he won a league title and a collection of League Cups.
Since 2012, he's been France manager having replaced Laurent Blanc after the 2012 European Championships.
Fabrizio Ravanelli
The striker grabbed Juve's goal against Ajax in 1996 but was sold to Middlesbrough later that summer for £7m.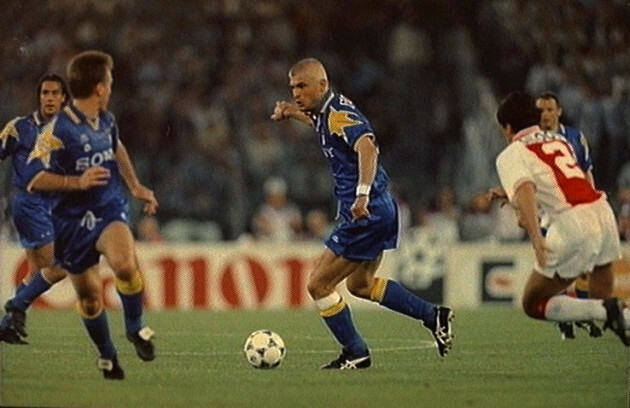 EMPICS Sports Photo Agency EMPICS Sports Photo Agency
He enjoyed an excellent season but left when Boro were relegated. He bounced around a couple of teams subsequently – namely Marseille and Lazio, with whom he won another league title in 2000 and a Coppa Italia the year before.
He returned to England and signed for Derby, who also suffered relegation at the end of the 2001/2002 season. Afterwards, and quite memorably, he joined Dundee before finishing his career back in Italy with Perugia.
There was a short stint as manager of French side Ajaccio in 2013 but only lasted a number of months due to poor results.
Gianluca Vialli
The striker captained Juventus to the 1996 triumph but, like Ravanelli, was moved on that summer.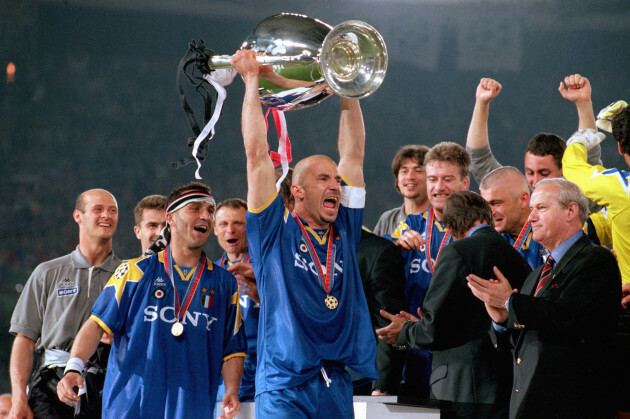 * Tony Marshall * Tony Marshall
Chelsea picked him up and he spent three years at the club, initially as a player, then as player-coach before spending one full season as the team's dedicated manager.
While in charge, he won plenty – the 1998 Cup Winners' Cup, the League Cup and Uefa Super Cup as well as the 2000 FA Cup.
He then endured a disappointing season with Watford and, ever since, has concentrated on media work and business interests.
Alessandro Del Piero
Del Piero took over Juve's famed number 10 shirt after Roberto Baggio was sold to AC Milan at the end of the 1995 season.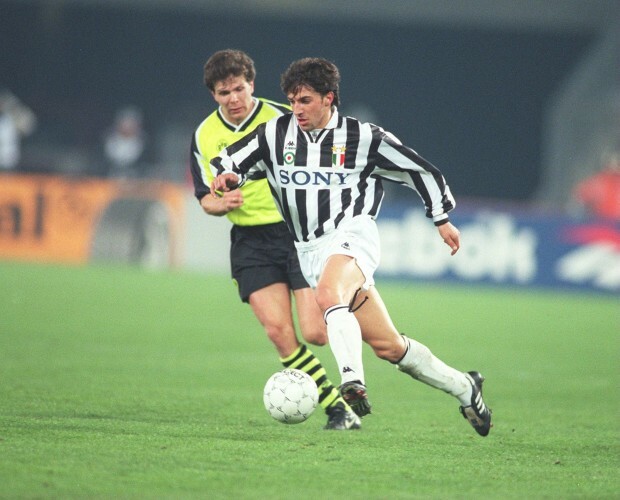 EMPICS Sports Photo Agency EMPICS Sports Photo Agency
He went on the become a club icon, spending nineteen years with the Old Lady. He won six Scudettos but won his only Champions League in 1996, finishing as a runner-up on a further three occasions.
In 2012, at the age of 37, he moved to Australia and played two seasons with Sydney FC before finishing up with Indian Super League side Delhi Dynamos in 2014.
The42 is on Snapchat! Tap the button below on your phone to add!