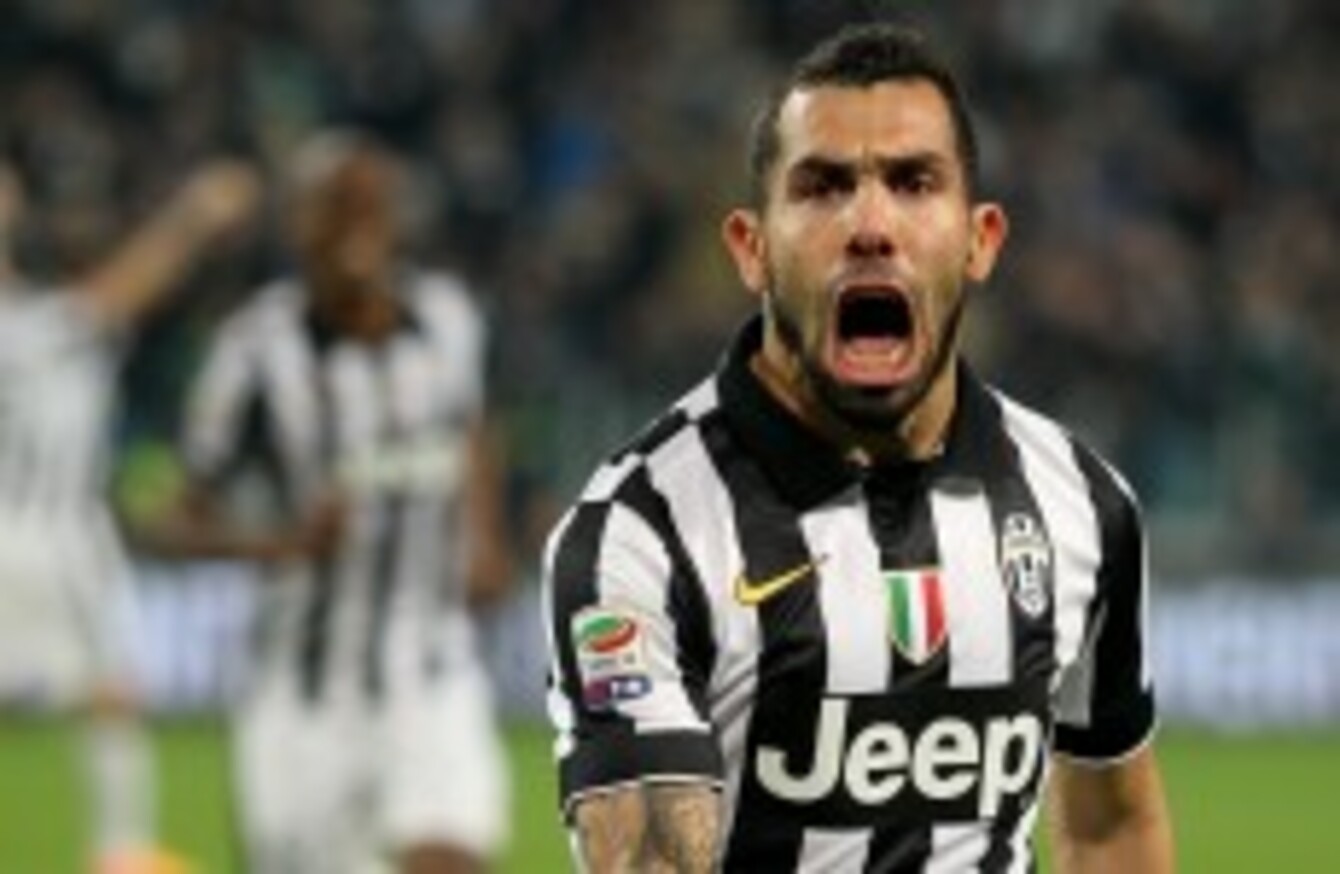 Carlos Tevez has enjoyed a new lease of life at Juventus.
Image: AP/Press Association Images
Carlos Tevez has enjoyed a new lease of life at Juventus.
Image: AP/Press Association Images
A CLUB THAT was brought to its knees by the 'Calciopoli' scandal in 2006 and relegated to the second tier of Italian football is now challenging for the title of 'the best team in Europe'.
The story of Juventus' remarkable climb back to the top of Serie A and being 17 points better off than the next best side in Italy is a tale that evokes as much sorrow for the state of Italian football as it does joy for the Old Lady. Roma were Juve's closest challengers this year, as they were last season, but are nowhere near the level of the Serie A champions at the moment.
What the re-emergence of Juventus has shown is that Serie A is in a lull that has never been seen before. Gone are the days when the world's best players pine for moves to the likes of Juventus, Napoli or both of the Milan clubs. Gone are the days when playing for one of Italy's top clubs was on the same level as representing Real Madrid or Barcelona.
Gone are the days of Kaká, Ibrahimovic, Roberto Baggio, Allesandro Nesta and other greats of the footballing world happily plying their trade in what was traditionally Europe's second best league. There's an argument that Serie A is only marginally ahead of Ligue 1 in France and is surely lagging quite a bit behind the Bundesliga in terms of quality and entertainment now.
When the greats like Baggio, Maldini, Nesta, Seedorf and players of their ilk retired, it left a hole in the Italian league. There was nobody that was going to replace them and teams began to fill up with mediocre players and journeymen. There are loads of instances you could mark as major turning points in the downfall of the Italian league in the past five years, but the 2011/12 season sticks out as the most obvious.
AC Milan were reigning champions going into that season, but were over-reliant on Zlatan, as he had guided them to the title the season before. Inter Milan, just a year on from winning the Champions League under José Mourinho, were a shell of the team that had gone before them. Wesley Sneijder was woefully out of form and despondent with life in Milan and the club hadn't brought in reliable replacements for the likes of the ageing trio of Javier Zanetti, Lúcio and Walter Samuel at the back. They were short on options up front as well. Diego Forlán and Diego Milito had lost all resemblance of form whilst underwhelming signings such as Mauro Zárate, Yuto Nagatomo and Andrea Poli were brought in. A sixth place finish followed.
AC are, without a doubt, a shadow of their former selves. A club that once had Cafu, Paolo Maldini, Alessandro Nesta, Kaká, Filippo Inzaghi, Ronaldo(the Brazilian one), Clarence Seedorf and Genaro Gattuso all playing for them at the same time now boasts a midfield including such options as Sulley Muntari, Giacomo Bonaventura and the injury-prone Michael Essien. The pantheon of the greats will not be home to this Milan team.
Players are not interested in Serie A anymore. In the past 14 years, Gonzalo Higuain has been the only player to go to Serie A for a fee that falls into the top 10 biggest transfers an Italian club has ever completed. Last season, there was even serious debate if Xherdan Shaqiri would choose Inter Milan or Stoke as his next destination after Bayern Munich. That sentence 10 years ago would make you spit your coffee out. Is he even any better at Inter than he would be at Stoke?
The fact that the likes of Roma and Lazio have suddenly emerged as the main rivals to Juventus in Italy has more to do with the other teams around them falling apart rather then actually becoming better themselves.
As far as Juventus are concerned, they do deserve credit despite how poor their opposition in the league is. When they were sent down to Serie B, they never panicked. Fabio Capello jumped ship, along with players like Ibrahimovic, Patrick Vieira, Lilian Thuram and Fabio Cannavaro, but enough stayed around to steer them into the top flight.
The emergence of Claudio Marchisio and Giorgio Chiellini added to the experience of Buffon, Del Piero and Pavel Nedved meant they had a team not only capable of winning Serie B, but also competing upon their return to the top flight.
Plenty of experimenting and disappointing results led them to appointing former player Antonio Conte and this decision proved to be a vital step. The previous year, Andrea Agnelli was instated as chairman of the Bianconeri, and it is he who has given the club its financial stability and further nous in the transfer market.
Andrea Pirlo, Arturo Vidal and Stephan Lichtsteiner were all brought to the club under the new stewardship, and they will provide the back-bone for the side on Saturday night. They continued to supplement the squad with affordable players with huge potential and the way in which Paul Pogba has developed there must give huge pleasure to the owners. They are unable to attract the world's biggest names so signing affordable players that aren't wanted by the bigger clubs around Europe has become their transfer policy. Carlos Tevez was signed under this pretence and he is largely responsible for the season Juventus are enjoying.
They face a huge battle this summer, however, and must not fall into the same trap as AC and Inter Milan did by continuing to hope that their elder statesmen will maintain the stranglehold on Serie A, which they have become accustomed to. However, much we enjoy Pirlo, he is on his last legs as a player and surely next season will be his last at the top table of European football. Tevez, Lichtsteiner, Chiellini, Buffon and Patrice Evra are all over 30 and all certain starters. Replacements need to be sorted, and good ones too.
You also get the feeling that should a club offer anything above €70 million for Paul Pogba, he will go, and that should be a major worry for not just Juventus, but for the league itself. If they lose him, they lose arguably the league's best player and one of Serie A's most marketable performers.
Juventus winning four league titles and making the Champions League final is a a nice story, but if you scratch the surface, it only acts as a cloud for how poor the Italian league has become. For fans of the former great Italian clubs, it is pointless yearning for past greats and living on those memories of old. They must just hope that something happens that will reverse the steep slide that Serie A has now become accustomed to.
For those of us that grew up watching exotic players such as Vincenzo Montella, Christian Vieri, Rui Costa and Roberto Baggio, replete with his magnificent ponytail on Channel 4 every Saturday morning, it is a sorry state of affairs. Serie A no longer catches the imagination or offers the level of attraction it once afforded.