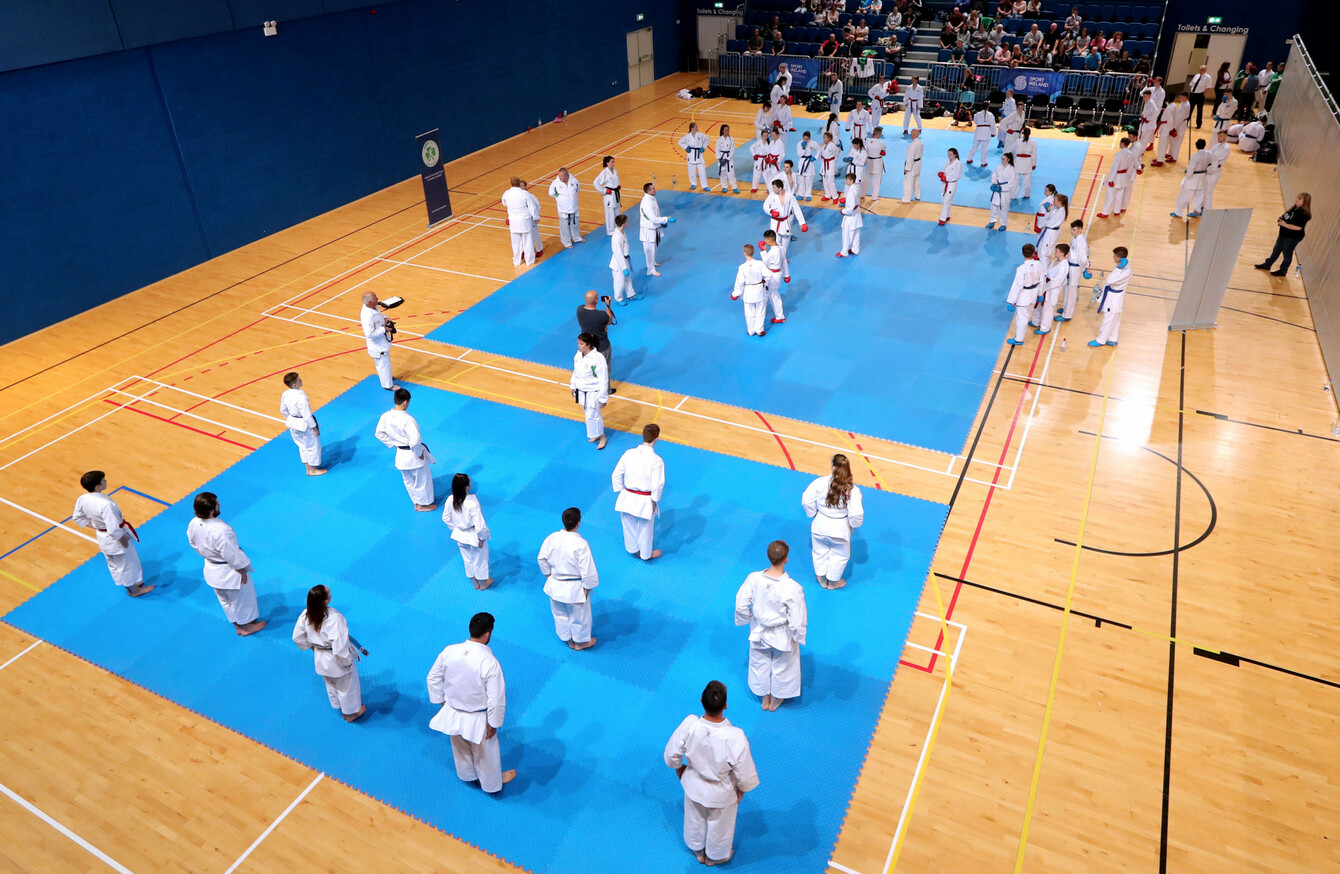 Dispute: Irish karate in disarray ahead of next month's World Championships.
Image: James Crombie/INPHO
Dispute: Irish karate in disarray ahead of next month's World Championships.
Image: James Crombie/INPHO
IRISH KARATE IS in the midst of a crisis that is threatening to ruin the team's hopes of qualifying for the 2020 Olympics in Tokyo.
Three senior coaches have been removed from their positions with the national team following a political power struggle, with new coaches drafted in to replace them ahead of next week's World Karate Championships.
The tournament, which takes place from 6-11 November in Madrid, is a crucial one for rankings points for Olympic qualification.
Seven of Ireland's 10 senior fighters have sent a letter to Sport Ireland expressing their dissatisfaction, while a number of fighters have also hit out at the disruption to their preparations.
"There's no legitimate reason [for the coaches' removal]," Caradh O'Donovan told The42.
"We wrote a letter and told them, 'We want our coaches,' and they haven't even responded.
"Could they not just put it aside for two weeks and try to sort it out after? I really don't understand it."
Another fighter, Nicole Perry, added: "A big part of karate is loyalty and we were taught that from a young age when we first started karate.
"I'm going to stand by my coaches and my team."
Sport Ireland told The42 that they are "aware of the ongoing conflict in the ONAKAI [Official National Amateur Karate Association of Ireland] Executive and is engaged with the relevant parties on the matter in seeking a resolution".
The dispute has seen Irish karate split into two competing organisations: Karate Ireland ONAKAI, and ONAKAI, the latter of which is headed up by Peter Coyle, the long-time president of the sport's governing body in this country.
After months of political in-fighting at board level, it is understood that a no-confidence vote was taken against Coyle resulting in his removal as president and chairman of Karate Ireland ONAKAI on 21 June.
Following the appointment of a new president, Chris Kelly, Coyle subsequently called an extraordinary general meeting (EGM) on 21 July where he was reinstated as president, though Coyle's opponents claim that the meeting was 'unconstitutional' and therefore invalid.
Known as ONAKAI up until 2016, the governing body rebranded to Karate Ireland ONAKAI two years ago. Following the EGM, Coyle reverted to using the original ONAKAI name. Emails seen by The42, sent by secretary Leo Mulvany on Coyle's behalf, have claimed ONAKAI are the legitimate governing body for the sport in Ireland.
After the EGM, Coyle wrote to the World Karate Federation — the largest international governing body of karate with over 130 member countries — to inform them that he had been reinstated as president, and the organisation accepted his explanation.
However, an email sent to members of the association and seen by The42 confirms that Sport Ireland have recognised Karate Ireland ONAKAI as the official governing body rather than Coyle's group and communicated their position to the WKF.
"Sport Ireland have confirmed to us that they have notified their decision to the World Karate Federation (WKF), the Olympic Federation of Ireland (formerly the OCI) and Mr. Peter Coyle in this regard, confirming Karate Ireland ONAKAI as the only NGB [National Governing Body] for Karate in Ireland, with this being the case since formal recognition was provided by Sport Ireland in 2002," it read.
As long as they have WKF recognition, Coyle and the ONAKAI association have authority over the sport's Olympic pathway in Ireland. The three departed national coaches — men's coach Mark Sheridan, women's coach Paul Brennan, and assistant women's coach Eamonn Pegley — are not aligned with ONAKAI, thus preventing them from any involvement with Irish fighters at the WKF World Championships.
What are they
really like?
Rare insights on sport's biggest names from the writers who know them best. Listen to Behind the Lines podcast.
Become a Member
In a recent interview with The Irish Sun, Coyle suggested that the coaches had left of their own accord, but documents seen by The42 confirm that Brennan was told in writing that his membership had been terminated following a decision of the ONAKAI Executive Committee.
Two new coaches — Christophe LePonce and Derek Desmond — have been drafted in as replacements, but there is still disillusionment within the set-up, with the majority of the Irish team reluctant to compete in the absence of their regular coaches.
When contacted by The42, Peter Coyle and Leo Mulvany both declined to comment for this article.
However, an email sent by ONAKAI this week to the athletes acknowledged that it has been "a very difficult year for karate in Ireland" and added: "We feel it is vital now, that we unite as one team."
The message added: "You are an ambassador for Irish Karate and your conduct should reflect that. Your interaction with people in Madrid should be confined to your immediate ONAKAI squad members, coaches and registered delegation as you are registered under ONAKAI according to the WKF rules.
"Any unnecessary connection with others outside of this circle may be seen as negligent on your behalf. You must be aware that your conduct on this trip, like any other, could affect your eligibility for future selection."
The World Karate Federation has yet to reply to a request for comment at the time of publication.
– First published 08.28, 31 October
Subscribe to our new podcast, Heineken Rugby Weekly on The42, here: