The Republic of Ireland women's national team face Northern Ireland in their opening 2019 World Cup qualifier at Mourneview Park in Lurgan tomorrow evening (Kick-off 7.30pm) 
KAREN DUGGAN IS living proof that you don't necessarily need to leave Ireland to reach the top in women's football.
Back in March, the Kilkenny native was named FAI Senior Women's International Player of the Year during the annual awards night at RTÉ studios.
It was only the second time in 15 years that a home-based player picked up the accolade — after her former UCD Waves team-mate Julie-Ann Russell won it in 2014.
Many of the country's finest players have opted leave these shores in order to progress their careers and test themselves at clubs around Europe and further afield in recent years.
Of the current 21-strong squad named for tomorrow's 2019 World Cup qualifying opener, 10 ply their trade in the Women's National League (WNL), with six in England and one each in Northern Ireland, Scotland, France, Germany and the US.
But Duggan's achievement is testament to how far the WNL has come since it was formed six years ago.
"I think the talent is there," the 26-year-old, who is comfortable in defence or midfield, told The42. "The challenge is keeping players in the WNL. If we don't have the underage structures they could drift off to Gaelic football or camogie or other sports. If there's a clear progression path and the national league continues to grow then I think we can develop talent.
A lot of people would be encouraged to go abroad and this can be a good stepping stone for that too. You'll get good experience here playing against internationals in the league. I think the league is in a good place now.
"We could be doing more to keep players by becoming more professional but the home-based training sessions that are starting with the Ireland set-up will be really helpful."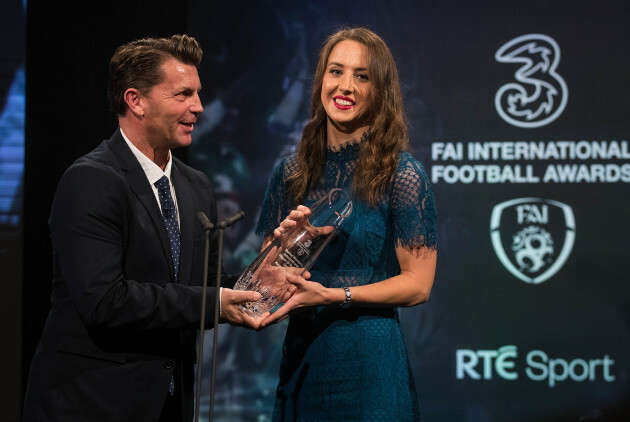 Ryan Byrne / INPHO Being presented with Senior Women's International Player of the Year by Colin Bell back in March. Ryan Byrne / INPHO / INPHO
The women's game here remains part-time and Duggan has always married playing with her career off-the-field. A former camogie player for Kilkenny, she attended University of Limerick (UL) to study Science with concurrent Teacher Education.
"I taught for a year but I didn't love it so didn't last too long," she explains. "I had to get off work a good bit to play and I had Leaving Certs so that was difficult."
Having signed for Dublin club Peamount United, she was part of the team that won the inaugural WNL in 2012 and featured in their Uefa Champions League campaign — losing out to Paris Saint-Germain.
However, when the Peas decided to replace manager Eileen Gleeson, Duggan was one of several players to move to UCD Waves and link up with Gleeson.
"I joined Peamount United when I was in UL and we were getting on really well there, but they decided to change the manager and didn't really have a reason for it.
Eileen had brought a lot of us to the club and we felt a certain amount of loyalty to her. So when Dun Laoghaire Waves became UCD Waves and she took over as manager, we were told about the facilities that they would have and a good few of us decided to make the switch.
"It worked out well in terms of where I live and that too as I'm closer to training and the gym now.
"We haven't had success yet but we're building. There are no underage structures there as we're a standalone team so you're trying to bring in players and mould them together. It could take a few years for UCD to really hit the ground but I'm enjoying it.
"Peamount have rebuilt because they have the underage teams there so they're challenging for the title. They're ahead of us at the moment.
"It took a few years but they're coming back now and I think the FAI should look at having youth sides for each of the clubs. Shelbourne are dominating and it's because they've got really strong underage structures."
While Waves are currently fourth in the league table behind Wexford, Peamount and Shelbourne, the did lift the WNL Shield over the weekend with a 2-1 victory over Galway.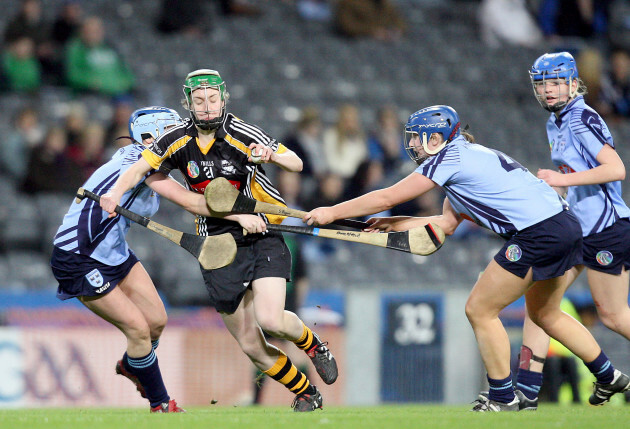 Ryan Byrne / INPHO Representing Kilkenny against Dublin in camogie in 2011. Ryan Byrne / INPHO / INPHO
Duggan has seen numerous team-mate try their luck outside Ireland and although she wouldn't completely rule it out, her future appears to be here.
"It didn't happen when I was younger, then I went to college and got my degree," she says. "Now that I'm working and balancing the both, I'm invested in staying in the WNL. If everyone left, the standard would go down so it's good to have international players in our domestic league.
"If the likes of Manchester City came in you'd obviously have to think about it but as a long-term plan I'll have a lot of experience working when I finish football so I won't be starting from scratch. That's important as you're not going to make the millions that the men make.
The girls who have gone abroad are doing really well and playing for top clubs having come through the WNT so it shows there is talent in the country that can compete in Europe.
"For me, I probably won't be looking to go professional at 26 or 27 but if the opportunities are there then it's definitely an option for the younger girls.
"I would have been quite into my studies so that was always the route I was going to take."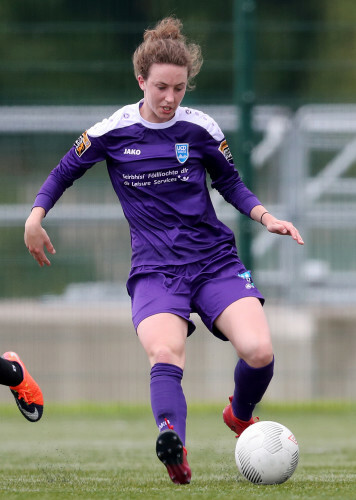 Bryan Keane / INPHO In action for UCD Waves. Bryan Keane / INPHO / INPHO
Earlier this year, the Irish women's team hit the headlines when the entire strike on strike in protest to their working conditions. After a stand-off, the group of players came to an agreement with the FAI and Duggan says it's now up to them to perform.
"There have definitely been improvements but I think it's a lot to do with how we feel about ourselves now," she adds. "We all feel a level of responsibility now that we've highlighted the issue. We want to improve and there is still room for improvements.
"Every time that we go out on the pitch, we have a point to prove and that's beneficial for us in terms of mentality. Structures will continue to develop. We're starting the home-based training and that's the first really good thing to come from what happened.
"You can talk about money and whatever but the whole aim of it was to improve standards and this will give the players who come after us a chance to better themselves. Things like physio and nutrition will all come in the next few months and years but I do think there is an improvement. We'll see the fruition in a couple of years' time."
It's a little over six months since manager Colin Bell was announced as Sue Ronan's replacement and the Englishman has been trying to put his mark on the team ahead the upcoming campaign.
Three friendly games have seen the Girls in Green defeat Slovakia 1-0, draw 0-0 with Iceland and lose 1-0 away to Scotland. According to Duggan, there has been a real emphasis put on shoring up their defence.
"He has a track record of success and he really backs himself," she says of Bell. "That filters down to the team. He wants to be successful with this team and he won't accept anything less.
"It's different but I think we did definitely needed a change. This qualifying campaign will tell a lot about how we can improve.
He sets out the way he wants to play and if you deviate from the plan, he'll let you know about it. We haven't conceded many goals and I think that's the first thing we needed to address.
"That has been the main focus since Colin has come in. Looking forward to the next couple of games, we'll be looking to work on the attacking side more. We hope to challenge Northern Ireland and Slovakia and get three points from both of them.
"The attacking side will come but straight away it was about closing holes as we were leaking too many goals. He's very disciplined in his approach to that but it has worked for us so far."
As third seeds, Ireland will face European champions the Netherlands, as well as Norway, Northern Ireland and Slovakia. With the group winners qualifying automatically and the four best runners-up going into play-offs for the finals in France in two years' time, the Girls in Green face a hugely difficult task to book a spot at a major tournament for the first time.
"When the group was drawn, we were glad we had avoided the likes of Germany and Spain," Duggan says. "We didn't expect Holland to be as good as they were but anyone who watched the Euros will have said 'Wow, they can really play'.
"The World Cup is that much harder to qualify as there are fewer places on offer than the Euros, but we'll be going in with the same mentality as the lads (Ireland men's team) did starting their campaign — to get as many points on the board. You never know what can happen.
"Maybe some of the teams are more talented than us but we've got ways and means to put it up to them and that self-belief comes from Colin's professionalism."
Ryan Byrne / INPHO Duggan training with new Ireland captain Katie McCabe last week. Ryan Byrne / INPHO / INPHO
Ireland's record caps holder Emma Byrne retired back in August and Bell has handed the captain's armband to 21-year-old Katie McCabe. Despite her tender age, Duggan believes the Arsenal winger — currently on loan at Glasgow City — will be a fine skipper.
"Katie's one of our best players, if not the best player this country has produced," she says. "You can see it in her that she loves playing for Ireland. She's got huge passion and a great presence in the dressing room.
She gets on with the younger girls and the older girls so I think she's that link in the squad. It might be surprising for a 21-year-old but in terms of her capabilities as captain she has everything you would look for.
"There are more experienced girls who people might possibly have thought the captain's armband would have gone to them and maybe they were disappointed at the time but everyone will rally around.
"With some of the experience we have in the squad such as Niamh Fahey, Louise Quinn and Diane Caldwell, we have a lot of leaders in there. Katie will wear the armband with pride and I think she'll do a great job.
"We have enough belief there and we've got great camaraderie. What happened earlier in the year has brought us together. With us under the microscope, some of the girls stepped up and took other younger ones under their wings."
While Ireland have lost the services of Duggan's old club mate Russell, who has emigrated to Australia, there are first-time call-ups for UCD Waves defender Claire Walsh, Peamount striker Amber Barrett and Maiden City midfielder Tyler Toland.
Megan Connolly of Florida State Seminoles misses out due to educational commitments and Wexford Youths' Claire O'Riordan is a late inclusion as Heather Payne is struggling with a calf strain.
Republic of Ireland WNT squad v Northern Ireland
Goalkeepers: Marie Hourihan (Manchester City), Amanda Budden (Cork City WFC), Amanda McQuillan (Shelbourne Ladies).
Defenders: Harriet Scott (Reading WFC), Megan Campbell (Manchester City), Sophie Perry (Brighton and Hove Albion), Diane Caldwell (SC Sand), Louise Quinn (Arsenal), Claire Walsh (UCD Waves).
Midfielders: Niamh Fahey (Bordeaux), Karen Duggan (UCD Waves), Denise O'Sullivan (North Carolina Courage), Stephanie Roche (Sunderland), Roma McLaughlin (Shelbourne Ladies), Tyler Toland (Maiden City).
Forwards: Katie McCabe (Glasgow City), Leanne Kiernan (Shelbourne Ladies), Heather Payne (Peamount United), Amber Barrett (Peamount United), Aine O'Gorman (UCD Waves), Claire O'Riordan (Wexford Youths).
Karen Duggan was appearing to promote the BT Sport line-up on the eir Sport Pack, at eir Group HQ. eir Sport have announced an exciting line up of live content for the new season on the eir Sport Pack. The Uefa Champions League, the Uefa Europa League, the Premier League, rugby's European Champions Cup, the AIB Club Championships and the Allianz Leagues will all form part of a bumper season ahead
Subscribe to The42 podcasts here: