LIVERPOOL GOALKEEPER LORIS Karius has insisted he did not join Besiktas on loan to escape Merseyside after his nightmare in the Champions League final.
The 25-year-old German made two costly mistakes in the second-half of Liverpool's 3-1 defeat to Real Madrid in Kiev last May.
First, the pass he threw clipped Karim Benzema and went into the Reds' net to give Real the opening goal, then he let a long-range Gareth Bale shot slip through his hands for Madrid's third.
However, days after the defeat it emerged Karius had suffered concussion when elbowed by Sergio Ramos during an off-the-ball incident before his errors.
Despite the backing of head coach Jurgen Klopp, Karius left Liverpool in August for a two-year loan deal at Besiktas after the Reds signed Brazil goalkeeper Alisson Becker from Roma for £65million, 72.5 million euros ($85m).
Karius insists he neither ran away nor has a problem with Klopp.
"I have no problem with Jurgen Klopp, in fact we have a great relationship, he never blamed me (for the mistakes in Kiev)," Karius told German daily Bild.
I could have stayed in Liverpool and played a few games, but I wanted to be number one and play regularly.
"Nobody told me to leave Liverpool and I didn't run away.
"I am at an age where I need to play regularly. After Alisson Becker's transfer I decided to move to Istanbul and join Besiktas.
"The pressure got so big at some points from the media and the public that Liverpool had to react, which was not good for my situation, but that happens in football."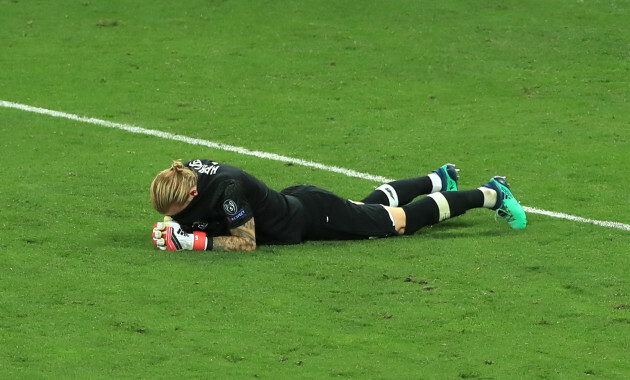 Peter Byrne Liverpool goalkeeper Loris Karius shows his dejection after the final whistle of the Uefa Champions League Final at the NSK Olimpiyskiy Stadium, Kiev. Peter Byrne
The German says despite thinking about the Kiev final "every day" for weeks afterwards, he has made peace with what happened.
"I know that I will probably be asked a hundred more questions about it, but I can't undo it and I have finished with it," he said.
"I prefer to do that, rather than thinking about how long the Champions League final will be with me."
"It was a great season that ended with a very unlucky ending.
At some point you have to check it off, you're a sportsman."
Karius refuses to blame the elbow he took in the face from Ramos for the mistakes he made, but admits it was a factor on the night.
"I'd been playing pretty consistently throughout the season," he said.
"Under normal circumstances, I can not really explain the mistakes."
The German says he did not seek psychological help to get over his disappointment "I was stable enough to handle it myself – my family and friends were a great help" and has not received an apology from Ramos.
"I do not think he has my number. He is a tough player but I have nothing against him personally," Karius added.
The42 is on Instagram! Tap the button below on your phone to follow us!