THE VISION BEGAN forming in Kate Radomska's head the second she heard about Katie Taylor's homecoming fight.
Kate Radomska pictured with Ryan Burnett, who inspired her to be a boxer.
A fight night headlined by arguably the nation's greatest ever athlete in an Irish arena. A slot on that card would transform her career, which is still only three years deep into the professional ranks. And so, she got to work on making a pitch for inclusion on the bill.
It began with a message on Instagram to Matchroom prospect Maisey Rose Courtney. Radomska, based in Waterford and originally from Poland, wanted to wish Courtney good luck ahead of her next fight. She also wanted to invite her to a flyweight dance in the ring on the night of Taylor's showdown with Chantelle Cameron on 20 May.
Courtney, who has a 2-0 pro record and has fought on a Taylor card before, was happy to get on that train again.
"When two fighters want to fight each other," says Radomska, "it will always happen."
Originally billed as a potential Croke Park event, Dublin's 3Arena was eventually chosen as the setting for one of the most anticipated nights in the history of Irish sport.
Losing out on hosting Taylor's homecoming at Croke Park's colossal capacity of over 80,000 was greeted with huge disappointment at the time of the announcement. But that seems like more of a footnote now, with the curtain call just a few days away.
"It was my dream to be on this card as soon as Katie's homecoming was announced," says an excited Radomska. "I'm just so honoured to be on one of the biggest, if not the biggest, professional boxing events Ireland's ever had.
"These are the kind of fights I always wanted."
****
It's Christmas 2017 and Kate Radomska is combing through YouTube videos, trying to see a road ahead as an athlete. Muay Thai is her specialist sport, but she's a fighter without any fights. It's been over a year since her last one, and she's looking blankly into the screen.
She's been in the martial arts business since 2010, but now, it's a black hole. Leaving the sport is not an option; she knows that much, but not much else. And then she clicks into a fight featuring the Belfast puncher Ryan Burnett. 
"I was basically so desperate," Radomska recalls as she relives that pivotal moment. "I hadn't got a fight in Muay Thai for a year. I was training every single day and I dedicate my life to the sport.
A fight first mentioned and muted on https://t.co/fdeGYg1wzw!

What a platform for Kate Radomska fight on. pic.twitter.com/zISfm7LpdM

— Irish-Boxing.com (@Irishboxingcom) April 4, 2023
"I was watching random fights on Youtube and I just saw Ryan Burnett fight and he inspired me to go and find an amateur club. My goal remains the same, I just have to change a little bit of the plans.
"And then I went pro in 2020 and because of Covid, I waited for quite a few months. I used the time to prepare as much as I could because I had to learn on the job, but I'm fairly good at that so here I am.
"Three years later and I have the biggest fight of my career."
The strategy to this point quickly took shape in Radomska's mind when she made up her mind about pursuing boxing. At 30 years of age, she decided that the amateur road could only be a temporary stop-off for her. Instead of targeting an event like that Olympics, she set her sights on the professional ranks. And by 2020, with two Celtic Box Cups and the Haringey Cup in her amateur locker, she made the transition to the pros.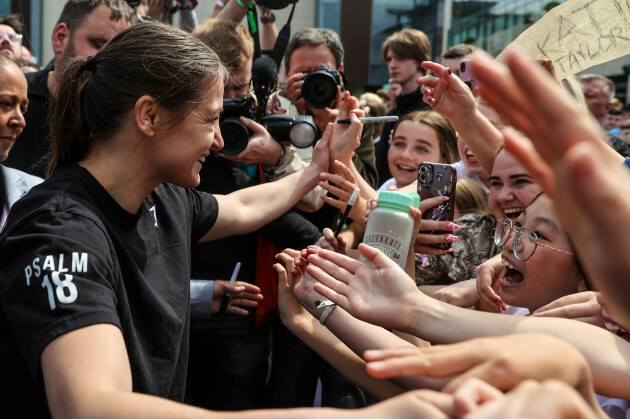 Gary Carr / INPHO Katie Taylor greets fans at the public workout before her showdown with Chantelle Cameron on Saturday. Gary Carr / INPHO / INPHO
Covid posed some complications, but Radomska eventually got off the mark with her professional debut in 2021 where she defeated Judit Hachbold. In 2022, she picked up two more wins before suffering her first defeat at the hands of Gemma Ruegg in July of the same year.
"When I lost my last fight, it was actually the best thing that ever happened for me because I believe losses don't happen to you but for you," Radomska says, illustrating how she navigates the brutal terrain of the fighter's world.
Boxing is a tough road. Intense weight cuts, long waits for a fight, fights at short notice, up a weight division, down a weight division and even after all that, the referee might still lift your opponent's hand. That's when the ring becomes an empty vessel.
Radomska has a stacked backroom team of Robbie Flynn [manager] and Jimmy Payne, who are also Waterford folks. Michael Flynn of FLI Global is on her side too, helping with the funds. More recently, Irish Olympian Joe Ward also joined her crew.
But even with all the support in the corner, it's still just the fighter standing alone in the clearing.
Defeat to Ruegg "changed everything for me, inside and outside the ring," she explains.
"I know, going into this fight, I'm a completely different fighter. Jimmy [Payne] put so many hours into me. I believe everything happens for a reason and I'm looking forward to it."
Elaborating on the hurt of that loss, Radomska continues:
"I was very disappointed with myself because even if you have a trainer in the corner, there's no-one else you can blame but yourself. That was the really tough part, when I came back to the changing room and I was actually asking myself if I really lost this fight?
"But again, it happened for me, not to me. I always take lessons and ask myself why this happened? What went wrong? If I could go back to that day and change something, I wouldn't because I wouldn't be where I am and who I am [without it].
"I watched this fight twice. But you have to move forward. It just wasn't for me and I didn't think for a second that I should give up the sport. The first thing I did when I came back home was ask myself why this happened? And you can't put yourself down for too long. I move forward."
For these few days, the focus will be almost entirely on Katie Taylor. Radomska is fine with that, although it does also ensure there's no pressure or expectation on her when she steps into the ring with Courtney.
It's fitting that on the day we speak, Radomska is travelling back south from Belfast where she was visiting Ryan Burnett. He's the ground zero of her boxing journey, and she's closing in on a significant milestone of her career this week.
Saturday night is a major moment in history for women's boxing in Ireland. It brings forth the pioneering efforts of fighters like Deirdre Gogarty, Christina McMahon and all the others who started pushing the rock up the hill so that someone else could have a night like this. A night for Katie. And a night for Kate.
"It would be amazing to meet Katie, and I hope it will happen. It seems like boxing is coming back to Ireland," says Radomska. "It's a really big show and everyone is looking forward to it.
"I already know the atmosphere will be electric. I can't wait."
The work that has gone in to preparing, she says, has been "game-changing".
"We're ready."
The 42 is on Instagram! Tap the button below on your phone to follow us!