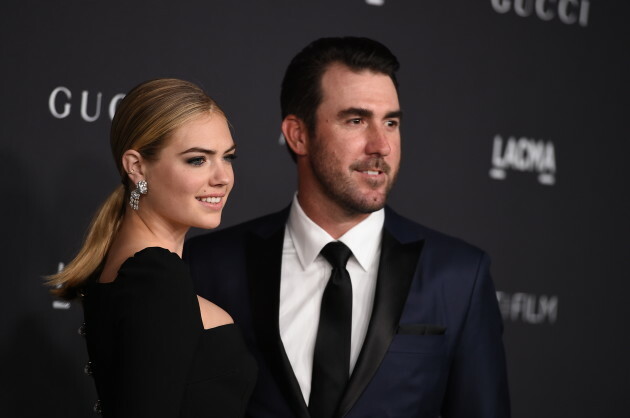 AP / Press Association Images AP / Press Association Images / Press Association Images
SUPERMODEL KATE UPTON vented her fury on Wednesday after fiance Justin Verlander controversially missed out on baseball's top pitching award.
Detroit Tigers pitcher Verlander was pipped for Cy Young Award by Rick Porcello of the Boston Red Sox in a vote that went down to the wire.
Porcello won even though Verlander earned more first place votes on the ballot, 14-8.
The 33-year-old missed out on the prize because two baseball writers ignored Verlander on their five-pitcher ballots, skewing the results to give Porcello victory by 137-132 points.
It was the second-closest Cy Young award since 1970 when the prize's multi-player ballot was introduced.
While Porcello celebrated an award he described as "unbelievable," Upton could not hide her disgust at Verlander's near-miss.
"Hey I thought I was the only person allowed to fuck @JustinVerlander ?! What 2 writers didn't have him on their ballot?" Upton wrote.
The 24-year-old then turned to Porcello to denigrate his achievement in a separate tweet.
"Sorry Rick but you didn't get any 1st place votes? you didn't win … @MLB keep up with the times and fire those writers," she added.
She continued: "(Verlander) had the majority of 1st place votes and 2 writers didn't have him on their ballots?!! Can you pick more out of touch people to vote?@MLB."
Verlander meanwhile offered a muted response to the controversy. "Just want to say thank you to all the @officialBBWAA who voted for me," he wrote.
The42 is on Instagram! Tap the button below on your phone to follow us!