18-YEAR-OLD American Katie Ledecky broke her own world record in the 1,500 meter freestyle on Monday morning during a preliminary round at the FINA World Swimming Championship in Kazan, Russia — a swim in which she didn't even race as hard as she could.
"My coach told me to swim the first 900m easy, build over the next 300, then the final 300 was my choice and to be honest, it felt pretty easy," she said after the race. "I wasn't kicking much and I think breaking the world record is testament to the hard work I have put in and the shape I am in right now. I am pretty shocked that I was able to do that."
"I was barely even focusing on this morning's swim. I was just so relaxed," she added. 

The Bethesda, Maryland, native burst onto the scene as a 15-year-old prodigy at the 2012 London Olympics, winning gold in the 800m freestyle. She has since set eight individual world records across three events, becoming one of the most dominant athletes in the sport at age 18.
Ledecky's time of 15 minutes 27.71 seconds on Monday morning bested her former world-record time of 15:28.26 that she set at the 2014 Pan Pacific Championship. She finished 26 1/2 seconds ahead of the second-place finisher in the preliminary heat — about one Olympic pool's length. In 2015, no other swimmer has come within 10 seconds of her time, and at the World Championships, she has also already won gold in the 400m freestyle.
Right after Ledecky finished, she gave a little Michael Jordan shrug as if she didn't even realize what she had just accomplished.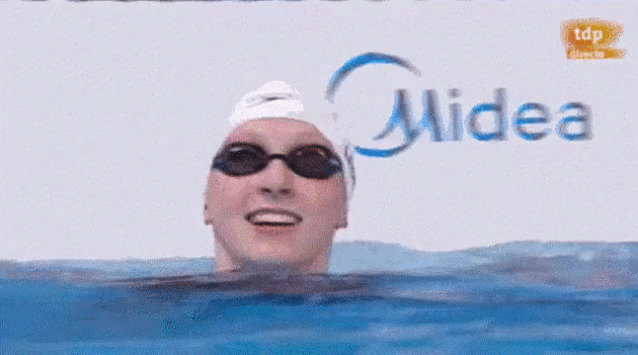 Imgur Imgur
A few seconds later, she gave a fist-pump to the crowd.
Imgur Imgur
No one was even in the television frame when she touched the wall:
Not bad for an 18-year-old.
You can watch the full video below:
PENCILMAXIC / YouTube
As if that wasn't enough, the records continued to fall. Sweden's Sarah Sjostrom broke her 100m butterfly mark and Hungarian Katinka Hosszu claimed the 200m individual medley record which has stood since 2009.
The Hungarian's achievement was all the more impressive as the 26-year-old clocked two mins 06.12 secs to take gold in the 200m IM final and shave 0.03secs off Ariana Kukors' previous record from the 'super-fast suit era' 2009 world championships in Rome.