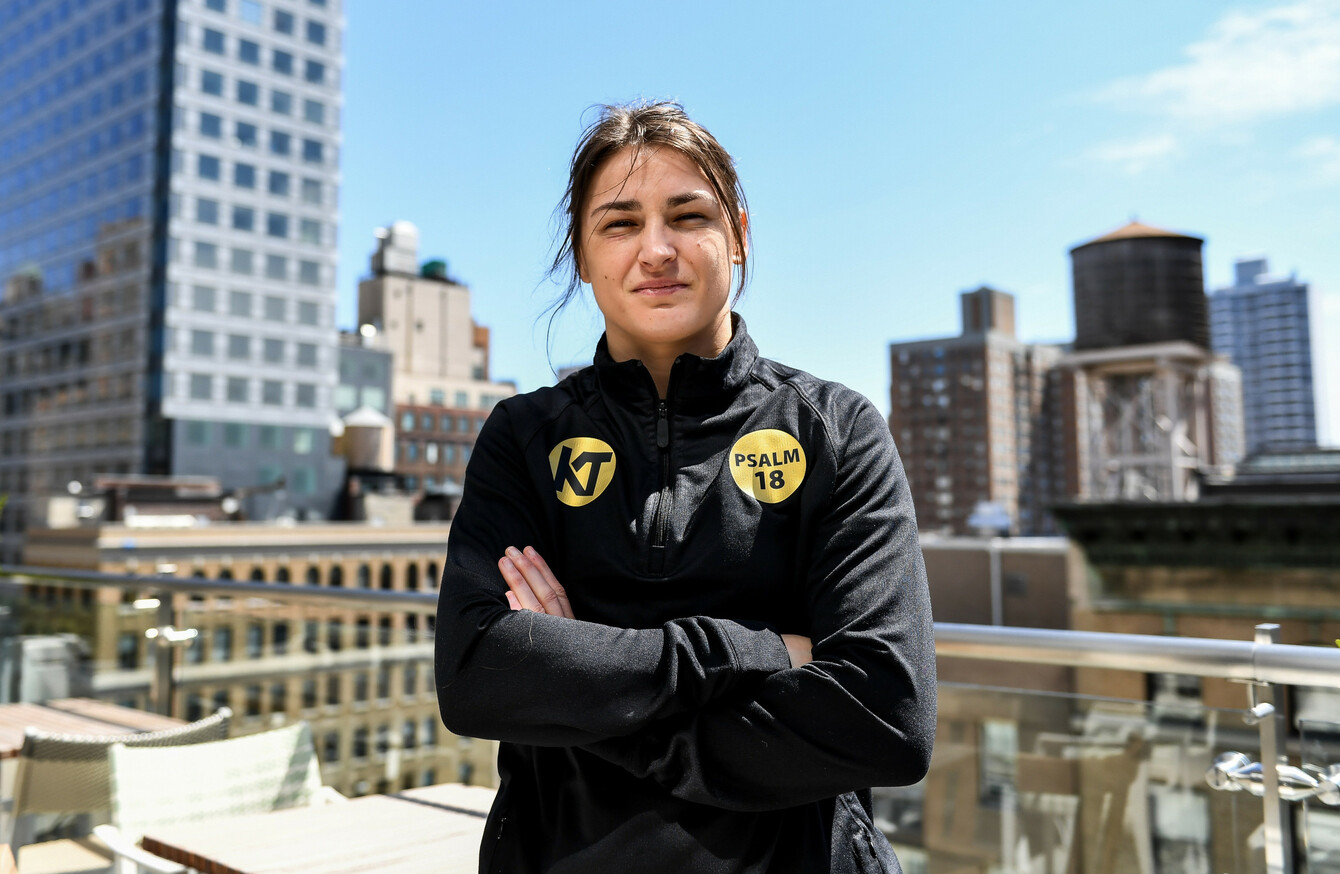 Image: Matt Heasley/INPHO
Image: Matt Heasley/INPHO
KATIE TAYLOR HERSELF might phrase it more delicately, but the word from her camp has always remained definite: 'Everybody will get their chance.'
Call it Red Panty Night or Red Jocks Night, depending on her prospective opponents' persuasion, but Taylor is to the women's lightweight division what Conor McGregor is to the UFC equivalent: an opportunity, however perilous, to pocket career-worthwhile riches.
Perhaps only former two-time Olympic champion Claressa Shields of the States – currently the WBC and IBF World super-middleweight champion – could stake a claim as possessing a name as relevant as Taylor's within the women's boxing realm.
The pair have admired each other from afar since both pivoted to the punch-for-pay ranks in 2016, and convened yesterday in Brooklyn as Ireland's WBA World lightweight champion weighed in for her bid to replicate Shields' unification of world titles.
The supremely talented Flint, Michigan native will doubtless one day eclipse Taylor's achievements in pro boxing – if purely due to her being eight years the Bray woman's junior at 23 – but one suspects Taylor's impending transcendence will be more immediately impactful given that, from tonight onwards, each of her fights will exponentially increase in their significance.
Shields can afford patience. Taylor, at 31, isn't necessarily in a mad rush, but scarcely has time for soft title defences or further tune-ups.
Everybody will get their chance: Delfine Persoon, Rose Volante, Natasha Jonas, Chantelle Cameron, Mikaela Mayer – the lot. And one day in the not-too-distant future, it'll likely be Amanda Serrano who pits her wits against the Irish sporting great.
On the face of it, Taylor's placement on a fairly poor card in Brooklyn tonight strikes as curious: all along, we were told that her gradual transatlantic migration was to ensure maximum exposure on U.S. TV, but while it'll be shown on Sky Sports in the wee hours over here (1:30am-ish), her world-title unification clash with Argentina's Victoria Bustos has been deemed superfluous to HBO's live broadcast.
Per Taylor's own promoter, Eddie Hearn: "She should be on HBO this Saturday. They're gonna show her highlights. She's getting there."
And in fairness, an eye-catching showing in front of the relevant TV executives might well ensure that she graces screens Stateside the next time out. But Taylor's potential coronation in Brooklyn might have further benefits.
Tonight, she invades Serrano territory.
Any whiff of Taylor being anointed 'Queen of Brooklyn' will no doubt draw the ire of Amanda Serrano – the only woman in boxing history to have won world titles in five different weight classes as a professional.
The Brooklyn-based Puerto Rican puncher – along with her sister, Cindy, a featherweight titlist – has accrued a huge following in her adopted hometown, and has fought four of her last six bouts at Barclays Center, from where Taylor attempts to make headlines tonight.
Serrano, 34-1-1 (26 KOs), is doubtless worthy of a greater fame, but her shortcut to the mainstream will one day present itself in the form of a bout versus Taylor – particularly if the latter becomes a TV fixture in the States as expected. She will, of course: HBO will dip their toes in live women's boxing as soon as next weekend when Cecilia Braekhaus defends her linear World welterweight crown, and Taylor is one of few fighters – male or female – who almost guarantees entertainment, even to a fault.
This is the big one, as far as women's boxing is concerned: Serrano versus Taylor – or Taylor versus Serrano as it'll likely read on paper: the 29-year-old converted Brooklynite has previously shred herself as low as bantamweight (118 lbs) – and that was as recently as this time last year – but generally campaigns between featherweight (126) and super-feather (130), rendering her an immediate underdog versus the 135-pound Taylor.
However, Serrano has also fought in Taylor's division twice – on the latter occasion winning the WBO World lightweight title in 2013.
We're well accustomed to Taylor's trailblazing over here, but Serrano's achievements within the women's professional game are unparalleled: 'The Real Deal' is the only Puerto Rican boxer in history – male or female – to win world titles in five different weight divisions.
A world title tilt in a sixth weight class, 140, is rumoured to be in the works. A shot at Taylor, then – perhaps centre-stage in Brooklyn – would be the natural progression from another seminal moment within the female fight game.
The42 understands Taylor's team are extremely keen to get Serrano in the ring over the next year to 18 months, but are cognisant that the fight will garner more money and attention down the line than it would presently: if promoted correctly, Taylor-Serrano could be a true showpiece rather than a standard title fight – the type of televised, era-defining scrap to which Taylor herself has so often alluded since picking up her first world title in Cardiff last October.
It's hardly a wild notion, either. "Somewhere down the line, you'll see her and Amanda Serrano," said the Puerto Rican's promoter, Lou DiBella, following Taylor's US debut at Barclays Center last August. "I think those things will happen."
Will Serrano play ball? Of course she will. She's an all-time boxing great, whose undisputed reign over Brooklyn is now under siege: Taylor might 'wow' tonight or indeed she might not, but in any case it won't be her last outing at Barclays Center: Eddie Hearn – who either failed or declined to deliver the Dublin homecoming that Taylor and fans wanted – will stick to the overall plan and see to it that the Irishwoman becomes a mainstay in New York before long.
The Matchroom head honcho has deep enough pockets that a nearly quixotic task should present itself as a more-than-worthwhile endeavour for Serrano, as it has Taylor's past opponents – particularly with TV on board.
Indeed, the only sticking point might be Hearn's perpetual pissing contest with DiBella, who partially represents Anthony Joshua's American nemesis, Deontay Wilder, as well as the Puerto Rican star.
The Watford and Alabama heavyweights will get it on eventually, though – probably twice at least, and once on American soil. Therein lies at least one opportunity for Taylor and Serrano to trade leather in a contest between two bona fide female boxing icons.
Of course, Taylor must first unify the WBA and IBF world titles tonight, which in itself would be another outstanding triumph.
Should the 31-year-old prevail in overcoming Argentina's Victoria Bustos at Barclays Center tonight, she'll join Carl Frampton and Ryan Burnett as one of only three Irish boxers in history to hold two or more world title belts simultaneously.
The fact that she'll try to do so in Brooklyn might be a point of contention for Irish fans but it sets the wheels in motion for something far bigger. Before long, Amanda Serrano – just like everybody else – will get her chance.