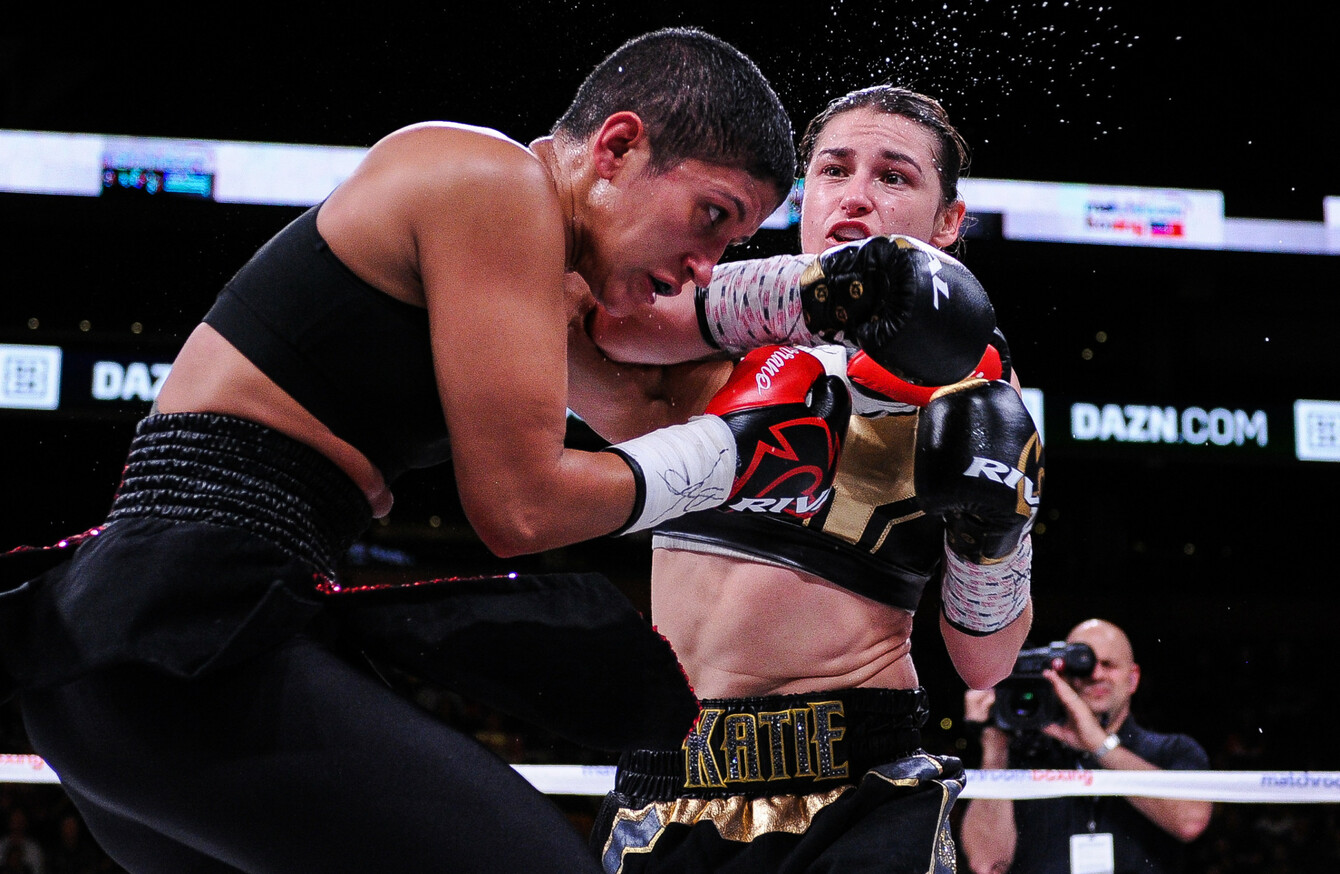 Image: Emily Harney/INPHO
Image: Emily Harney/INPHO
Gavan Casey reports from Boston
KATIE TAYLOR ADMITTED she expected more from opponent Cindy Serrano after coasting to a shutout victory to defend her lightweight world titles for a second time at Boston's TD Garden.
The elder Serrano sister, a world champion at featherweight, scarcely threw a shot in anger and spent all 10 rounds in retreat, surprising Taylor and her team who truly expected a career-toughest test in Beantown, and had prepared accordingly.
Taylor's said that last night's facile victory was probably the most one-sided of her 11-fight professional journey to date, even taking into account the five early nights on her CV.
"She didn't really have much at all," Taylor said of Serrano. "She was very slow, very weak on the inside.
"I actually expected a lot more from Cindy tonight. It is hard to take someone out when they're so defensive for the whole 10 rounds. I think she was just there to survive — that was quite evident, I think, from the first round.
I really expected my toughest fight to date. I had a lot of respect for Cindy coming into this fight. I thought she was going to give it everything she had tonight, but she was just quite happy to survive for the 10 rounds. You know, why would you do that as a fighter? I'd rather be knocked out while giving it my all than just survive for the 10 rounds.
"What can you do?" added Taylor, who will fight once more before the year is out.
Indeed, she already has a date in mind.
"I think I'm out on December 15th," she said, cheekily glancing towards promoter Eddie Hearn, who laughed aloud. The 15th, of course, will see Canelo Alvarez face Rocky Fielding in a marquee night for Hearn's US broadcasting partners DAZN, most likely at New York's Madison Square Garden where Taylor is yet to step through the ropes.
Given she came through last night's bout almost unmarked, that Canelo card in nine weeks' time is a likely landing spot for Taylor, another live option being the slightly less prestigious-looking Whyte-Chisora II card in London's O2 Arena a week later on the 22nd.
As for prospective opponents in December, WBO world champion Rose Volante of Brazil remains a possibility, per Hearn, having recently peaked her head above ground.
But Taylor wasn't shy in admitting that there exists one fight which she wants above all others: the 32-year-old Bray woman again called for Cindy Serrano's younger sister, Amanda — a six-weight world champion and bona fide women's boxing great — to return from her venture into MMA and back up her claims that she possesses within her fists the power to knock the former Olympic champion out.
"I just want to be involved in the big fights again," Taylor said. "There was a great atmosphere tonight; it was great to fight against one of the Serrano sisters, and the other one [Amanda] I hope is on the way sometime next year as well.
"That fight is huge, between myself and Amanda. That's the fight everyone wants to see. She has to come out of retirement. I think she's doing pretty much everything she can to avoid a fight with me.
"I'd love for that fight to happen. It really has to happen. And if it doesn't happen, that's down to them, really."
Added Hearn: "We know who Amanda's promoter is: Lou DiBella. We did a deal with him for the Cindy fight, and we know how much they want for that [Amanda] fight. And we can pay them that much. I know the figure…if she wants the fight.
"Well, Lou has given me the number — I don't know if he's spoken to her about it.
"They'll ask for a number, and we'll either give it to them or we won't."
Congrats to @KatieTaylor for her win tonight against my sister Cindy. I Hope I get my shot I Promise it will be a Toe 2 Toe WAR! I'm Not moving nowhere! I think it will be 1 of the Biggest Female fights aside from @Claressashields vs Hammer. @loudibella Please Make It 🙏 pic.twitter.com/G2gHe1x0Xz

— Amanda Serrano (@Serranosisters) October 21, 2018
"Katie's at a stage now where she's going to want to test herself", Hearn added, "and she won't want to prepare in camp for fights like tonight, which was just too easy."
Easy, in fact, to the point that Taylor admits she "got bored halfway through the fight", which at least partially explains her decision to taunt Serrano in the seventh round: the champion dropped her guard and put her hands behind her back in a bid to invite her opponent to engage, eventually moseying back towards the ropes and very obviously beckoning the uber-hesitant Puerto Rican towards her before unleashing another barrage when Serrano finally took the bait.
"I was just trying to enjoy myself in there tonight. I did actually get caught with a jab when I did do that," Taylor laughed.
"I was mortified! But when someone is so defensive like that, it's important to just relax and enjoy it."
Cindy Serrano's trainer, manager and husband, Jordan Maldonado, didn't seem to be enjoying himself to the same extent.
Maldonado, who also trains his sister-in-law, Amanda, was heard shouting at Taylor during the fight, and afterwards appeared to confront the champion with claims that Amanda would soon put an end to her reign.
"I heard that throughout the whole fight," Taylor said, still bemused by Maldonado's conduct.
He was saying terrible things — that was his wife in the ring. He was shouting in, 'You picked the weaker Serrano!' That's a terrible thing to say. You should at least give your wife some encouragement! That's ridiculous.
"They seem to be quite confident about the [Amanda] fight with the husband shouting in and stuff. People like to talk, but talk is cheap. It's easy to talk outside the ring, but it's another thing to actually go in and produce a performance inside it."
Speaking of talk, one notorious yapper made his way into Taylor's dressing room before taking a ringside seat to watch her in action, sending half the arena who saw him into raptures in the process.
Taylor, while in many ways the antithesis of combat sport's most adept salesman, was wholly appreciative of Conor McGregor's support, and confirmed with a laugh that he wasn't carrying any spare whiskey on his person. Instead, well wishes and congratulations.
"He actually came into the dressing room beforehand to wish me luck," she said. "That was really nice of him. It's great to have his support. It was just a quick visit, and then afterwards he came in again and took a couple of pictures with the belts. We had a nice chat.
"He's always been so supportive of me over the years, and I'm extremely grateful for that. It was great to have him here tonight, and I really appreciated it."
Subscribe to our new podcast, Heineken Rugby Weekly on The42, here: