Gavan Casey reports from Madison Square Garden, New York
WHAT. A. FIGHT.
Katie Taylor finally met her match in the professional ring at Madison Square Garden, New York, on Saturday night but emerged on the right side of a contentious verdict to become Ireland's first undisputed champion of the modern era.
Following 10 rounds of war with Belgium's Delfine Persoon, Taylor was awarded the contest on the slenderest of margins: 95-95 and 96-94 x2 — a majority decision victory.
Persoon, who dished out significant, sustained damage to Taylor in an electrifying final round, wagged her finger and marched out of the ring in disgust upon hearing the result.
The Belgian took to the scales a full four pounds lighter than Taylor at Friday's weigh-in, but physically dominated the second half of the contest and was the only fighter to truly hurt the other.
This writer scored the contest 95-95, a draw, from within the arena.
In a razor-tight victory, Taylor relieves Persoon of her WBC title, also adding the Ring Magazine belt to her now-completed lightweight collection.
But they'll surely have to do it again.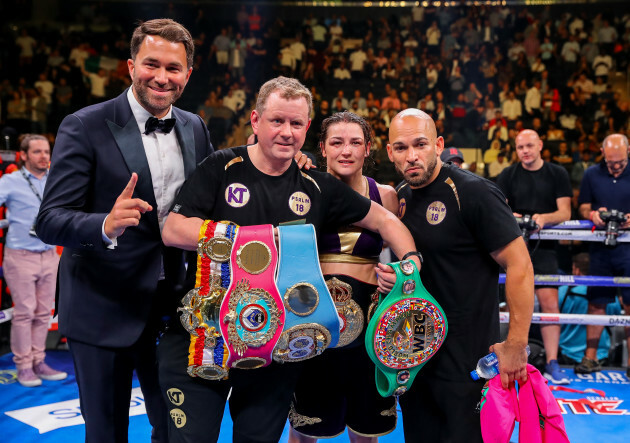 Tom Hogan / INPHO Eddie Hearn, Brian Peters, Katie Taylor, Ross Enamait celebrate Taylor's victory. Tom Hogan / INPHO / INPHO
This was touted as a female fight for the ages and the ensuing spectacle exceeded its billing.
Questions will need to be asked why Taylor, for all the vastness of her boxing pedigree by comparison, walked into Persoon's kind of fight.
It was also curious to see Persoon — the policewoman who naysayers dismissed for having a day job — seemingly become physically imbued as the fight played out while the full-time professional Taylor conspicuously wilted.
The atmosphere at the Mecca of Boxing was hair-raising, and while it's perhaps too soon for Persoon to reach for such silver linings, women's boxing will benefit seriously for what was a clash between two of the world's best.
Taylor, in a night of firsts, swapped her traditional black top for purple, the remaining gold trim adding a regal feel; this was, after all, supposed to be her crowning moment as a professional.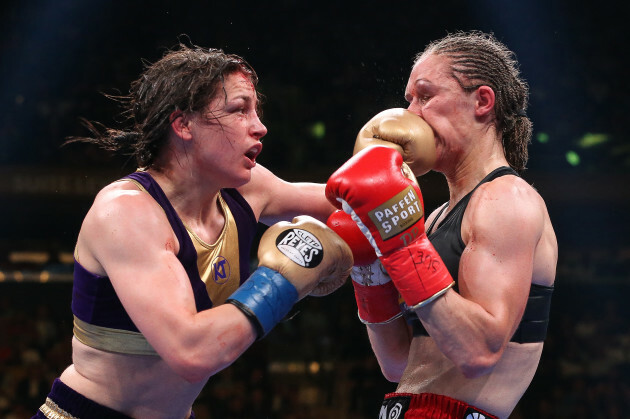 Matchroom Boxing / Ed Mulholland/INPHO Taylor lands a jab. Matchroom Boxing / Ed Mulholland/INPHO / Ed Mulholland/INPHO
There was a swagger to her stroll towards centre-ring, U2's 'Still Haven't Found What I'm Looking For' getting plenty of welly from the 10-12,000 fans who had ventured into the arena by this point.
Taylor's introduction by MC David Diamante drew an ungodly noise from all of them, a significant Irish contingent joining their British and American counterparts in challenging the sturdiness of the roof.
A chorus of 'Olé Olé' ran into first bell, and no sooner had it ended did Taylor land her first combination in anger. Her flurry upstairs was followed by a steady riposte from Persoon, however, who was kitted out in Belgian black, yellow and red.
A tight first round was edged by the Irishwoman but her fellow champion already looked a cut above Taylor's previous opponents even at this early juncture.
Taylor started the second round the sharper but was buzzed by a strong overhand right from the long-reigning WBC queen. Shouts of 'Delfine! Delfine!' were quickly drowned out by those of the Taylor variety, but Persoon produced some sturdy work upstairs to curtail them.
She rubber-stamped her point with a strong straight right which drew gasps from the pro-Taylor crowd and a look of acknowledgement from Taylor herself as she retreated towards trainer Ross Enamait in her corner.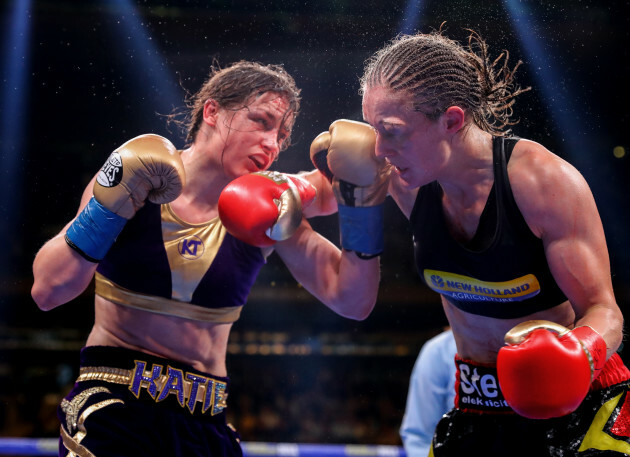 Tom Hogan / INPHO One of many exchanges in a pulsating contest. Tom Hogan / INPHO / INPHO
The third was contested at close quarters and Taylor seemed intent on proving a point, getting mucky on the inside — an area of the fight in which Persoon was fancied to leave her mark — and only seeking to box from range when the pair were separated.
It was close but Taylor's fleeting bursts of quality were enough to take it.
The fourth wasn't all that dissimilar although Persoon was more effective mid-wrestle, Taylor again probably pinching it with more finely tuned boxing skills — albeit again used sparingly.
Things were getting violent at close quarters and both fighters were showing signs of it: the bridge of Taylor's nose was leaking blood and Persoon was breached beneath her left eye and above her right, neither of which appeared to be fight-threatening.
Taylor had landed 35% of her shots to Persoon's 21 by this point, but the Belgian was more than holding her own.
The fifth was messy but close, and it appeared Taylor might make somewhat of a breakthrough a round later when she relied upon her skill to steal a march; her fleet footwork and a greater composure made Persoon look cruder than she had for most of the opening half. Taylor found a home for her right hand and left Persoon cursing on one occasion as she missed the mark by a considerable distance.
But Persoon rediscovered her verve in the seventh, landing a peach of an overhand right to Taylor's jawline which evoked oohs and ahs of concern from a captivated crowd.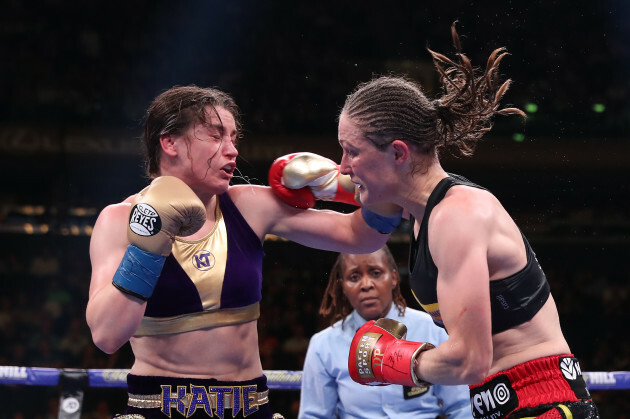 Matchroom Boxing / Ed Mulholland/INPHO Persoon lands a right hand. Matchroom Boxing / Ed Mulholland/INPHO / Ed Mulholland/INPHO
She took that one and then took the eighth, a right hand jarring Taylor's head backwards and follow-up assaults upstairs giving her a momentum which she never really relinquished from that point.
There was nothing between them entering the championship stanzas, and Madison Square Garden was feral.
Seemingly cognisant if that fact, a by-now exhausted Taylor upped the ante and lashed home a thudding combination early in the ninth, a left hook the cherry on top which seemed to wobble Persoon ever so slightly. The smiling Persoon, though, again exerted enough forward pressure to at least put her hand up for a 10 in her column.
In a scarcely believable final entry, it was Taylor whose hands should have been up as her physically stronger foe began to grind her down, eventually coming close to earning what would have been a sensational stoppage.
Persoon cut loose, pounding Taylor to the upper deck and almost forcing an intervention. This was alien territory for the unified champion and her inexperience in such a position was jarring, as was her stubbornness: rather than cover up and move, Taylor walked head-first into the storm and fired back with every ounce of energy she had left. The shots were thrown in slow motion and barely tickled Persoon, who finished utterly in the ascendancy.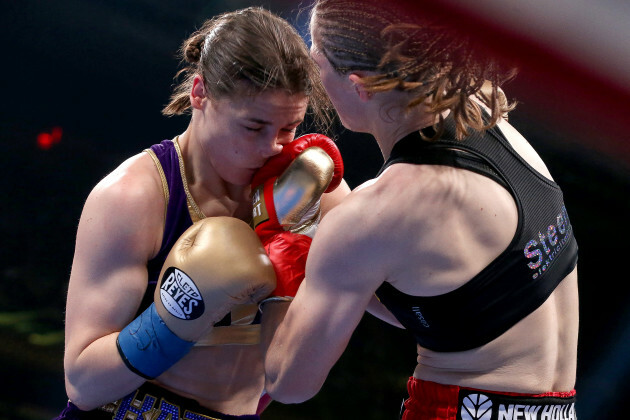 Matchroom Boxing / Ed Mulholland/INPHO Persoon lands a left uppercut. Matchroom Boxing / Ed Mulholland/INPHO / Ed Mulholland/INPHO
Though most in the arena erupted at the verdict in Taylor's favour, the acclaim was sprinkled with some boos from neutrals.
Taylor admitted that the contest was "very, very close", lauding Persoon as a great champion.
She was non-committal when it came to the subject of a rematch, but calls for a sequel will doubtless come from Belgium and indeed outside of it in the coming days.
For now, Taylor can rest having achieved professional boxing immortality, but one suspects her legacy will involve at least one more clash with the fearsome policewoman from West Flanders.