AS KATIE TAYLOR returns home, consider the worlds she has left behind.
As the sun kissed Bray this week, Harbour Road exuded reawakened life through its prescribed, staccato sounds: the tap-tap-bang of endless repairs from the sailing club; the honk of swans from the sanctuary across the road; the rattle and shriek of the Dart overhead. 
And against it all sits Bray Boxing Club hunched, surly and silent. This week, that silence feels more palpable. 
The adidas-branded blinds are pulled and a couple of graffiti marks on a far wall hint to its abandon. A canvas sign above the door advertising classes and courses - There is no excuse, training for everybody - remains unerringly clean, and the stone plaque by the door commemorating its 2014 renovation is largely undulled. 
But the club is now surrounded by a kind of hushed lament, with everyone agreeing with a grimace that it's a wretched shame it still remains closed after all this time. 
It was in this club the Katie Taylor legend was first born and then hewn with the input of her father Pete, and her 2012 Olympics success leaving the legacy of a €300,000 upgrade after a review of its "third-world conditions". 
But Taylor stopped working with her father in 2015 and she says she has had no association with the club since then.
The club has been closed since 2018, after a gunman entered the building on the morning of 5 June and opened fire, killing Bobby Messett and injuring two others, one of whom was Pete Taylor. 
Wicklow County Council took the keys to the building after the incident. When asked to comment on the club's status for this piece, Wicklow County Council replied, "as this matter is sub judice the Council cannot comment".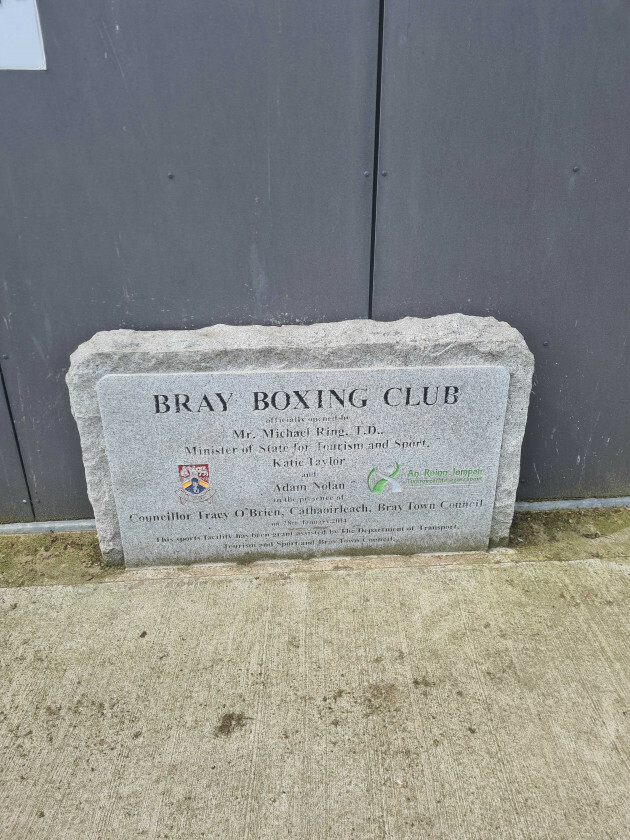 The stone plaque outside the door of Bray Boxing Club bears Katie Taylor's name, along with fellow boxer Adam Nolan and then Minister for Sport Michael Ring. They formally opened the renovated club on 28 January 2014, a €300,000 largely funded by a sports capital grant. 
"We're probably the best equipped club in the country now at this stage," said Katie at the opening.
The refurbishment of the place is a direct and early legacy of Katie Taylor's: she won Olympic gold in 2012 and only months earlier Taoiseach Enda Kenny visited the club to discover there were no toilet facilities. 
But now the best boxing facilities in Bray remain closed as other clubs in the town look for a place they call home. Liberty Boxing Club have recently installed a pull-out ring in the Community Centre, while St Theresa's still don't have a permanent home since its initial, rented premises was put up for sale. Ballywaltrim Community Centre has offered a temporary residence but the club are still seeking a more secure home. 
The surface and the silence tell a tale of a misbegotten boxing legacy, but the reality tells a different story. 
***
We all leave worlds behind us, even those we continue to pass on by. 
Judy Bobbett sees hers everytime she snakes her way around the clean tarmac of the National Sports Campus in Abbotsown. The IRFU's High Performance Centre looms on the campus like a giant airport hangar, its windows allowing passers-by a gawk onto an indoor pitch.
Judy sees it on the way to the Irish Institute of Sport at the back of the sprawling campus, out of which Ireland's top amateur boxers work. 
"I was driving past a few weeks ago during the Six Nations," she tells The 42. "I could actually see them training. It was strange, but I just drove past it, pulled into the Irish Institute of Sport and told myself, 'This is where you are at now.'"
She might have been on the other side of that glass. 
"I was obsessed about playing rugby for Ireland, from the age of six," she says. "That was all I wanted to do. Every single week it was I want to play with Ireland for 15 years." Bobbett fulfilled her ambition, playing three times for Ireland in the 2020 Six Nations. But that breakthrough came at a challenging time. Judy was diagnosed with depression and anxiety, and has twice spent time in St John of God's psychiatric hospital. 
"I struggled with the anxiety element of being around a team environment", she says, eager to point out the support that was offered to her by the IRFU through then-Head Coach Adam Griggs along with Rugby Players Ireland. 
"It was a combination of me falling out of love with the sport and then secondly, as I went on for a long time without enjoying it, I build up a resentment towards it. A day before my first cap with Ireland, I had an anxiety attack at the team hotel. When I got my first cap it meant nothing to me, and that is when I knew it wasn't right. It is sad, as I never got to the truth as to why it affected me so hard, and it is sad for me that the only way to get past it was to step away.
Laszlo Geczo / INPHO Judy Bobbett in action for Ireland. Laszlo Geczo / INPHO / INPHO
"When your family and friends know you play for Ireland, it is very much your identity and it becomes who you are. Stepping away from that, people, the first thing people ask you is usually, 'How's training going?' It's very difficult." 
"I was so disappointed about how it didn't work out. It didn't work out on my terms: I fell out of love with it, and I was very frustrated with myself about that." 
Judy knew she had to step away from rugby but also knew she needed the routine of sport in her life, so, weeks after her second stay in hospital, she went to the sports page of the website of her university website, TU Dublin.
Nothing jumped out at her, so she decided to indulge a semi-dormant thought.
"Boxing was always in the back of my mind because of Katie Taylor.
"When she won the Olympics I remember where I was and where I was watching it. That always stuck with me. It is probably cliche but I feel if you ask any boxer, they'll say the exact same. I was left for a few weeks with nothing to do, I was living with my Mum in Greystones and I said I'd look into it.
"I am in college in TU Dublin and I knew they had a boxing club there. That was more boxfit, and at that point I was very unfit. But it was like a new lease of life, the first session I went to, I loved it. It wasn't even the full shilling, but I loved it. I went on the Tuesday and then again on the Thursday. On the Friday I said, 'Screw it, let's find a club.'" 
She alighted on Liberty Boxing Club in Bray. The club is run by Trevor McMahon, who is Katie Taylor's brother-in-law. He worked out of Bray Boxing Club until 2016, at which point he went out on his own with Liberty. 
"I played rugby since I was a toddler so I built up skill," says Judy, "but when I started boxing, I was like Bambi on ice." 
Judy fell hard for boxing, a solo sport.
She fought an exhibition fight in Bray and then won her first national title in January, beating Shauna Kearney in the 81+kg category in what was only her second fight. And this weekend she won't be going to see Taylor in the 3Arena: she is flying to Poland as part of a 16-strong Irish team to compete at the Feliks Stamm tournament. 
"Everything we do in training, Trevor references Katie the whole time. How she did it and how it worked. So the ethos of the club is from Katie's amateur days, which is kind of cool.
"The way he teaches is the way he learned from Pete and what he learned from being around Katie. He wouldn't be namedropping Katie for the sake of it, but every few sessions he would say, 'Katie did this at the Olympics,' and he would show us how she did it. At that point you say, 'Okay, it's proven it works.'
"In my first exhibition fight I was wearing her actual head guard, it had her name on it. She would have worn it at World and European Championships, he keeps it at the club and anyone who goes and fights out of the red corner wears her headguard. It says her name on it, which is cool.
"When he gave it to me I was like, 'Jesus.' I am very fortunate that's the club I joined." 
Despite the connections, Judy hasn't yet met Katie Taylor, her homecoming fight clashing with the trip to Poland.
"My attitude and the way I go about life, I need some element of High Performance in it," reflects Judy. "It goes back to Katie and the influence she had. If she didn't get to the Olympics, if she didn't qualify and if she didn't win…I know it's such a cliché, but if she hadn't done this, none of this would have happened. I wouldn't have started boxing.
"Boxing gave me a purpose. For a while, I was very depressed. There were times I couldn't get out of bed. Boxing gave me that lease of life and it gave me something to focus on. I am lucky it is there and I am lucky I found it." 
The greats leave thousands of discrete legacies.