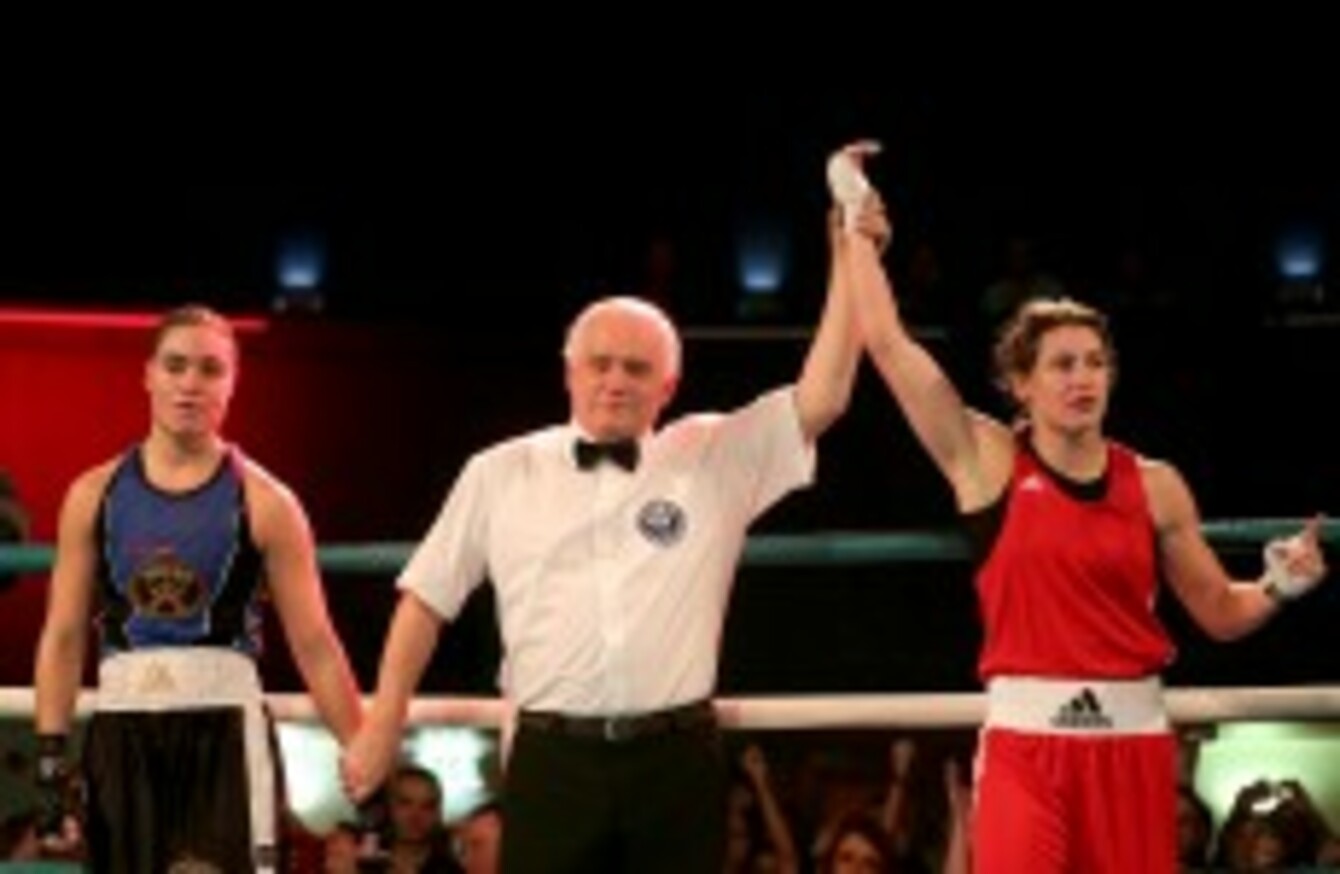 Taylor: beat Caroline Veyre in her first fight in almost five months.
Image: INPHO/Morgan Treacy
Taylor: beat Caroline Veyre in her first fight in almost five months.
Image: INPHO/Morgan Treacy
IT'S ONLY ACROSS the water but last night, London's Excel Arena felt a million miles away from the Mansion House in Dublin.
To anyone walking down Dawson Street around 8.30pm, there was plenty of evidence that the festive season is now in full swing.
But you would never have guessed that Katie Taylor — the four-time world champion and reigning Olympic champion, among other things — was about to make her return to the ring.
The fight, Taylor's first since July, flew completely under the radar, even for some sports fans.
There was precious little build-up and pre-publicity to the point where early on Friday, a number of media organisations were still reporting that Taylor was due to fight America's Melissa Parker.
Parker pulled out last week though and was replaced by Caroline Veyre, the Canadian national champion at 60kg and a fighter clearly determined to take her chance against the world number one.
A Brian Peters promotion this certainly was not. It was completely different to the "Road to Rio" cards put on by Peters in Dublin's Grand Canal Theatre and Castlebar earlier this year. There was none of the hype, none of the high-tech production values that Peters excels in.
It was a joint collaboration between Taylor's hometown Bray Boxing Club and promoters Afterdark.ie. To their credit, they transformed the historic surrounds of the Mansion House Round Room into an ideal mid-sized boxing venue.
INPHO/Morgan Treacy
It wasn't quite a sell-out but the hundreds of fans who came out to see their hero got what they wanted: a typically focused performance from the champ.
And a win.
Afterwards Pete Taylor said he was "delighted" with how the night had gone and left the door open for a similar promotion early in 2014.
This time last year, riding the crest of her Olympic wave, Taylor could have confidently filled a venue ten times this size in the capital.
It has been an incredibly frustrating year for her. The momentum was squandered, plans for a women's version of the World Series of Boxing collapsed, and opponents weren't all that willing to take a beating from her.
Not so long ago, she even admitted that she was reconsidering her decision to turn down pro offers and stay on to bid for a second Olympic gold in Rio three years from now.
Instead of grumbling and groaning, she lined up two fights to finish the year on a high note. After all, the next 12 months will be massive for her as she chases her sixth European title and a remarkable fifth world title.
"It's very important to get the fights under my belt and to try a few new things as well," she said.
"I can do all the training in the world but it's never the same as actually getting into the ring and boxing. It is important to keep fight fit and get ready for these competitions next year."
INPHO/Morgan Treacy
Veyre was a complete unknown. Drafted in at short notice, Taylor admitted afterwards that she had never even seen the Canadian fight.
Dad Pete had watched the tapes though and from the moment the lights went down and she started her ringwalk, it was clear that Taylor was as focused as ever.
"I think if I get complacent, that's when I'm going to lose so I always expect the toughest contest. Fair play to her, she produced a great performance tonight and really rose to the occasion."
From the opening bell, Veyre was determined to give a good account of herself. When she landed her cleanest shot of a fairly even first round, the room took a sharp breath.
But Taylor was always in control and moved up through the gears in the second half of the fight, forcing the Canadian into a standing count early in the third.
By the final bell the unanimous decision was a formality, and even though it was her first fight in almost five months, Taylor held herself to her usual exacting standards.
I'm a bit disappointed with my performance. I got caught with a few silly shots as well.
"I'm not paid to take shots," she added. "I don't want to get caught with any shots in the ring and they're the shots the judges really see, when your head goes back. I have to clean that up."
INPHO/Morgan Treacy
Fortunately she doesn't have to wait long to set those little quibbles right. Tonight Mira Potkonen of Finland walks right into the lion's den — Taylor's home town of Bray.
"This is the first time I've boxed in Bray since before the Olympics. It's a huge night for me.
I'm boxing in the community centre [Ballywaltrim] where I had my first-ever exhibition. It's just across the road from my estate actually so I'd think everyone from my estate is going to be there. The support is going fantastic and it's going to be a huge night.
Taylor has already beaten Potkonen once this year — in the semi-finals of the EU Championship in July — but as you'd expect she's full of respect for a "very tough", "very exciting opponent."
It hasn't been a great year for Ireland's golden girl but with a second win in the space of 24 hours, Katie can put it all behind her and sign off in style.