AS SOON AS he answers the phone, Kenny Hammond is laughing.
He knows why I'm calling.
"How are you keeping?" I ask.
"Not too bad now, not too bad," he says.
"But I'd rather there wasn't a video going around of me being kicked by a girl!"
Over the past week, Hammond has unwittingly turned into something of a viral sensation.
Back in the late-1990s, he was part of an excellent Cherry Orchard underage side.
Alongside him in the team was the likes of future Republic of Ireland international Stephen Quinn and Kilmarnock's Gary Dicker. Shane McFaul cut his professional teeth at Notts County and subsequently used his football as a passport by playing on three different continents. There was also Paul Byrne and Derek Doyle, who would both go on to have solid careers in the League of Ireland.
Their formative football education came in Ballyfermot and the countless days and nights spent in The Lawns – the collection of pitches in Le Fanu Park, just off the main road.
By 1998, the group – then under-12 – were beginning to blossom and would regularly hand out thumpings to all and sundry.
"We were the kings of schoolboy up until Under-16s," Hammond remembers.
"I think we won the All-Ireland in '98. And we won the league three or four times as we made our way through the different age-groups. We did the double one year. We won the Solar Cup over in Liverpool at one stage. We had a nice little team there, so we did."
One Saturday morning, Hammond and his team-mates were in Cup action and hosted Wicklow side Newtown Juniors at their home patch.
20 years later and he can still recall the finer details of the game and for good reason.
That was the day he was left embarrassed by Katie Taylor.
Lorraine O'Sullivan / INPHO Katie Taylor in action for the Republic of Ireland senior side in February 2008. Lorraine O'Sullivan / INPHO / INPHO
"In the warm-up, we'd seen a girl on their team," he says.
"Obviously we didn't know it was Katie at the time but we were all saying – laughing – 'Ah, who's gonna get stung with the girl?' And, sure as shit, when we lined up there she was on the right wing and I thought, 'You're kidding me?'"
Hammond was the Orchard's left-sided midfielder and was understandably unsettled by the prospect of taking on a girl.
"When you come up against a girl in sport you're a bit taken aback," he admits.
"It was very unusual. That was the only time we had ever experienced it."
As soon as the game kicked off, the Orchard – inevitably – wanted to test Taylor's mettle. But Hammond quickly found out that she was well able to look after herself. This was no shrinking violet.
"I remember the boys saying, 'Get it out to Kenny, get it out to Kenny – it's only a girl', y'know?" Hammond says.
"But she was dirty. She was dirty. Very dirty."
He remains exasperated by how much of a nuisance she was.
"She was at me all game," he continues.
"The lads got a great kick out of it. They kept on passing to me and saying, 'Let his girlfriend kick him again'".
Taylor clattered Hammond a few times during the game. But, unluckily for him, someone in the crowd brought a video camera along. And, over two decades later, a grainy clip surfaced online.
Hugging the left touchline, Hammond – in the Orchard white – uses his pace to whip around the outside of Taylor. But as he looks to race clear, he's caught from behind by a crunching challenge and put on his arse.
The ball was there (we think).
Taylor has seen the clip and, through a mutual friend, passes on the message that she definitely got the ball.
Perhaps inevitably, Hammond has a slightly different recollection and maintains that he was on the receiving end of a hatchet job.
"It's just as well they only caught the one tackle on camera because she was like that for the whole thing!" he says.
I press him for more details.
It was just dirty stuff. She'd be pulling you, kicking you. Just dirty. At one stage I got a free-kick and even the ref came over to me and said, 'Jesus, she's giving you an awful time, isn't she?' And I was like, 'Well, are you going to fucking book her?' And he just shakes his head and says, 'No, no – I'm not going to book her!' So I says, 'Cheers for that, mate' and that was it. She got away with fucking murder! Absolute murder!"
Even at half-time, we might've been a few goals up and our manager was telling everyone to knock the ball out to me so I could get kicked again! She shouldn't have lasted the 60 minutes, or however long we were playing for. She should've got her marching orders! And another thing…she was as quiet as a mouse. I don't even think I heard her talking. She just kicked!
But it's some nice footage to have, isn't it?"
Taylor's football prowess has been completely overshadowed by her achievements in the ring but she easily could've been a professional player.
Around the same time that she was taking chunks out of Kenny Hammond, she was being crowned Wicklow's 'Schoolboy' of the Year. Shortly after, she made the county's Kennedy Cup team.
She was still in her early teens when she was called up to the Republic of Ireland Under-17 squad, her physicality – honed by her boxing training – ensuring she could mix it with older girls. At the 2004 FAI Awards, she was named Under-19 Women's Player of the Year. The following year, as a crucial ingredient in the Peamount side, she lost a Cup final to Dundalk. Boxing commitments ensured she missed St. Catharines appearance in the 2009 decider but the following year, with her focus beginning to move away from football entirely, she still managed to be part of the Peamount squad as they secured a domestic treble. A first senior call-up arrived when she was just 16 and she'd go on to win 19 caps.
Andrew Paton / INPHO Taylor (left) in action for Peamount United against Dundalk in the 2005 Women's FAI Cup final. Andrew Paton / INPHO / INPHO
All in all, not a bad return.
Hammond is quick to point out that despite her being a nuisance during their encounter, her wider skill-set was undeniable.
She was the best player they had by a mile – that's no disrespect to the lads. But she was half-decent. She could play a bit of ball. And she was up against a good Orchard team. She raised her game when she came up against the big boys. It was The Lawns in Ballyer – not an easy place to come and play either. You could only have respect for her.
They didn't have much of the ball but when she did have it she was decent. She could pick a pass and dribble away. But we were a good side so it was hard for her at the same time. All I know is I got plenty of grief over her…me 'girlfriend.'"
The Orchard, as expected, won handily that morning. But 'the girl' had made quite the impact, as evidenced by the reaction she got when it was all over.
"There were handshakes all around at full-time," Hammond says.
"Every single one of our lads went over to her, even our manager. It was inspirational, wasn't it? Seeing a girl there playing a bit of ball. There should be more of it, really."
Hammond put up with the stick for quite a few years and then everyone moved on. Until his father – who keeps a casual eye on women's boxing – recognised 'rising star' Katie Taylor from somewhere.
He just couldn't quite put his finger on how he knew her.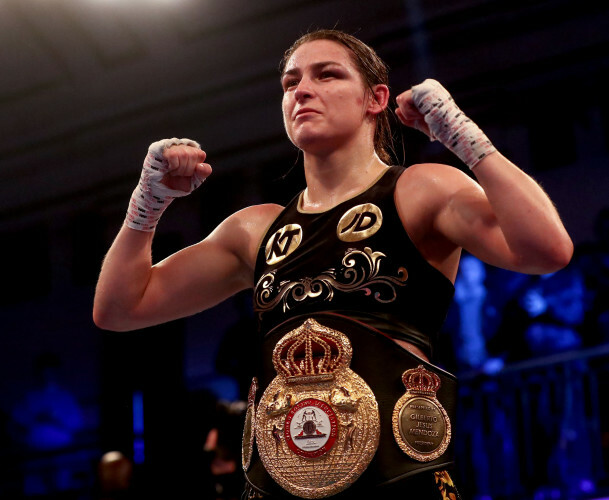 James Crombie / INPHO James Crombie / INPHO / INPHO
"Me Da twigged it, eventually," Hammond says.
"He gave me grief over that game for a long while. And my younger sister did some boxing and me Da follows it a bit. And he said to me, 'I'm sure it was that Katie Taylor that kicked you that day up in The Lawns'. And I said to him, 'No, it's not'. But one of the team-mates from that day – Paul Byrne – well, his Da would've taped a lot of our games and then another team-mate – Derek Kavanagh – got that clip, stuck it up on the football Facebook page he runs and, sure as shit, there I am! So cheers for that, Derek!"
I still get stick off me Da to this day. We'll be out having a pint or two and he'll start off…'Remember that girl…' and I'll say, 'It wasn't just any girl – it was Katie Taylor.'"
Anytime he watches her now, Hammond can still see the young girl from that day in The Lawns. The grit, the desire, the fight, the talent.
"At least she's allowed use her fists now," he says, with another laugh.
"Fair play to her. Inspirational to women…and men. I have so much time for her."
I attempt to reassure him about the video clip. It could, after all, have been Taylor sticking the ball through Hammond's legs and jinking past him.
"You're right – that would've been a lot worse. Getting nutmegged by Katie Taylor? Me bollix. At least the boys got great craic out of it. Not a bit of pity did I get from anyone when a girl was kicking me."
Hammond's career came to a premature end because of injury. He picked up three caps for his country and had stints with Nottingham Forest, Notts County and Burnley but was done by the age of 20.
"It was a bad hip injury that did me in the end," he says.
"I don't know if Katie had a part to play in that!"
Now a plumber and based in Clondalkin, he's not moved too far away from Ballyer. Life is good. The father to two boys, he'll tell them the story soon enough.
"It's something to talk to them about in the future, isn't it?" he says.
"When we see Katie with her world titles? 'See her? She kicked the shit outta me!'"
Sincere thanks to Shane McFaul and Derek Kavanagh for their assistance with this article. 
The42 has just published its first book, Behind The Lines, a collection of some of the year's best sports stories. Pick up your copy in Eason's, or order it here today (€10):