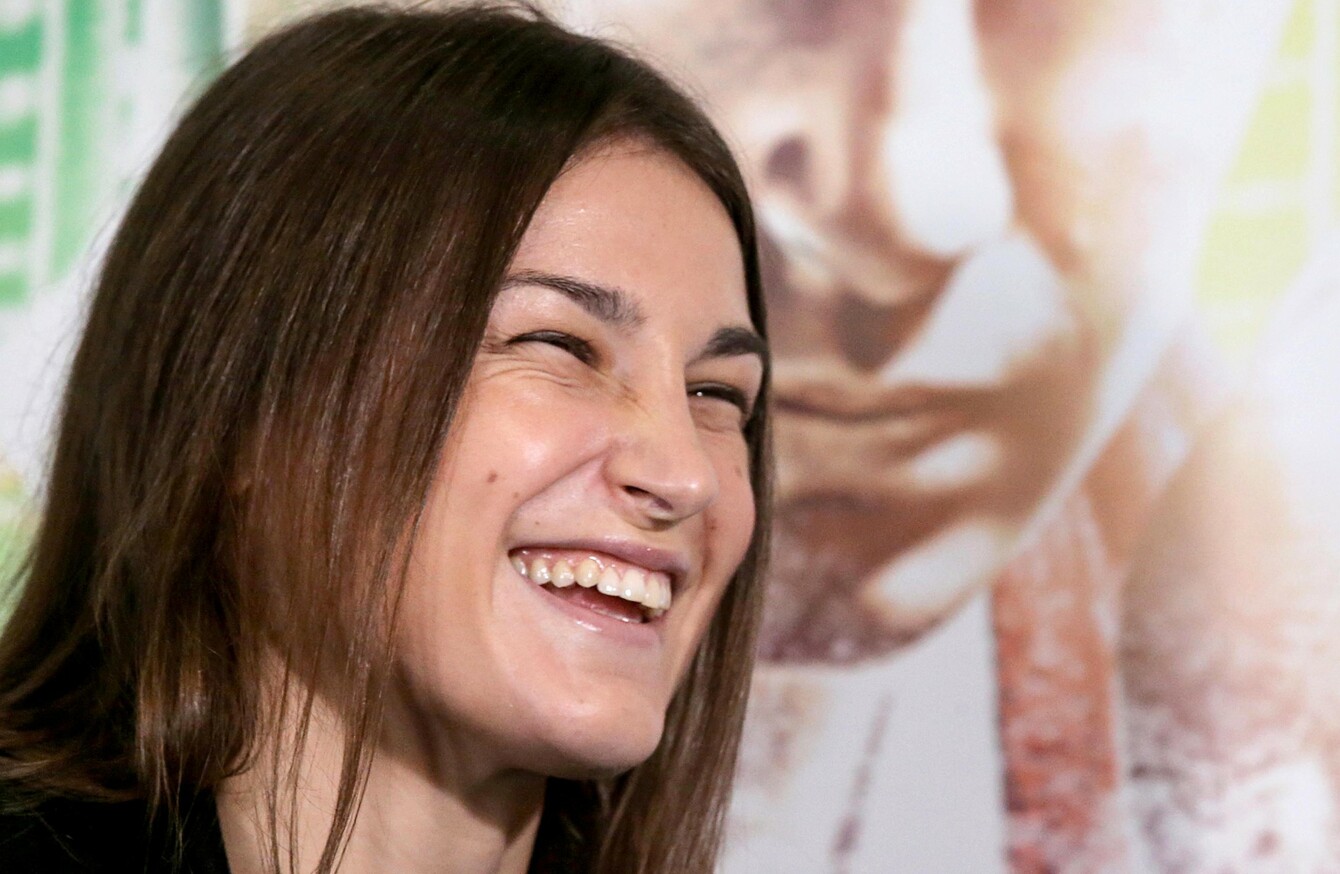 'I know there's pressure on me.'
Image: Donall Farmer/INPHO
'I know there's pressure on me.'
Image: Donall Farmer/INPHO
THIS IS ALL new territory for Katie Taylor.
It's not that the glare of the media spotlight is foreign to her, but everything is on a different scale in the professional ranks. It's as much about the pageantry as it is the boxing — and that isn't quite her scene.
Preparations for her last fight, the unmentionable Olympic quarter-final bout in Rio, involved separating herself from any external distractions. One public appearance — Team Ireland's kit launch in June — was the extent of her media duties in the eight-week lead-in period.
In complete contrast, the five-time world champion spent over two hours fulfilling media obligations in Dublin yesterday and will do the same at a press conference in London tomorrow. It's all part of the business; fights need to be promoted and tickets need to be sold.
"It's definitely not something that I enjoy too much but it is something that I am taking in my stride," Taylor insists.
"I'm not getting too stressed out about it and just going with the flow and the most important thing is it's not interfering with my training sessions and with my focus on Saturday night."
It is perhaps fitting that this new journey she is about to embark on begins in the city of Taylor's greatest triumph; that golden moment at London's ExCel Arena in 2012.
A first foray into the pro game at Wembley Arena this weekend against Karina Kopinska gives Taylor an early opportunity to announce herself on this stage. The experienced Pole, with seven wins from 24 bouts to her name, shouldn't pose too many problems to the most successful female amateur boxer of all time.
"It's a huge night for me, the start of an exciting new journey," she says, to an audience which includes dozens of photographers, camera crews and journalists at Dublin's City Hall.
These are undoubtedly exciting times for Taylor and the faith placed in her by promoter Eddie Hearn is underlined by the level of investment both Matchroom Boxing and Sky Sports have committed to her as a boxer and as a product.
Two weeks after Taylor's first taste of pro boxing, the former Olympic champion will fight in-front of 21,000 people on the undercard of Anthony Joshua's world title defence in Manchester.
Big fights dates in Scandinavia, New York's Madison Square Garden and a potential world title tilt in Dublin are already being lined-up for 2017 — and this is all before she's even stepped into the ring.
Katie Taylor is boxoffice material and big things are expected of her. That in itself carries a huge amount of pressure.
"It is very different, you have to put yourself out there a bit more and it's probably something I'm not as comfortable with but I think as the time goes I'll probably find my feet a little more," she says of settling into a new challenge.
"It has been so exciting for me over the last couple of months and I'm more excited about this than I have been throughout my whole amateur career. To be boxing at these big shows and to have the chance to box live on TV as well is obviously huge for women's boxing.
"I just needed a new change and a new goal and amateur boxing just wasn't exciting me as it was before. The minute I made the decision to turn pro, everything was put in place for me and I feel like I've got a great team of people around me now and I'm passionate about it. I just needed a new challenge."
After achieving all there was to achieve, and more, in the amateur game, Taylor needed a change of scenery. Everything had gone a bit stale, and a tough year both in and out of the ring probably contributed to that.
Taylor's aura of invincibility had been pierced by the unfathomable loss of form which saw her suffer three defeats. European, World and Olympic gold all slipped out of her grasp in the space of five months.
"I came back from Rio and I wasn't really sure what I was going to do," she explains.
Be part
of the team
Access exclusive podcasts, interviews and analysis with a monthly or annual membership.
Become a Member
"I just knew that I needed some sort of a change and that's when I got in touch with Ross [Enamait] and I went over to him for the few weeks. The more I was around him and the pro teams I got more of an appetite for the professional game and I knew then when I came back. I had made my decision.
"I got in contact with Brian [Peters] then asking to help me out and to get in touch with a few of the promoters for me and from then on we just made the decision."
Taylor says she had two big decisions to make after Rio. Once she had made her mind up about her future, the second call on who to train with and where to base herself was just as important.
Teaming up with Ross Enamait in Connecticut has, according to Taylor, helped her get in the best shape of her career.
"I was familiar with Ross over the years really, I had his books around my house," she says when asked why he was the chosen one.
"We did a lot of his stuff over the last 10 years really. I just knew his training is obviously so effective and I initially got in contact with him and the minute I went over I just felt a connection there.
"From the start I seen the results and seen the progress and there's nothing better for myself than seeing that progress because I'm getting the best training and this is what I was missing over the last couple of years."
After an intense period of preparation with her new coach in America, Taylor is back on home soil amongst family and friends again.
For someone with such ties to her home town of Bray, upping sticks and relocating across the Atlantic without any familiar faces has, understandably, been a difficult lifestyle change to make.
"It has been tough at times but I think it's been good for me as well. I'm just over there purely focusing on my training without any of those distractions so I have an enjoyable aspect of it as well, but there is times when it does get a bit lonely but that's the stuff that you have to suck up. They're the sacrifices that I'm willing to make really."
Without doubt, Taylor has consistently made those sacrifices demanded by greatness from a young age but now she faces a new challenge and embarks on a voyage into the unknown, desperate to break down more barriers, transcend the sport and prove those who doubted her wrong along the way.
There are risks involved, just like in any career move, but the rewards far outweigh the risks, and her motivation comes from ambition rather than money.
"It's a new goal, a new challenge but my approach is very much the same really," Taylor adds.
"I always went into every competition with no stone unturned and I was obviously very disciplined and dedicated throughout my amateur career and that's not going to change. I just needed a new goal.
"I don't feel under any more pressure than I have done throughout my whole amateur career really. I think in every big competition there's always been a lot of pressure for me to go in and perform and come back with medals, so it's no different really. My focus is the same as well. I'm as ready as I'll ever be I think.
"Proving a point to people is a part of it as well. People might think I'm on a decline but that's not the case at all. I feel like the best is yet to come and that's very exciting for me as well."
As one glorious chapter closes for Taylor, this weekend marks the opening of another, one which has the potential to be bigger and better than what has gone before.
The42 is on Instagram! Tap the button below on your phone to follow us!