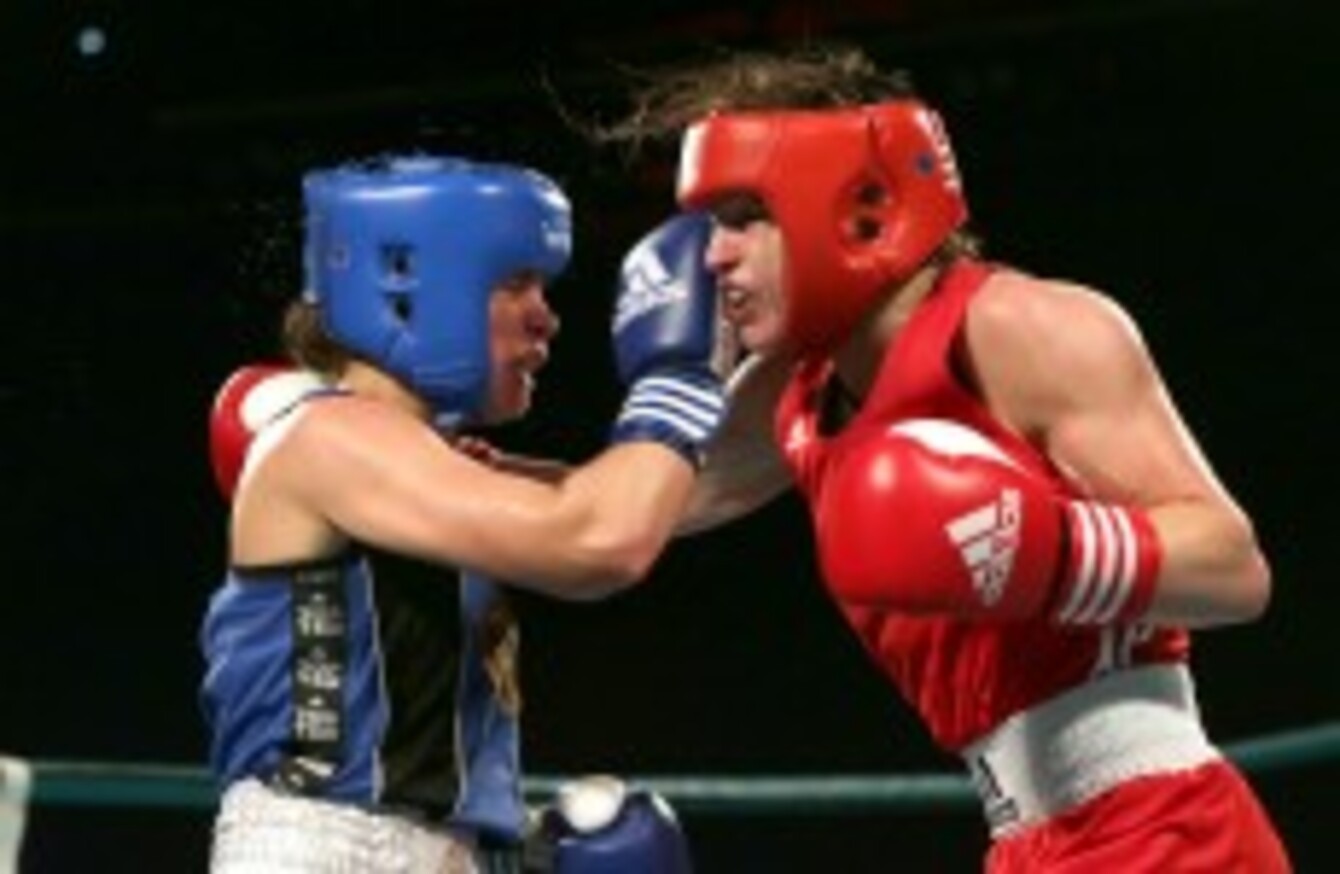 Taylor: Ireland's lady in red won by unanimous decision against Caroline Veyre.
Image: ©INPHO/Morgan Treacy
Taylor: Ireland's lady in red won by unanimous decision against Caroline Veyre.
Image: ©INPHO/Morgan Treacy
KATIE TAYLOR RETURNED to the ring with a win in Dublin's Mansion House this evening.
The reigning world and Olympic champion beat Caroline Veyre by a unanimous decision in front of a delighted home crowd.
The fight was Taylor's first since she claimed her fifth consecutive European Union title in July.
And though she admitted that she was a little bit rusty early on, her class shone through in the final rounds.
After a frustrating year and almost five months out of action, Taylor now faces a second bout in the space of 24 hours.
INPHO/Morgan Treacy
Finland's Mira Potkonen — whom she has already beaten once this year — will be her opponent for a true 'homecoming' bout in her home town of Bray.
The two fights will tee her up nicely for a hectic 2014 when she will bid to win her sixth European championship and a remarkable fifth world title.
But tonight her focus was completely on Veyre, the recently crowned Canadian national champion at 60kg.
The 25-year-old was drafted in as a late replacement when America's Melissa Parker pulled out earlier this month due to travel problems.
Veyre gave as good as she got in the opening exchanges and landed a few clean shots of her own.
"I just got caught with a few silly shots just through my own fault really," Taylor explained afterwards.
"I wasn't too aware of the shots coming at me. There was a bit of ring rust as well I suppose.
INPHO/Morgan Treacy
"They weren't hard shots but they're the kind of punches that were knocking my head back and they're the punches that the judges see.
Maybe my defensive ability in there tonight wasn't the best but hopefully it will be better tomorrow.
Taylor was never really out of her comfort zone though and she stepped up a gear in the third round, forcing Veyre to take a standing count.
Her defensive work was equally as impressive and she produced the highlight of the night without needing to throw a punch.
Backed into a corner as the clock ticked down in the third, Taylor invited Veyre's best shots but responded with a string of magical bobs and weaves that saw the Canadian miss her mark every time.
It drew a huge roar from the hundreds of fans who turned out in the Mansion House to see their champion.
Among them were Ireland rugby international Kevin McLaughlin and his recently retired Leinster team-mate Eoin O'Malley.
McLaughlin and O'Malley watch the action (INPHO/Morgan Treacy)
As the fight wore on Veyre's defence dropped and in the final round, she shipped a string of right hooks from the advancing Taylor.
Taylor said: "As I came in with my right hand, she was coming in with her left hand very low so my dad and Zaur in the corner were just telling me to feint and use my left hand and then as she comes in, meet her with the right.
"It was working every time so I caught her with a few good shots.
I did a few great things in there tonight but I also made a few mistakes as well so I have to clean that up for tomorrow night.