IT WAS 2009, and a fork in the road had to be navigated.
As had been the case until last October, the Republic of Ireland women's national football team were trying to qualify for their first-ever major tournament.
Having fallen short to Iceland in a controversial European Championship play-off the previous year, the 2011 World Cup was the next target. Noel King's side had picked up the pieces, regrouped and were on the road again. 
But one member of the squad, a 23-year-old multi-sport star from Bray, had been making considerable waves in a different discipline around the same time.
Her name would become a household one, her face that of Irish boxing for years to come.
Katie Taylor went one way, the Irish women's soccer team continued on their own journey.
While Taylor gears up for arguably the biggest fight of her career 14 years later, some of her former team-mates will finally achieve that World Cup dream this summer.
They've travelled different roads, but will all arrive at iconic moments as their respective journeys reach their crescendo within two months of one another.
***
"Boxer Katie Taylor came off the bench to take part in the game less than a week after winning her fourth consecutive European lightweight title."
- Irish Independent, September 2009
Taylor's last senior international game was a late 2-1 win over Kazakhstan at Turner's Cross. Another substitute by the name of Stephanie Roche settled the World Cup qualifier with an 87th-minute strike.
A certain Áine O'Gorman was involved in the build-up for the winner, while Niamh Fahey also played the full 90 minutes. Both are regular fixtures in Vera Pauw's current squad, though Liverpool captain Fahey is yet to feature in green in 2023 due to injury.
Of the WNT Class of 2023, Taylor also crossed paths with Diane Caldwell and later, Louise Quinn — at all-conquering Peamount United — in the soccer world.
Marie Curtin, who has since hung up her boots but remains heavily involved in the game as manager of the U17 Girls Academy team at Treaty United, came through the ranks with Taylor. She also played at the Cross that day.
"Back then we wouldn't have gotten the crowds that we see today," Curtin tells The 42. "It was just a completely different world. It's amazing to see the developments and growth of the game since then."
Taylor and Curtin came into the senior international set-up around the same time. They were "the two young ones" and often ended up rooming together.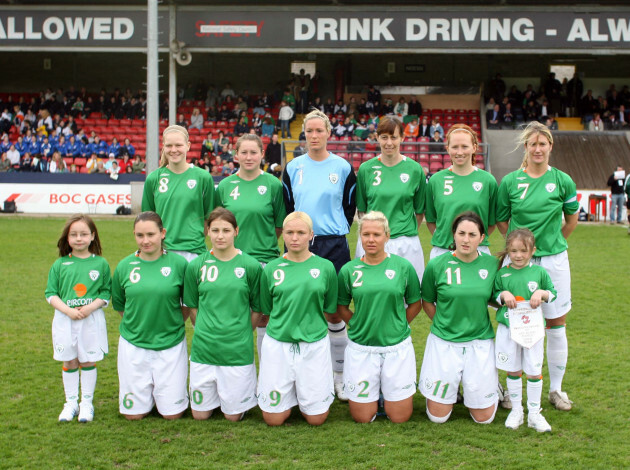 Andrew Paton / INPHO Marie Curtin (4), Katie Taylor (10), Diane Caldwell (10) and the Ireland team that faced Switzerland in a World Cup qualifier in 2006. Andrew Paton / INPHO / INPHO
The now-boxing great went on to win 11 senior caps between 2006 and 2009, scoring two memorable goals for her country having previously established herself as an underage star.
She became one of the first girls to play at the renowned Kennedy Cup youth tournament in 2000 and after lighting up the local scene in Wicklow, she represented the Ireland U17s at the age of 14 and the U19s at 15.
She was named U19 Player of the Year in 2005 and graduated to the senior ranks at ease.
"Katie, she was different level," Curtin beams. "She didn't have that fear. She didn't seem to be nervous about it or anything where any normal young player would have been. She just went into it fearless.
Possibly the greatest goal I've seen while involved as coach of the Irish Women's Team
2007 @FAIreland 2 Hungary 1@KatieTaylor with the long distance strike #20x20 #ShowYourStripes #CantSeeCantBe #InternationalWomenDay2019 pic.twitter.com/qtt5QZOUA2

— Gerard Dunne (@gdunne16) March 8, 2019
15 years ago @KatieTaylor was casually scoring screamers against the Italians, she did see red later though and Ireland went down 4-1.
(2008)@FAIWomen @EddieHearn @ballsdotie @offtheball @SecondCaptains pic.twitter.com/NPXiwNxfQW

— KillianM2 TV Archive (@KillianM2) May 14, 2023
"What I remember clearly about her was just her will to win. She wasn't fazed by the Italians, she wasn't fazed by anyone — and this is a young player. I just thought that was amazing. She was so brave, she was so good. She's just such a nice person, a great person."
Ultimately, in 2009, Taylor veered left and took her turn, while Curtin and co. travelled onward.
She did help Peamount win a treble the following year, starring alongside the likes of O'Gorman, Quinn and Roche, but boxing has consumed her ever since.
What a team you had @GleesonEileen when these 4 were on the bench @Aineogor9 @StephanieRoche9 @KatieTaylor @louise_quinn4 #20×20 cantseecantbe 💚🖤⚽️🥊 pic.twitter.com/Bhbpvczd7w

— Peamount Utd FC (@peamountutd) June 24, 2019
From a glittering amateur career to Olympic gold at London 2012 and legendary status in the professional ranks, one needs little reminder of her remarkable rise. Think boxing, think Katie Taylor.
For the Irish women's football team, on the other hand, it was an uphill battle: unsuccessful qualification bid after unsuccessful qualification bid, a threatened strike and landmark Liberty Hall press conference in 2017, and slowly but surely, green shoots beginning to sprout thereafter.
Ireland are now preparing for their major tournament debut.
Curtin finished up with the Girls In Green in 2012, but incredibly, O'Gorman, Fahey, Caldwell and Quinn were all in the XI for last October's World Cup play-off win over Scotland at Hampden Park.
Pending selection, they should all appear on the biggest stage possible in Australia and New Zealand this summer.
Their old team-mate, Taylor, is preparing for that in her blockbuster homecoming against Chantelle Cameron at Dublin's 3 Arena this weekend.
Matchoom Boxing / Mark Robinson/INPHO Undisputed lightweight champion Taylor after defeating Karen Elizabeth Carabajal last October. Matchoom Boxing / Mark Robinson/INPHO / Mark Robinson/INPHO
"I'll be tuning into both for sure, I won't be going unfortunately," Curtin says, having kept in touch with both camps. She's particularly enjoying the World Cup build-up, with the FAI awarding caps to former players and opportunities arising in the coming weeks to catch up with old friends.
"When you leave, you always keep an eye," the Limerick woman concludes. "You kind of live through it with with the players who are currently playing.
"I keep in touch a little bit with Diane Caldwell, we would have went to college together and lived together at one point in University in New York. You're kind of living through the girls who are still playing.
"I'd go [to watch] where I can. I have a kid now, so it's getting a little harder to go. It's a strange feeling because it's still very fresh in your mind and I still associate with [the idea that] 'We've come a long way'. I still feel part of it in a way, if that makes any sense.
"It's just been amazing, seeing the changes – and well deserved. The girls have crossed that line, they've gone and qualified. That was what we endured, we were trying for so many years and never got there. It is great, you feel close to that and you feel a lot of pride for that.
"It's great memories anyway."
Many made, many more to come.
Fourteen years on from that fork in the road, several incredible careers will reach their crescendo within a few short weeks.