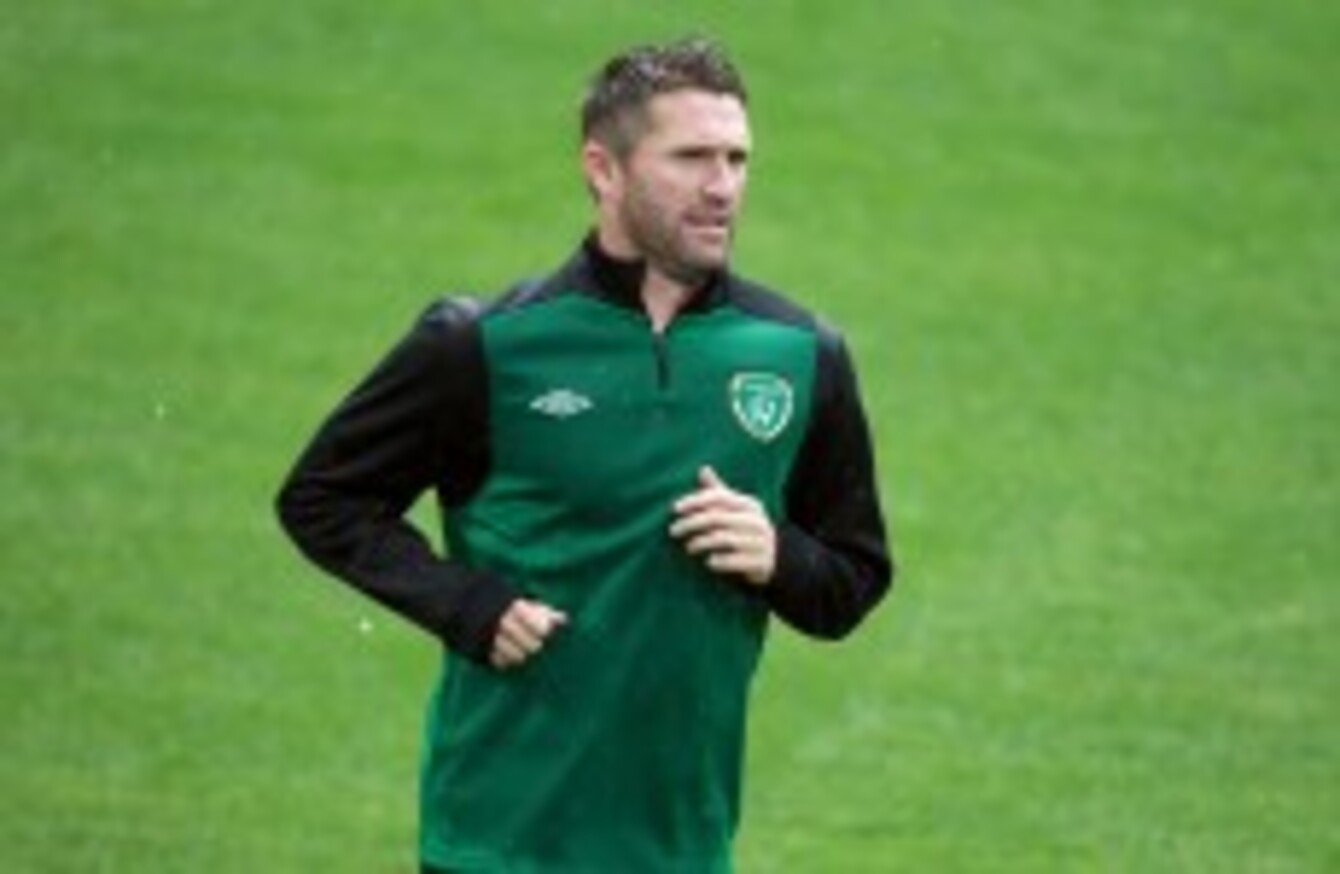 Keane training yesterday.
Image: INPHO/Donall Farmer
Keane training yesterday.
Image: INPHO/Donall Farmer
IT WOULD BE, OF course, be an enormous exaggeration to say that Giovanni Trapattoni put Irish football back on the map but – as those in the FAI admit – he really raises the awareness of the team.
Everyone wants a piece of him. And, at yesterday's pre-match press conference, Robbie Keane realised as much.
For the first 20 minutes of the event, there were questions from all corners of the globe for the Italian: Germany, Italy, the Middle East… but none accepted from Irish journalists. So, when the Uefa official put his hand up to signal the end of the press conference, Keane – admirably – interjected.
In a moment of solidarity between the player and media, Keane stated "we've been waiting 10 years to get here… do you want to let some Irish journalists ask questions?"
Keane got his wish. And a round of applause from the Irish media.
So, first question from an Irish point of view? How does this compare to 2002?
"It's obviously been a difficult 10 years for the country. I think, in 2002, we had a great experience with people like Niall Quinn, Steve Staunton. You take things for granted when you're a young lad. You think you're going to win every tournament and we haven't. It's been a long time coming for the whole country and you can see the atmosphere. The country has been on its knees for the last few years. We want to give everyone a lift. It's up to us to give the team as much joy as possible over the next month or so.
"We're not here to make up the numbers. No doubt about that. If you look at our record over the last few years, it's very, very good. We're here with a lot of confidence and belief that we can get out of this group. It's not going to be easy but, being with these lads for the last few weeks and years, there's no doubt in my mind we believe we can get out of this group."
Back Keane at 9-1 to score first with Betfair
Keane also again reiterated the clear eagerness of the Irish team to get out onto the pitch and get at Croatia.
"We've been together now for three weeks or so. I think everybody can feel it coming. Landing [in Poznan] today, there's the sense that it's around the corner. Yesterday, we watched the games as a group. It was up to the individuals whether they wanted to watch. But I think every player, including staff, watched. We've been desperate to just get on with it. This is what we've been waiting for. We've been preparing for the last couple of years to be here and, speaking to the players, we've been desperate for this to come."
Such commitment, of course, will be badly needed against a Croatian side who are talking in pretty confident tones themselves.
"We obviously know they're a strong team," Keane said. "They have good individual players, someone like Luka Modric, who I know very well. I've been onto him a bit over the last few days, having a bit of banter. Hopefully I'll be shaking his hand with three points in the bag. They've become a very good team under Bilic. We know their weaknesses and strengths. That has been driven into us."
But, ultimately, can it drive them to the performance levels of Paris?
"I certainly hope that's the case. Paris was one of our best games in a long, long time. But, if you look at the way we've played in the last few games, there's no reason we can't get a win. It's certainly going to be a tough game but if we go into it in the same manner we've done since the manager took over, I don't think anyone should be too worried."
Enjoy a risk free €20 bet plus up to €1,000 cashback