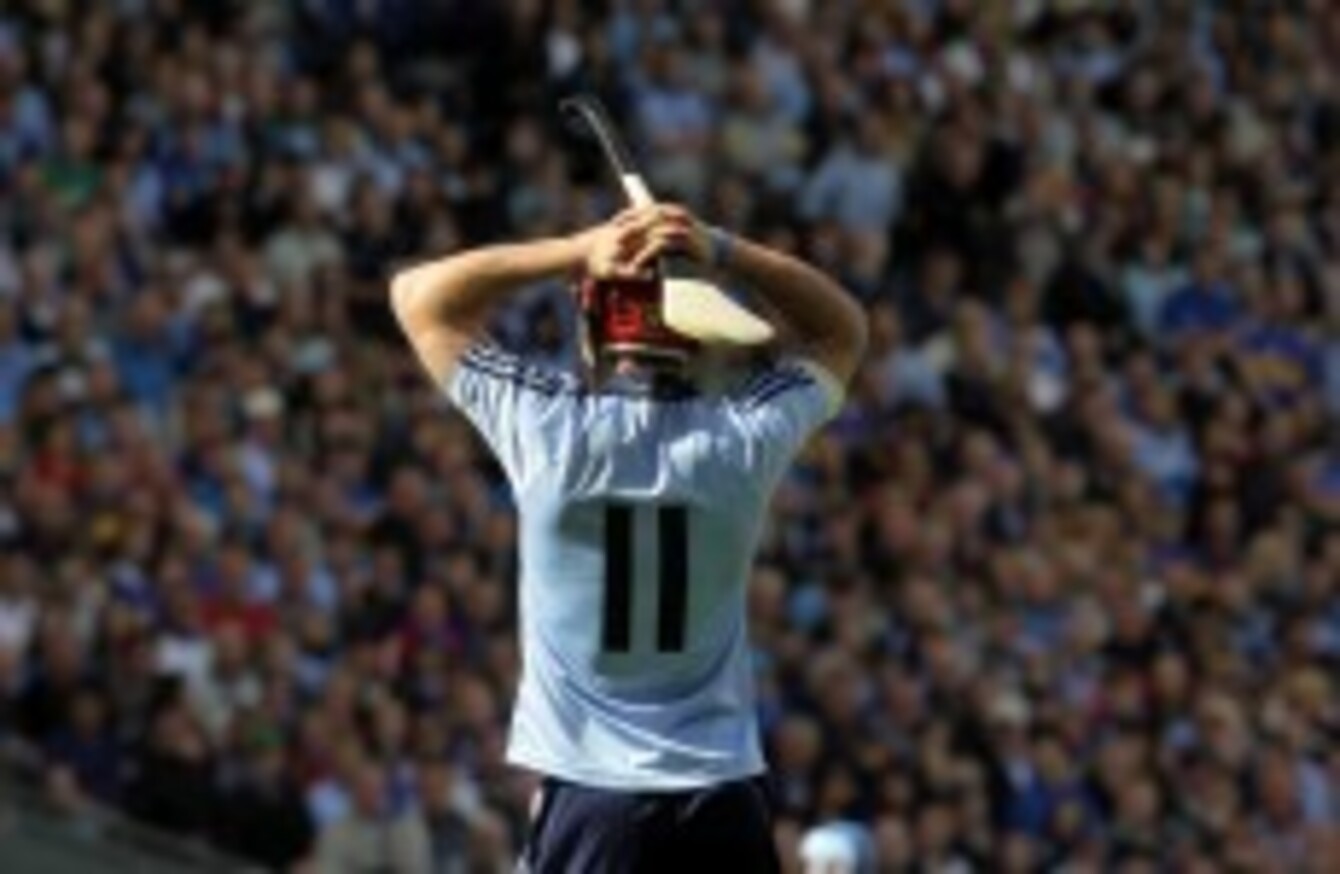 Image: ©INPHO/Donall Farmer
Image: ©INPHO/Donall Farmer
ON THE SURFACE, the last few months look to have been a rather sharp and unwelcome fall from grace for the Dublin hurlers. League champions and All-Ireland semi-finalists one minute; battling to steer clear of the jaws of relegation the next.
Three defeats and a last-gasp draw from four games isn't anybody's idea of success in Dublin, and while the capital's footballers might be a byword for swagger and braggadocio, Anthony Daly and his men aren't foolhardy enough to pretend that this was part of the plan all along.
Still, they're not exactly hitting the panic button either. Coming off the high of last season, their limp display against Galway on opening weekend was hugely disappointing, but it hasn't set the tone for their campaign as a whole.
Instead, it has been a few weeks defined by near misses and narrow escapes. Though they were outplayed for long stretches against Cork, it was a game they could have and probably should have won until right at the death. Then there was Nowlan Park, a den where few teams go there and score six goals; fewer still manage to do that much and come away with a defeat.
But for Liam Rushe's equaliser at the death against Tipp, the optics would be even more dismal. The margins may be fine, but ifs and buts don't count for much in the National Hurling League.
The reason nobody is panicking, forward Ryan O'Dwyer explains, is because Dublin no longer feel that they need to prove themselves in the top tier. They know they belong.
"Last year, we felt we needed to win every league game just to build a bit of confidence," he tells TheScore.ie when we caught up for a chat earlier in the week.
This year now, we're worried about developing players and building on performance. Results were always a side issue — we'd have liked if we got one or two results, but they're always a side issue and we just wanted to perform.

If you scrape through a victory and play poorly, you paint over cracks, whereas if we lose now and play fairly ok, we still look at the negatives even though we always try to look at positives. It will benefit us in the long run; now we just have to worry about staying in Division 1A.
Patience
If last season's league campaign was an arena for Dublin to prove themselves, this season has taken on a more experimental bent.
"Last year was intense, intense, intense, intense," he continues. "This year, it's intense but we're focusing on the overall picture. It's only right because last year, we were a team that was developing and we needed to go out and prove ourselves every day.
"This year, we need to prove ourselves every day as well but we have to focus on the bigger picture. We' re not unlike any other team, we want to win an All-Ireland. We're going alright so far, all the boxes are being ticked in the right manner."
This patient rather than passive approach has been reflected in Daly as well, who must pleased with the pay-off from his decision to liberally sprinkle fresh faces like Shane Stapleton and Danny Sutcliffe into the starting XV. The strides made by Dublin in the first years of his tenure were huge, and from the outside looking in, he'll be confident that all of his hard work cannot simply be rolled back overnight.
"After the Galway game, he was gutted. He'll say that himself," O'Dwyer says. "I suppose he was thinking what can I do to improve this.
Then we went out and we played against Cork two weeks after that. The strange thing was that in the dressing room afterwards, I was absolutely gutted and I looked up and he was smiling.

I thought 'this headcase' — and he is a headcase — he was smiling. I made eye contact with him and he said, 'We have her. We performed today.' That's what he wanted.
What are they
really like?
Rare insights on sport's biggest names from the writers who know them best. Listen to Behind the Lines podcast.
Become a Member
"The same then the week after against Kilkenny, a good performance. The other day against Tipp, we ground out a draw so things are going in the right direction."
Animals
When all is said and done though, Dublin don't want to be the champions who went down, a stain and a stigma that would take a long time to shift. It's a well-worn line, but O'Dwyer tries to stay positive by pointing out that the relegation play-off against either Waterford or Galway will add a bit of "championship feel" to the hurling.
Against the Déise this afternoon in Dungarvan, they'll have a chance to get an up close and personal look at one of their potential opponents. While Daly's men are playing it cool despite some bad results, Waterford are out to throw it all back in the face of their harshest critics.
The return of John Mullane and Eoin Kelly, as well as Ken McGrath and Seán Cullinane's decision to join the backroom team, has only fuelled their redemptive streak. O'Dwyer has seen this one before, and is ready for war.
They're like a wounded animal, and you don't go near a wounded animal.

They were hurt by everything that's happened and everyone writing them off for the year, but then you see Ken McGrath coming back, a hurler I'd have looked up to so much and still do look up to. He came back and they're after getting a victory and all of a sudden, all that talk of what went on before is gone.
"There's a feel-good factor about the whole thing now because he's a great character; Mullane coming back, great character; Eoin Kelly coming back, great character. So they have that appeal again.
"I loved watching them growing up because they had such great characters and they had that appeal. They still do, it's coming back now. I suppose we'll see on Sunday what they bring to the party."