IT'S NEARLY 10 years since Ireland beat Latvia 3-0 as the Martin O'Neill-Roy Keane era officially got underway.
A number of players who would become integral figures under the new manager started that day — Seamus Coleman, Glenn Whelan, and James McClean to name a couple.
In goal was an individual who O'Neill knew better than most — Keiren Westwood — with the pair having previously worked together at Sunderland.
"Me, Martin and Sheasy [John O'Shea] used to travel all over together from Sunderland together," he tells The42. "I know David Meyler was in a lot of the squads [too]. It was Martin's first game, I remember it, it was 3-0. I don't want to sound too disrespectful to Latvia but if we had gotten beaten by Latvia, then we would have been absolutely run over the coals. It's an expected victory, one that we got and I enjoyed it. It was a clean sheet, I was delighted to play in Martin's first game in front of all the fans that turned out to say hello and greet him into the job – playing at home at the Aviva was always a special occasion."
Four years earlier, Giovanni Trapattoni had handed Westwood an Ireland debut on the back of an impressive season in the Championship with Coventry City, replacing Shay Given for the second half of a 1-1 friendly draw with Nigeria at Craven Cottage.
To suddenly find himself playing under one of the most celebrated managers in football history was quite a thrill for the young goalkeeper.
He has fond memories of the Italian, who has not managed since leaving the Ireland job in 2013.
"Really charismatic, really calm, his reputation spoke for itself, it's Giovanni Trapattoni, it's not Billy Bob from down the road. And when he spoke, you listened. He had a really quiet voice and his English wasn't great, but you could pick up everything that he was saying.
"And to be fair, we had some real senior heads in the team like Shay, Richard Dunne, Glenn Whelan, Kev Kilbane, Damien Duff, Robbie Keane.
"They sort of ran it as well, the boys and everyone just respected each other and everyone did the right thing.
"No one did anything untoward that it needed the manager, Marco [Tardelli], or any of the other staff to step in and say: 'Listen, this is out of order.' Everyone was pulling in the same direction, the right direction, and we had some success with it."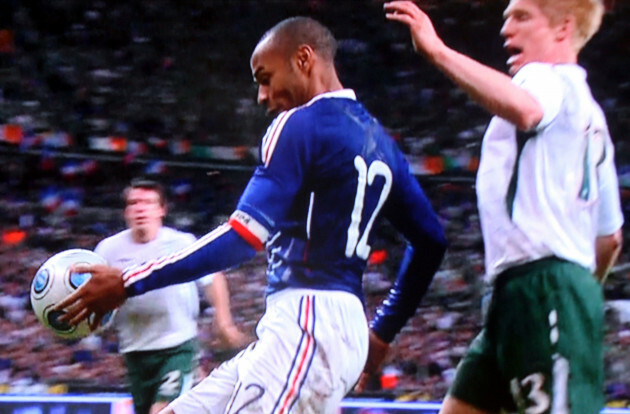 Sky Sports A videograb of Thierry Henry's infamous handball that led to France's goal. Sky Sports
He did not feature in what is surely the most infamous match of the Trapattoni era, the Thierry Henry handball game against France, with the highly controversial goal assisted by the Arsenal legend securing Raymond Domenech's side a place at the 2010 World Cup at Ireland's expense. Even now, Westwood sounds agonised at the thought of having been denied an appearance at the biggest international tournament in football owing to an incident that would have taken VAR seconds to rectify.
"I was watching on the telly, absolutely gutted because that summer was the World Cup, we ended up playing two teams in England's group [in friendlies], Paraguay and Algeria in the RDS. And I played in both of the games, I think Shay was injured.
"You never know what could have happened. The injustice of it was just frightening.
"Looking back now, you think: 'Oh my god, how did that even happen? How did he get away with it?"
Ireland did partially make up for that disappointment by qualifying for the Euros two years later. But by then, many members of the team that had performed so impressively against France were past their peak and that factor, in addition to being drawn in the Group of Death with Spain, Italy, and Croatia, ensured a miserable tournament for Trap's men in which they lost all three games.
Westwood travelled to that Euros as one of the backup goalkeepers to Shay Given and appeared to be strongly placed to take over the number one spot after the latter announced his international retirement just after that tournament.
But in football, timing is everything and Westwood's opportunity to claim the number one jersey came at the worst possible moment, during a rare spell when he was not starting at club level, having lost his place in the Sunderland side to Simon Mignolet.
"I remember one year (2012), I played seven games for Ireland and three for Sunderland. I've played over 500 games [at club level] so I obviously wanted to play all the time. That was new to me, but to play more games for Ireland than I did for my club team in one season was staggering. It was like: 'What, that doesn't make sense?'
"You only play for your national team if you're playing in your club team. So when I got that opportunity, I couldn't really take it. Every time I'd be in a squad, I'd be like playing 46-50 games a season, maybe getting Championship Team of the Year, Player of the Year or keeping clean sheet records for the club I was at, but then not playing for Ireland.
"It never really coincided when it should have coincided, but listen, it's not an ideal world, is it? You take your opportunities when you get them. And obviously, it wasn't the best preparation to take that chance.
"But I have no regrets over Ireland or Sunderland. I loved playing for Ireland. And I enjoyed being at Sunderland as well.
"I did try to leave and get out on loan because I remember Giovanni telling me: 'If you're not playing, I can't keep playing you.' And I was like: 'I know, I understand. I'm trying to get out. I'm trying to make a move.' 
"But then I also understood Sunderland's predicament at that point as well. 'Who would we rather have on the bench in case anything happens to our number one? Keiren Westwood or a younger boy?'
"Obviously, they rate you enough to keep you around. So it's sort of rock and a hard place.
"Simon Mignolet never got injured, he had a great season, so I couldn't even knock on the door and say: 'He's playing terribly, give me a game.'
"It was a strange one really because Martin [O'Neill] was my manager at Sunderland when Giovanni was manager of Ireland. So I'm saying to him: 'Giovanni's told me, I'm not going to play much longer for Ireland if I don't get in the team, or can I go on loan?' He was like: 'Keiren, I'd love for you to go on loan, but I can't let you go.' What can I do? I want to keep you here, you just have to wait for your opportunity.' And it just never came. Mignolet got Player of the Season that year."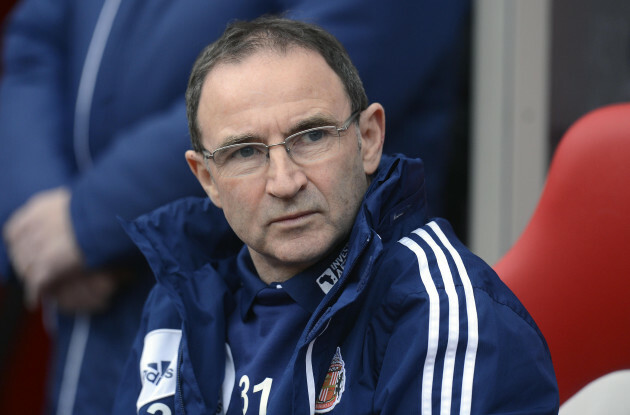 Alamy Stock Photo Martin O'Neill initially managed Westwood at Sunderland. Alamy Stock Photo
Westwood consequently soon found himself out of the Irish team again. Shay Given's subsequent retirement u-turn made the challenge of starting for his country even greater, while David Forde also had a run in the team on the back of some eye-catching performances.
It was Darren Randolph, however, who secured the number one jersey ahead of Euro 2016 — an injury to Given meant the relatively inexperienced stopper got a chance during the famous 1-0 Euros qualification win over Germany, and he hardly looked back thereafter.
But going into the tournament in France, Westwood was enjoying arguably the best spell of his club career.
He had been named in the Championship Team of the Year in 2015 and followed that up with another impressive campaign for a Sheffield Wednesday side that fell just short of the Premier League, losing the playoff final 1-0 against Hull.
One heartbreaking moment looked set to be followed by another. Just three days after that devastating defeat, Westwood was on the bench for Ireland's final Euros warm-up game — a 2-1 defeat to Belarus in Turner's Cross.
O'Neill was due to name his final squad for the tournament just after the match. The identity of two of the goalkeepers who would be travelling was easy to predict.
Randolph, who had consolidated the number one spot by then, and Given, an Ireland legend, were both certainties.
The third and final spot was a close call between Forde and Westwood. The latter feared the worst when after 68 minutes, his rival for the position replaced Given. Yet to his pleasant surprise, he still ultimately made it into the final squad.
"I didn't play and I thought: 'Oh my god, I'm not going.' I didn't think I was going to go. I nearly got promoted to the Premier League.  
"Getting beat in a playoff final, the low of that. And then the high of being picked in the squad. It was such a rollercoaster of emotions."
Despite the intense competition for places though, Westwood says there was never any animosity between himself and other Ireland goalkeepers.
"Darren at that point was playing, and number one, but me and Darren have been in the situation where he and I were the second and third, and third and fourth choice.
"We're really good mates and we roomed together, and I was delighted for him personally, he was playing and he was doing great. And he played brilliantly in the tournament.
"There was no anger, no bitterness, no nothing towards anyone in the squad.
"And I think that helps because you can get players like that, in certain situations. It's a little bit different at club level and international, it's easier because it's not a job, it's the country, so it's not about you.
"It's your privilege to be there in whatever capacity you are chosen. And it's an honour, and you should be proud regardless of whether you're playing or not."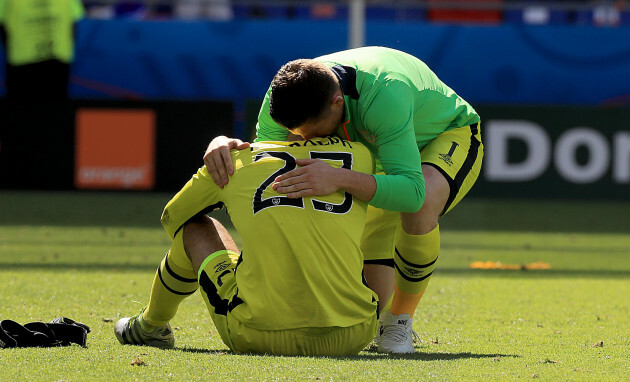 Donall Farmer / INPHO Westwood consoles Darren Randolph after Ireland's Euro 2016 exit at the hands of France. Donall Farmer / INPHO / INPHO
And while Westwood was willing to accept not being number one at international level for the greater cause, the same could not be said in the long term as far as his club career was concerned.
He was strongly linked with Liverpool during the Brendan Rodgers era but despite the temptations — financial and otherwise — of signing with such a big club, being assured of regular game time was considered of greater importance.
"I've always felt if you performed well the money would find you, the contracts and the bit of stability. I've never been one to chase the money. I've always been one to just want to play football.
"Over the course of my career, there have been opportunities to go to big clubs and be a third-choice or second-choice goalkeeper and it just wouldn't have suited me as a person.
"I'm still really competitive. I want to win and ultimately, the right decisions were made for the career, and the money situation, obviously being at a massive club like that would have been different to what I was on, but to me, it wasn't about the money. I had enough.
"What's the difference between £5 and maybe £6-£8? It's not a great deal. I was happy with my lot. I was more than happy with what I was doing playing for the clubs that I was playing for.
"I felt important. And that meant more to me than money. You feel valued rather than [being regarded as] just another body, another piece of meat, so to speak. I didn't want to be another one on the conveyor belt, I always wanted to make something of myself, and it was important to feel valued, it was also important to be able to give value for money.
"So if someone hung their hat on you, I felt like I owed them, it was an obligation to repay that by playing well, and putting in performances that justified the faith in you from the manager or the contract you were given. So if I had gone to a bigger club and done that, I would never have been able to justify what I was getting.
"Looking back, maybe it was a bit silly, maybe I should have done that, but as a personality that would never have sat right with me."
***
Reflecting on his career, Westwood feels a sense of pride. It has included two trips to major tournaments, 21 Ireland caps, a couple of seasons in the Premier League, winning the League Two title with Carlisle, three appearances in the PFA Team of the Year (two in the Championship and one in League One) and winning the Player of the Year award at three clubs: Carlisle, Coventry and Sheffield Wednesday. However, the 38-year-old insists he is not done yet.
As it stands, he has been without a club since a short stint with QPR at the end of last season in which he made six Championship appearances.
"Without sounding [conceited], I've had lots of offers this season," he says. "But whenever they've come in the door, it just hasn't been the right time or just right for the family situation and stuff like that.
"I'm 38 years old now, so everything needs to tick. It's not just the playing aspect of going somewhere, it has to work for the whole family.
"It's not like I was 25 years old again, and can say: 'I'll go down to London, or I'll go up to Scotland.' I'm based in Manchester. All the kids are in school.
"The oldest boy, he plays for Man United. So he's busy enough as well, he has commitments. And then obviously, I have a commitment to help him to get to training and matches and all that.
"And then my wife is a doctor, so it's not like we can just pick up and go to London or the south coast of England, or even abroad. I've had many offers from abroad as well, but as exciting as they sound, when you put it all together, and you look at your family life, and you look at what you potentially could be disrupting for the sake of 12 weeks, six months, a year and you're like: 'Is it actually worth it?'
"And ultimately, over the course of the season with the offers I've had, it hasn't been worth it."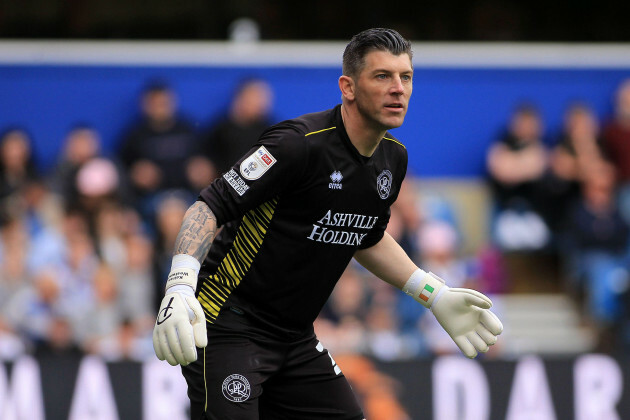 Alamy Stock Photo Westwood playing for QPR at the end of last season. Alamy Stock Photo
He continues: "I'm a realist as well. I'm a 38-year-old goalkeeper who's had a really good career. I obviously don't want to retire. That's not my intention. I don't want to retire myself in this interview. But when I do retire, I don't think I'll announce it anyway.
"I don't think I'm one of them that's going to be looking for a pat on the back, so to speak. 
"I've had my career and if this is the end for me or if the right offer hasn't come around this season, or whenever it is [then so be it], but while I'm still getting offers, I still feel like I should carry on."
Westwood remains fit and active — he trains at Crewe every week with a goalkeeping coach he has known since his late teens.
But the veteran stopper has nonetheless begun to prepare for life after football. He is nearing completion of his B coaching licence and will start work on a separate goalkeeping licence with the FAI in April, as Westwood plans to pass on all the invaluable experience he has acquired to the next generation of footballers.
His last Ireland appearance came under O'Neill in 2017 and his most recent squad call-up was in 2019 during the Mick McCarthy era, with Stephen Kenny in recent years invariably opting for the young trio of Gavin Bazunu, Caoimhín Kelleher and Mark Travers — all of whom Westwood rates highly.
He also remains an avid fan of the Boys in Green, and still regularly tunes in whenever they play.
"I do really keep an interest, it's hard not to," he says. "The kids love football. I have a 12-year-old daughter, a nine-year-old son, a six-year-old son and an 18-month-old son. So they're all mad into football, they love it and all the kids are born in Dublin, they're all Dubs, they all love it.
"And they all get the Irish jerseys on and they love the matches. And to be fair, it's not been great with the national team. I watched a game with them, I think it was Luxembourg at home. I was like: 'Come on, we'll watch the game.' And then I was like: 'Oh for God's sake. Lads, these will be good in 10 years' time, it will be a great team.' You're trying to entice [the kids]: 'Come on, stick with it. It doesn't matter if they win or lose, you can't help that decision. You're Irish.  It's not like: 'If Man City lose, I'm a Man United fan next week. It doesn't work like that.'
"And they're like: 'Alright, no problem.' So they know what side their bread is buttered on anyway."