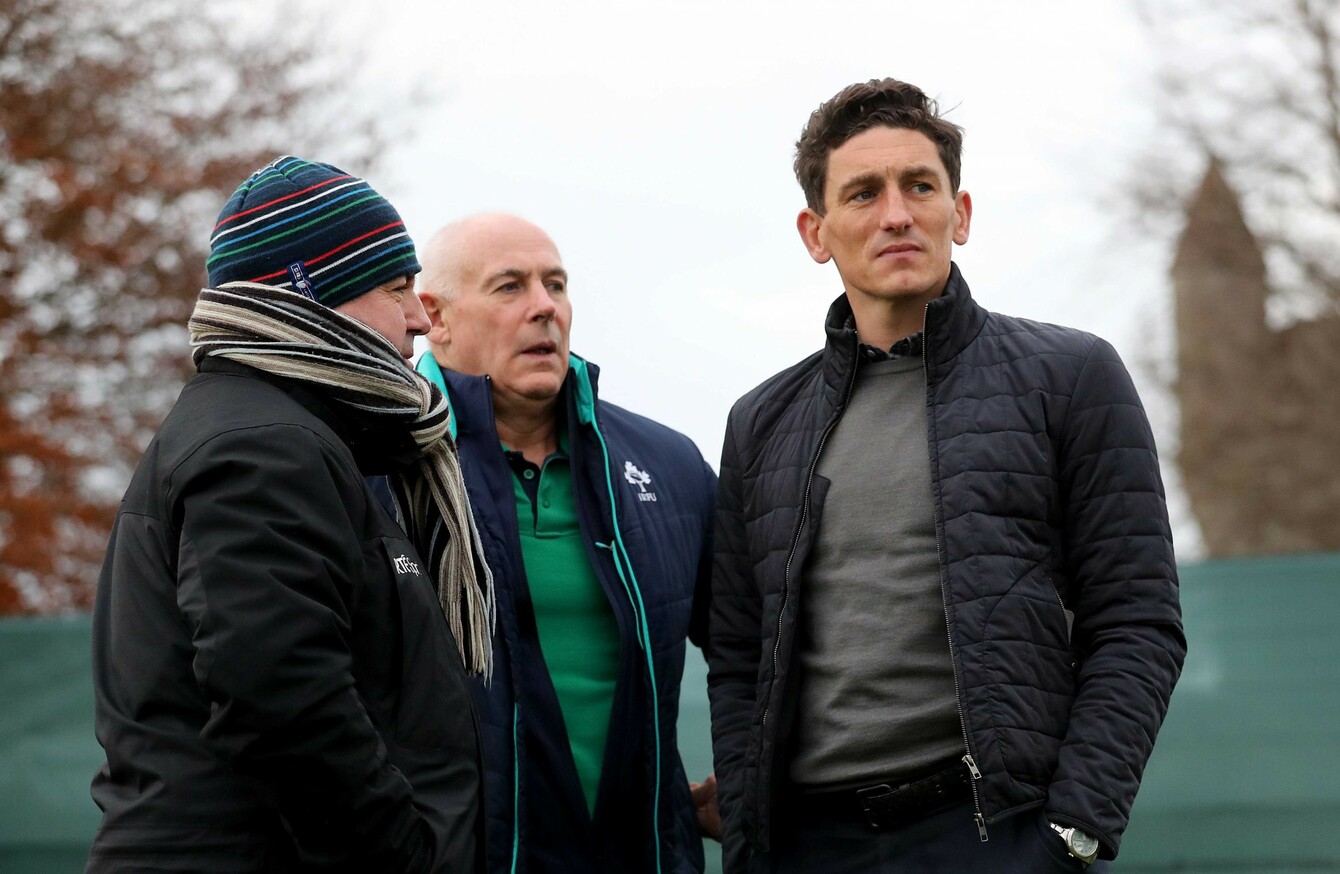 Former Ireland international Keith Andrews watches Ireland Rugby Squad Training at Carton House this week.
Image: Dan Sheridan/INPHO
Former Ireland international Keith Andrews watches Ireland Rugby Squad Training at Carton House this week.
Image: Dan Sheridan/INPHO
Updated at 17.46
KEITH ANDREWS IS making no secret of his desire to manage Ireland one day.
The recently retired footballer, who earned 35 caps for his country and was a key part of Giovanni Trapattoni's Euro 2012 squad, is currently coaching at underage level, mainly with Ireland's U17 side.
Asked whether it would be a dream to manage the Boys in Green, Andrews said: "I've said it probably not so privately — that's my end game. I want to manage. I'm in no real rush to do it. I've gone back to the first rung of the ladder. I've been coaching academies since I've been about 28 in England."
Having also done some coaching with MK Dons, Andrews says he is currently on what he describes as effectively a "gap year".
"I'm getting around to a lot of sports, whether it's rugby, cricket, Team Sky before the headlines, just getting around and a little bit of thinking outside the box.
When you're in an industry, you can kind of stay in that bubble. It's important that you look elsewhere.
"I'm in with the Ireland (rugby) team, which I'm really looking forward to."
And what will he be doing during his stint at Carton House?
Just (looking at) preparation for games, training methods, how much they go into analysis, the different roles in terms of gym-wise. A lot of it doesn't correlate across sports but anything that can maybe make you think about what you might do or have done previously can only help."
Andrews also says it's becoming easier for promising young Irish footballers who have been cast aside by big English clubs to stay in the game, largely owing to the recent introduction of U17 and U19 national leagues.
When I went away at 15, a lot of our team that didn't get an opportunity fell out of love with football because the standard wasn't good.
"Half the team had left. They lost hope, they lost enthusiasm for the game. Now there's more pathways to stay in the game to stay in the game at a very good level with good coaches.
"Certainly, the national league is improving as we've seen with Dundalk.
The gap in years gone by — that jump from 15 to 16 and making it into the national league — is too big. Now with these U17 and U19 national leagues, (the League of Ireland) is certainly a very good option.
"(Shamrock Rovers youngster) Aaron Bolger, for instance, a very important player with the 17s, I would have had conversations like the one we're having now with him. And he's played in the first team, so I'm sure we'll see a lot of him."
The Dubliner also believes there's one essential factor in a young player continuing his development when it can be so easy to lose faith with the sport.
I think it's that ability to deal with failure. A player's journey (until then) will have been very good, so what happens when they pick up an injury and they're out for two months?
"It's great when playing week in week out, but as soon as that pathway deviates, certainly (it's important) having the right people around him whether it's friends or the staff recognising that and recognising he's not quite with it at the moment."
The42 is on Instagram! Tap the button below on your phone to follow us!