KEITH ANDREWS HAS been impressed by the leadership qualities shown by James McClean over the past 12 months.
The current Ireland winger has been in the news today with comments questioning the commitment of some international team-mates who make themselves unavailable for Ireland duty, but line out for their clubs the following weekend.
"I found quotes from James quite refreshing," said midfielder-turned-pundit Andrews earlier today. "I liked it, it shows the passion that he has and I think he has brought that maturity into his game in the last year.
"Everybody knows exactly what it means to him and those people that he may be alluding to quickly get found out. If you bring it back to players declaring for Ireland, if they haven't got the right intentions going into it, they quickly get found out by the group, fans and management.
"He's clearly got a bee in his bonnet about some thing or other but it just shows his determination to play for Ireland. He didn't really have to go to the States as the Premier League players finished later than the Championship players.
"He has that hunger and is keen to play for the country and I think it's great."
As one of just two Premier League players who made the trip to the US this week, McClean is set to lead the Boys in Green out against Mexico on Thursday.
The West Brom winger will also reach a significant milestone at MetLife Stadium in New Jersey as he earns a 50th senior cap, and Andrews believes the 28-year-old — who is the country's top scorer in the current World Cup qualifying campaign — has become one of the team's big characters.
"He leads by example in terms of the way that he plays," he added. "That passion, commitment, energy and hunger to wear the Irish shirt.
"I think James has been the player of the campaign so far without a shadow of a doubt. He has been very versatile and there is talk he might play left wing-back back against Mexico."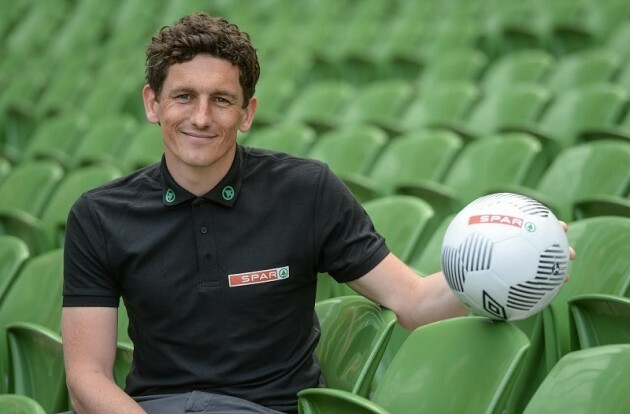 Cody Glenn / SPORTSFILE Andrews at the Spar FAI Primary School 5s National Finals today. Cody Glenn / SPORTSFILE / SPORTSFILE
With a 19-man squad and no recognised left full-back at his disposal, Martin O'Neill has hinted at playing 3-5-2 for the latest friendly.
"I think it's certainly worth a look," says Andrews. "I was looking at the squad that has gone to the States and wondering who was going to drop in there. Left wing-back would suit James more than left-back. I've always been a fan of managers that play a system to suit the players that they have.
"I don't think you can be narrow-minded in thinking 'this is my preferred system no matter what'. With the personnel available for this trip I think he has to do it, and it will give us a good indication.
"He is very centre-half heavy, I think there are six travelling so it will be a good opportunity to tweak things."
Uncapped pair Burnley defender Kevin Long and Preston North End's Alan Browne are involved for the first time and both could be handed debuts in the States.
Andrews, who regularly covers the Premier League and the Football League for Sky Sports, knows both players well and he is interested to see how they fare if given game-time.
I don't like to see players capped if they don't deserve it," he says. "It is a very special thing to have in your career and it shouldn't be just dished out. But what I will say about those two is that Alan Browne has done fantastically well.
"He has been a consistent performer in an unsung hero-type role for Preston. He has done that for the last couple of years.
"Kevin Long is a lad I know quite well as we had him on loan at MK Dons last year. He has had to be very patient and the way Sean Dyche manages Burnley means there are very rarely any changes.
"He was caught in a difficult position because he was always travelling with the first team but sometimes he wasn't on the bench so it has been a frustrating season for him.
"He is at an age now where there's a real maturity about his game. I think if he got a good run he could easily be a top Championship centre-half. I'm not sure about the Premier League because he hasn't played enough football to really vindicate that.
"Should the be in the squad? Absolutely. If Martin feels they should be capped then good luck to them."
Ryan Byrne / INPHO Kevin Long during training at the New York Red Bulls' training facility in Whippany yesterday. Ryan Byrne / INPHO / INPHO
On Long, he added: "I was very impressed by his temperament when I worked with him. There was a maturity and he has had to be very patient at Burnley this season but he got his rewards right at the end of it due to injuries.
"He took it with two hands and the timing was good as well. Roy Keane was aware of him and seen him play in one of the games. Martin trusts Roy's opinion and he has made the trip.
"The training camps and these trips to America can be a little bit frowned upon, but once you're in the squad this is an unbelievable opportunity for him to stake a claim and impress the management team and he's got to take it. The same goes for Alan Browne."
Spar FAI Primary School 5s Programme ambassador and former Ireland international Keith Andrews was at the Aviva Stadium to watch the SPAR FAI Primary School 5s National Finals where girls and boys from 12 counties battled it out for national honours. For further information please see www.spar.ie or www.faischools.ie
The42 is on Instagram! Tap the button below on your phone to follow us!