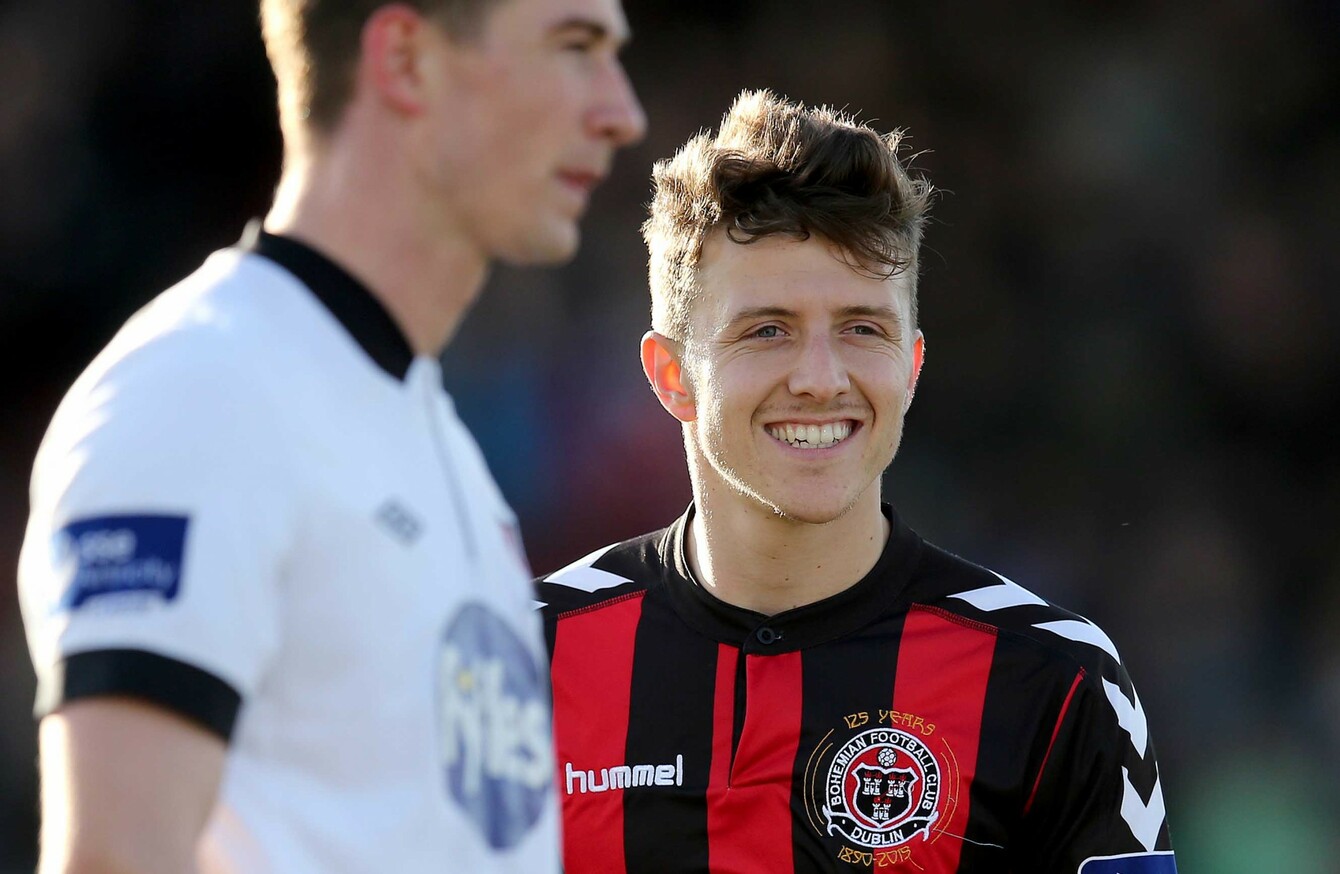 Image: Ryan Byrne/INPHO
Image: Ryan Byrne/INPHO
KEITH BUCKLEY ADMITS he was taken under the wing of Bohemians' supporters in Dalymount Park as a teenager.
He signed his first contract with the club as an 18-year-old and scored in his first ever Dublin derby against Shamrock Rovers less than a year later.
His career is littered with happy memories at the club, including two pieces of silverware.
It was a tough decision to leave and one that was not taken lightly.
"Coming up through the youth system at the club the fans really took me in", he tells The42.
"It was hard to leave and one day I would like to come back. I follow Shelbourne so before I retire I'd like to go back to Bohs and play for Shels at least once."
I used to be a mascot at the Shels games back in the days when they had Owen Heary, Ollie Cahill, Dave Rodgers and Stuey Byrne.
"There was a bit of slagging back and forward. Me and my friends used to go to every single Shels games with my friend's ma.
"Only a few years ago I was playing for Bohemians against Sligo in the FAI Cup semi-final. We got beaten 1-0 at home but had we of won I would have been playing Shels in the Aviva.
We lost to Sligo and I had my Shels jersey on a few weeks later in the final in Lansdowne supporting them in the final."
His departure from Bohemians was the subject of much speculation as to where he would sign next, with rumours of an offer from rivals Shamrock Rovers causing much consternation among Gypsies' supporters.
The departure of stalwart Roberto Lopes to Tallaght was tough to accept, a player who had signed just four months before Buckley seven years ago in 2010.
But for Rovers to take a player in Buckley who had worn the shirt with such passion and intensity for seven seasons, a player who had grown from boy to man before their eyes in Dalymount Park during that period was too much to take.
Buckley admits that an offer from "another club" was on the table, but he simply could not maintain his conscience if he had taken it, even if it meant full-time football.
I had an option to go full time with another club but I just couldn't do it. I wouldn't have been forgiven if I did it", he admits.
But it was clear to all that an offer from the Hoops was on the table and even though Buckley would turn out in green and white this season, it was for a club further south in Bray Wanderers.
Buckley says there had been a lot of expectation from outside the club at the beginning of the campaign following an injection of funding which saw the club keep winger Dylan Connolly – until signing for Dundalk yesterday – as well as bringing in Gary McCabe from Rovers, Anto Flood back from Australia and striker Aaron Greene too.
"Everyone was saying beforehand about Bray getting into Europe. We're halfway through the season and we're in third – we could be doing better, if we want to be challenging at the top end of the table we have to work together and concede less goals because that's how you win leagues.
You could see that Bray had a case to do well based on the run they went on last year. You could see that the foundations were there. That's how it was sold to me about getting Bray into Europe.
"I think a lot of clubs are doing what Bray are doing and looking to go full-time. Teams are seeing what Dundalk did and are trying to replicate that."
Harry Kenny has overseen a dramatic surge in the club's fortunes since taking over from Mick Cooke mid-way through last season.
The club had just two wins from its opening 16 games in 2016 before being led to sixth with just a single loss in their final 18 games in the Premier Division last season.
Kenny, Buckley says, is a manager who appreciates and encourages the participation of his players in all aspects of the team's performance.
I have been enjoying my football with the club. I started off in the middle and then suffered an injury and was put in at right back. But anyone who knows me knows I'll play anywhere.
"In fairness Harry is doing a great job. Some managers come in and tell you this and that where someone like Harry actually engages players and asks us how we feel and what we think.
He doesn't just shut up shop, he asks us our opinions and if he feels our opinion could work in a particular way he will leave it up to us.
"I signed on the basis that Bray are going to be a big club in the League of Ireland over the next few years.
"At the moment Bray are in third and it's a bit mad. A lot of people might have thought we would fall off by now."
"I signed a two year contract and if I didn't believe in what they were putting together I wouldn't have signed."
Before his departure from Bohemians the player took to Twitter to break the news.
"I am just writing this to thank everyone at Bohs football club for the 6/7 years I have had at the club, I want to thank all the staff, players, fans and backroom staff that I have worked and met over these years.
Had some unreliable memories and not one single regret. Times for a new challenge for myself want to wish the club all the best for the near future!
"Thanks again for giving me my chance at such a great family ran club. Was an honour."
Despite the nature of the League of Ireland's transfer window to bring players to all corners of the country, meaning most players will play for most clubs come the end of their careers, Buckley's farewell from Bohemians carried substance.
In fact the player even went viral two years ago after he posted a selfie following a 1-1 draw with rivals Rovers. Collecting his bicycle to make the journey home to Pearse Street he was serenaded by a Luas packed with Bohemians supporters chanting his name.
Buckley appreciated the fans and they returned his passion and commitment in spades. Perhaps it is because of the merry-go-round nature of the League of Ireland where players jump from club to club each season that Buckley's commitment over seven years was so appreciated.
That, added to his commitment on the field of play, showcased him as a rare example of a one club man for seven years in a league which makes that title almost impossible.
Speaking to Buckley one can't help but feel that were Bohemians a full-time operation with the funding it operated under in bygone years he would never have left last season and perhaps would never have left at all.
It was a with a heavy heart that he departed Dalymount Park at the end of last season and, as the player himself admits, their prodigal son will return again one day.
Predictions
Every week, we're giving readers the chance to take us on in predicting the Premier Division results. After Week 18, here are the standings:
The Readers: 54
The42: 53
Next up is Ger Murphy from Tralee:
Bray Wanderers v Dundalk — Draw
Drogheda United v Limerick — Limerick win
St. Patrick's Athletic v Galway United — Draw
Sligo Rovers v Shamrock Rovers — Sligo Rovers win
Bohemians v Dundalk — Dundalk win
Dundalk v Galway United — Draw
The42 (Aaron Gallagher)
Bray Wanderers v Dundalk — Dundalk win
Drogheda United v Limerick — Limerick win
St. Patrick's Athletic v Galway United — Draw
Sligo Rovers v Shamrock Rovers — Shamrock Rovers win
Bohemians v Dundalk — Dundalk win
The42 is on Instagram! Tap the button below on your phone to follow us!