THE PUBLIC TRIBUTES will start to ease off now, but the loss of Anthony Foley is still painfully felt by those who were close to the legendary number eight.
Keith Earls thinks about Olive, Dan and Tony Foley every single day, and cherishes the fact that he gets to see his own family.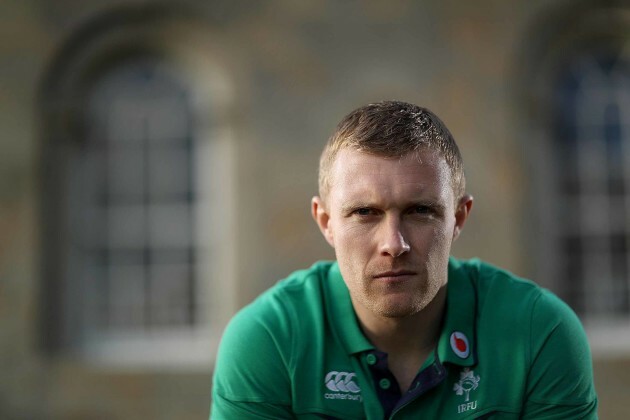 Billy Stickland / INPHO Earls has a different perspective on rugby. Billy Stickland / INPHO / INPHO
Earls also looks back on his chance to pay tribute to Foley with genuine frustration. He feels he was cheated out of the opportunity to do his friend, team-mate, and head coach proud.
Just 19 minutes into Munster's stunning Champions Cup win over Glasgow, the day after Foley's funeral, Earls found himself red-carded for a tackle on Fraser Brown.
A subsequent two-week suspension meant Earls missed out on the opportunity to be part of Ireland's historic win over the All Blacks in Chicago.
That much he could accept. It was having the opportunity to pay tribute to Foley taken from him that Earls still can't come to terms with.
It was a massive game, it meant a lot to us," says Earls. "It was a tough week in general, from burying your head coach and then an hour later doing a captain's run. It's just not right.
"I suppose the only thing I do apologise for – I don't apologise for anything else - is kicking the bottles on the side of the pitch. I wouldn't like to see a young lad doing that at underage or some young lad at Thomond Park.
"I suppose I've been waiting to be interviewed to apologise for that.
"I don't apologise for the rest of it.
"I spoke to Fraser Brown on the phone and I felt he could have done a bit more. Yes, I did lift his leg but I felt he could have done a bit more to save the impact. The way he went, I thought he was going for it a small bit, to be honest with you. I spoke to him and he said he was just trying to protect himself.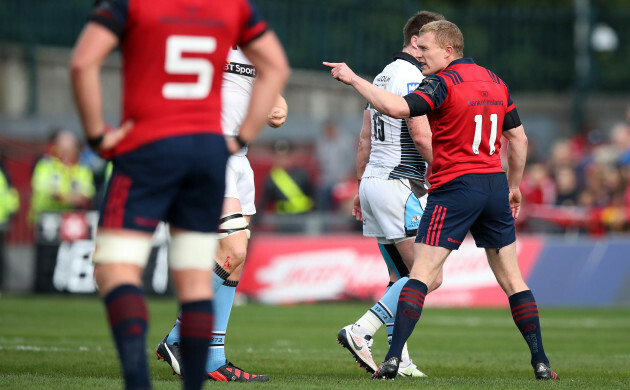 Ryan Byrne / INPHO Earls saw red in the Glasgow game at Thomond Park. Ryan Byrne / INPHO / INPHO
"I felt I was cheated really going off the pitch; they denied me an opportunity to put in a performance for my head coach and the Munster supporters, so I kind of lost it a bit coming off the pitch."
Earls sent a volley of angry words in Brown's direction as he left the pitch, while the image of him blasting the water bottles on the sideline remains strong.
His actions after such a traumatic experience were, of course, understandable.
"No, I was relaxed," says Earls when asked if he was particularly pumped up for that Glasgow game. "I was really looking forward to it.
"We were relaxed. The week was crazy but for a lot of us, it put things in perspective. Down in Munster it has been a tough two years. Axel went through a rough two years and we kind of said, 'He's not here, his wife and kids are at home, their life has been turned upside down' and we got worried about a lot of rugby matches.
"It's stupid really; we just need to go out relax, perform and take the chances we were creating, and that's what we did against Glasgow and ever since.
"It's a pity it's after taking our head coach to die for us to play the way he wanted us to play. That's the way it is."
Munster do appear to have been transformed by their trauma. Having delivered that stunning performance against Glasgow, they have beaten Ulster away, hammered the Ospreys in Cork and then overcome a strong Maori All Blacks side on another emotional night at Thomond Park.
Earls can feel the change. He can sense that Munster truly means something to this group of players again.
"I think that was the thing with a lot of the young lads who came through. They spoke about this Munster family and probably thought, 'Jeez, this thing is a bit of a myth,' because we had been shocking for two years.
Dan Sheridan / INPHO Dan and Tony Foley sing with Munster after the Glasgow win. Dan Sheridan / INPHO / INPHO
"Just the response of all the ex-players around that week and how much together Munster actually is… some of the stuff that went on for Axel and they were like, 'This thing is for real.'
"Even myself, it was mind-blowing, some of the tributes to him. People coming from Australia, John Langford and that; lads coming home from Australia. It was ridiculous.
"I think that hit home with the young lads and they're really starting to play now, which is great. A lot of us were missing for the Maori game and the Ospreys game but they were two massive performances, and Ulster away, which is not an easy place to go."
Earls' two-week ban for the tackle on Brown meant he missed out on the feats at Soldier Field, when he had looked like a strong possibility to start on the wing for Joe Schmidt's Ireland. The wing himself felt he had been "back playing well."
While that experience of watching on from the couch back in Limerick might have been difficult for Earls in years gone by, his perspective has shifted.
Exclusive Six
Nations Analysis
Get Murray Kinsella's exclusive analysis of Ireland's Six Nations campaign this spring
Become a Member
"It wasn't hard," says the 29-year-old. "I was thrilled, like every other person in Ireland. It was brilliant, but I suppose the thoughts 'I could have been out there' go through your head.
"I've learned now; maybe if I was younger I would have thought like that but it wasn't to be and that's it."
Indeed, Earls' whole philosophy on rugby has shifted since the death of Foley in Paris.
Billy Stickland / INPHO Earls is on the left wing for Ireland tomorrow. Billy Stickland / INPHO / INPHO
No longer does he see this sport as the central focus of his life. The Munster wing certainly takes his profession seriously, but he understands what is truly important to him.
While he was keen to impress Schmidt when brought back into the fold against Canada two weekends ago, Earls simply decided that what would be would be.
"I suppose I can only do what I can do when I get my chance. I felt good going into that game.
"I've taken rugby in a completely different way now because of Axel's death.
"I get to go home to my family every day.
"Rugby to me now… obviously, it's a massive part of my life but it's sport at the end of the day. That has really opened my eyes."
The42 is on Instagram! Tap the button below on your phone to follow us!