THE WORLD OF data in sport is a rapidly growing field, and rugby is certainly not being left behind.
Despite the ever-increasing hunger for, and use of, statistical evidence in reviewing performances, preparing teams for upcoming games and learning more about individual players, there remains a distinct secrecy around the relevant numbers and findings.
As the Senior Scientist for New Zealand Rugby, Ken Quarrie is a man whose working life involves analysing the increasing amounts of data available to rugby and interacting with coaches in order to understand how the statistics can be used to bring about improved performance.
In the likes of Quarrie and Bill Gerrard at Saracens, there are a growing number of analysts in professional rugby tasked with filtering truth from the array of numbers, but the competitive edge means no one is quite certain what others have discovered.
One thing is for sure; the data we [the supporters and media] have access to are some distance behind what is being collated and analysed at the top levels of the game.
"One thing I would say is that most of the stats that I see in the media and on TV are probably not what's being used by coaches," admits Quarrie. "Just because things are easy to count doesn't mean they are particularly useful."
"A lot of it is just different. Yes, it's a big gap at present, but I'd imagine it will close reasonably rapidly due to the desire and drive of broadcasters to present interesting information to people that means things."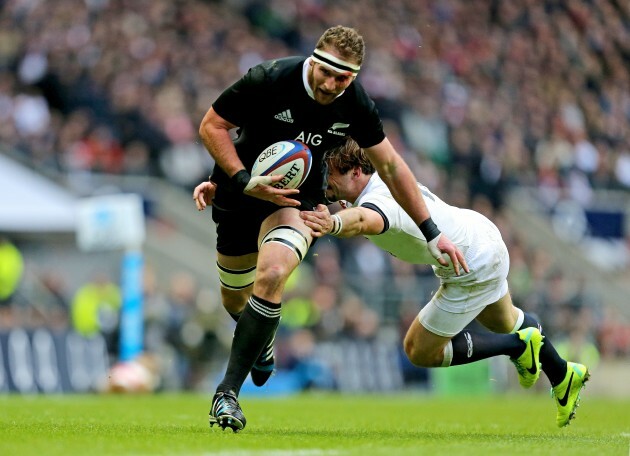 James Crombie / INPHO Do the All Blacks do certain things on the pitch because of what the data has told them? James Crombie / INPHO / INPHO
So what are we missing out on? Have unions and clubs come up with metrics that are changing their approach on the pitch? Is there a rugby equivalent of the on-base percentage made so famous in baseball by the Oakland A's?
For obvious reasons, Quarrie cannot specify the statistical findings that teams in New Zealand have placed most heed in, but he does outline that much of the work of data analysts like himself lies in backing up the impressions of coaches.
"There are all sorts of metrics that are out and about. Hopefully – without knowing exactly what other teams are doing because they don't tell us and we don't tell them – the things that we are looking at provide some insight for coaches.
Sometimes these things are just short-cuts and time savers, so that if the coach is seeing a pattern or thinks they're seeing a pattern on the pitch, you can go and look more closely to see whether what they think they're seeing is actually holding true."
"The game is pretty fluid and dynamic. There are things that we look at that I think count, but it's not just me. When I saw 'we', New Zealand Rugby also have an All Blacks Analyst and an Analysis Manager.
"The All Blacks themselves are doing all sorts of things and so are all the Super Rugby and ITM Cup teams. People are looking at all sorts of things within their various teams."
Quarrie is a self-professed "rugby academic," having begun to study the game in-depth at the beginning of the 1990s with a Master's degree on the biomechanics of scrummaging.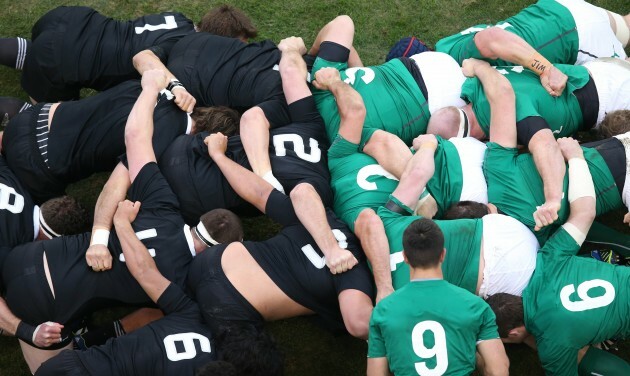 Billy Stickland / INPHO Quarrie has completed a number of studies related to the scrum. Billy Stickland / INPHO / INPHO
A host of published scientific papers on injury risk and prevention have followed, including revealing works around spinal injuries and injuries sustained while tackling.
His work in examining injury data continues in his role as Senior Scientist, remaining crucial as "a reasonable number of players will be injured through the season and how squads are managed in that light has become increasingly important over the last 10 or 15 years"
"Obviously, injury prevention and performance are two sides of the same coin. If you've got injured players, they can't perform very well."
In terms of the data collected from the performances of the players who are fit enough to take to the field, and the collective efforts they are involved in, Quarrie agrees that the numbers do not quite decide how teams are going to set up on the pitch.
The raw data is just that, with the technical knowledge of coaching experts very often needed to turn it into something more meaningful.
You've got those with practitioner wisdom and it's not just by chance that they have that. Certain people are wonderful at identifying patterns and seeing trends, and what experts see at rugby games is important.
"Usually, their perceptions are not going to be far away from what the stats are actually saying anyway. You'd be surprised if they were, but in some situations the stats might just force a second look or a re-evaluation of what the current thinking is.
"I think from that perspective, they [the stats] have value but they certainly wouldn't be the 'be all and end all' or a driver. They would be a tool, as far as I see it."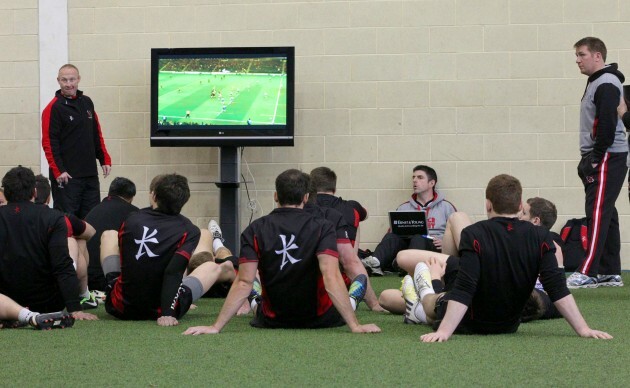 Darren Kidd / Presseye.com Video analysis is heavily related to the data study done by the likes of Quarrie. Darren Kidd / Presseye.com / Presseye.com
Quarries stresses that the relationship between statistical analysis, video analysis and coaching wisdom is the key to getting real value from the multiple data being gathered by professional rugby set-ups.
"I think sometimes, in good environments, you'd see an interplay between coaches and analysts where coaches might look at something and say 'that's interesting,' then ask their analysts to look further at it.
From the other side, an analyst might notice a trend or a pattern and raise it with the coach and see what their view of it is. I think it's an ongoing dialogue where things are continually addressed like that, rather than there being a particular thing that really changes the game, because the game is evolving as we go."
All the while, Quarrie recognises that the statistics cannot always capture everything that has meaning on the rugby pitch. Understanding "the limits of it" is an important factor in the study of the data.
"Is this particular statistic telling us something important? Is it something that we need to think more about, or is it a red herring? Is it a false alarm?" are questions Quarrie and others like him must ask themselves.
"The numbers are only ever part of the equation. We're aware that not everything's counted and not everything that's important can be counted. I guess we're always performing reality checks on what we're putting in front of people."
Exclusive Six
Nations Analysis
Get Murray Kinsella's exclusive analysis of Ireland's Six Nations campaign this spring
Become a Member
Context is a difficult aspect of rugby to illustrate through statistics and data, an ever-changing element that eludes being numbered. Again, Quarries refers to 'practitioner wisdom' in exemplifying this particular point.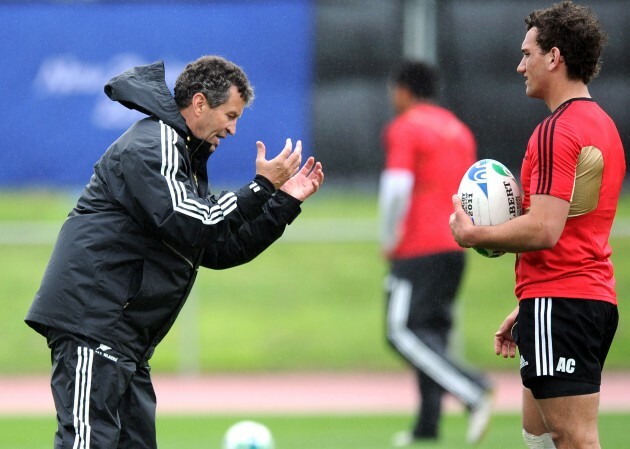 ©INPHO / Photosport/Andrew Cornaga The highly-respected Wayne Smith [left] is has outlined the importance of context in relation to stats. ©INPHO / Photosport/Andrew Cornaga / Photosport/Andrew Cornaga
"For example, Wayne Smith is a heavy user of information and if you read the paper he wrote on The Rugby Site a while back on the stats lying, he made some good points in that. Context counts.
"The raw counts are a blunt tool and one tackle, depending on the context of the match, can be hugely important or essentially irrelevant. So we need to understand that as well."
Quarrie's most recently published paper on rugby ranked international place-kickers between 2002 and 2011, including the raw percentages of each individual player, as well as rankings when the difficulty of each kick was taken into account.
Highlighting 'context' was one of the aims for Quarrie in undertaking the study, while he also felt it was worth stressing that 45% of the points scored in the 582 international matches examined came from place-kicks.
One of the goals was to try to help people to understand that the stats they see in the media about goal-kicking percentages at that point didn't necessarily take into account the difficulty of the kick.
"So we've got people saying that this kicker is better than that kicker, or whatever. I thought it was worthwhile helping them understand that kick difficulty needed to be taken into account.
"Partly, it was to help people to understand how important goal-kicking is overall, match-to-match how big an effect it typically has on games. In part, it was to help people understand how you need to deal with the sort of stats that you're getting out of rugby."
Billy Stickland / INPHO Ronan O'Gara had a raw success rate of 72% from 2002 to 2011 in Ireland colours. Billy Stickland / INPHO / INPHO
A study completed by Quarrie alongside Will Hopkins, Mike Anthony and Nicholas Gill in 2012 examined the actual movements and activities of players in 90 international rugby matches, ascertaining the specific physical demands of each individual position.
With GPS systems likes STATSports' now beginning to provide similar information from each training session and game, Quarrie is of the belief that the data evolution in rugby is only going to continue in the coming years.
"I think the way of the future is that, across sport, there is going to be more and more data collected, processed and put to people in real time or near real time. The extent to which that changes tactics and decision-making… I presume it will.
"I think people in general are still getting their heads around what all of the data means."