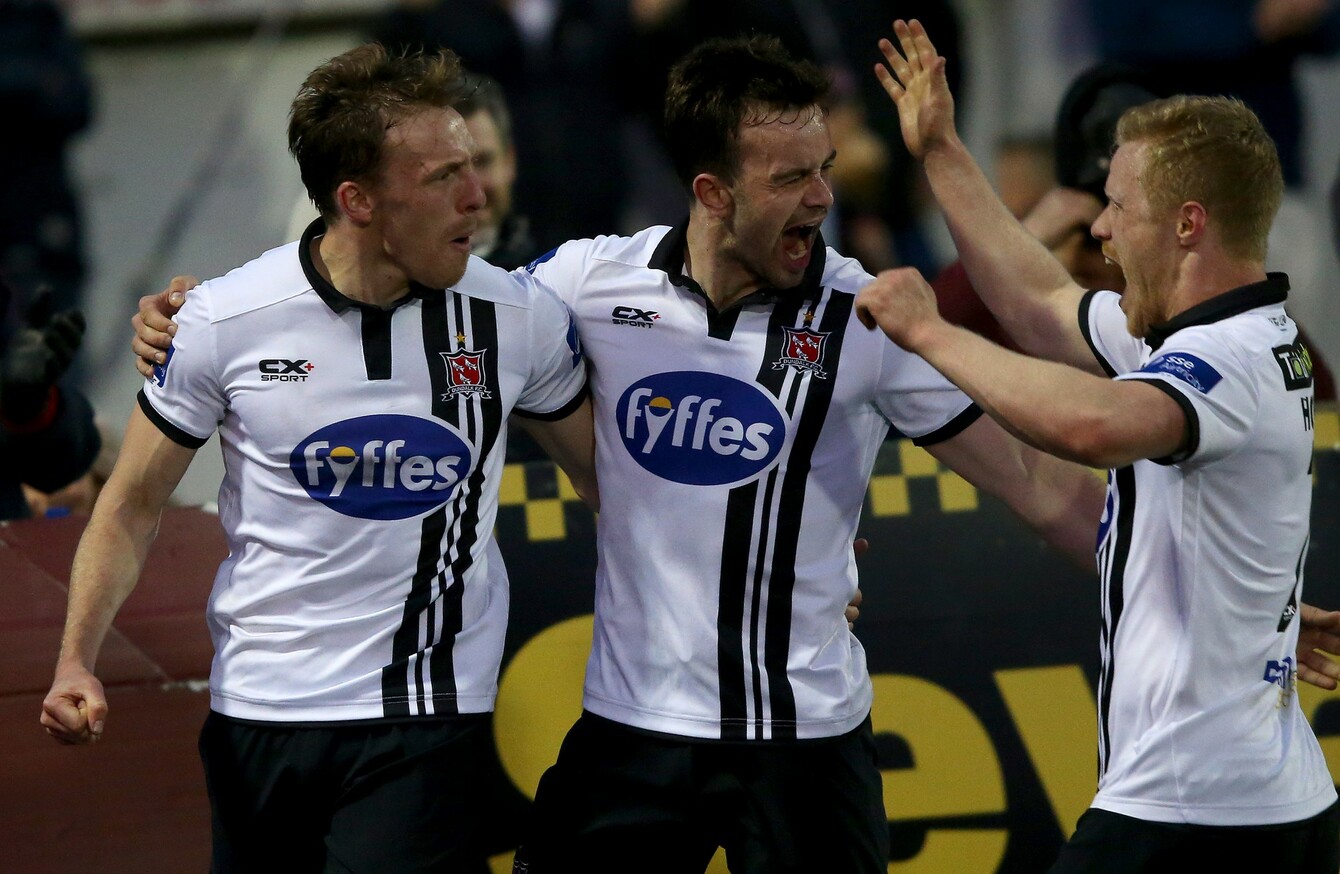 Image: Tommy Dickson/INPHO
Image: Tommy Dickson/INPHO
FORMER REPUBLIC OF IRELAND captain Kenny Cunningham believes some of the Dundalk players wouldn't look out of place if called up to Martin O'Neill's international setup for next month's World Cup qualifiers.
Despite their domestic dominance over recent seasons, it's the club's displays against higher-calibre European opposition in the last few months that has significantly raised the profiles of the likes of David McMillan and Daryl Horgan.
Lilywhites' goalkeeper Gary Rogers made the bench for the recent friendly against Oman at the Aviva Stadium but there would still be plenty of eyebrows raised if an outfield League of Ireland player was invited into the fold.
Something Cunningham can't quite wrap his head around.
"I don't understand the argument of 'Ah, League of Ireland – that's a big step up and he can't deal with it'", he tells The42.
"How many times have we seen a player play League of Ireland football here, make that step to England and, in a comparatively short space of time, they're on the fringes of the senior squad or they're actually in there? You can't tell me that a player has jumped hugely, in terms of his development, from this point to that and now he's suddenly an international player. And he didn't warrant inclusion maybe 12 months ago?
To a certain extent, some of the League of Ireland players do get somewhat of a raw deal. Some of those Dundalk players wouldn't look out of depth within the Irish squad. It'd be difficult to say who doesn't catch my eye in that Dundalk team. There are two games next month against Georgia and Moldova – would Daryl Horgan look out of his depth in that environment? I'm a big fan of Sean Gannon at right-back – would he look out of depth? Or one or two more? I'm sure Martin is looking. These players should take encouragement.  The picture of the lads in the summer with the League Of Ireland tops on – what a fucking great picture."
Dundalk's achievements in Europe this season are sure to have caught the eye of other clubs. The fear, inevitably, is that the team may be picked apart as the hawks circle overhead, that the lure of playing in the UK will just be too hard to resist.
But Cunningham believes it may not be as straightforward this time around.
"Maybe these players don't want to go over", he says.
"Maybe they're thinking 'Well, Championship football in England – I'm winning titles here, I'm playing European football here, I'm playing in a great team, enjoying my football'. It might not be as easy for English clubs to cherry-pick players at the end of this season because why would you want to leave that winning environment they have at Dundalk?
That's where they have to look after their players in terms of negotiating new contracts. It will be interesting to see how the money is distributed. If there's going to be any legacy from this Dundalk campaign, it just can't be 'Oh, we finished second or third in the group – that was the legacy'. Well, what about the legacy at Oriel Park 10 years down the road when you're sitting mid-table and things have maybe gone in a downward spiral? At least you could have your youth structure, your training facilities."
Dundalk begin their Europa League adventure later tonight against AZ Alkmaar and Cunningham is excited at the potential effect – not just on one club but on an entire league.
"It feels like it's bigger than Dundalk this time around, certainly when the Champions League qualifiers came around", he says.
"There was a ripple effect all around the League of Ireland – I think everybody was buoyed by the whole thing. It's great for the players. Games coming thick and fast but you wouldn't want it any other way. Every game is a big game. That's where you want to be. They're in a good position. It's a strong squad they have. They understand each other's game. They have a bedded system there. They've been consistent for a long period of time. Confidence is good. They've got a bit of steel about them. They had a little bit of European experience before so hopefully that serves them well."
Cunningham is a little wary of Dundalk falling short of the ruthlessness required at the elite level. Silly mistakes will be punished while, at the other end, chances need to be converted when they come along.
Striker McMillan has been prolific for Dundalk over the last two years. But, leading the line against high-profile European clubs is a different proposition.
"I remember when they went out against BATE last year up in Oriel Park", Cunningham recalls.
He got a chance – it may have been nil-all at the time or they could've been 1-nil down. A key moment in the game and he didn't take it and that was it. They didn't get another one. So that's the kind of level of competition they're at. It's obviously a year later, he's had more games under his belt, he's in good form – probably the best of his career – but it won't be easy.
In the modern game, when you play with that number 9, it's a difficult shift at times. At the higher levels, you get a bit more isolated up the pitch and eventually spend more time in your half against good quality opposition and find yourself a bit more out of the game. So the opportunities to go and influence the game are few and far between. David's not going to find himself with as many opportunities as he'd get week-to-week in the League of Ireland but you've got to be clinical when those chances arrive."
But Cunningham does acknowledge that Dundalk's whole is greater than the sum of its parts.
He's been impressed with their impressive array of attacking talent who are well able to step up and deliver.
"Daryl Horgan – dynamic play, the defensive side to his game is absolutely fantastic, he's direct, he takes people on, he can work on the inside. I looked at him a couple of years ago and thought 'He's got to find more goals, this fella'. His game is that good, he gets into the box. I thought he needed to start chipping in with more goals. And he has done that. Then there's Darren Meenan, John Moutney, Patrick McEleney, Ronan Finn – there's goals in this team".
The42 is on Snapchat! Tap the button below on your phone to add!