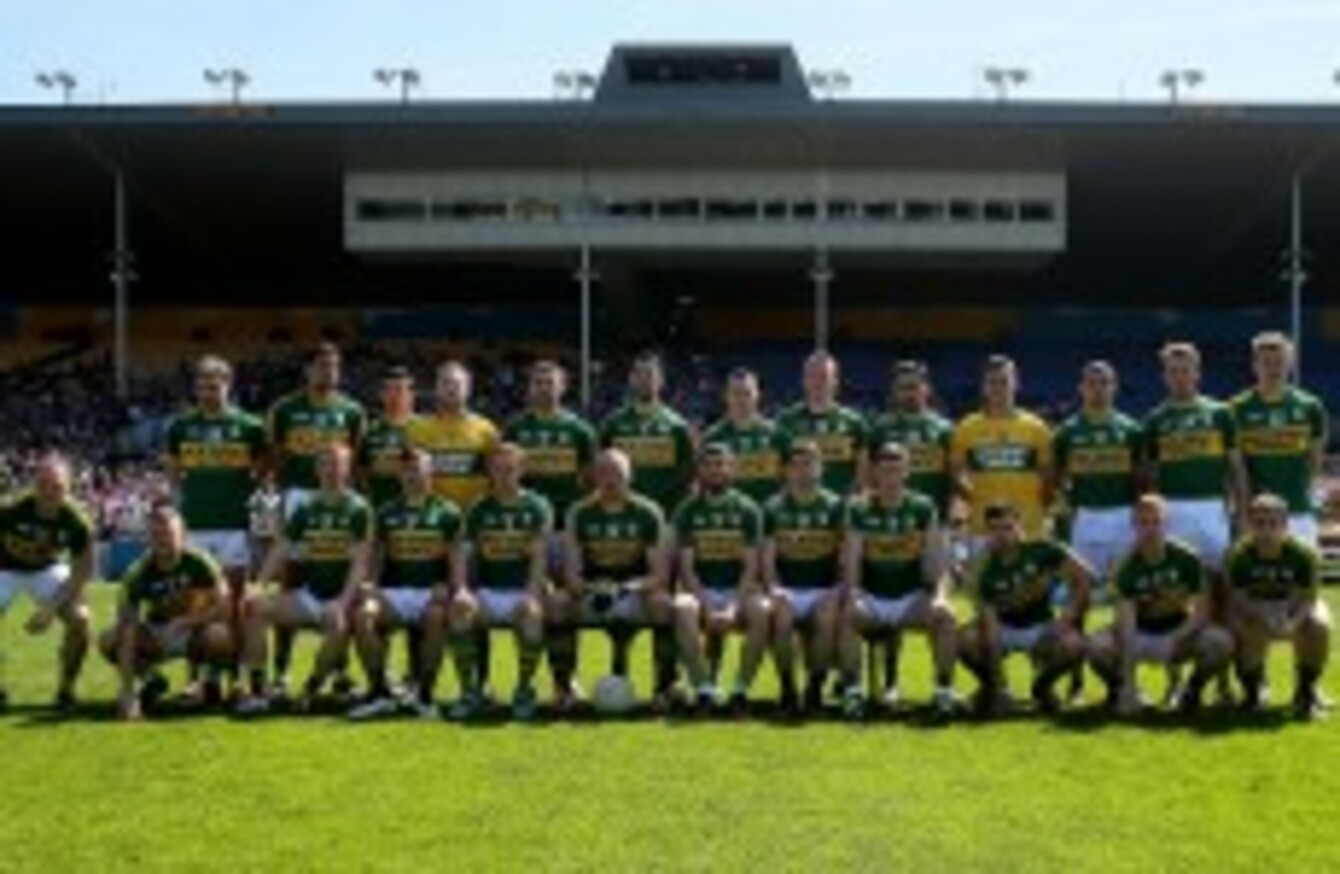 This Kerry group will battle it out for coveted Munster final slots.
Image: Donall Farmer/INPHO
This Kerry group will battle it out for coveted Munster final slots.
Image: Donall Farmer/INPHO
WHEN KERRY STUNNED Donegal in the first minute of last year's All-Ireland senior football final, Paul Geaney's goal came from a delivery from the left touchline, courtesy of Stephen O'Brien.
The wing-forward may have been kicking for a point but Geaney showed brilliant aerial ability against Donegal's Paddy McGrath, before applying a calm finish.
Geaney was at it again yesterday at Semple Stadium, profiting from Jonathan Lyne's arrowed delivery from the right side.
In the ensuing chaos around the Tipperary goalmouth, Geaney coolly lobbed Evan Comerford for Kerry's second goal.
Route one was a common feature of Kerry's play yesterday, a clear indication that they feel this is a good way to beat any blanket defence that comes their way later in the summer. If you can't beat them, join them was a salient lesson applied by manager Eamonn Fitzmaurice last year.
Source: IsleofLewisPresbyterianGaels/YouTube
Captain Kieran Donaghy is an obvious outlet on the edge of the square for these booming deliveries but Geaney is a noted fielder in his own right and is a player coming of age in a forward line packed with stars.
Kerry did what they had to against Tipperary and Cork are forewarned ahead of the next month's Munster final.
When the counties met in last year's provincial decider at Páirc Uí Chaoimh, Kerry were coming into the game on the back of a stuttering performance against Clare.
But the Kingdom unloaded a masterful display against the Rebels, with James O'Donoghue in scintillating form.
Source: AIB Bank/YouTube
And yet Kerry could afford the option of leaving O'Donoghue on the bench against Tipperary, along with five other players who started against Donegal last September.
Fitzmaurice gambled to an extent by leaving out some of his big names but he did manage to get some valuable game time into the legs of O'Donoghue, Aidan O'Mahony, Tommy Walsh, Darran O'Sullivan, Donnchadh Walsh and Stephen O'Brien.
Those six players would walk into most other intercounty teams and consider too that Kerry were without injured quartet Paul Murphy, Kieran O'Leary (sadly out for the season), David Moran and Paul Galvin.
That's two-thirds of a full team and ensures that competition for places in the 26-man panel for the Munster final will be predictably fierce, never mind the starting 15.
Aidan O'Mahony came on twice, first as a blood sub for Peter Crowley in the first half before a permanent switch saw the experienced Rathmore man replace Crowley for the remainder of the game.
O'Mahony brought a steadying hand to a Kerry defence that leaked just 0-4 in the second half, compared to 2-4 before half-time.
Kerry observers reckon that O'Mahony is as fit as he has ever been and Fitzmaurice may consider starting him against Cork, with Kerry exposed on the edge of their own square.
Mark Griffin struggled under Tipperary's early bombardment and Michael Quinlivan pounced for two goals. Fitzmaurice won't want a repeat on 5 July.
Elsewhere, it was a highly-productive afternoon for Bryan Sheehan at midfield, the man who lost his place last year due to an ankle injury sustained against Galway in the All-Ireland quarter-final.
With Moran, Anthony Maher and Sheehan vying for two midfield spots next month, and Johnny Buckley also capable of playing there, Fitzmaurice has options that his Cork counterpart Brian Cuthbert doesn't.
Restoring Moran to midfield alongside Maher would also free up Sheehan for half-forward berth but Michael Geaney did his chances no harm at all with a hard-working display against Tipp. Buckley could be the man to lose out in the reshuffle.
In the pivotal centre forward slot, Colm 'Gooch' Cooper reminded spectators of his enduring class. The lungs burned but Cooper got through the 70-plus minutes on his first championship outing since the 2013 All-Ireland semi-final.
He did the simple things well, hitting the channels with precise passes while also clipping over 0-3, including two from play. Cooper, and Kerry, will only get better.
Fitzmaurice is in a brilliant position, with players battling it out for spots all over the pitch.
Even between the sticks, it's a battle royale between Brendan Kealy and Brian Kelly, who started last year's All-Ireland final.
If possession is nine-tenths of the law, then Kealy is in a good spot ahead of the Munster final as he pulled off a brilliant second half save to deny Ger Mulhaire, while his kickouts were generally spot on, varied to the wings and down the middle.
The big question is whether or not Kerry can go all the way and emulate last year's All-Ireland success. They look well equipped to do so although Fitzmaurice expected more from his team on the back of a warm-weather training camp in Portugal.
What Fitzmaurice is certain of is that training will go up a notch or two in the three weeks before the Munster final.
Fitzgerald Stadium will play host to a number of vital 15 on 15 training matches that will enable the manager to formulate a full-strength team for the visit of the Leesiders to the Killarney venue.
With Geaney, Donaghy and O'Donoghue expected to occupy the three slots in the Kerry full-forward line, the real joust for places begins further back.
After Sunday's phoney war, the battle begins in earnest with a traditional Munster final showdown and Kerry will start as raging hot favourites.
They haven't gone away, you know, and the 2015 vintage could be even better than last year's All-Ireland winning crop. In Kerry, the quest for success is limitless and the beauty of this current team is their ability to mix the long with the short, accurate ten-yard kick passes can be just as effective as the 50-yard punt in around the house.
Kerry, as is their wont, will feel they can do it better than anyone…again.