ACROSS THE FIVE games in the Munster football championship this season, the only blowout fixture was Sunday's final. Cork struggled to get past Waterford and Tipperary, while Kerry did enough against Clare. Although Cork will have looked at the half-time scoreline and felt they had reasons to be optimistic, the writing was on the wall and Kerry simply turned it on when they needed to.
James O'Donoghue
I'm not sure you can underestimate the impact that a fit James O'Donoghue will have on this Kerry team. When you are adding him to a forward line that already has Paul Geaney and Kieran Donaghy in it, it looks like the most potent attack in the country.
To put O'Donoghue's prowess into perspective, take a look at this graphic from @dontfoul.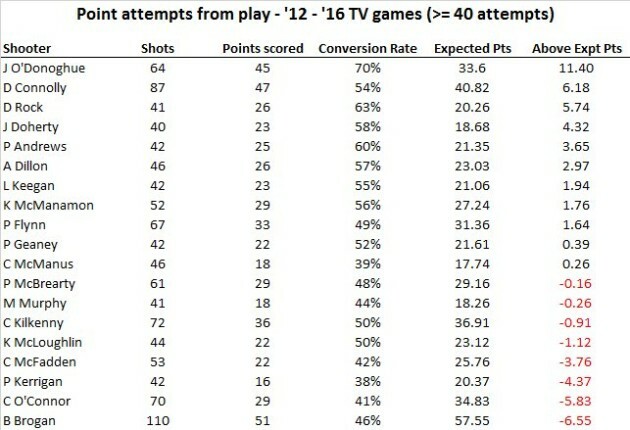 Can't wait to see James O'Donoghue at the weekend. Chart's a bit out of date but if he's back anywhere near his peak … pic.twitter.com/s4isYaHTwx
The column on the far right is the one to look at. Expected points is a way of measuring the quality of the scores a player gets. It takes into account how easy the shot was and rewards players for scoring more difficult attempts. A tap over from the 13m line won't add much to your 'Above Expt Pts' total while a score from the 50 will add plenty.
In over four seasons, we can see just far ahead O'Donoghue is ahead of his contemporaries.
Kerry do look vulnerable when a team runs at them straight down the middle but a big part of that is because they don't play with an orthodox sweeper. Under Eamonn Fitzmaurice we have seen players like Peter Crowley and Aidan O'Mahony slot in there at times, but more recently, there has been a commitment to leave more than Donnchadh Walsh as the link man. Walsh still plays the role really well but now he has help. Against Cork, Michael Geaney and Walsh were often the key men on the 50 to feed the three men inside.
Kerry's Attacking Shape
Granted this still is from their own kickout, it gives a clear picture of Kerry's commitment to a traditional shape.
The players highlighted are Kerry's six forwards. Only one is making his way back into the Kerry half, while everyone else is holding advanced positions.
Anthony Maher wins a wonderful mark, turns, and kicks the ball to the 50.
Walsh has made trademark run across the 50 and when he looks up, he will see three of the finest forwards in the game inside. This is a real commitment to attacking football and with that sort of quality inside, you can understand why.
There was another move a few minutes later that typifies how Kerry are shaping up, both in attack and defence, at the moment. They get turned over on the Cork 45.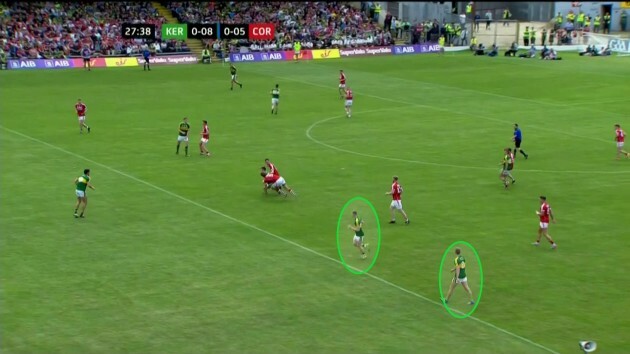 I've highlighted Fionn Fitzgerald and Peter Crowley, both of whom were involved in the initial Kerry attack.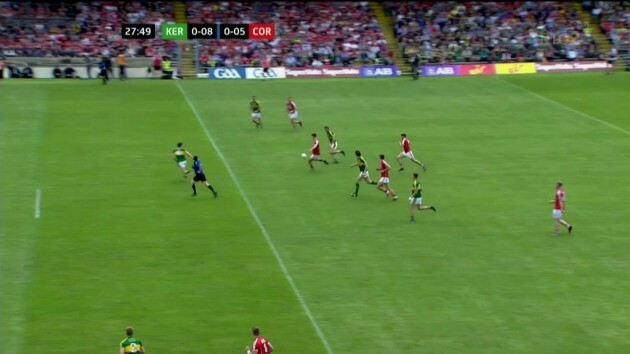 Cork play two quick passes and Kevin O'Driscoll has the ball and can see that Kerry are 1v1 inside, so launches a kick pass.
Again I've highlighted Crowley and Fitzgerald who are getting back. The thing about this non-permanent sweeper is that it will leave this sort of space from time to time. Against a better forward line, this will mean Kerry cough up the odd goal chance but I think this is a risk they are willing to take.
The balance is that Kerry get to keep between four and six forwards in the opposition half, making the transition much more effective, which is exactly what happens in this move.
Griffin does a great job to win the ball back and Kerry work the ball to Maher. Just before he gets it, you can see him scanning forward for options…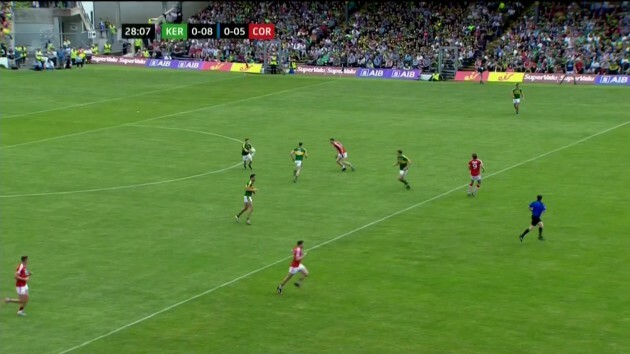 So when he receives the ball he knows exactly what is on…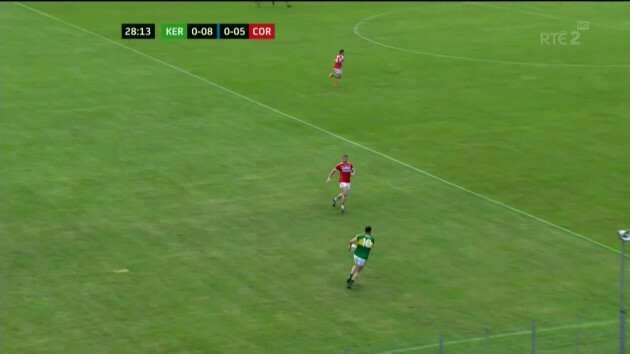 And picks out Michael Geaney on the 50.
Kerry put the ball through the hand a few times before it finds its way to O'Donoghue at the top of the D.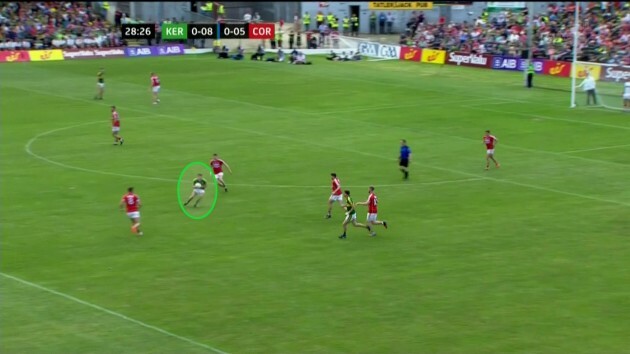 Cork are back in numbers and when you look at this picture above, you think no way should O'Donoghue score from there. Sometimes you have to take your hat off to a forward for being able to manufacture space; a couple of jinks and a shot under pressure results in an excellent point.
From start to finish this move showed Kerry's willingness to attack, the work rate of those defenders to get back and cover as temporary sweepers, and then to leave bodies in attack to launch the next attack.
Kerry may well give you a sniff at goal but keeping that front six quiet is going to take some doing.
Getting numbers back does not equal defending
To everyone's great delight, we have seen teams be more adventurous this season. Of course teams are still trying to play with extra defenders where possible but in the main, the balance is tipping back a little as teams work out the best way to transition from defence to attack.
One of my big bugbears has been the tendency to confuse properly coached defending with simply dropping numbers back. The two are not the same thing and we have seen countless examples of teams having all 15 bodies in situ but lacking any sort of organisation to defend properly.
There was a classic case of this on Sunday from Cork. Inside the last few minutes of the first half, they worked themselves back into the game and trailed by three points. Their defence structure is well set with the sweeper in place.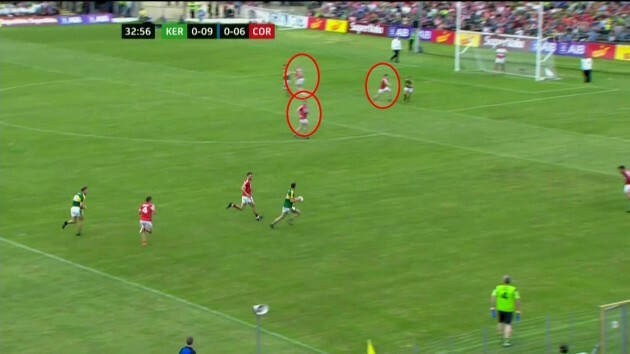 James O'Donoghue attracts three defenders before laying the ball off.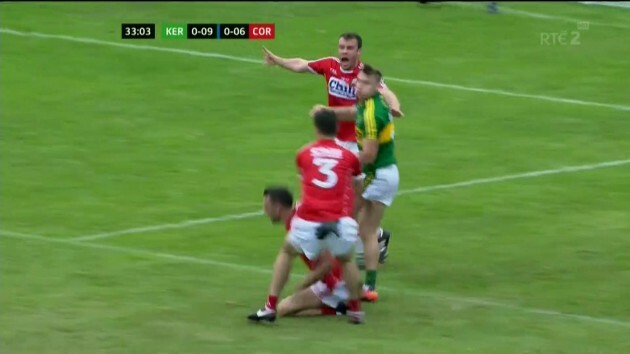 But Cork aren't stuck for numbers. They have eight bodies between Donaghy and the goal.
Exclusive Six
Nations Analysis
Get Murray Kinsella's exclusive analysis of Ireland's Six Nations campaign this spring
Become a Member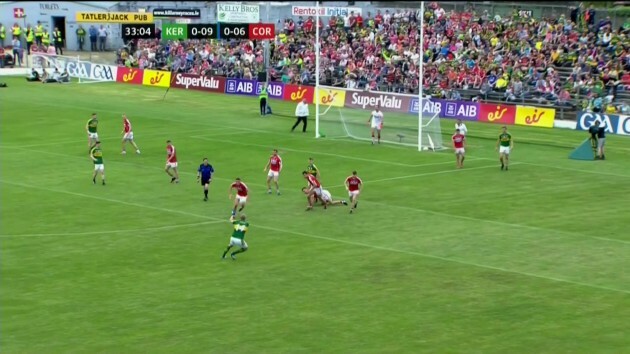 O'Donoghue has made them scramble a bit but Cork have enough bodies. From this point on the issue isn't numbers but communication and organisation.
Ideally what you want here is one player to press the man on the ball and another to cover, so if the first man is beaten, the second man steps in.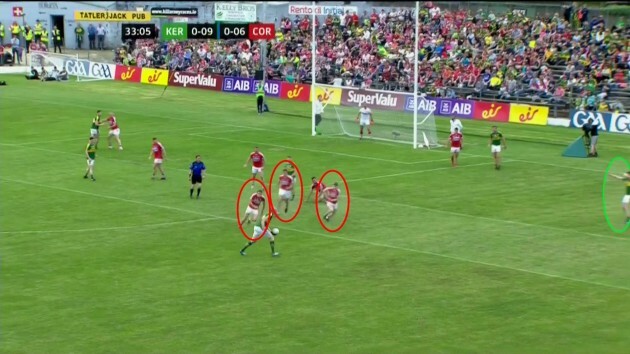 Donaghy knows he won't get a shot away but the three Cork players all put their head down and run towards him. Why do all three go? Not one of them looks around to see what sort of space they are leaving behind. There should be clear communication between the players here, one shouting to press and one holding off.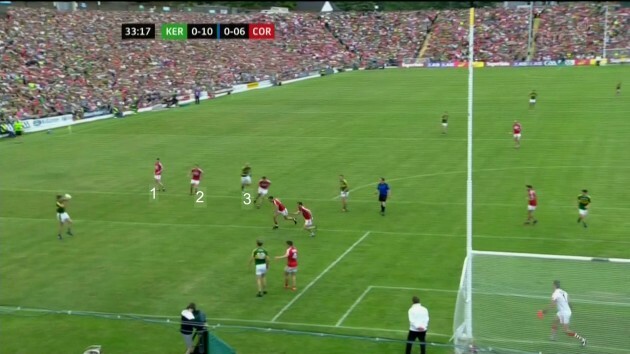 The replay gives us a better angle of just how poor the defending is here. This is essentially a five-on-two in favour of Cork.
The three players numbered are the three that went to close Donaghy. Two of them have now gone past him and no Cork player is watching Donaghy.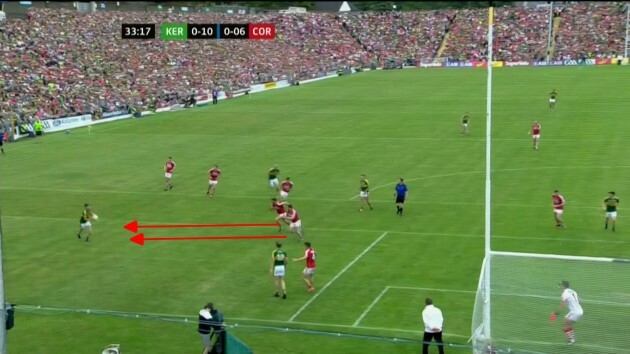 As McCarthy lands with the ball, again two Cork men rush out to close. When you see this in real-time, you think McCarthy does a wonderful side-step but to be honest he doesn't. He simply plants and cuts inside and both Cork men are out of the game.
There is no lack of desire on the Cork side, the players are willing to run and commit, but there is a huge lack of understanding of what their roles are when defending like this.
Even if you are ok with the two Cork players going out to close, lesson 101 is don't let him come back inside. Force him to go outside you and at least then you will have the end line to help.
That's not what happens and McCarthy cuts back and under no pressure, lays a pass off to Donaghy who passes it over the bar.
There were numerous example of this throughout the game where, when faced with a defending decision, Cork took the wrong option. Again, this was a five-on-two in favour of Cork and they didn't lay a hand on either Kerry player.
Kerry switched off a bit at the end of the first half but they had plenty to spare in this win over Cork. It's hard to believe that two years ago, a very similar Cork team forced Kerry to a long hopeful shot to rescue a draw.
For Kerry you just hope the lack of real competitive games doesn't hurt them but they showed no sign of complacency on Sunday, and you would be amazed if you don't see them in the All-Ireland Final.
The42 is on Instagram! Tap the button below on your phone to follow us!