Kerry footballer Peter Crowley
Image: Lorraine O'Sullivan/INPHO
Kerry footballer Peter Crowley
Image: Lorraine O'Sullivan/INPHO
THE CONTRAST BETWEEN then and now.
Rewind 12 months and Peter Crowley's life was wrapped up in Gaelic football. A league campaign had drawn to a close, Kerry losing out in a frenetic final to Mayo.
There were local games with Laune Rangers on the agenda. The preparations for the summer inter-county show would then ramp up. Plenty to focus on.
His playing role was then abruptly curtailed. During a club intermediate game against Castleisland Desmonds, he tore his cruciate and dislocated his knee. Early May and season over.
And now? His injury recovery, planned comeback for the 2020 campaign, schedule with club and county all seems to fade in significance.
From the end of February he could see the worry in people who came through the door of the pharmacy he runs with his father Joe on the main street in Killorglin.
That escalated throughout the month of March as the heat of the Covid-19 crisis increased. The day job became more important than ever, they grappled with a rapidly changing situation.
"People were worried, you could see that. Being a pharmacist, people kind of trust you to ask your advice at the counter every day. It started to get into more conversations and then the day Leo (Varadkar) announced the schools being closed, it got very busy.
"People were just trying to get their prescriptions organised in advance. There was a good few weeks that were pretty hectic, since we went into lockdown, it's kind of calmed down a bit."
The Crowley family have had a long-term role in Mulvihill's Pharmacy in this quarter of mid Kerry.
"This is always been a bone of contention that we don't call it Crowley's. My father would have bought it off a man called Tom Mulvihill back in, I think it was 1974. That was the name then.
"I used to work in the shop when I was younger and I liked the balance between the technical side of it in terms of the medication and the clinical knowledge and then, especially around here as it's community based, just the craic you'd have in the shop. It's a very informal atmosphere in here, chatting away to people.
"I never really thought I'd get the points for it and then when I did, I went away to do it in UCC. My father would say that I'd never mentioned doing it all until I got the CAO results and told him. But it was always in my head anyway."
The last few weeks have brought plenty challenges to adjust to. From the start the welfare of their staff was a key concern.
"We did ask the question to make sure everyone was okay and happy to keep going," says Crowley.
"There wasn't a moment of hesitation by anyone. That was unreal. Everyone was just happy to get down and do the work.
"Staff are coming in earlier and working later. There's not even a thought for their own worries. They're staying on until nearly nine some evenings and normally they're finished at six. These are people with kids at home and things like that. We're trying to do whatever small bit we can to help other people."
The pressing matter was to ensure they could keep the pharmacy open. With eight full-time employees, they set up a new roster to split into two teams for shifts every second day and sourced extra help to make it work.
"We basically made two teams just with the kind of fear if someone got sick, the shop wouldn't close. If we closed for a day, that would put huge strain on the doctors and other pharmacists in town. It would just be hassle that no one wants.
"The two teams are separate and don't see each other. We drafted in my brother for instance. The poor man, he graduated and finished a masters in architecture in September. It took him months to get a house in Dublin and eventually he did in February, so he was going looking for a job and then this thing hit. He wouldn't have worked here before but has done some Trojan work.
"We've a girl called Rebecca who's a medical student and she normally does summer work for us. But in fairness to her she's come back to do an extra couple of days now because she's at home."
It's all about trying to serve their customers, those who reside locally in the town and in the rural hinterland that stretches from Beaufort on one side to Glenbeigh on the other, to Cromane on the coast and inland to Glencar.
It's a sprawling area. Crowley has seen local GAA clubs and community organisations mobilise in recent weeks to look after deliveries of groceries and prescriptions for those confined at home. They've set up their own delivery service, particularly aimed at elderly customers.
He sees pharmacies providing another layer of support as well to the health workers in the front line, especially when the rumour mill  has been whipped up into overdrive.
"You'd hear a lot of them (rumours) over the counter but I think initially at the start people were so scared. People always try to do what's best for them, they were looking to take control as much as they could.
"There was obviously a few crazy Whats App messages going around like about drinking hot water killing the virus but I think the Government, the HSE and particularly Dr (Tony) Holohan have done a really good job in emphasising the key points for people to listen to and who to listen to.
"From our point of view it's about trying to reinforce that. Our job from what I can see is just to try to take a small bit of pressure where we can off the really important people in the health service like GPs and nurses and doctors and physios, people who work in hospitals day to day. If people are worried, you try to put their mind at ease. That's always what I would see as the main role of a pharmacist in the community anyway.
"In the shop, one of the pharmacists, her sister works in the hospital and she'd be telling you some of the stories as to what they're doing. It's incredible. It's been said everywhere but I don't think it can be said enough. People who are going out and literally putting themselves in harm's way just because it's their job and they want to help people."
It's just shy of a decade since Crowley first walked into the Kerry senior dressing-room. He's played in All-Ireland finals, been a defensive cornerstone for the Kingdom, celebrated Sam Maguire glory and had a front-row view of Dublin's dominance.
All that naturally feeds into the generation of small talk on either side of the shop counter. He never minded engaging with locals in that way but it's a different time now with information prescriptions phoned or emailed in advance. People arrive to pay, collect and depart. There's no one hanging around.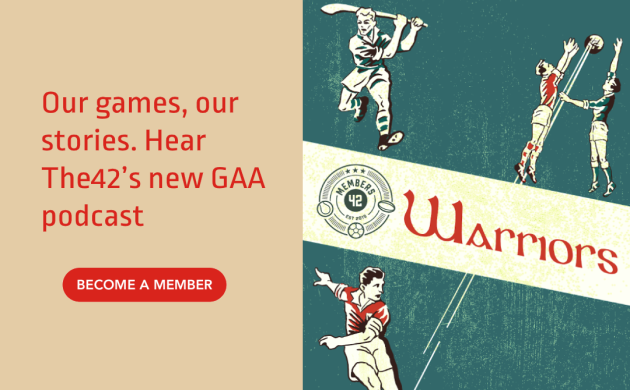 "I've always enjoyed the football chat. I can be fairly cranky at times, I won't always say that people get the most out of me when I'm inside in the shop but it is good. That just by the nature of it, has to go at the moment. People are looking get their business done as quick as possible. You would miss that.
"I know there was one fella I was chatting to lately and we were having just a small bit of a chat, he was saying that he just can't wait until this is over and we can go back to talk about the normal important things that matter like the GAA.
"Look there's far more important things to worry about than that at the moment. We'll get back to that in due time as well."
He's noticed plenty change around Killorglin as well, a typically bustling town situated on the Ring of Kerry but a place that is quiet now.
"We're a funny kind of town. We're very close to Killarney and we're not a particularly big tourist town, what we are is a very good business town. Fexco are the big drivers there, then you'd have Astellas, Promed and Temmler. The town was still busy until he announced the shutdown last Friday, it's gone quiet since then.
"We'd find tourist wise the classic one during the summer is the buses pulling up at half 9, come into the shop for paracetamol or compeed or something like that, then they'd set off on the Ring of Kerry.
"There's some really good business people in the town, they've all been hit at the moment, they're all trying to be innovative. My own cousin runs a spinning class business and he's started doing classes online. One of the restaurants in town, Bunkers, that'd cater for a lot of older people who'd come in for their lunch every day, they've started doing takeaways. People have adjusted and tried to do what they can which is a good sign."
It's almost twelve months since his knee gave way, last summer and this spring spent observing the form of Kerry and Laune Rangers from the sideline.
He's feeling fit now but the focus has switched away from a comeback.
"The knee is good, more or less back fully now. I'd have been hoping to play a few games now over the last couple of weeks but obviously that's gone by the wayside. I think the GAA has done a great job. They were very strong, very quickly in response the minute there was a shutdown.
"I think it was the right decision and people have been really good in adhering to that. Whether it be club players or county players, they're trying to do their own bit and keep up their training.
"Look the reality as much as people think football is life and death down here, there are more important things. We'll get back to it when the time is right."
Plenty important work to occupy the mind until then.
The42 is on Instagram! Tap the button below on your phone to follow us!