KERRY'S EAMONN FITZMAURICE will certainly be the more disappointed of the two managers after Saturday night in Tralee.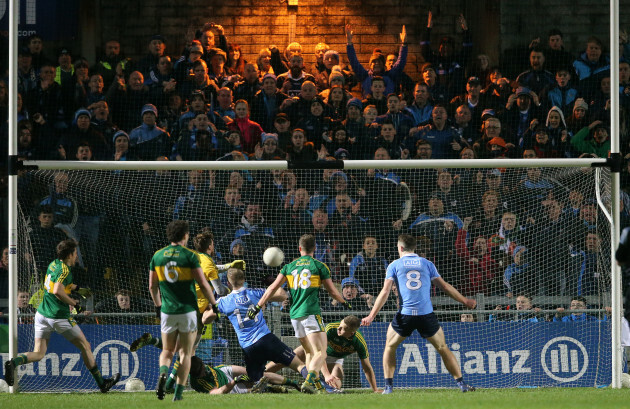 Cathal Noonan / INPHO Action from Kerry against Dublin on Saturday night. Cathal Noonan / INPHO / INPHO
Although he will accentuate the positives, there can be no escaping that this will feel like a defeat for Kerry.
They did a lot right in this game and by my count restricted Dublin to just eight shots from play in the entire game and coughed up just three in the first half.
Some might point to the 'systematic fouling' of Kerry as a result of Dublin having so few chances from play but the foul count at half-time was 12–9 and finished at 27–20.
The thing about fouling is that no matter what spin a manager wants to put on their team being the purists, fouls are often dictated much more by the score line and possession than tactics.
In the dying minutes, Dublin were not shy in stopping Kerry with some systematic fouling of their own, Ciaran Kilkenny collecting his second yellow card in the process.
For large parts of the first half Dublin cut a frustrated team. Restricted to just three attempts from play, Kerry were ferocious in the tackle and played well on the counter.
Their first real attack of the game was a case in point. Dublin picked the ball up almost on their own end line through Stephen Cluxton.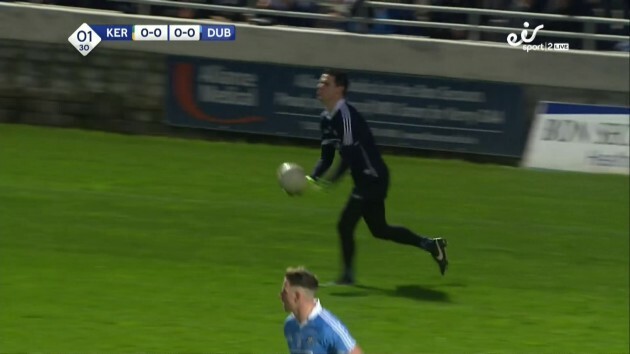 Dublin work the ball slowly forward and by the time they reach the Kerry '45, Kerry are well set up defensively.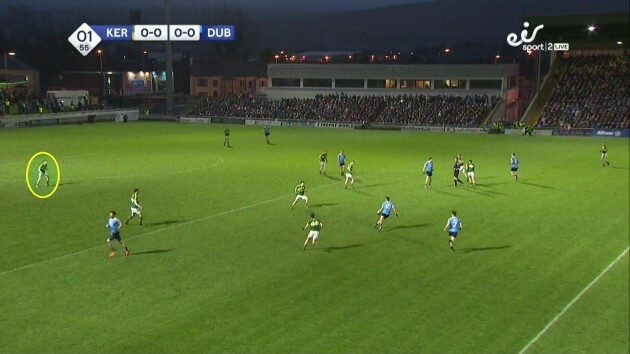 Although they have a spare man in this shot, he wasn't in there just to protect the space.
All night Kerry got in Dublin's faces and never stood off. Sometimes that forced them into committing silly fouls, but they played on the edge and refused to give Dublin easy chances.
As the move develops we can see Dublin create their usual amount of space by keeping wide, but the difference is that Kerry are placing constant pressure on the ball carrier.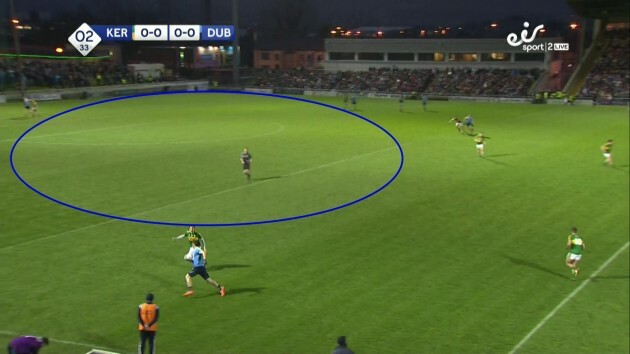 This is key. It forces Dublin to play short and never allows that space at the top of the D to be exploited. If the pressure eases off at all, Dublin will exploit that space.
Dublin keep the ball for a full 90 seconds before they run out of room and Kerry force the turnover.
There are nine Kerry outfield players in and around the ball when it is won back.
From here Kerry launch a brilliant counter attack as their players just commit fully to the attack.
Every team is vulnerable to a counter attack like this and you can see Peter Crowley and Tadhg Morley have nothing else in their mind, than to just get forward.
There is no second guessing here or looking around to see who might be minding the house. It's just heads down and attack.
It is Paul Murphy who ends up with the goal chance and you can see the sort of ground he makes up.
It's a quick counter attack and opens up the Dublin defence. Although Crowley never gets on the ball, his run will have pre-occupied Philly McMahon long enough to leave space through the middle.
I don't think it can be stressed enough how important and often selfless these runs are. If Crowley isn't there, McMahon has a much easier decision to make and can simply push across and fill the space Murphy is running into.
With Crowley there he has to keep an eye on both.
Dublin Kickouts
Something Kerry managed very well was getting pressure on the Dublin kickouts. Dublin will take the easy possession short almost every time it is available.
But out of 22 Dublin kickouts, Kerry only allowed Cluxton to chip it to the full-back on four occasions.
Almost every other kickout had significant pressure placed on it. This takes a huge amount of concentration. We have seen countless teams start with a plan to push up but then it falls apart as the game wears on.
All it takes is one or two players to lose concentration and the press will cost you.
The behind the goal camera gives us an excellent vantage point to see both the Kerry setup, which is man-to- man throughout the pitch, but also it shows the sort of space Dublin's movement tends to create.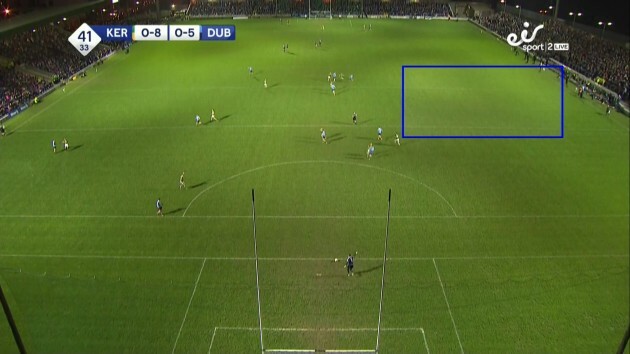 In this case Cluxton has a big pocket to hit for the right runner. The Kerry pressure, no doubt helped by the wind, means Cluxton kicked the ball straight out of play.
The next time we see the kickout from a similar view we can see a typical Dublin move to create that space.
Two runners move out of the space and the half-forward comes back to get the ball. Again we do have to factor in the wind in restricting Cluxton's range, but Kerry have everyone well-marshalled and turned the majority of his kickouts into a 50-50 contest.
Even when Cluxton managed to find those pockets of space, Kerry were relentless in their pursuit of Dublin players.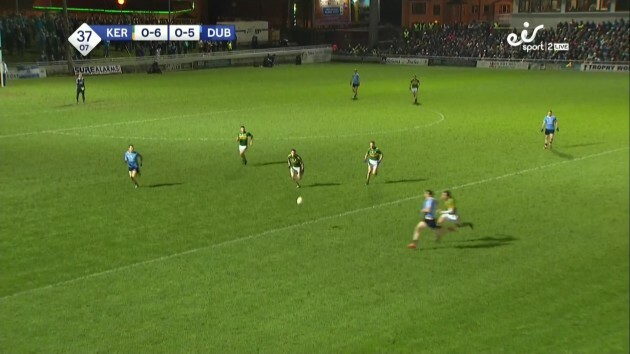 Here MacAuley looks to gather the ball just outside the 45. David Moran is touch tight and there are other Kerry players arriving to support the tackle.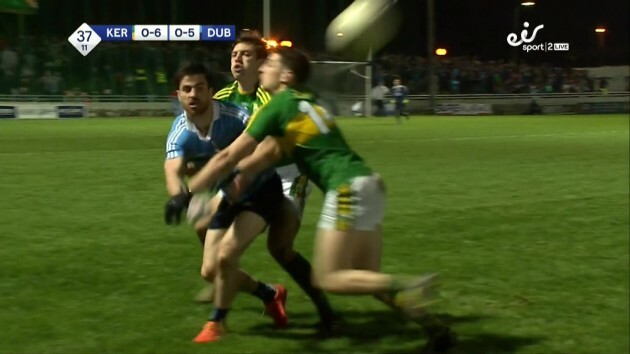 MacAuley slips but is put under huge pressure to release the ball.
And the next tackle is applied with equal force. This stage just after half-time was key for Kerry and their physicality was what drove forward that good spell.
Dublin are a patient team and have learned to patiently unpick packed defences.
But where they have struggled in parts is when they have been put under the sort of pressure Kerry managed in that second half spell.
When Kerry forced Cluxton to kick to a contest, they came out on top. I will be amazed if they don't try a similar tactic come championship time.
Dublin's movement is second to none but Kerry can be very happy with their performance on the Dublin kickouts.
Stephen O'Brien was introduced at half time and later Darran O'Sullivan came on and both added a lot of pace and directness to the Kerry attack.
One of the nicest scores of the game came in the middle of Kerry purple patch.
David Moran plays a precision foot pass into the Dublin '45. Donnchadh Walsh picks it up with O'Sullivan marking him.
Exclusive Six
Nations Analysis
Get Murray Kinsella's exclusive analysis of Ireland's Six Nations campaign this spring
Become a Member
Although O'Sullivan is usually the sweeper, it's not uncommon for Dublin to swap roles like this.
O'Sullivan stays with Walsh and whether deliberate or otherwise, Walsh takes him off out of the play.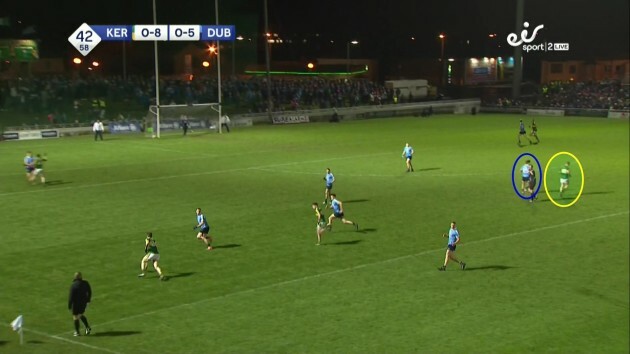 I would suggest that if O'Sullivan is willing to mark you, this might be the smart play most of the time.
Simply take him out of the centre of the pitch where he is at his best.
With Stephen O'Brien in possession Dublin look really well set. Philly McMahon is putting pressure on the ball and they have two men inside.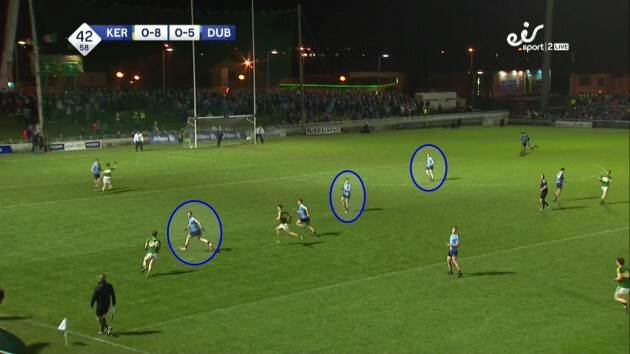 Sometimes no matter how well you have your systems in place, individual skill can still cause huge damage.
O'Brien majestically sidesteps McMahon, uses a dummy solo to get around Darren Daly and combined with the run of Kevin McCarthy it leaves John Small in a difficult situation.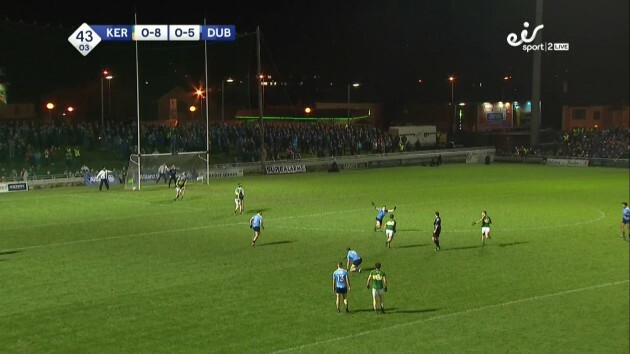 It was a piece of individual skill and the game at that stage really felt like it was only going one way.
It's worth noting that McCarthy started his run from quite deep and whether this had anything to do with MacCauley's substitution we don't know, but it won't make for pleasant viewing considering McCarthy just ran off his shoulder.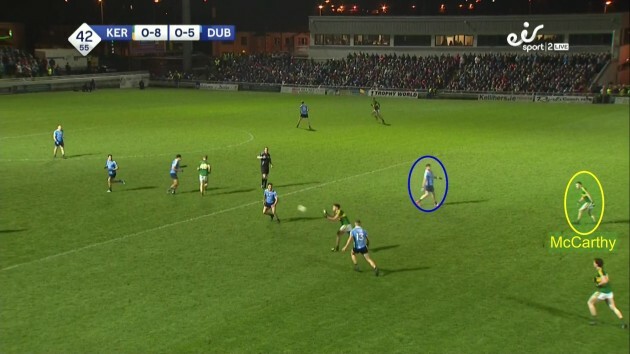 Kerry Decision Making
If there is one criticism, you could make of the Kerry performance it was their decision making at key moments in the game.
Paul Murphy's decision to kick that ball away at the end was a prime example.
Even if this pass had come off, you are putting a player in a horrible position in the middle of the pitch facing their own goal.
Donnchadh Walsh's decision to take a quick free just before half-time, instead of taking the easy point.
Barry John Keane took a couple of wild shots at the end of the game, the one on 64 minutes being the poorest decision.
The referee had been blowing frees all night for both teams. You're on the '45 with a cross breeze and your star forward is inside with ground in front. The pass is the best option here.
These are small things, and can seem like nit-picking on what was a good night for this Kerry team.
But on the big days those small decisions add up. Dublin emptied their very experienced bench to keep the unbeaten run going.
Kerry will no doubt be disappointed but they will have learned a lot from this game and will feel like they are not very far away at all.
The42 GAA / SoundCloud