Different system – same problem
IN THE DRAWN game against Mayo, Kerry won a free in the dying minutes of injury time around the half-way line. With a small bit of composure at that stage, it's not a stretch of the imagination to think that they could have held possession for the final minute of the game and now would be in an All-Ireland final. The margins are fine, but in the age of process, you do have to wonder why Eamonn Fitzmaurice felt the need to change so much ahead of Saturday's replay.
Kerry played without a sweeper last week and were accused of being naïve; this weekend they were accused of being too defensive. In both games, I think Kerry suffered from a similar problem. With a sweeper or without, the issue was that in the middle third, they just never put Mayo under enough pressure.
The decision to drop Paul Murphy back as a sweeper was an attempt to stop the kick passes into Andy Moran.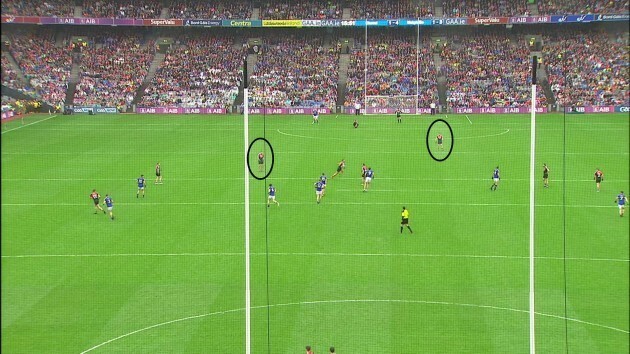 Last week, you could see the gap between the Kerry midfield and their full-back line. Murphy's role as sweeper was to close that space and provide cover for Mayo's running game.
If we look at the first goal of the game, it typified the Kerry tackling throughout the game.
When Cillian O'Connor collects the ball from the kickout, there is one Kerry player in shot.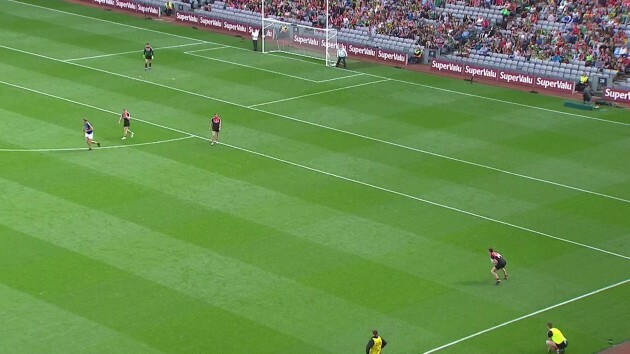 O'Connor kicks the ball forward and in the process takes at least nine Kerry outfield players out of the game. It's one thing not to push up on the kickout, or even to get the press wrong at times, but that's a lot of players to be so easily taken out of the play.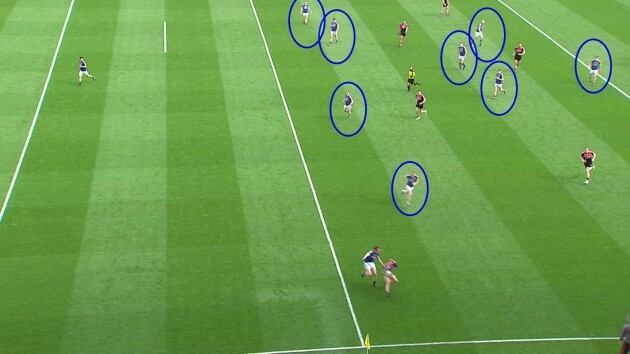 Johnny Buckley is attracted to the ball, allowing Donal Vaughan to take a simple pass. Buckley has to stay with Vaughan or get a tackle in. You can't, at this level of the game, get caught like that. It's well executed by Mayo but Kerry have made it too easy.
As sweeper, Murphy is in that space between the lines. Last week, when Vaughan looked up, he saw 2v2 or 3v3 inside and kicked it forward, but not this time.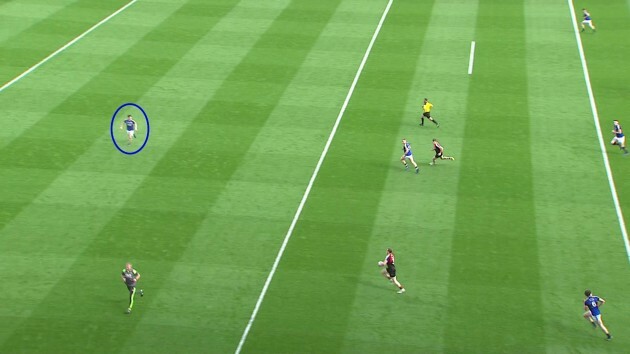 Murphy slows Vaughan down and you can see Kerry have an extra defender inside. This is the upside of having a sweeper (or two). Kerry were exposed but the cover can slow the play down and allow everyone to filter back.
That's exactly what happens – except that nobody from Kerry then goes and puts pressure on the ball.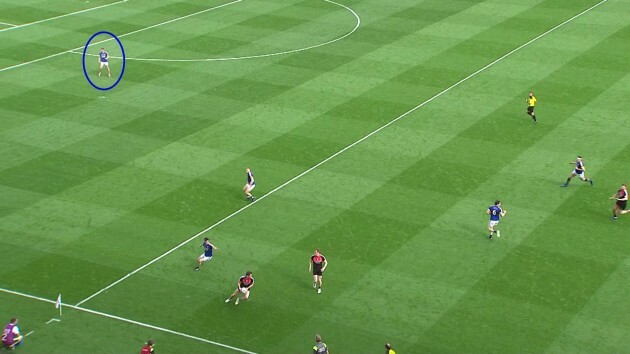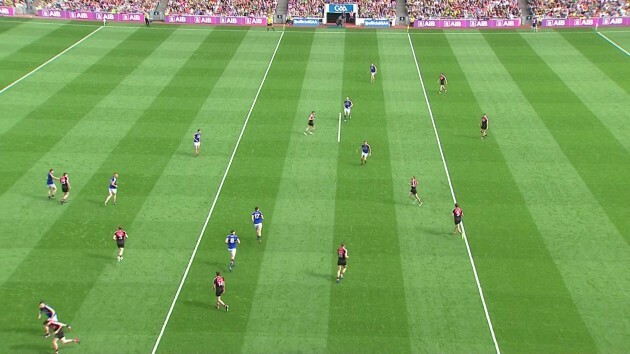 The ball finds its way back to Parsons on his own 65. Kerry have funnelled most players back behind the ball now, but nobody makes a tackle.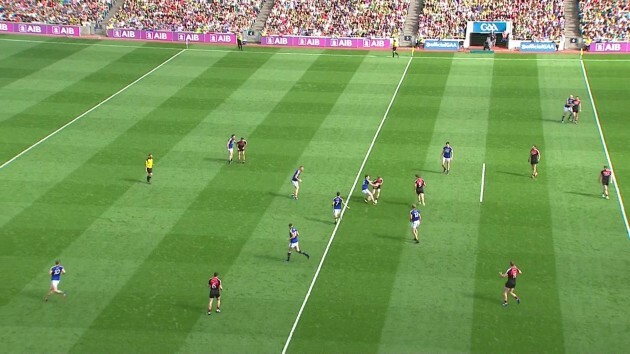 The ball goes through the hands, over and back and the above image is the only real tackle in the entire phase of play. From the time when Cillian O'Connor picks up possession to his brother punching the ball in the net, Mayo have had over a minute of possession.
Again Parsons has it in midfield, but Kerry are standing off. Parsons has time to get his head up and pick a pass. Keith Higgins plays a big role in this move and is highlighted on the far right.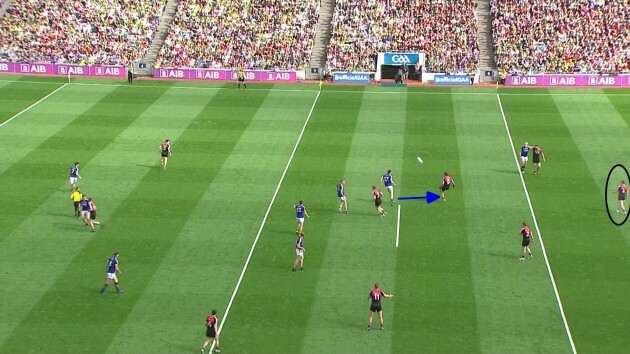 Here is Higgins now, joining the attack in acres of space.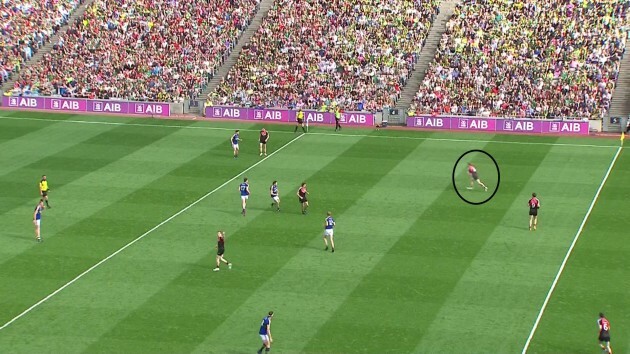 He plays a 1-2 with Andy Moran but he's now well inside the 45, where he has time to collect the return pass, turn, and look up.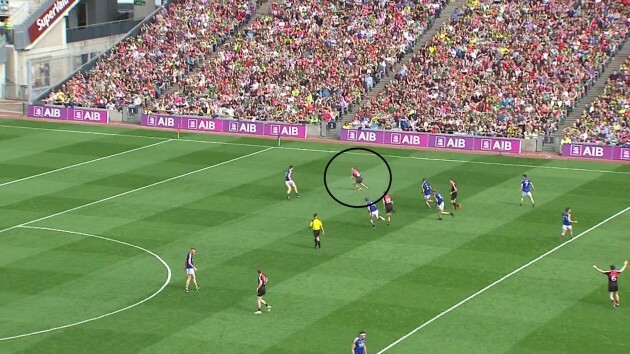 And again here is Higgins after a 1-2 with Doherty. The three circled Kerry players surely are going to swallow him up now…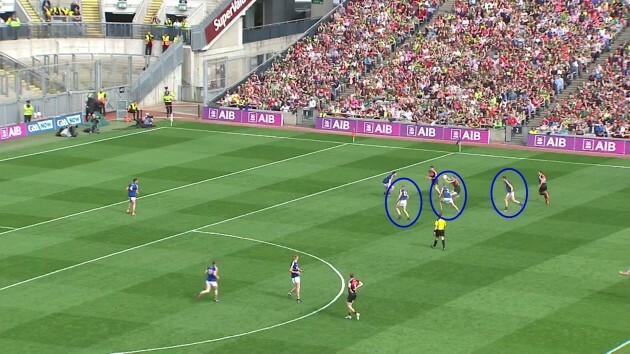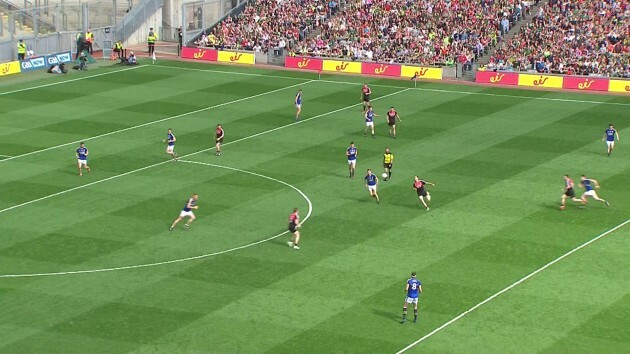 But this is Higgins just as he lays the ball off. Kerry put in one real tackle in this entire phase of play. It's fortunate that this results in a goal for Mayo but it was representative of how Kerry played throughout.
Although this passage of play led to Mayo's first goal, it is an example of the sweeper system working. It did its job by stopping the fast attack. It allowed Kerry to regroup – but not enough pressure was ever applied.
Colm Boyle
Colm Boyle was at his very best on Saturday, and himself and Keith Higgins were the main defensive threats. When Mayo are on song Higgins, Boyle, McLaughlin and Keegan dovetail really well to share the attacking responsibilities.
Here he picks the ball up deep inside his own half. Except for Donaghy, every Kerry player is between him and the goal.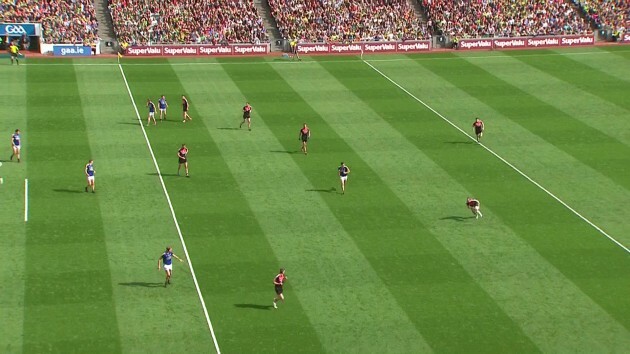 Without much on, he puts the head down and breaks Geaney's tackle.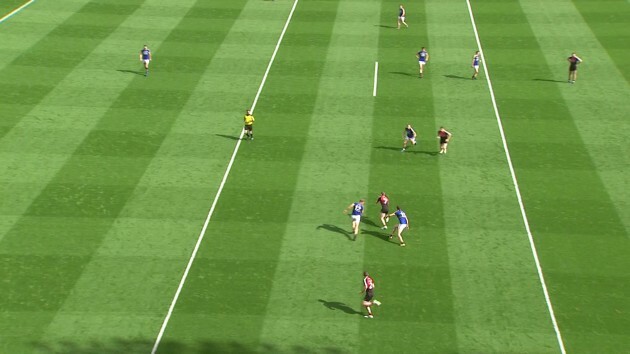 As he lays it off to Brendan Harrison, we can see that again – unlike the drawn game – Kerry have cover. Murphy is inside, Buckley is filtering back, and it's 3v3 on the 45. All seems ok.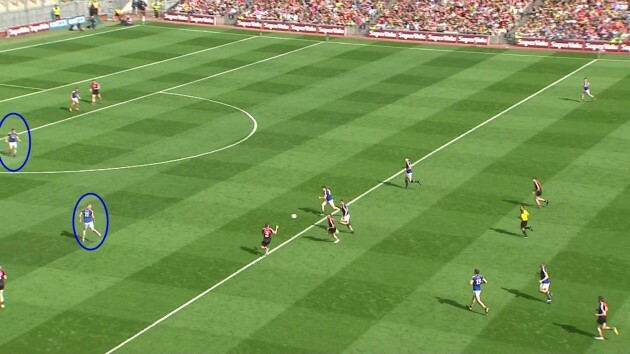 Harrison and Doherty do a very simple criss-cross run. Kerry have 3v2 now and a sweeper behind them. Moran can attack Harrison, Morley can pick up Doherty, and Walsh and Murphy can provide cover.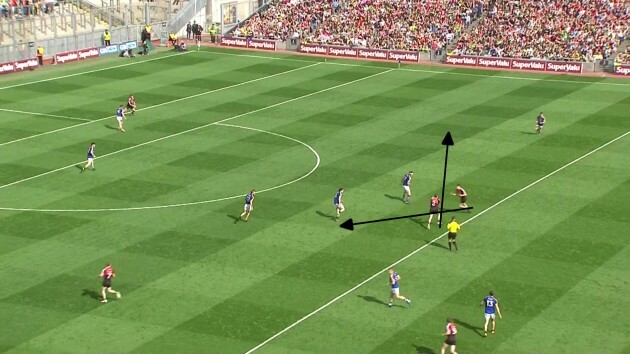 But they all get attracted to the ball, without putting much pressure on, and Harrison just continues his run.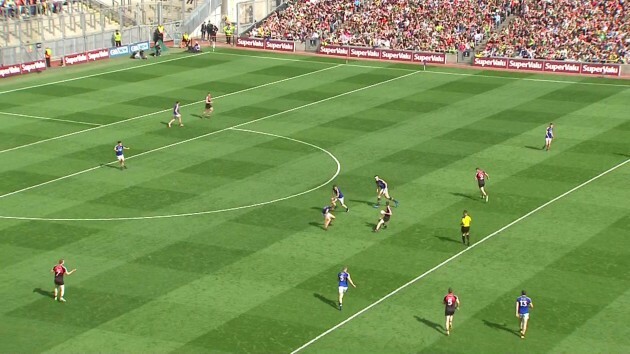 As he shoots he has all the time he needs – but misses.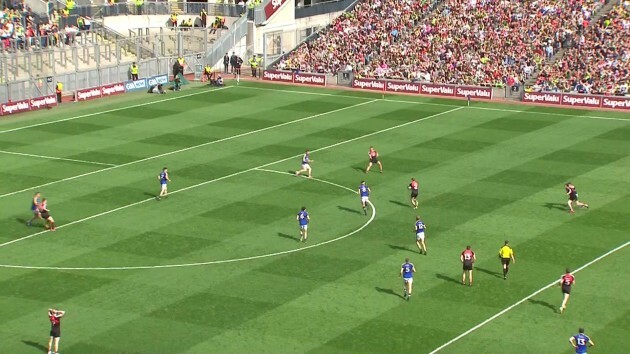 Sweepers or not, in both games, Kerry's tackling was really non-existent. The sweeper provides insurance, but everyone else still has to defend. Going forward, Mayo won't have it this easy in the All-Ireland final against Dublin.
Mayo kickouts
Mayo had 65% possession in the first half on Saturday. They secured 10/10 of their own kickouts and won eight of Kerry's. Kerry wanted to push up but Mayo's kickout strategies outfoxed Kerry and in the entire game, Kerry only won one Mayo kickout. At all costs, it seems, Mayo want to go short.
Here, Aidan O'Shea provides a lovely screen to let Higgins back to receive the kickout. Higgins is acting like he has no interest in the play but turns quickly to lose Geaney.
Buckley wants to run into that space but O'Shea holds him off. It's enough to give Higgins the time to get back and collect the ball.
In the next example, Mayo mix it up well by coming closer to Clarke.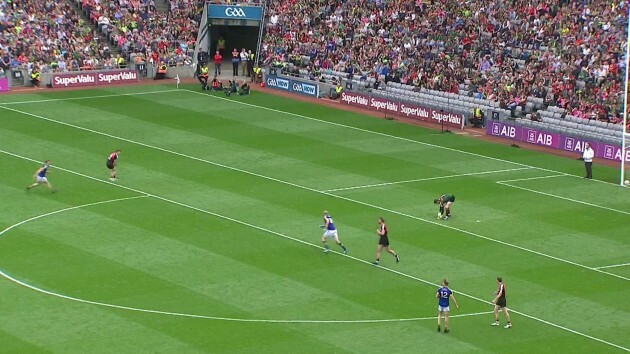 Kerry push up and leave the space behind them.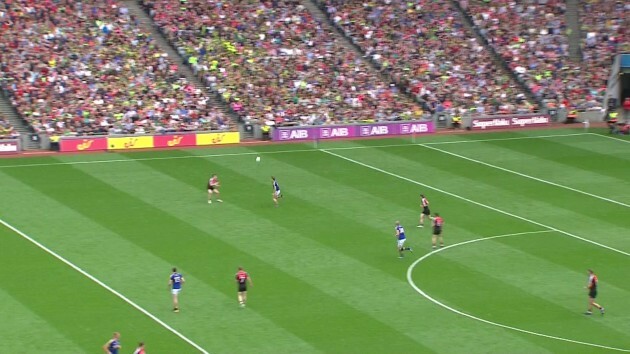 It's nice variation from Mayo and gave them a great platform to launch attacks.
In the second half, they had another variation where they all bunched together, leaving the space outside.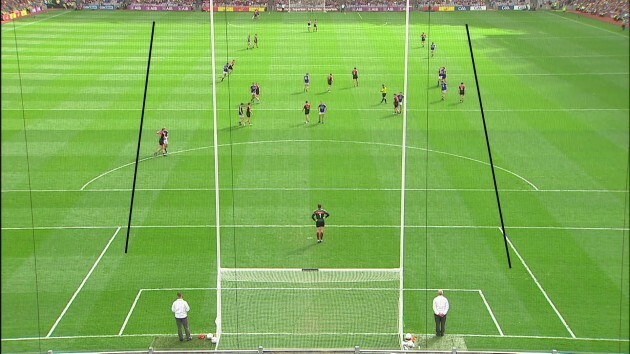 This allows runs out to the channels.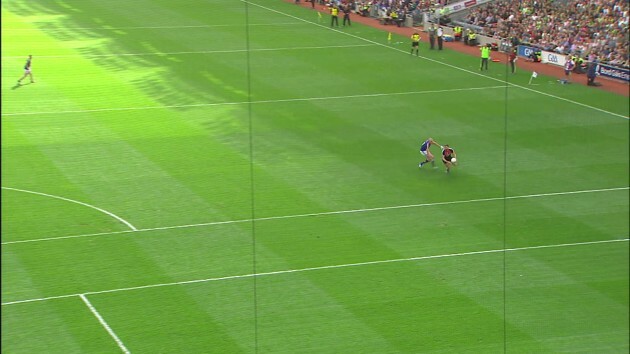 In this case, O'Shea just steals a yard on Donaghy but it's enough to secure possession. O'Shea then passes the ball back to Clarke, as happened for a lot of the kickouts. I think Dublin might consider actually marking Clarke once the ball is kicked.
While this last kickout variation worked quite a few times for Mayo on Saturday, it will be difficult to pull off against Dublin. Dublin don't defend kickouts 1v1; instead, they play a zonal system.
Here is an example from Dublin's win against Tyrone on Sunday. They win a free and from these starting positions, Dublin move to their zones before the free is taken.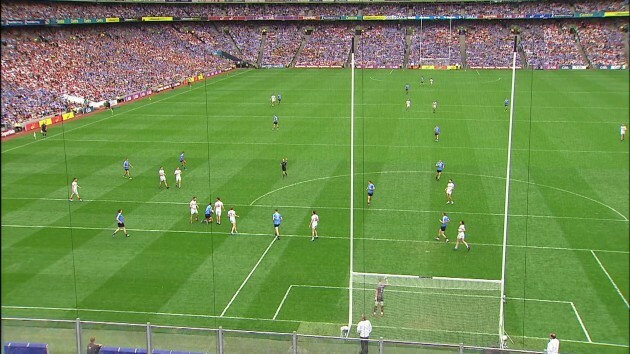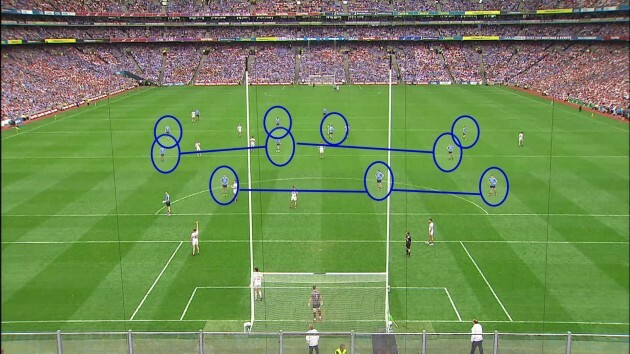 Dublin are much more concerned with marking the spaces, each player with a distinct area before the ball is kicked. Compare that to how Kerry defended the Mayo kickouts. When Mayo bunched, Kerry bunched, and Dublin won't do that.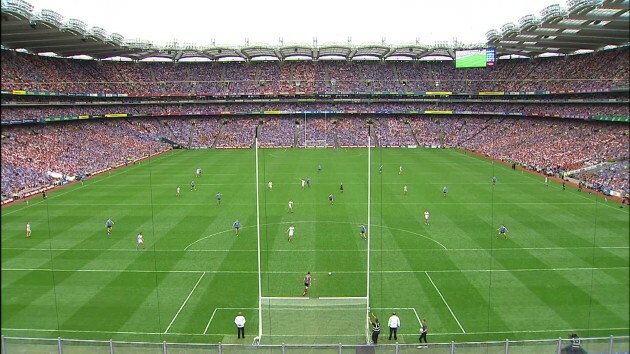 Just before Morgan kicks the ball, you can see there is hardly a Dublin player that is touch tight. They don't need to be. Morgan goes long and the ball is in the air for nearly four seconds. At the pace Dublin have, they can cover a lot of ground in that amount of time. This means they can be a few yards off their men but know they have the time to cover the ground in numerous directions.
Dublin will pose a very different threat to Mayo's kickouts. Last year, that threat was enough to convince Rochford he had to change keepers. Whoever lines out, it will be an intriguing battle to watch on 17 September.
- Tomorrow: Rob Carroll reviews Dublin's 12-point win against Tyrone in detail
Subscribe to The42 podcasts here: