ONCE AGAIN, STEPHEN Rochford gave us plenty to talk about tactically, and once again, this Mayo team entertained.
We will look at Mayo's decision to put O'Shea on Donaghy a little later but there were plenty of other tactical battles throughout the pitch.
Mayo for the most part played with Keith Higgins at sweeper. Usually when one team plays with a sweeper, it affords the other team a spare man in their backline. However, Kerry took a different approach.
As I see it, there are currently only four options pundits see with the sweeper:
You play with one and win – all is fine.
You play with one and lose – you didn't show enough ambition.
You play without one and win – you are a traditionalist (showing everyone how the game should be played)
You play without one and lose – you are naïve and haven't adopted to the modern game.
What all of these views have in common is that the outcome determines your view on the sweeper. This is a completely oversimplified view of where and how to deploy an extra defender.
There are multiple ways to defend, and the scoring trends of the last few years have shown that despite teams playing with sweepers, scoring rates have risen. It's not as simple as saying an extra defender makes you better defensively. It depends how you employ the extra body.
Mayo wanted their extra man in and around the D because of the threat of one of the most potent full-forward lines in the game. Kerry took a different approach. Was the approach wrong? Maybe – but I don't think Kerry executed it well enough to be properly judged.
Mayo's second goal is a great example of this because I think it shows what Kerry were trying to do, but where it just didn't work.
Mayo have possession from a turnover and are breaking forward. From behind the goal, we can see that Kerry have two free men in the middle of the park.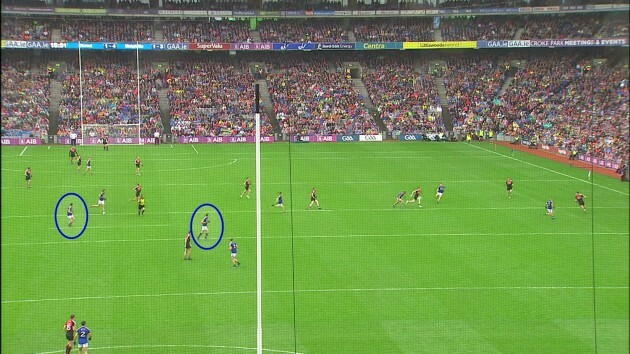 What you might see here if Kerry were playing a sweeper is Moran or Morley start to filter back to the 45 or the edge of the D. But that doesn't happen — Kerry want their extra man in midfield.
You can see the space between the two lines below.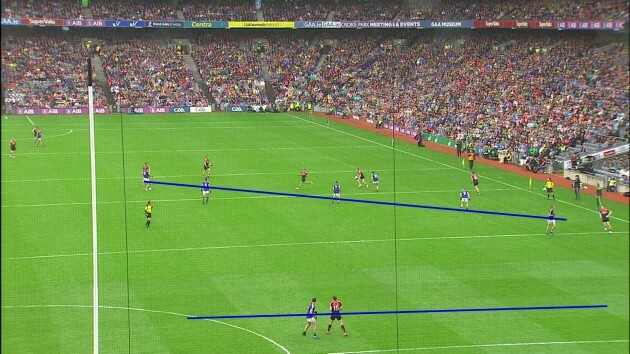 The ball gets recycled back and Higgins tries to make a break through the middle and quickly gets surrounded. This is exactly what Kerry were trying to stop: Mayo's speedy players running at the heart of the Kerry team.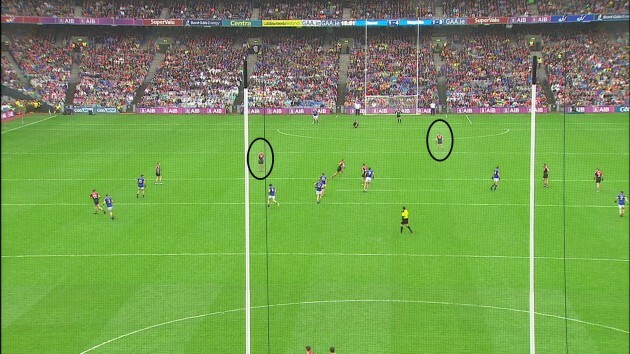 There are four Kerry players in the central area. I've highlighted two free Mayo men (McLaughlin and Barrett), so Kerry have spare bodies. So far, so good, as Kerry keep getting pressure on the ball.
The difficulty with any sort of press is that the minute that pressure eases off, the attacking players can start to look up and pick a pass. That's when the space between the lines gets exploited.
The ball comes wide to Diarmuid O'Connor who manages to get his head up but the run inside, for once, isn't timed.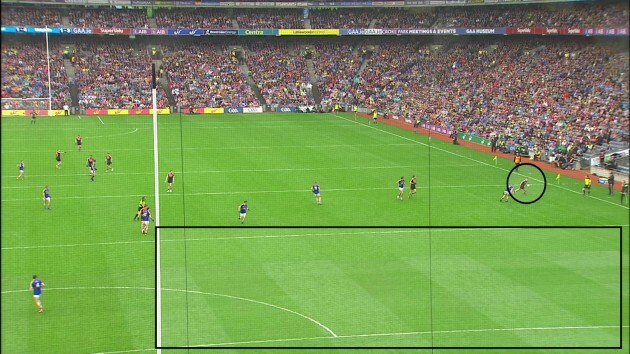 O'Connor turns and lays the ball back inside. This is where the trouble really starts for Kerry in this move.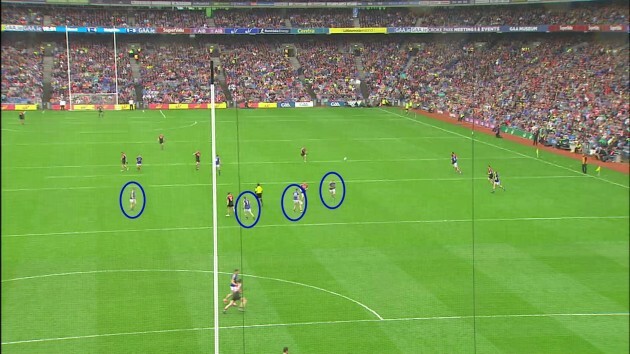 Kerry have four-on-two just outside their own 45. The spare men are in no-man's land. They aren't back helping the full-back line and they are not pushing up on the ball. They all seem a little confused about who should be marking and who should be pushing up. Mayo could easily play the ball over them to the full-forwards if they wanted.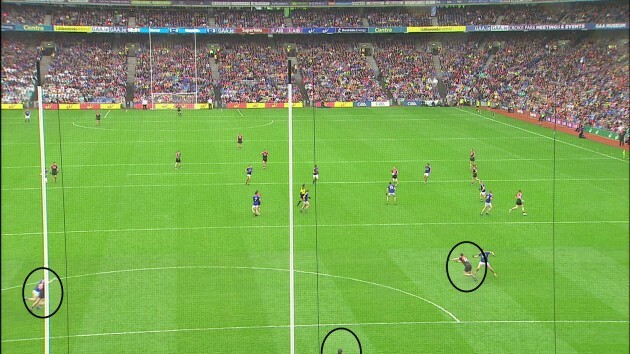 From this we can easily see Mayo's attacking shape in a triangle of Doherty, O'Connor and Moran just out of shot at the bottom. But look how much time and space the Mayo ball carrier has. He's surrounded by blue jerseys, yet nobody is close enough to lay a hand.
Mayo are patient and don't force it, moving the ball sideways again. Seamus O'Shea takes a hop and a solo before delivering a pass (without being tackled). Doherty has made about five different runs in this move but now the space is open and Boyle is going to run off his shoulder.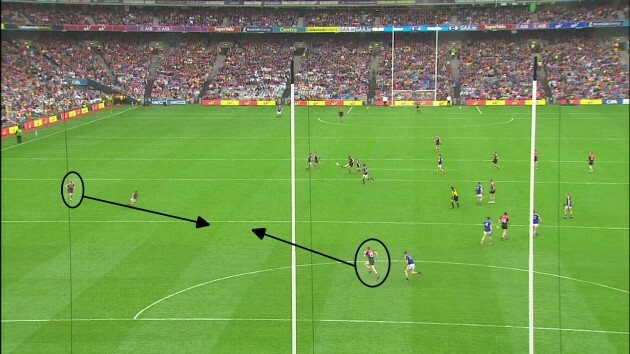 Of course you could argue that a sweeper cuts that ball out, but Kerry could have cut this ball off at source. Mayo have had the ball for well over a minute and Kerry have watched them play. Despite having superior numbers in midfield, they never lay a hand on them.
One other point about this move is the lack of reaction from the Kerry players. If we look at it from the side on, we can see Stephen O'Brien and Peter Crowley are free and admiring the play.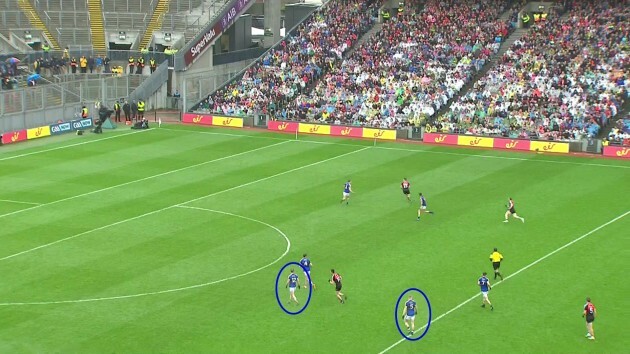 Neither have a man to mark and can see the full move unfold in front of them. Seeing your full-backs being spread across the 45 like that and looking at Colm Boyle bursting forward should set off some sort of alarm in your head. One of them should be going flat out to fill that big hole at the top of the D.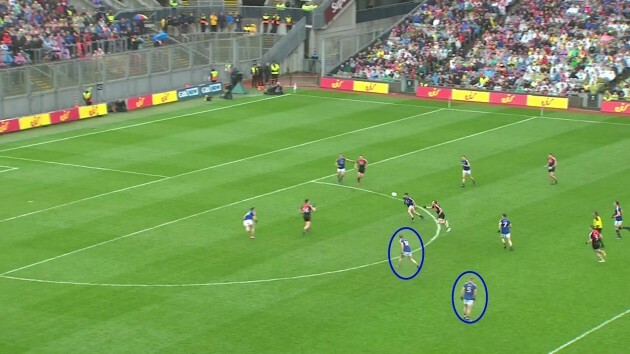 Even as Boyle lays off the pass, O'Brien is level with him so has time to get involved.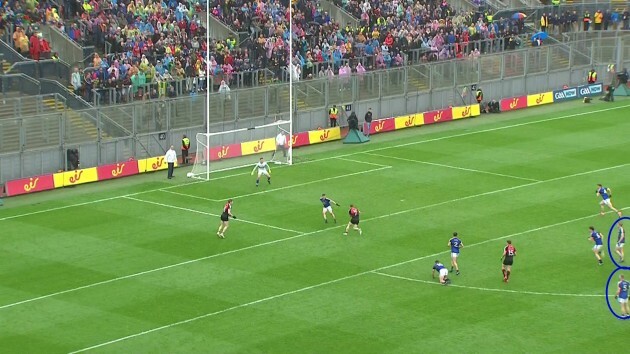 Just before he shoots, I've highlighted the two players. You can blame a suspect backline or a lack of sweeper but really there needs to be more help. A sweeper might solve some of these issues but you don't have to have a sweeper to solve the problems.
If Kerry get more pressure on in midfield or if any of these players react to what is unfolding in front of them, they can prevent this sort of move happening. All too often on Sunday, Mayo were allowed to get their heads up and find Andy Moran or Jason Doherty getting out in front.
O'Shea on Donaghy
Whatever criticism you can lay at Stephen Rochford's door, being afraid in selection and tactical decisions is not one of them.
It was a brave decision to sacrifice O'Shea but I'm surprised Rochford stuck with the plan for the full game. O'Shea probably stopped Kerry going with a high ball but he played too far away from Donaghy in the main. There were some occasions when I thought O'Shea got caught by those around him. The Stephen O'Brien goal was a counter-attack where he got isolated 2v1 and there wasn't much he could have done.
For Donaghy's point, he should certainly have done better, but Mayo's defending as a whole should have been better.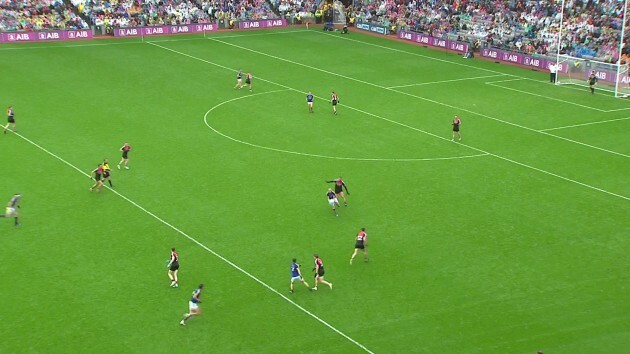 Donaghy gets out in front. Instead of staying with him, O'Shea buys the dummy and Donaghy makes plenty of room for himself.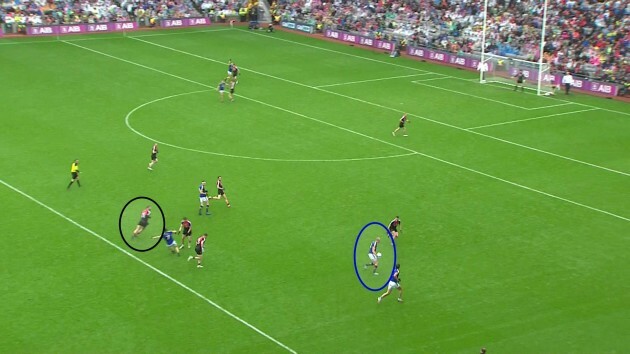 Not ideal by any means, but some better communication from Vaughan and Diarmuid O'Connor here would help O'Shea out.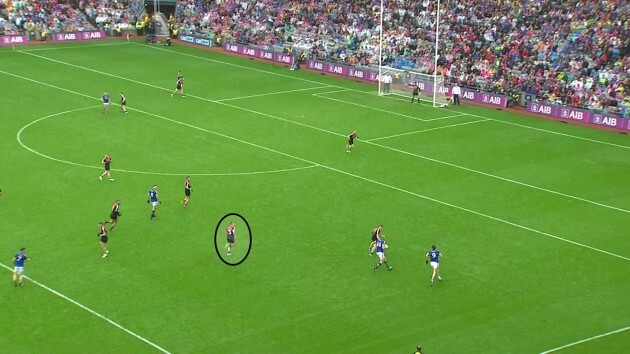 Donal Vaughan should be screaming at O'Connor, ideally to go with the runner on the outside and Vaughan can take Donaghy. Or Vaughan should tell O'Connor to take Donaghy. Either way it seems like there was no communication.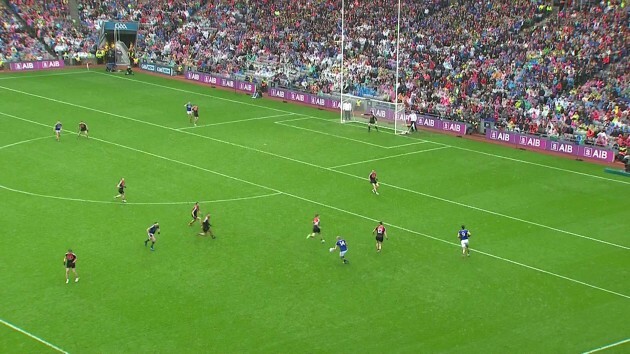 Instead Vaughan runs past Donaghy, and O'Connor gets caught between both. O'Shea shouldn't be this far away considering Donaghy is his sole job on the day, but all it would have taken was a little better communication and it could have been prevented. I'm not sure the plan worked as well as Mayo would have hoped.
When the Mayo backroom team look at the tape, they might see that they can make use of Aidan O'Shea in a more advanced position the next day.
Mayo kickouts
"We did our analysis on Dublin (on the drawn game). They had pushed with a formation in the first game, pushing four guys inside. They were trying to cut off our short kickout and as the game developed in the drawn game, they were getting more comfort or more reward."
That was Stephen Rochford's take on the Rob Hennelly decision after the replay last year. He must have had similar thoughts at half-time this week. Kerry forced Mayo long on eight of their 13 first-half kickouts, leaving Mayo with a 46% retention rate.
Of the 10 kickouts that Clarke was forced to kick past his 45, Mayo won three. Something that will probably disappoint Eamonn Fitzmaurice is that Clarke went short with 10 of 12 second-half kickouts.
Clarke and Mayo do not want to kick the ball long and seem willing to put themselves under huge pressure to retain the possession short. Kerry will look to work harder on forcing more kickouts long in the replay.
Andy Moran
Andy Moran's movement and point-taking was sublime. He is, in every sense, Mayo's target man. He's not going to win the big high balls but time after time, he won dirty ball out in front of the Kerry full-backs. His willingness to stay deep and only come out when needed is a talent. Cillian O'Connor and Jason Doherty played much closer to him this time which meant he had support.
This move in the second half was typical of his starting position.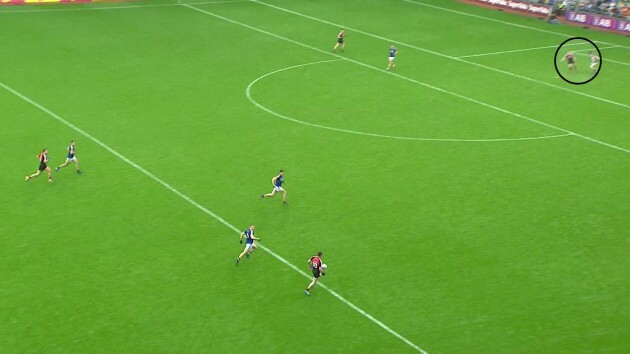 Kerry are getting back after pushing up against a Mayo kickout, but because Moran plays so deep, it leaves a lot of room to cover.
It's not an easy ball to take but he uses the wet conditions to his advantage, slides out, and manages to lay off the pass for Parsons to kick a point.
There was another lovely move that looked rehearsed where Cillian O'Connor, from a free, goes towards the back post to Diarmuid O'Connor. Shane Enright is trying to mark Moran in front, while Crowley has his back to the play.
Just as the ball is played, Enright turns to see where Moran is, but he's already made the run.
Diarmuid knocks the ball down to Moran who has enough space to knock over a score.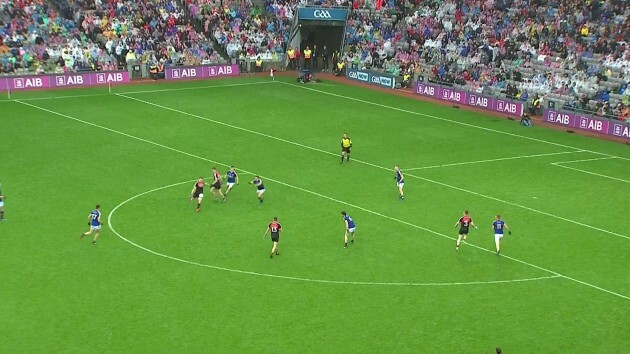 The space Kerry left between the midfield and full-back line afforded Moran the space to run into, but he was excellent throughout and kicked some great points under huge pressure.
Free-Taking
Kerry were not at their best but could have won this game at the death. They kicked away a free that they weren't in a hurry to take, and Sheehan might have put his opportunity over at the end.
Mayo gave away eight scoreable frees in the game; Kerry converted six of them. It was a problem coming into the final last year with Mayo conceding an average of 10 scoreable frees a game. It's an area they need to do better on, while at the other end, the fact that they only scored one of the four scoreable deadballs Kerry gave them tells its own tale.
The replay will be fascinating. Mayo are the team that just keep giving and I don't expect them to stop fighting yet. Kerry have plenty to think about. Eamonn Fitzmaurice had made three subs before the ball was thrown in for the second half, so he clearly felt there were problems.
Whether the solution is to go with a sweeper remains to be seen, but their aggressiveness in the tackle needs to better, no matter where they employ the extra man.
The42 Podcasts / SoundCloud
Subscribe to The42 podcasts here: