FOR A BRIEF moment on Sunday you thought there might be another shock in the 2016 championship, but ultimately there are no pictures in the history books and this will be recorded as a routine win for Kerry.
Similar to Dublin it's very hard to tell exactly where Kerry are in relation to the rest of the country. Sunday did confirm some aspects of the Kingdom's play; they still look vulnerable to coughing up goal chances through the middle and their defensive shape looks nailed on, especially from opposition kickouts.
Kerry Defensive Shape
Kerry have a clear strategy on opposition kickouts. They push up and either force the keeper to go long where they trust their big men in midfield or force the opposition to try risky kickouts to secure possession. Once the kickout is lost, they then retreat to the 45.
Here is an early example from yesterday's game. Everyone is lined up man-on-man.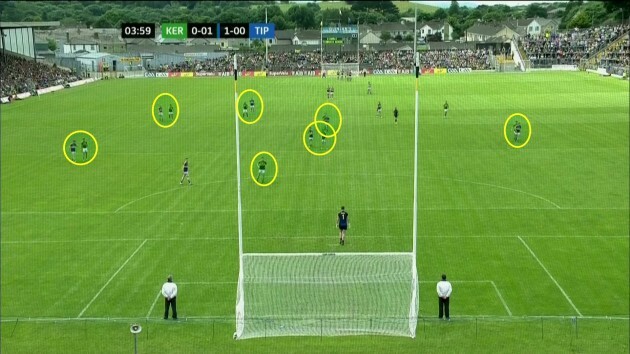 The first kickout went long and was lost by Tipperary.
Kerry have just scored their first point after a wonderful start for Tipperary. Evan Comerford just wants to secure possession and build from the back; he finds Bill Maher with a short kickout.
Immediately the Kerry full-forward line starts to retreat to the 45.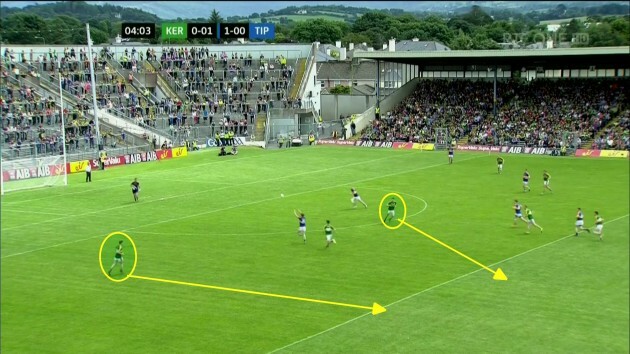 Within a few seconds, the three Kerry players furthest forward are on the Tipp 45 and ready to engage. Everyone else has retreated. This leaves Tipp with very few options to move the ball at speed.
Kerry attempted to win the kickout but as soon as they lost it, they have a solid defensive shape set.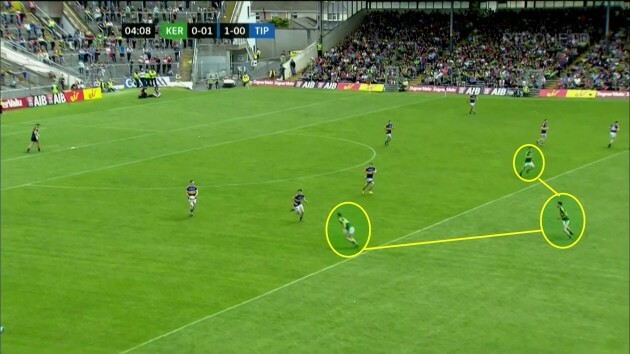 Donnchadh Walsh and Killian Young now force the Tipp players down the wing. Knowing the cover is behind them to stop, or at least limit, any long ball they can afford to push up and put pressure on.
Eventually they force Ciaran McDonald to spill the ball over the sideline. It didn't always make for the most entertaining viewing but Kerry will be pleased with how they frustrated Tipperary.
You could see this strategy in operation even when Kerry lost long kickouts. In this example, Josh Keane takes a high catch direct from a kickout.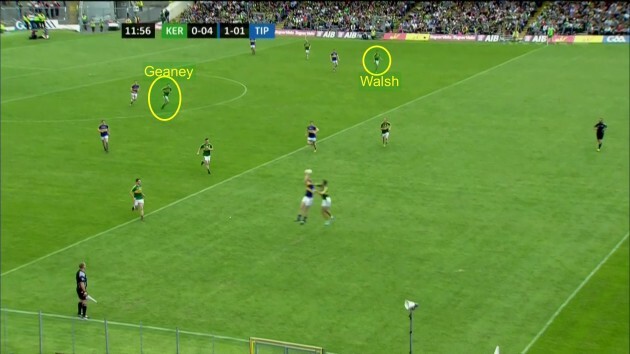 The instruction is clear that once a kickout is lost, it's all hands on deck to get back and defend.
Geaney and Walsh play an integral part in slowing this Tipperary attack. As Tipp get the ball to midfield, it's these two Kerry players that form the midfield welcoming party.
Walsh doesn't cover himself in glory in this instance. He steps up and gets caught with a simple hand pass around him.
From this position you would certainly expect better teams to exploit the Kerry defence, but Kerry have plenty of bodies back this time. Geaney in particular has done a marvellous job in slowing the attack and allowing Kerry to get numbers back.
Exclusive Six
Nations Analysis
Get Murray Kinsella's exclusive analysis of Ireland's Six Nations campaign this spring
Become a Member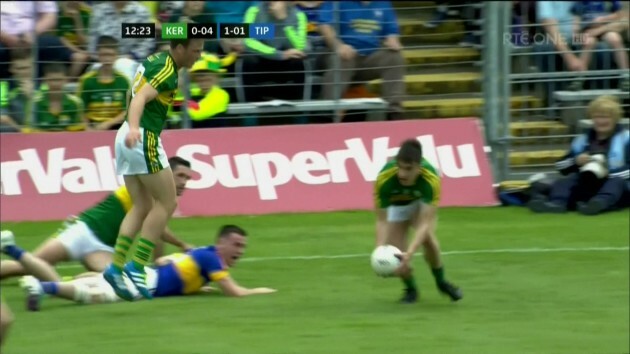 Walsh also does really well and is on hand along with Sheehan and Brian Ó Beaglaoich to force the turnover.
This was really the story of the game. Kerry were, mostly, well-organised and simply frustrated the life out of Tipperary.
This was not an all-out pressing game. They slowed attacks, forcing Tipp across the field and then turning them over.
It was a slow start but once they didn't panic they were always in control.
Defensive Midfielders
Although Kerry defended very well for much of the game, their center can still be quite soft at times. The difficulty with playing attack minded players in defensive positions is that you will get caught out at times. The Tipperary goal is a prime example of this.
Kerry give the ball away from the throw-in but easily reform and have eight players between the two 65s.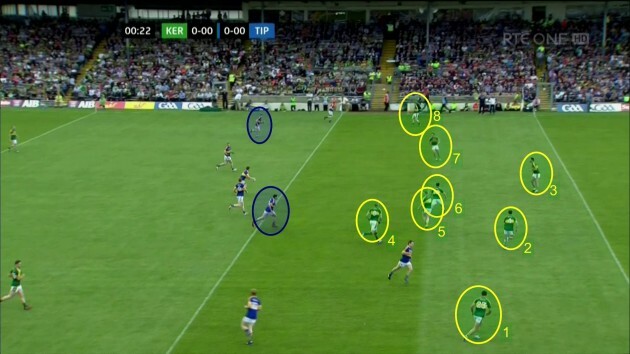 The two Tipperary players that create this goal, Philip Austin and Jimmy Feehan (highlighted), make excellent runs but get tracked by nobody.
Kieran Donaghy (4), Colm Cooper (5), Paul Murphy (6) and Bryan Sheehan (3) need to have better communication here. All get caught watching the ball and really only Murphy spots any danger, but it's too late.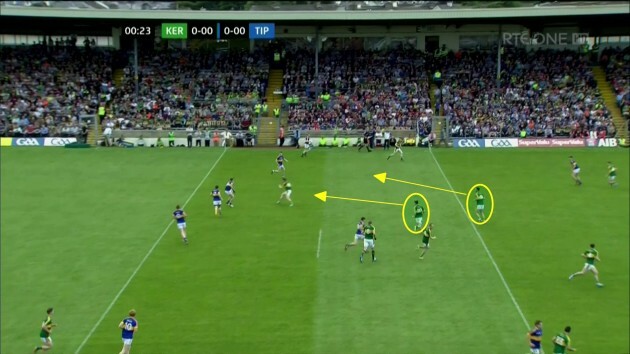 Sheehan and Murphy only have eyes for the ball, Cooper is looking the other way, and although Austin runs straight across Donaghy, he never attempts to track the run.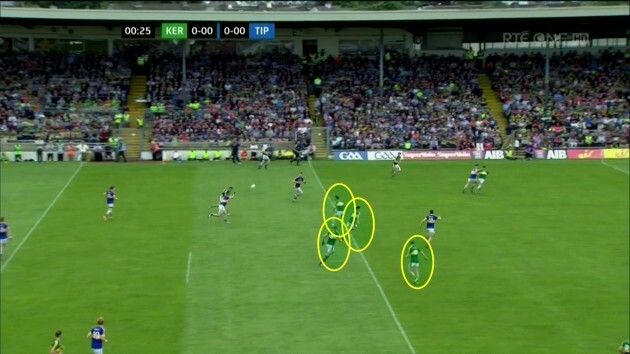 Just a few seconds later, Austin is in the clear, now past those four central players.
Murphy now sees the danger and attempts to track the runs, but the space has opened. Donaghy and Cooper are not defensive players — it's not their natural instinct — and they get caught.
This is just too easy, but not the first time it has happened with these two players this year. You could argue they were just caught cold, but worryingly for Kerry, we saw a very similar situation in the league final against Dublin.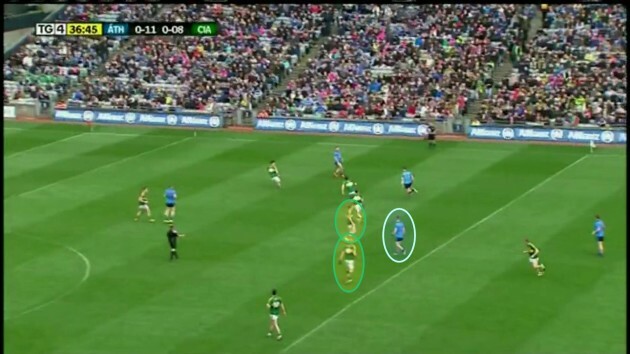 Cooper and Donaghy are highlighted with John Small on the 45. Small is not running at pace — he's walking — yet neither player spots the danger.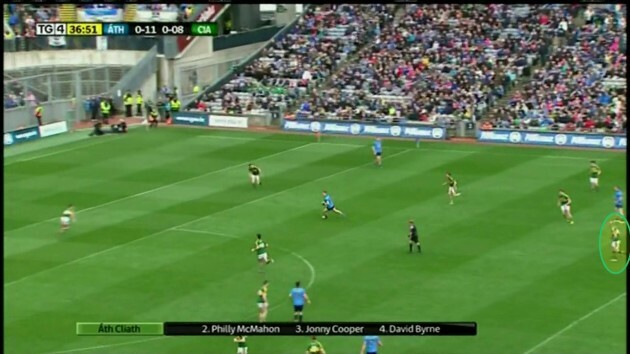 Just a few seconds later, Cooper is out of shot and Donaghy has barely moved while Small has broken/walked through the Kerry defence.
Donaghy offers a lot in midfield, not least for Kerry's strategy on opposition kickouts, and his ability to drift into full-forward when required is a very useful asset. But Kerry look susceptible through the middle and without a full-time sweeper it must be a concern for Eamon Fitzmaurice.
Sunday was a job well done, but there are some warning signs that other teams will look to exploit.
The42 is on Snapchat! Tap the button below on your phone to add!