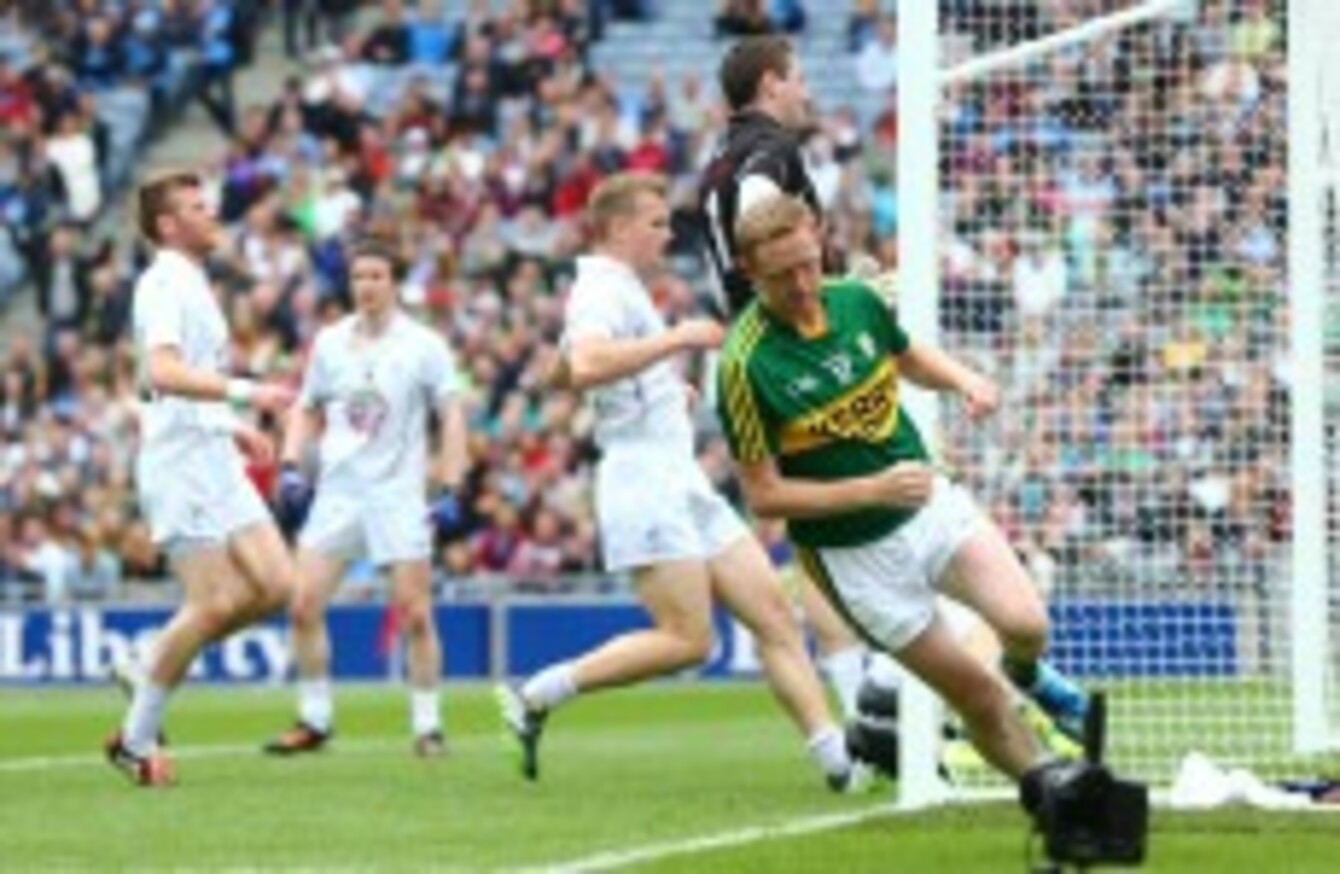 Gooch wears his usual #13 jersey for the Kingdom against Tyrone.
Image: Cathal Noonan/INPHO
Gooch wears his usual #13 jersey for the Kingdom against Tyrone.
Image: Cathal Noonan/INPHO
1. Kerry's bench press
THE STRENGTH OF Kerry's subs bench is no secret but it is a strange quirk that their three top scorers so far this summer will all start on the sideline against Tyrone.
Between them Bryan Sheehan (0-14), Paul Geaney (2-8) and Barry John Keane (2-7) have scored 41 of the Kingdom's championship points; by comparison, the six starting forwards against Tyrone have a combined 39.
That's to take nothing away from a jaw-dropping cast that includes Colm Cooper, Kieran Donaghy and James O'Donoghue, provided the latter is fully fit.
If Tyrone do succeed in keeping a lid on Kerry's firepower for 50 minutes, there are no shortage of options in reserve.
2. Ruffle repercussions
Three weeks ago Tiernan McCann was just another Tyrone forward, albeit one with magnificent hair, before he took up the position of public enemy number one.
There's no condoning the laughable dive that got Darren Hughes sent off – although we do have to thank him for giving birth to the term 'Rufflegate.'
But to suggest that he deserves the relentless public opprobrium he has faced, or that the GAA's handling of the situation has been anything but cack-handed, is misguided.
Rightly or wrongly, the spotlight is on him now, and it will be interesting to see how the increased attention affects his performance.
3. No Country for Old Men
Writing in Gaelic Life earlier this week, former Tyrone Allstar Brian McGuigan argued that the ageing heart of Kerry's defence was there to be exploited.
Marc Ó Sé is now 35, as is Aidan O'Mahony, and it's no surprise that pace is no longer one of their strongest attributes.
Maybe McGuigan's comments sparked a thought in Eamonn Fitzmaurice's mind because Peter Crowley, 10 years O'Mahony's junior, has been named at centre-back while the Rathmore veteran has to make do with a place on the bench.
Tyrone's counter-attacking style lends itself to a good spread of scorers although it is a worry that the majority of Darren McCurry and Conor McAliskey's points are coming from placed balls rather than play (0-13 of their combined 0-20 in the last two games). The inside forwards shouldn't bank on their pace being worth an extra yard.
4. Do goals win games?
Tyrone's robust system is built around quick transitions which allow them to stuff the defence before countering. They haven't conceded a goal since their opening defeat against Donegal but equally, it must be noted, they have only scored two from play in six games this summer.
Kerry on the other hand looked very much like the unstoppable force when they banged in six goals in 17 minutes against Kildare, although that comes with the caveat that the Lilywhites appeared to mentally check out rather than try to stem the tide.
Even one goal, for either side, would likely be crucial in tilting the balance.
5. The man in the middle
Championship clashes between Kerry and Tyrone have never lacked an edge and this is unlikely to be wildly different.
So you can expect all eyes to be on referee Maurice Deegan and the manner in which he polices the game.
Tyrone's siege mentality has been bolstered by Rufflegate and any perceived bias from Deegan towards Kerry might quickly be put down to the storm of criticism that the Ulster men have faced since the quarter-final.
But the Laois man is one of the most experienced in the GAA — and it's worth remembering that he refereed the 2008 All-Ireland final when Tyrone beat Kerry.
– First published 19.00, 21 August