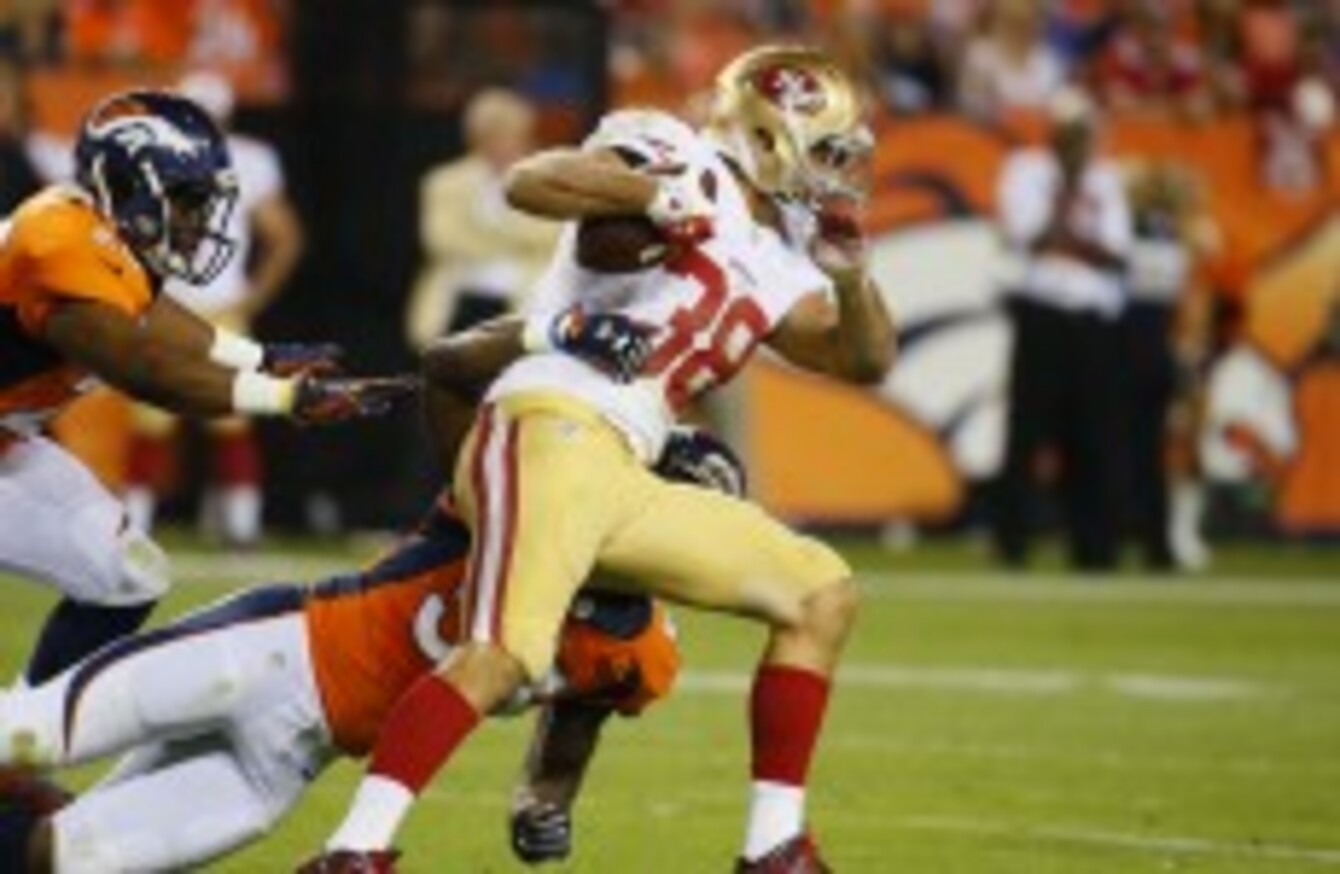 Jarryd Hayne made the 49ers 53-man roster.
Image: Jack Dempsey/AP/Press Association Images
Jarryd Hayne made the 49ers 53-man roster.
Image: Jack Dempsey/AP/Press Association Images
IN OVER TWO decades presenting coverage of the NFL on Sky Sports — another season of which gets under way in earnest this evening — Kevin Cadle admits the league has never had a more international feel than it does right now, and not just because there are three games per season taking place in London.
But what are the chances we might see an Irish player strutting his stuff in the National Football League in the near future?
Well, they're not as remote as you might think.
Indeed, Cadle points to the addition of the Australian Jarryd Hayne to the San Francisco 49ers 53-man roster as inspiration.
While former rugby league star Hayne is far from the first international player in the league, most foreign imports to date have played on defence or on the offensive line.
Hayne will be the first to get to show what he can do with a football in his hands.
"Somebody had to break through and show that they could do it," Cadle told The42 this week.
"He's still not going to be an every down player but through special teams, etc, they'll find a purpose for him and a way to make him an asset for that team.
"So we're still waiting for that every down player to break through and come along and prove they can score touchdowns in the NFL but Jarryd can maybe put himself into the position where he can get into the endzone.
"Up until now, the international guys coming in were in positions where maybe they didn't have the opportunity to make a name for themselves by scoring touchdowns but let's see what Jarryd can do."
Part of the reason the game is growing worldwide — and players are coming in from countries as diverse as Australia and Ghana — is that the NFL realises American football could become a global sport.
Some of that success is down to the International Series in Wembley, something which Cadle says he's more excited about than ever.
"I think it's great for the game. I think the NFL has done a great job of sending different teams to London and the one that really surprises me, and I think shows how seriously the league is taking these games, is the Dolphins versus the Jets.
"That's a divisional game, and for a team to give up home advantage like that in a rivalry like that, it's a big deal."
Though Sky Sports will have more games than ever this year — Thursday night, three Sunday night and a Monday night game every week — Cadle, Neil Reynolds and their usual band of guests will still only present the same games they've shown up to now with the US feed taking care of the others.
But how does he see the season going for his beloved Buffalo Bills:
What are they
really like?
Rare insights on sport's biggest names from the writers who know them best. Listen to Behind the Lines podcast.
Become a Member
"They're gonna win the Super Bowl man," he jokes.
"With Tyrod Taylor, we'll just have to wait and see. He had to sit behind Joe Flacco for three years and now we finally get to see what he can do.
"I'm not comparing him to Aaron Rodgers but, if you look at Rodgers, he had to sit behind a quarterback who never got injured in Brett Favre and Taylor is the same, we don't really know what he can do but we'll get a chance to see soon enough.
"He has a pretty good arm but he also has the ability to make plays with his feet and, unlike Michael Vick or RGIII, he knows how to slide too!"
Overall, Cadle thinks the Seahawks are probably in the strongest position to to make a Super Bowl charge this year even if they face some issues with salary cap — particularly in relation to Kam Chancellor — because they know how to win games.
"If I've to pick a team now, before a ball is snapped, then why not the Seattle Seahawks?
"They've been there, they know how to get the job done in the regular season and they've proven they still have the hunger."
Sky Sports will show more than 100 NFL matches this season exclusively live starting this weekend.