KEVIN DOYLE NEVER believed that Giovanni Trapattoni's infamous text message would be the end of his international career.
Brought back into the Ireland squad last month, Doyle is in line to win his 57th cap tomorrow when Martin O'Neill shuffles his pack against Poland.
A lot has changed since March when he was unceremoniously dropped by Trap for the double-header against Sweden and Austria.
His goal had just settled a relegation six-pointer against Bristol City but Wolves were still mired in trouble. It was only their second win since the turn of the year, a run of form which ultimately sealed their fate and condemned them to League One.
A few months earlier Doyle and three clubmates — Stephen Ward, Stephen Hunt and Kevin Foley — were in Trap's initial squad for the European Championships. Bit by bit, their club form stacked up as evidence against them.
"It was tough, it was very tough," Doyle, 30, said.
"Four of us from Wolves went to the Euros and three or four months later none of us were in the Ireland squad.
The manager, Giovanni, told us at the time he felt that the morale at Wolves wouldn't have been good for us to come into the squad.

I accepted that. I had no problems.
The only sticking point was the manner of communication. As a squad regular with more than 50 caps, and as the man who had spared Trap's blushes in Kazakhstan, Doyle felt he deserved better than a text. A phone call at least.
His disappointment played out in public in the run-up to the Sweden game and was then forgotten about. Doyle resolved to force his way back into plans.
"You just put your head down and go again and get on with it. Don't moan and try to get picked again. I did in the last squad and I did again this time."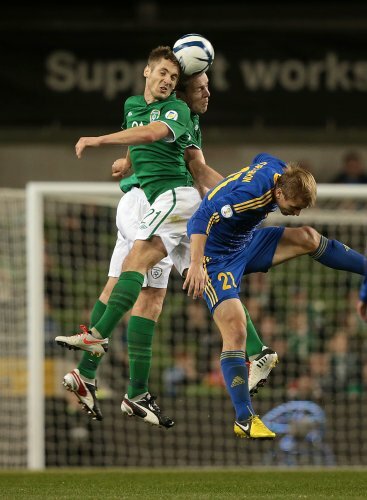 In action against Kazakhstan last month (INPHO/Morgan Treacy)
This season club form has worked in his favour. Without Doyle on Saturday, Wolves beat Notts County to move to the top of League One, stretching their unbeaten run to nine league games.
"It's fantastic. It doesn't matter what division you're in when you're winning games.
Yesterday we won and we went top of the league. It's a pity they went top without me but it's just nice to be around the place. Everyone's happy and smiling and we're up there challenging to get promoted.
"It's not been easy though, it's been very difficult. We haven't walked away with any games but it's been enjoyable to be back."
Whether or not he can catch O'Neill's eye and win back a permanent place remains to be seen. The new manager has no shortage of attacking options and Wes Hoolahan, Shane Long and Jon Walters are all at Premier League clubs while Anthony Stokes is playing Champions League football for Celtic.
Is it possible for Doyle to compete while in League One?
"It makes it a bit more difficult obviously but I don't think of it that way. I just get on with it and see if I can impress.
"I'm enjoying playing with Wolves and hoping to win something if not get automatic promotion. We'll see what it brings with Ireland then."
Meanwhile his one-time strike partner Robbie Keane is showing no signs of slowing down. His goal against Latvia was the 62nd of his international career, drawing him level alongside Ronaldo and Didier Drogba in the all-time list.
"I don't know what more I can say about him. It's more so the fact that his career is in America and he still makes the effort for all the friendlies and all the games.
It's not easy with all the travelling to still make it and with so many games but he doesn't pull out of anything. That stamina in that sense amazes me more than anything.
Doyle did get a run for the final nine minutes on Friday night but he hopes to see more action in Poznan tomorrow.
Latvia kindly allowed the O'Neill and Keane management team to get off on the right note but he expects a much tougher evening against a Poland side anxious to avoid their fourth straight defeat.
"Against Latvia we probably had 70% of the possession and we were in their half for most of the game. Poland's not going to be like that obviously.
"We're away from home and they're a very good team. It will be a sterner test for us."