A FEW WEEKS ago I wrote about the false narratives surrounding Kevin McStay and the Roscommon camp.
I felt there would be a sting in the Roscommon tail during the championship, but certainly didn't expect them to put Galway to the sword like they did in the Connacht final.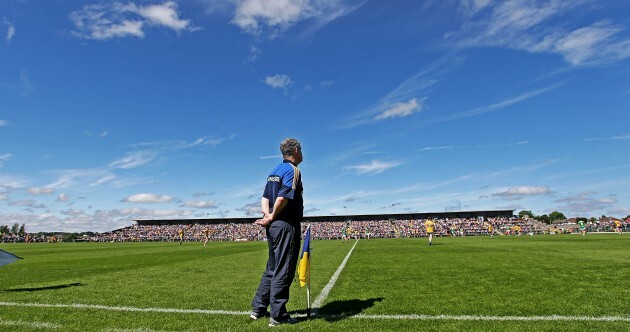 Donall Farmer / INPHO Donall Farmer / INPHO / INPHO
The 2-15 to 0-12 win was a remarkable result for the Rossies and completed a stunning turnaround from their Division 1 relegation in April. Much of the criticism leveled at McStay both inside and outside the county centered around the absences of some high profile veterans from the panel in 2017.
Cathal Cregg, Niall Daly and Neil Collins for different reasons chose not to commit in 2017, but otherwise McStay largely had the youthful panel he wanted.
As the former Mayo player explained back in March, he felt Roscommon's lack of physicality was the major difference between them and the elite sides in the country. So he focused on youth and built his team around the county's U21 side who made it to the All-Ireland final in 2014.
Seven members of that outfit started against Galway yesterday – Colm Lavin, Niall McInerney, Seán Mullooly, David Murray, John McManus, Enda Smith, Diarmuid Murtagh – while Donie Smith appeared off the bench.
"People just have to hold their nerve and stay with it," he pleaded after they shipped a 21-point pasting to Dublin in the league.
"We've moved on to a longer term plan. Three years. I've spoken to the board about it. That's what I want to do. It is difficult. These experiences, they're not simple ones, obviously.
"We will learn from them," he added. "In three years time, if this group stays together, they will be a decent team. And nobody can tell me otherwise."
Bryan Keane / INPHO Bryan Keane / INPHO / INPHO
As it turns out, they became a decent team in a far quicker time frame.
McStay worked heavily with the young core on their strength and conditioning over the winter. They had a few close calls during the league but didn't win a game until they beat Cavan on the last day. He pinpointed that result as the turning point in their season.
That win handed them some momentum and a respite from the string of defeats that sapped their confidence. The massive 11-week gap between league and championship gave Roscommon a lengthy period to time their run to perfection in Connacht.
Plenty of knives were aimed at McStay's back during the months that followed, including a farcical jibe from former Roscommon manager Gay Sheerin that centered around his and selector Liam McHale's Mayo roots.
McStay respectfully declined to give a response to his critics shortly after Roscommon lifted the Connacht title on Sunday afternoon.
"You lose you are useless, you win you are mighty," he quipped, referencing a period 18 months ago when Roscommon were being tipped as the coming force in Gaelic football.
"I guess we are somewhere in the middle. I'm really happy, but I'm not going to make more of it than it is."
He made an interesting analogy after that crushing loss to Dublin four months ago, which represented the low-point of their season.
"I'm watching them train three or four days a week. They're very good but they're under power. It's like watching a very decent car with very little engine in it."
The engine has since been upgraded and the Rossies are motoring along nicely.
The42 is on Instagram! Tap the button below on your phone to follow us!