Kevin O'Brien reports from Dr Hyde Park
IT WAS AN unusual feature of Sunday's Connacht final that both sides played far better against the breeze.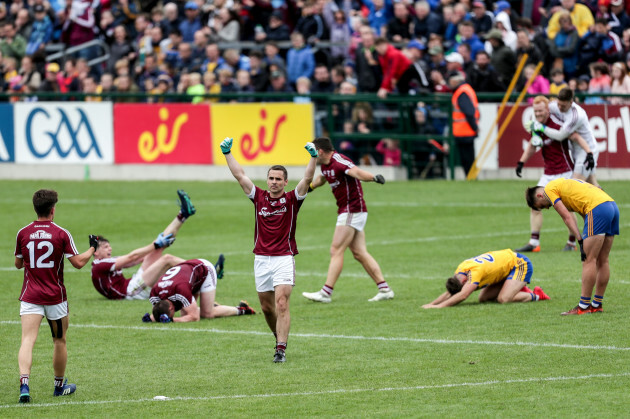 Laszlo Geczo / INPHO Laszlo Geczo / INPHO / INPHO
Roscommon went in at half-time leading by 1-5 to 0-5 and having played most of the football.
Galway's system of putting 13 bodies behind the ball allowed Roscommon build possession and momentum from deep, while the Tribe's counter-attack didn't pack the same punch it did during the league.
Kevin Walsh's side pushed up on the Roscommon kick-outs after the interval, forcing Colm Lavin to go long.
Galway won nine of Lavin's 13 restarts after the break and it helped them establish a foothold in midfield, with Thomas Flynn and Peter Cooke dominant in the air. The loss of Cathal Compton to injury on 30 minutes seemed to have a major effect on Roscommon's ability to win primary possession in the middle.
"We had no issue with that at all because we had decided we were going long," McStay reflected on Galway pushing up on their kick-outs in the second-half.
"We were hoping they'd all push up. We were happy with Cathal and Tadhg that we were going to fight like dogs for anything, and we did.
Tommy Dickson / INPHO Tommy Dickson / INPHO / INPHO
"That was grand and we were going to keep to that. This thing about pushing up is kind of over-rated: if you keep banging it 70 yards down the field there has to be a row for the ball like the old days.
"The six fellas pushing up can look a bit silly with the ball 70 yards behind them, so we were happy enough we were getting at least 50-50 in the first half on that, no issue.
"But we didn't get as many breaks in the second half. Maybe we tired a bit, I'm not so sure. The people they were bringing in were good midfielders.
"They had natural midfielders and they were going to get to the pitch of it. Flynn had a very decent second half, seemed to get his paw on a lot of ball.
"It was just the scores and we knew this coming in. The one thing that was going to win it was to get the scores at the appropriate times to keep the pressure building, especially at home, if we got the crowd involved.
"We nearly had them after the penalty and we didn't kick on again, and Galway steadied and got home."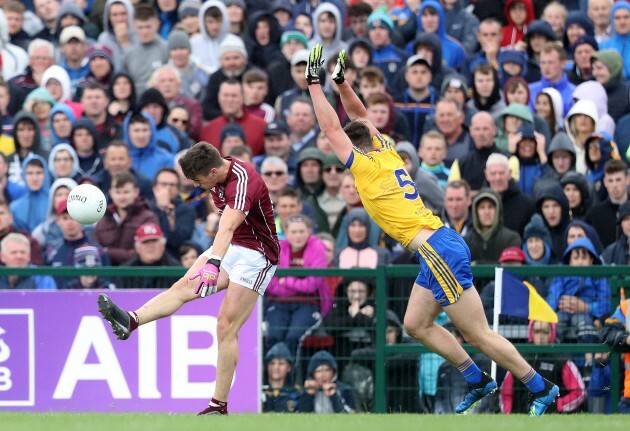 Tommy Dickson / INPHO Tommy Dickson / INPHO / INPHO
Roscommon scored just 1-1 in the second period and nothing from play. They hit eight wides with the breeze at their backs and dropped another two short into Ruairi Lavelle's hands.
"They (the wides) just drained us," McStay said.
"Even when we got the penalty you think right here we got a shot but we followed it up with two bungled chances that just didn't let us build momentum or kick on.
"If we had got to three or four (in front) I've no doubt we would have really put it up to Galway because they weren't playing that well.
"The first half was very flat and was perfection for us. That was exactly what we wanted to do but the second half wasn't anything near what we had hoped.
"We got ourselves into a position but we said, 'Listen lads, there is nothing won here yet'. We scored substantially more against the breeze than we did with it, didn't score from play in the second half."
Conor Devaney's sublime penalty left Roscommon in front with seven minutes left but Galway finished strong through scores from Sean Armstrong, Damien Comer (2), Ian Burke and Adrian Varley.
"It's not heartbreaking, it's frustrating," McStay continued.
"We are going to look back and think we had the chances. We won't be thinking it we know we had the chances but Galway were able push it home that bit more clinically at the end so I have to commend them and congratulate them and I have done.
Exclusive Six
Nations Analysis
Get Murray Kinsella's exclusive analysis of Ireland's Six Nations campaign this spring
Become a Member
"We have to look at the positives and say that because we stayed competitive to the 34th or 35th minute (of the second half) that there must be some life for us beyond today."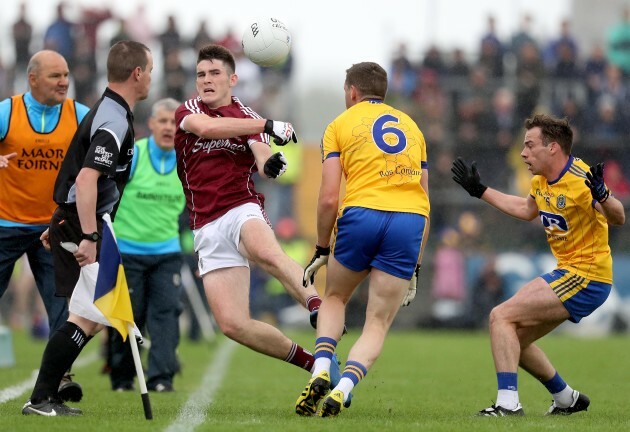 Tommy Dickson / INPHO Tommy Dickson / INPHO / INPHO
They have a few weeks to recuperate before they face a Round 4 qualifier and victory in that game will provide a safe passage through to the Super 8s.
"I don't want to disrespect Galway and say we left it behind, but this was certainly one where we had a great chance to retain our title.
"That's going to hurt us a bit. But because we're still alive; it's not like as champions we were blown away like people thought we would be.
"We fought to the bitter end. They got a few points in garbage time; I wouldn't worry about that. It was probably a one-point game, really.
"I have a feeling we'll react well, because we have to react well. If we don't react well, lads at the end of their careers start drifting away. Management wonder where are we now and can we build on this?
"We have to get something out of the championship season. Coming into it back in April, we said we have to win two championship matches this season.
"Today was our big chance to win two. We've lost so now we have to win the next one. If we win two championship matches this season we'll be able to reflect on a good season because it means we're in the Super 8s.
"We want to be part of it. I have a sense that when the disappointment subsides, and it will, it's going to be sore for a day or two. We'll find enough evidence to say that we can play against a Round 4 qualifier.
"It'll be disappointing but life goes on."
The42 is on Instagram! Tap the button below on your phone to follow us!