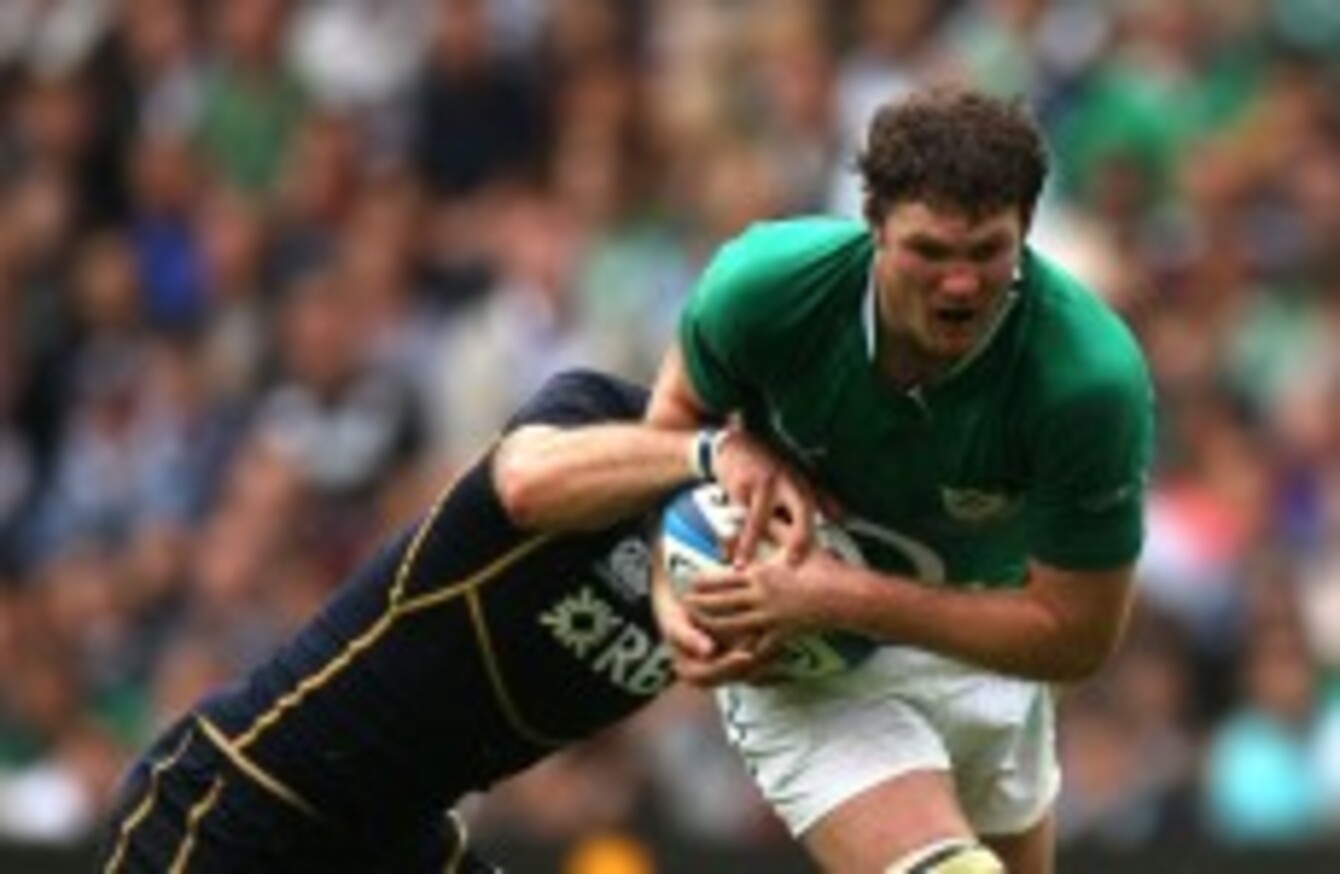 Image: ©INPHO/Billy Stickland
Image: ©INPHO/Billy Stickland
THINGS USUALLY GET a little (ahem) hectic when the Scots arrive in Dublin for a Six Nations weekend.
So, before we are deafened by the wailing pipe we got G-chatting with our old friends, separated since Finn McCool's causeway fell into disrepair, about our respective hopes and fears for tomorrow evening.
Scotland were ably represented by Rory of the (helpfully titled) Scottish Rugby Blog and he stood shoulder to shoulder with Andy from Ireland's own Demented Mole.
You can follow them both on Twitter, of course, @ScotRugbyBlog and @DementedMole.
So, once we had fully chewed our deep fried Mars bar, we got on with the order of business.
The Score: Rory, we always start off with the guest. Your side are looking pretty good, confident?
Scottish Rugby Blog: Scots and confidence are not easy bedfellows! They're looking good up to a point but we still have no points in the 'Win' column. If we can play like we did against France it should be a good game and one we have a chance of winning.
Demented Mole: That's probably Scotland's biggest problem at the moment.
The Score: A considerably larger chance than ye had seven days ago given Ireland's two big injuries in the pack.
Demented Mole: I fancied you guys to go through your pool in RWC. Even allowing for a tough draw.
Scottish Rugby Blog: As did we!
I think that pool will be the one that got away. No way we should have lost to the Argies. But anyway…
Demented Mole:

Kicking Chris Paterson is like kicking a puppy, but he made some howlers.

Happy with Laidlaw at 10?
Scottish Rugby Blog: Luckily the team has moved on a bit since then in terms of personnel (though we love Mossy) I think we're happy that someone new is at 10. I love what Greig does most of the time but you can't get away from the fact he's a (small) nine playing at 10.
Especially with the Irish pack running at him.
Demented Mole: I was looking forward to seeing Duncan Weir play 10 in Six Nations. Thought he looked class in last year's U20 World Cup.
Doesn't mind mixing it and seems a good footballer, but runs across a bit when playing for Glasgow.
Scottish Rugby Blog: Yeah there's a lot of fans unhappy that Weir didn't get to keep his bench spot. Long term we're probably looking at Laidlaw/Weir 9/10 pairing.
Demented Mole: Was Hogg expected to make the impact that he has? I wasn't aware at all that he was as good as he's shown so far?
Scottish Rugby Blog: Glasgow fans were raving about the guy when I came back from the RWC in NZ.
I'd only seen him in a couple of Rabo games and thought he looked sharp but still very young. I've been delighted with the way he and Jones have taken to test rugby, but I wasn't sure either of them would be thrown in and thrive so well.
I do worry about our boys under the high ball though. Kearney is world class and the Irish wings are no slouches either.
Any areas you are worried about?
Demented Mole: Scrum. Euan Murray gave Healy a fierce hard time in Croke Park. And lineout is always a problem against Scotland.
Scottish Rugby Blog: Our lineout is firing well, but our scrum is pretty poor too and Murray is on the bench so you might get a reprieve.
Demented Mole: Hadden used play Parks against us and ensure we never got a set piece 40 yards from your line, when O'Sullivan was coach. Does Cross warrant his place? Murray can be a mixed bag – brilliant in some games and placid in others.
Scottish Rugby Blog: I'm glad Murray hasn't walked back in just because it is not a Sunday. Cross does much more in the loose.
Demented Mole:  Scotland seem to take confidence the longer they stick with Ireland, until they expect to win it if its close.
There's been some blow outs in Lansdowne in recent years but lack of quality possession in your half will be a problem.
Scotland's breakdown is typically better than Ireland's and we struggled to play a wide-wide game two years ago.
Jonathan Sexton and Ronan O'Gara plot the downfall of Australia in September ©INPHO/Billy Stickland
Scottish Rugby Blog: Yeah. I think the Croke match will give us plenty of hope we can nick something.
But I worry a bit it if it comes down to a kicking contest late in the game. I know which of the available kickers I'd prefer on the park, and neither of them wear navy blue.
Demented Mole: Ireland's rugby public is on a bit of a downer confidence wise. We don't have the arrogance of the provincial teams at the moment.
Scottish Rugby Blog: Do you think the loss of O'Brien is a big one? You guys seem to play 2 x 6s, while we are playing with 2 x 7s.
Demented Mole:  Yeah, I think so, because the quality on the bench isn't there.
I thought that Seanie looked tired after Christmas and wanted to see O'Mahony start two matches …but with O'Brien to come on spitting thunder.
Demented Mole: O'Mahony's a good lineout player and he seems up to the standard of international rugby so the competition will be good for Ireland.
David Wallace is making his return and although he's at teh end of his career, he'll go to NZ if the leg stands up.
Ireland need someone (at least one) good on the deck against Barclay and Rennie. I'd prefer to have 2×7 rather than 2×6. Particularly with such good lineout second rows.
Scottish Rugby Blog: Rennie has been outstanding for us so far.
Demented Mole: I was hoping Leinster would sign Rennie when Jennings was at Leicester then he got injured. Always been a fan.
Scottish Rugby Blog: We're just happy he's finally getting a chance to show what he can do after all the injuries.
Six feet 10 and he wants to grow?
The Score: The second row battle is looking like a bit of a mismatch.
Demented Mole: It's a good opportunity for Donncha Ryan to make a claim for the starting spot, but Richie Gray seems to go from strength to strength.
Why is he going to Sale?!
Scottish Rugby Blog: No idea. To "grow" as a player, not that he needs to get any taller. The SRU were willing to throw big bucks at him.
Demented Mole: What's the feeling about Gregor Townsend as backs coach?
Our attack is falling between 2/3/4 stools depending on who you listen to. Gaffney was doing the job until recently but it looked like his best days were behind him. Now we've got a good outside three but look a bit lightweight in the middle.
Scottish Rugby Blog: Our attack often had trouble getting to the bar! Our problem is we are too heavyweight in the middle.
Demented Mole: You should ask Danny Care the way!
Scottish Rugby Blog: Ha
Scottish Rugby Blog: Scott Johnson is coming in to help with skills and so on and might help/replace Townsend, but I think a major part of his brief will be to unearth some exiles, in particular ball-playing centres tight-heads.
I think the new SRU regime is giving Robinson more leeway in terms of his staff. I suspect previously he was lumbered with incumbents for financial reasons.
Demented Mole: Scotland's back line seems to play too far from the gainline to get the benefit of its size.
What are they
really like?
Rare insights on sport's biggest names from the writers who know them best. Listen to Behind the Lines podcast.
Become a Member
'Mick Doyle had it right'
The Score: Scotland come to Dublin looking for a third win from four attempts. All of a sudden Ireland is fearing a loss in this game. What do ye feel Ireland / Scotland must do to get the W?
Demented Mole:  Ireland have to get ahead early and get the crowd on their side. The Aviva hasn't become a 'home' ground for Ireland yet where we expect to win.
I'd have a cut off Hogg as well because he's been the bright spark for Scotland this season but is still young so worth seeing where he has weaknesses.
Scottish Rugby Blog: Scotland need to (as Mole said) get up flat and poke their pacy 13-15 through gaps in/outside the Irish midfield.
I think there will be plenty of travelling Scots to get a good atmosphere.
Demented Mole: Irish fans want to see their team give it a lash. Mick Doyle had it right.
Scottish Rugby Blog: And our forwards have already spoke of dishing it out to Irish players on the wrong side of the ball. Could be tasty.
Demented Mole: The defence against France was what people want to see. And the quick taps and daring against England last year was also really good. Slow rugby and passive defence is sh*t.
Scottish Rugby Blog: We're pretty similar in that regard. A performance that is not riddled with errors and played at a good tempo will keep most of us happy.
Demented Mole: Earlsy is looking a bit more confident in the centre and tackled well against France. If we can get Ferris or Heaslip over the gainline and able to offload with Earls on the shoulder the crowd will lap it up.
Psst. Jonny, Rob. Are ye paying attention? ©INPHO/James Crombie
Scottish Rugby Blog: If I was Sexton/Kearney I would test all of our back three with high bombs early and often. Look at the problem we have at restarts.
Demented Mole: But 5pm in spring with town full of drunk Scots will ensure a pretty healthy atmosphere.
Scottish Rugby Blog: At the end of the day it will probably be great craic whoever wins, that's the fun about Ireland Scotland games.
Demented Mole: Yeah, they're always good…and it'll be a lot of Scots first time in the Aviva so back in town before and after.
I'll take any hue of win, but i've backed Scotland with a 9 point start which seems waaaay too generous.
Scottish Rugby Blog: Very kind of you though.
The Score: Can we have a score prediction?
Demented Mole: 22-19 to Ireland.
Scottish Rugby Blog: Sounds good, but in the other direction. 19-22 Scotland!
The Score: And Donncha Ryan, Peter O'Mahony – will they be deemed a success come Sunday morning?
Demented Mole: Ryan will but O'Mahony is up against a quality trio and is filling big shoes. If he does well then he'll go a long way towards nailing down the Ireland 7 shirt for a few years, because there's not a long queue at the moment.
The Score: Cool lads. Before we wrap it up, is there any area of the game you'd like to highlight for us to watch out for?
Demented Mole: Reddan and Sexton have looked good for Leinster and Ireland. If we play with pace in attack then these lads should become first choice as a pair.
Scottish Rugby Blog: Kearney vs Hogg could be a great battle for me. Am hoping the back threes will dominate, not the front threes…
The Score: That's not a bad one to have on your wish list.
Scottish Rugby Blog: Best of luck at the weekend and next week!
Demented Mole: Slán!