KIERAN BERGIN ADMITS he thought the last minute free awarded against Brian Hogan in the drawn All-Ireland final was harsh on Kilkenny.
The Tipperary defender was refreshingly honest in his assessment of the foul Barry Kelly awarded, which saw John O'Dwyer come agonisingly close to winning the Liam MacCarthy Cup for the Premier County.
"If you had to look at it from an objective kind of view I don't think it really was a free myself," he says. "I suppose I shouldn't really have said that! Ninety nine per cent of referees will give a free in.
"In fairness, I thought he did a good job overall but if I was a Kilkenny player I would have been expecting a free in there."
Bergin's candid evaluation aside, he isn't your typical inter-county hurler. He played U21 for Tipp before moving to the States, where he spent five years in New York and two in San Francisco.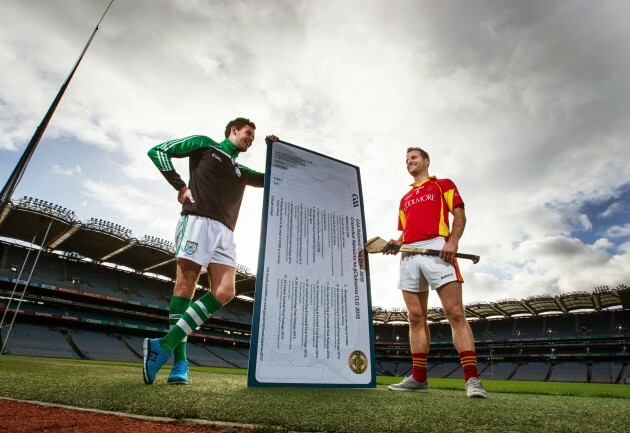 Cathal Noonan / INPHO Tipperary and Killenaule hurler Kieran Bergin with Donegal and CLG Ghaoth Dobhair footballer Odhran Mac Niallais at the GAA National Club Draw Launch in Croke Park Cathal Noonan / INPHO / INPHO
There is a clear feeling of warmth towards his manager Eamon O'Shea, who he credits with making a brave decision to call him up to the senior squad and handing him his championship debut at the age of 27.
"I have a lot of respect for Eamon because he even gave me a shot – a lot of lads wouldn't have. In 2010, I watched the All-Ireland hurling final in Chicago – I wasn't drinking at the time because it was seven o'clock in the morning, but I was well into my first few by 12 anyway and had a game at 10 o'clock so that's why I couldn't.
"I hurled during the summer out there but I didn't see myself being in the position of playing an All-Ireland final four years down the line.
"A couple of right decisions to go back to college and keep with the hurling and form started to go my way. I got called in and a few weeks later I got my debut. It's unusual enough but only for Eamon and Mick (Ryan) and Paudie (O'Neill) I wouldn't have got the chance to do it."
As O'Shea inches closer to committing to a third year in charge of Tipp, his man management and coaching skills were lauded as the Premier County soared in confidence throughout the summer and came within inches of winning an All-Ireland title.
"It's hard to explain the bond that's there. He's a great manager, very intelligent and he's as honest as the day is long. He's so honest to players, he'll tell everything out but he'll never criticise us at the same time. All the players are mad about him."
Donall Farmer / INPHO Kilkenny's Richie Power consoles Bergin after the All-Ireland final replay. Donall Farmer / INPHO / INPHO
In hindsight, Bergin feels that Tipperary should have mirrored Kilkenny and played a round of club games the week after the drawn All-Ireland final. But he admits it's easy to look back on it and make that judgement.
"The three weeks between the games, I think if we let off the club games – hindsight is a great thing but I think that would have taken it off lads' minds for another week.
"It would only have been a two week break and then you would have had probably have had a training weekend and things would have moved quickly but you had the constant monotony. It's all grand saying it now, but at the time everyone felt it was better for the team."