KIERAN BERGIN HAS come a long way in a short space of time.
In 2013, we brought you the story of how the Killenaule man made the transition from couch potato to intercounty hurling star.
At the recent launch of the All-Ireland series in Dicksboro, 29-year-old Bergin opened up about his stint in America (five years in New York and two in San Francisco).
For a young Irish guy living it up in the States, they were good times but Tipperary's powerful right-half-back admits now that his life lacked real direction.
He remembers watching the 2010 All-Ireland final in a bar in Chicago, with his mates insisting that he was good enough to make it at the top level.
Morgan Treacy / INPHO Kieran Bergin pictured at the All-Ireland senior hurling championship launch in Dicksboro. Morgan Treacy / INPHO / INPHO
But it was another three years before Bergin made his mark, when he was parachuted in from virtually nowhere to start against Kilkenny in the Allianz League final at Nowlan Park.
He made his senior championship debut later that summer, at the age of 27, and has been busy making up for lost time ever since.
Now a model of consistency, Bergin was ultra-efficient in Tipperary's march to Munster championship glory this summer, barely putting a foot wrong in a rock-solid half-back division.
"I've completely transformed as a person since I came home," Bergin says.
"I would have been a big messer in America, enjoyed the good life and going out and the whole social scene in the bars.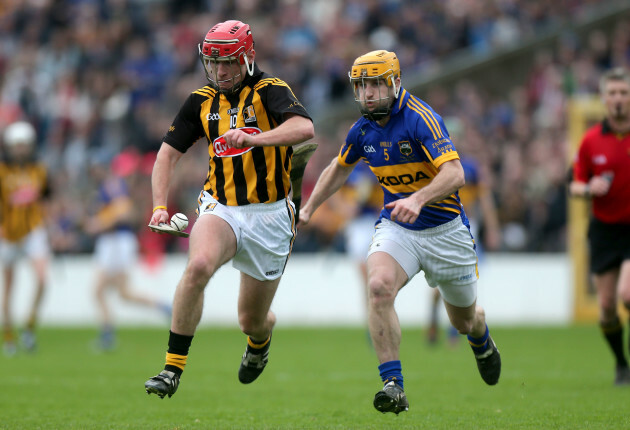 Ryan Byrne / INPHO Kieran Bergin chases Kilkenny's Cillian Buckley during the 2013 Allianz Hurling League final. Ryan Byrne / INPHO / INPHO
"I would never have really given up drink when you don't have anything to give up for.
"When I came home I became more focused, went to college (Dublin IT).
"Maybe I was just maturing but I changed. I went from drinking pretty much every weekend and socialising to drinking maybe seven or eight times a year.
"It was a massive transformation for me and I never thought it would happen.
"Look, the cards have been dealt to me and I'm just happy to be here. I never thought I would be sitting around and signings autographs for kids. The only time I ever signed an autograph was writing a cheque out to someone!
"There are two sides of the coin. You have players saying they'd love to go to America for the summer. I know at the time when I left (in 2005) my parents were very upset.
"They didn't want me to go because I suppose they thought I had some bit of a career in front of me. But I chased the good life and I probably got it all out of my system.
"I'm just fortunate I came home. I was 26 when I came home after being away for seven years. I'm just lucky to be honest."
The life he led is the envy of some of his Tipperary teammates, Bergin reveals.
"Even talking to some of the younger lads, they would say 'I'd love to have done what you done'.
Ryan Byrne / INPHO Kieran Bergin celebrates Munster final glory. Ryan Byrne / INPHO / INPHO
"I couldn't say 'go' but the likes of Cathal Barrett and these lads, they're U21 now and by the time he's 31, 32 or 33 even he's not going to have travelled.
"Instead, he'll have a wife and kids and commitments here and the whole travelling and socialising part of your life is gone.
"But at the end of the day it could be worse. You could win a couple of Liam MacCarthys and they are the moments you remember.
"When I look back at the seven years (in the US), there is no one stand-out night that makes me say, 'Wow, I remember that night down in San Francisco when we were singing in the street'.
"You're going to remember every single minute of an All-Ireland final if you win it.
"The Munster final was surreal. You're thinking 'this will stand in my mind forever' whereas the brain cells will just be killed from a night out."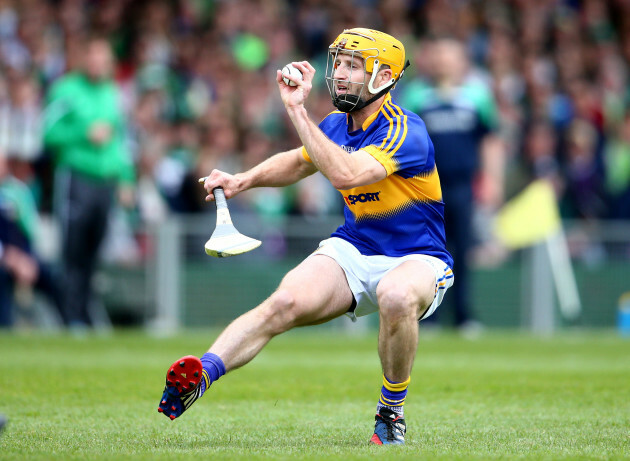 Cathal Noonan / INPHO Kieran Bergin in action against Limerick at the Gaelic Grounds. Cathal Noonan / INPHO / INPHO
After losing to Limerick in last year's Munster semi-final, the Tipperary players came in for a barrage of criticism in local media for socialising on Sunday night and again on Monday.
But Bergin insists that a blow-out now and again is a necessary release for a player living in a bubble of scrutiny.
"I know (manager) Eamon (O'Shea) and (coach) Paudie (O'Neill) don't drink so they don't really understand it but I think when players train at that intense level all of the time and they're committing so much of their time and effort you just need that release.
"It's not like lads are going on a five-day bender. Some probably would if they could!
"Ah look, certain lads do need it because they don't have anything else.
"That's why team holidays are a vital part of the GAA.
"We didn't go on one in 2013 and there was a lot of tension. We had a drink ban in 2013 and sure we lost our two championship matches. We were gone in June. Maybe it doesn't work a little bit."
Morgan Treacy / INPHO Kieran Bergin on Fitzgibbon Cup duty with Dublin IT. Morgan Treacy / INPHO / INPHO
Whatever Tipperary are doing right now certainly seems to be working as the first piece of silverware of the O'Shea era was collected with last month's Munster final victory over Waterford.
And for players who suffered the heartbreak of All-Ireland final defeat last year, Bergin believes that lifting the provincial title was hugely important.
"We had a lot of hunger coming into this year's championship. We had a lot of hurt from last year's championship.
"We were the hard luck story and nobody wants to be the hard luck story.
"You'd rather be on the Kilkenny side of the border and taking home Liam MacCarthy.
"Like, you haven't won anything in three years. There was a lot of pressure coming into it and a lot of expected from the hurlers. I suppose we don't always deliver.
"The last 10 or 15 years, we don't have as much Liam MacCarthys won as we should have.
"There was always added pressure with that and all you can do is cope with it.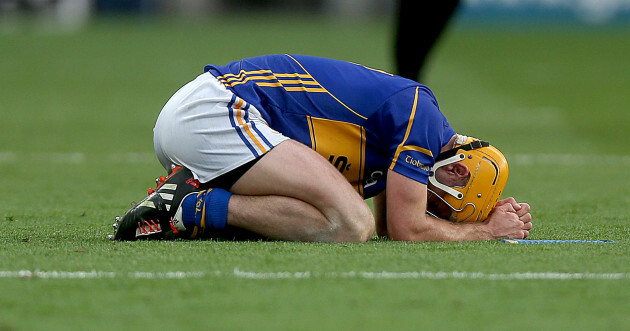 Donall Farmer / INPHO Kieran Bergin is dejected after last year's All-Ireland final replay defeat. Donall Farmer / INPHO / INPHO
"It was tough last year. It was such a long year and such a draining process going all the way. There were three weeks between the All-Irelands and it did take its toll.
"It would have been some cushion had we won Munster but we won nothing. We were training for 10 months at a high intensity level and you had nothing to show for it."
This time, they have. And Kieran Bergin hopes there's more to come.
Who knows? Perhaps the beer on the first Sunday night in September could taste extra sweet. Now that would be a night to remember.