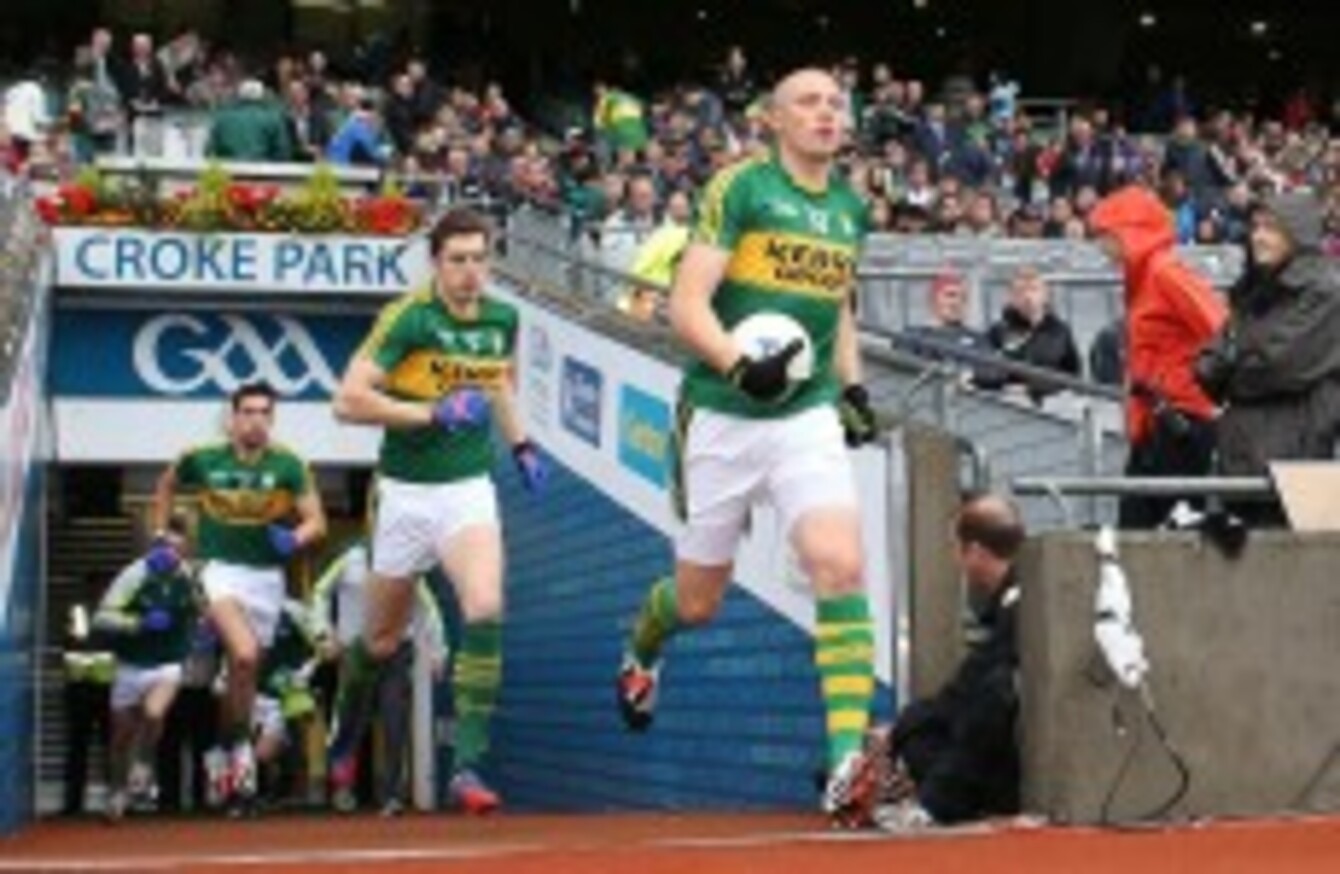 Kieran Donaghy leads Kerry out before their semi-final clash with Tyrone.
Image: Andrew Paton/INPHO
Kieran Donaghy leads Kerry out before their semi-final clash with Tyrone.
Image: Andrew Paton/INPHO
IN THE FINAL play before half-time in last month's All-Ireland semi-final, Kieran Donaghy grasped the ball amidst the shower of rain and crowd of Tyrone defenders.
He swivelled and boomed over a point off his left foot, a captain showing the way and nudging Kerry into a slender 0-8 to 0-7 interval lead.
Donaghy headed for the tunnel enthused after a first-half where he had been peripheral. Inside in the dressing-room, he was informed his day was done.
Eamonn Fitzmaurice's ruthless and decisive nature in making selection calls was illustrated once more, Paul Geaney shunted into action for Donaghy.
The Dingle man delivered a handsome attacking contribution in getting Kerry over the line.
"I was hoping it might buy me a few more minutes because I know I wasn't setting the world alight," recalls Donaghy.
"I know the calibre of player that is coming in for me. I've been on both sides of recently. I've come on for a guy and I've been taken off.
"I don't know if it's from the basketball but I've always seen it as a thing where coming on and coming off is obviously something to be disappointed in yourself in but my main thing was Kerry were going to win.
If I had been taken off and Kerry lost I would have been unbelievably gutted.
"I was gutted for a minute and a half and then I realigned my thoughts into talking to the boys and making sure the spirits were good in the second half.
"Paul came on for me, he was outstanding in the second half.
"Tyrone, with 10 minutes to go, were asking all the questions and had huge momentum and we found it in ourselves to dig out a good result against them."
All-Ireland final build-up's are customary for Donaghy yet that substitution creates a different environment for him.
Last year he was a lock to start for Kerry after his stellar contribution in the two-game saga with Mayo – the assist for James O'Donoghue's rescue goal in the drawn game and a a goal of his own in the replay.
This time he admits there is some uncertainty and he faces a fight to protect his position.
"I'm in a different place compared to last year going into the final having played relatively well in the two Mayo games.
"There is added pressure to try and cement my place, try to hold on to that jersey.
"I've always prided myself in how I have done in pressure situations."
The Austin Stacks man can draw parallels to 2011 when he also battled to start after the semi-final against Mayo and before the final with Dublin.
"I was under pressure that time too and that's good for a fella," outlines Donaghy.
"It sharpens the focus, sharpens the mind. It really focuses you into every training session and that's what I did after the Galway game last year.
"I just treated every little 20 or 30 minutes of football that we had in training like a final, try and find everything to get a good performance out of myself.
"It's something that we've talked about all year, that fellas aren't comfortable going into training sessions or games that they are going to automatically going to start.
"Having to fight for that jersey, that can only be a good thing in my eyes."