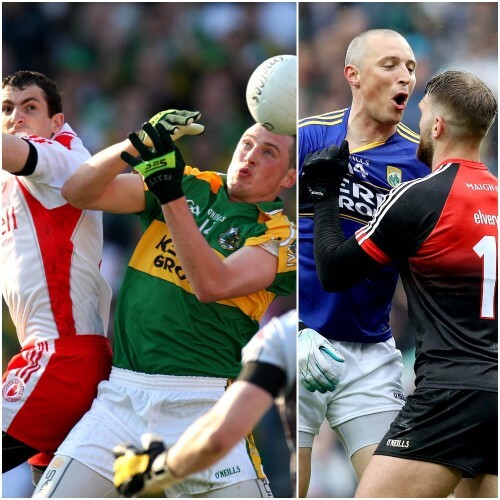 INPHO Kieran Donaghy has come in for close attention from Tyrone and Mayo. INPHO
OWEN MULLIGAN WATCHED Mayo's innovative ploy to stifle the threat of Kieran Donaghy last Sunday and cast his mind back to 2008.
Before that year's All-Ireland decider, Kerry's twin attacking threat of Donaghy and Tommy Walsh had been causing chaos for opposition defences.
Mickey Harte knew a specific strategy was needed to nullify the impact of the duo from Tralee.
Thus the Omagh brothers, Joe and Justin McMahon, were pitched into rearguard action.
"We are not being big-headed here but other players come out and say "who was your toughest opponent" and we would say it was an in-house game, marking the likes of Stephen O'Neill or Peter Canavan for our backs," says Mulligan.
"It wouldn't have been marking the likes of Donaghy. I have seen Justy and Joe play different positions so I would have been very comfortable.
Morgan Treacy / INPHO Justin McMahon with Kieran Donaghy during the 2008 All-Ireland final. Morgan Treacy / INPHO / INPHO
"We worked on it for three weeks. We had our biggest man in, we put Packie McConnell at one stage in at full-forward, lumping the ball in.
"That's the way (Mickey) Harte plays. Match practice, he would always translate that into training sessions, and that is what we were doing, we were lumping the balls in.
"The boys were coming out and taking man and ball with them all the time.
"And that helped them deal with marking the bigger man. But them boys were exceptional footballers as well, for Kerry."
The42 Podcasts / SoundCloud
Mulligan wonders whether Mayo became too obsessed in their preparation with placing the shackles on Donaghy last Sunday as Aidan O'Shea was detailed to watch him.
"I think maybe that is what the Mayo management and backroom team thought with O'Shea, that we could emulate Tyrone but it didn't work, unfortunately.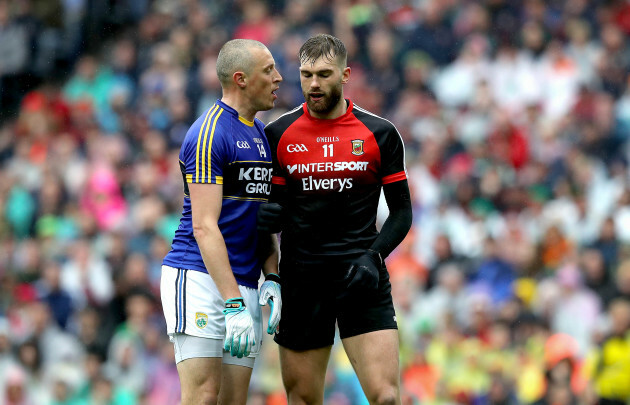 Ryan Byrne / INPHO Kerry's Kieran Donaghy with Aidan O'Shea of Mayo Ryan Byrne / INPHO / INPHO
"I wouldn't be playing him at full-back. Donaghy can play getting the ball here (chest) or high. The last couple of games, he's so good at laying off and I think it was a big mistake.
"I'd rather see O'Shea up and down the field. It seems that he (Stephen Rochford) didn't trust any of his other backs to go onto Donaghy.
"He's a top-class player but I would have played the sweeper or maybe two sweepers. Kerry don't just bomb the ball into him, he wins the ball out in front all the time as well.
"It will be interesting to see the next day but I think he got it wrong."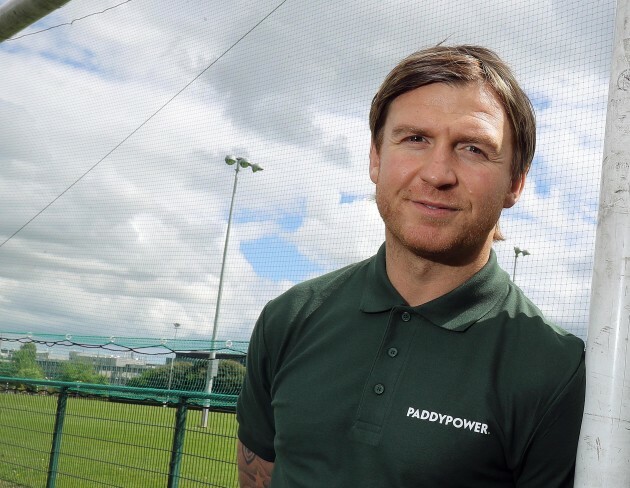 lorraineosullivan Paddy Power GAA ambassador Owen Mulligan. lorraineosullivan
The three-time All-Ireland senior winner feels Kerry have their own problems at the back to sort out.
"I thought Kerry's defence was very loose," states Mulligan.
"I keep reverting back to our days and stuff, but if you were in a battle with Jerry you were coming off black and blue.
"The Mayo boys were getting the ball out in front no problem, they were winning the ball.
"You have to get out in front if you are a defender, like the tenacious Kerry defenders were.
"I just thought they were very loose and you only have to look at what they scored. They have a lot of work to do."
Subscribe to The42 podcasts here: