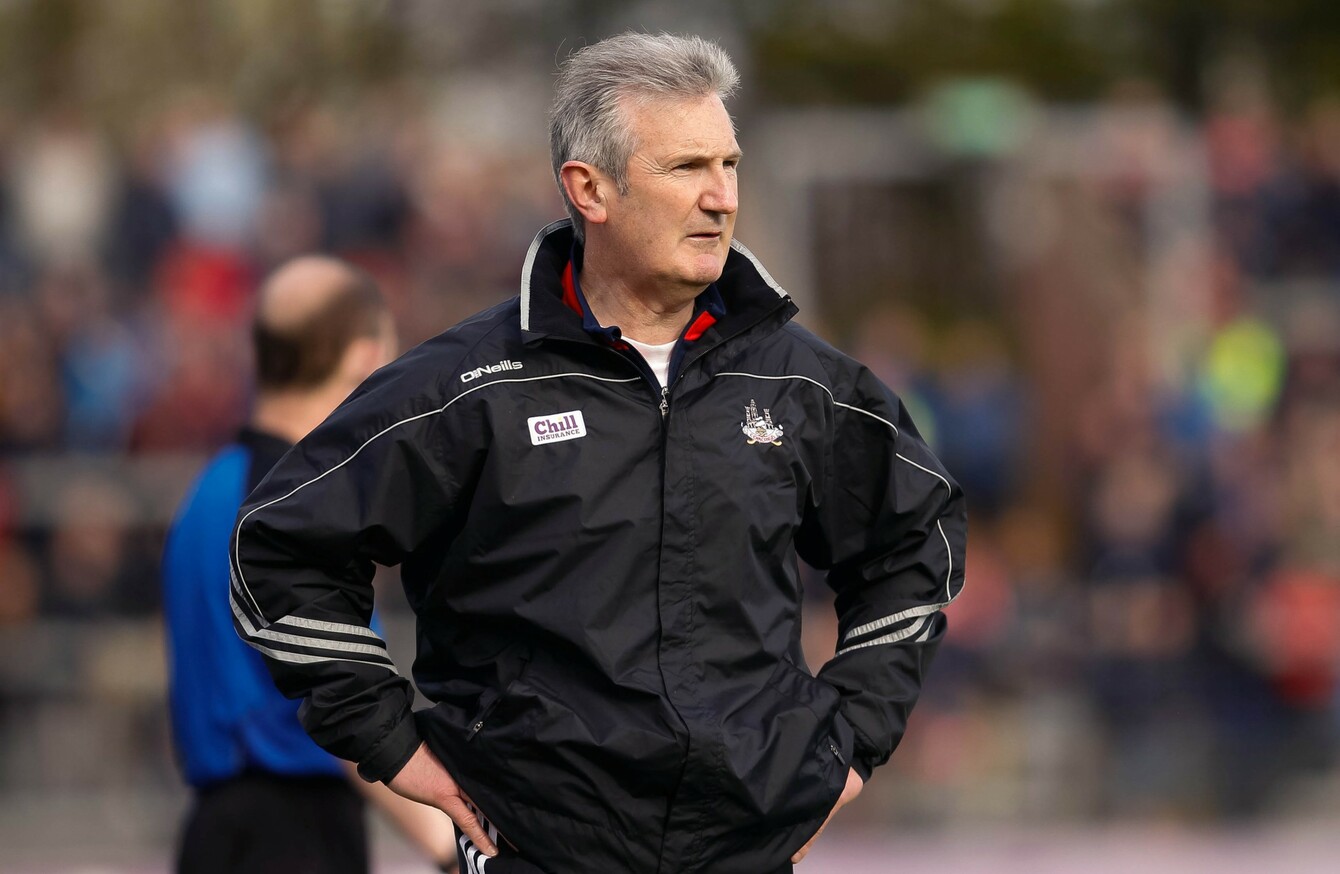 Cork hurling manager Kieran Kingston
Image: Conor Wyse/INPHO
Cork hurling manager Kieran Kingston
Image: Conor Wyse/INPHO
AMIDST ALL THE euphoria after the landmark win for this group of Cork hurlers in Thurles last month, it was natural for Kieran Kingston to share a celebratory moment with one of his forwards.
On his senior championship debut, Shane Kingston pick-pocketed the Tipperary defence for 1-4 from play.
His father knew more than most about his journey to that point, the senior outing occurring just under two years since a broken fibula had derailed his progress when he was Cork minor hurling captain.
But he wasn't the only Cork player for whom the Tipperary game had marked a significant point on the road to revival.
The defensive pair of Christopher Joyce and Colm Spillane have both torn cruciates in the last two years while goalscorer Michael Cahalane is back playing hurling after a heart problem.
"Christopher had a really serious knee injury in 2015, not just the cruciate but other knee damage as well. Colm Spillane did his cruciate last year in our second league game against Waterford.
"Another young player who's been very unfortunate with injuries. He's huge potential.
"You've Shane as well from the leg injury and Michael Cahalane coming back from the health scare.
"People see them playing but they don't realise what those guys have gone through getting to the stage they're at now.
"There's huge credit to them for the work they've done to get back to the inter-county stage."
Cork's young players flourished against Tipperary, hitting full speed at senior level amidst the backdrop of recent seasons of struggle for the county in the underage grades.
"Just because Cork haven't won a minor in 16 years and an U21 in 19 years doesn't mean that there aren't still very good young hurlers in the county," argues Kingston.
"Even if Cork win an All-Ireland minor or All-Ireland U21, it doesn't mean all those players will go on to play senior. U21 to me is a more important grade.
"We've on a journey, we've a long way to go on that journey yet. That's what we're really about here, trying to make progress.  We would have been happy with the Munster league this year because it gave us an opportunity to blood a lot of these younger players.
"We didn't do that as well last year being honest about it. A lot of these younger players were on a development squad, they weren't ready to bring them through.
"Last year was just too soon for them but they worked away in the background very, very hard for 12 months before we brought them onto the panel."
The arrival of the younger players has been coincided with the ownership taken on by a core group of the Cork squad
"It's not a secret that this group of players have been criticised in many different ways, in particular outside the camp because they seem to lack leaders," says Kingston.
"Not because of that but we do focus a lot on the more experienced players becoming leaders on and off the field.
"Also when you have a relatively young panel – we've 12 U21′s on our panel – you can't expect them to be leaders, initially they have to be followers than leaders.
"The guys that have been a number of years have to be leaders and I have to say to date, these guys have stood up and they have lead the way, off the field as well and that's very important."
The Cork manager position wasn't one Kingston had long-held designs on. He had spells with local underage teams, as a manager when his native Tracton reached the 2010 Cork premier intermediate decider and then as one of Jimmy Barry-Murphy's right-hand men with Cork.
At the start of the 2016 campaign, he was handling the Cork managerial reins and endured a difficult first season at the helm.
See Sport
Differently
Get closer to the stories that matter with exclusive analysis, insight and debate in The42 Membership
Become a Member
"Last year wasn't too enjoyable," admits Kingston.
"It's enjoyable when you win. You go into this role on a voluntary basis.
"You do it because you want to do it, you feel you've something to offer and it's an honour to do so.
"If you get the opportunity in a county like Cork, it's difficult to pass it over. It's a challenge trying to balance family life, work life and managing a high-profile team like Cork.
"That's part of the job and you know that going in there. You don't go in there with your eyes closed."
He's realistic enough to know that the success over Tipperary does not catapult Cork to the top of the national rankings and is at pains to stress they are still in a development stage.
"Obviously the Tipp game was a great occasion. It wasn't enjoyable from where I was sitting, it was only afterwards that you see what a great game of hurling it was for the neutrals.
"The Cork supporters were absolutely fantastic on the day. Being honest about it, we know they went out more in hope than confidence.
"But they came out in their thousands to support the team. I think there is a strong realisation in Cork that this is a developing team, we're a long way away from dining at the top table.
"We've a huge game next Sunday. We're the outsiders and understandably so and we're probably two or three years behind Waterford and their development curve.
"They've set out their stall to win the All-Ireland and made no secret of that. This is the year they want to compete for All-Ireland honours. We're a long way away from that.
"Beating Tipperary was a confidence boost to the team and the supporters but the next day is going to be a difficult test."