ONE DAY TO go, and this seismic meeting of the first and second ranked teams in the world can't come quickly enough. Forget about the rugby, the mind games — if you can even call Ian Foster's comments that — have become tiresome and not overly surprising.
The All Blacks assistant coach may have been remarking on Bundee Aki in jest, but you can be sure they were not ill-judged, nor were they said without reason. Last week, Brad Shields. This week, Bundee Aki.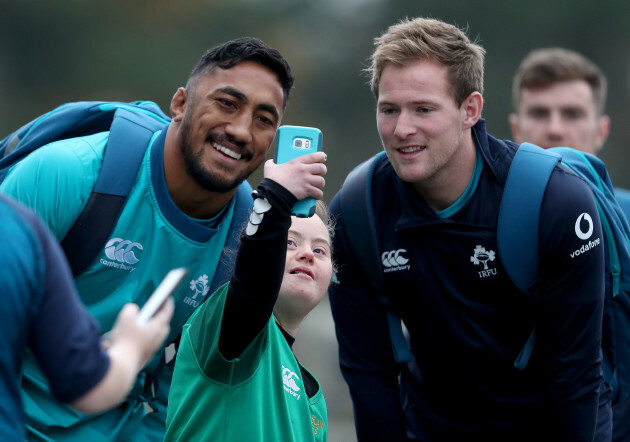 Dan Sheridan / INPHO Bundee Aki and Kieran Marmion before training yesterday. Dan Sheridan / INPHO / INPHO
It's all part of the narrative now, and the New Zealand media have rowed in behind it, often driving it. Foster saying Aki now looks Irish after four years in the country fuelled the debate.
Joe Schmidt yesterday issued a strong defence of the Connacht centre's right to represent Ireland, pointing to the All Blacks players who were born elsewhere in a bid to dismiss the conversation in advance of the much-anticipated Test match.
Aki is, of course, no stranger to being the subject of such criticism and column inches, having endured it all this time 12 months ago when making his international debut for Ireland against South Africa last November.
Named in Schmidt's team to face the world champions at the Aviva Stadium on Saturday, it will be the first time Aki — who will win his 12th cap — will come up against the country of his birth, having developed through the Kiwi system before a move to the northern hemisphere in 2014.
As the All Blacks, who may feel aggrieved Aki was one that got away, deign to such levels of psychological warfare — as is usually their wont — it comes as no surprise Aki isn't taking much notice of the sideshow.
"It won't bother him too much, it will probably just fire him up a bit more," Kieran Marmion says. "We expect Bundee to go straight into them, he won't hold back. He will relish the challenge, it will be a pretty good spectacle to watch, to be honest."
One of many piquant subplots.
"I roomed with him last week, he chatted quite a bit to me about it and I know he can't wait to get out there and have a shot at these guys," the scrum-half continued.
"I am sure he will know he needs to stay calm and not be stupid. I am sure he is smart enough to that, as well. They will come looking for him but he has played enough rugby and has enough experience to know not to do anything stupid. He is a tough lad so he will get on with it."
As for Marmion, the Connacht nine has shaken off the ankle injury he sustained against Argentina last week and starts for the second consecutive game, retaining his place despite competition from Luke McGrath and John Cooney.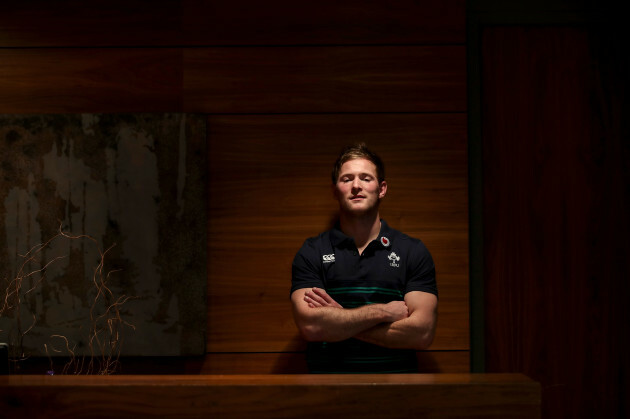 Dan Sheridan / INPHO Marmion pictured at Carton House. Dan Sheridan / INPHO / INPHO
All of this coming after the to-ing and fro-ing and will he or won't he discussion over Conor Murray, who had been touted to make a shock return from a neck injury before being definitively ruled out on Monday of this week.
Marmion put his case forward with an excellent display against the Pumas, not only scoring Ireland's first try of the night but the 26-year-old was quick to rucks, provided sharp service and showed good defensive understanding.
"I didn't know whether Conor would be here or not until the squad was announced," he explained. "I had no idea. Obviously, when I found he wasn't announced, I obviously saw that as a huge opportunity for me because there aren't that many opportunities when he is around.
"I guess these last few weeks have been a great learning curve for me. I guess going forward it's going to be huge to have in the bank, these few games."
Having been told to get match minutes under his belt for Connacht in the Pro14, Marmion was excused from the excursion to Chicago at the start of the month. He had to make sure Murray wasn't on his mind.
"I heard that [he could be back for the All Blacks]. But again, I didn't have any idea whether he would be back in camp this weekend or not. I guess I just turn up to camp.
"I don't think you really think about it too much, if he's there, he's there and if he wasn't then just crack on."
Last weekend's starting opportunity was just his sixth in 23 appearances but having been an ever-present in or around Schmidt's squads since his debut against Argentina in 2014, Marmion was more than deserving of the chance.
He was famously deployed on the wing against Australia a couple of Novembers ago, but Marmion has always patiently waited for his chance in the scrum-half pecking order, becoming one of Schmidt's most reliable performers whenever called upon.
"I know every time I go on the pitch, you have to perform or it could be your last game so there is that pressure that drives you forward to make sure that you do perform.
"Again, it's great to have that kind of competition in camp because I think it gets the best out of myself and the other lads as well. We are all driving each other forward and that is good for Ireland as well.
"Being in camp here is obviously a good few steps up from anything you do in the Pro14. I guess now in Connacht, I am a pretty experienced player. I do have to put my hand up a bit more there.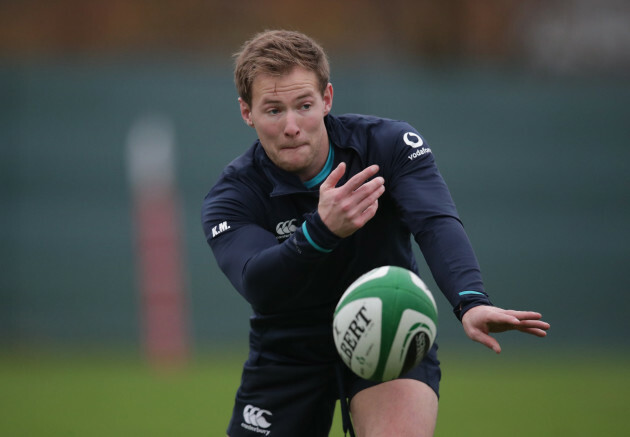 Billy Stickland / INPHO The scrum-half will win his 24th cap on Saturday. Billy Stickland / INPHO / INPHO
"But I think in camp here, I am always learning. There are a lot of lads who are way more experienced than me internationally so I guess I am still learning off them and taking as much as I can off them."
Needless to say, a start against the All Blacks represents the biggest match of Marmion's career.
"Yeah, that's pretty obvious. Best team in the world. I'm really looking forward to it.
Whenever you get the opportunity to play for Ireland, it's exciting. Again, to play against the best team in the world, we are obviously excited to get out there. I can't wait. It's a great opportunity for me, so I'm just looking forward to it now.
Murray's absence means there will be no head-to-head between the Munster nine and Aaron Smith, the pair considered the best scrum-halves in the world, but Marmion knows he has to play his own game and not try and be anyone else.
"Yeah absolutely, he's [Murray] got a lot of skills that are a lot better than mine, and I've got the odd skill that might be a bit better than his.
"But I guess it isn't about playing like him, I've got into camp by playing how I play so I'm just going to be myself out there as much as I can."
On coming up against Smith, Marmion added: "He's someone who has got pretty much everything, he's obviously been around the game a long time and is someone who I've watched growing up.
"I look forward to going out there and having a crack off him."
Let the games begin. 
Subscribe to our new podcast, Heineken Rugby Weekly on The42, here: